Things&Ink met up with Tessa Metcalfe to talk tattoos, inspiration and pigeons… as published in issue 7 of Things&Ink magazine, The Identity Issue.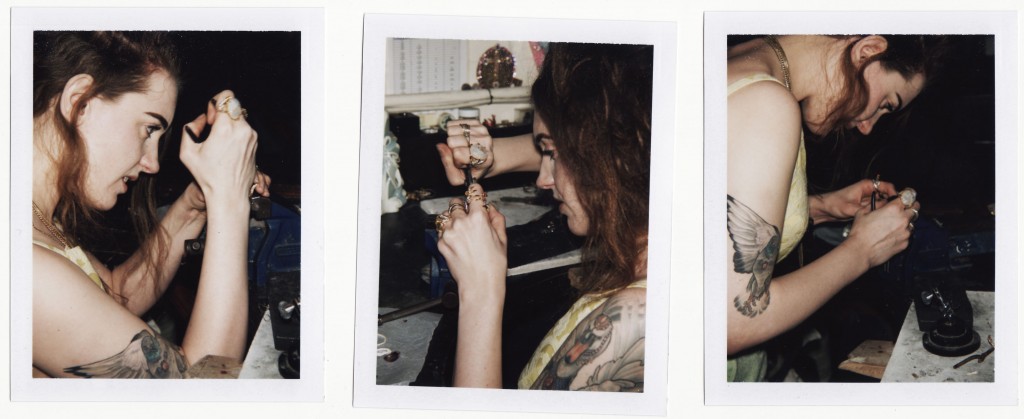 How did you get into jewellery making?
I was making a taxidermy pigeon hat for myself one day, and I had the feet left over. I dried them out and eventually started casting them. I loved all the possibilities they gave me and I just got carried away. I've now cast the feet, oh, hundreds of times and I've made a whole collection from them.
What inspires you?
Growing up in London, it was very grey. My Granny gave me two volumes of fairytales, Hans Christian Anderson and The Brothers Grimm, and I would read them again and again. They were wonderful, full of wildlife, with sometimes dark and heartbreaking stories. Being a little girl I wanted to be in a fairytale but all I had was this grey city and these pigeons. I must have started to think about the lives of these birds and what they were thinking. I like to play out my childhood London fairytale through my pieces, its like proving it was true all along.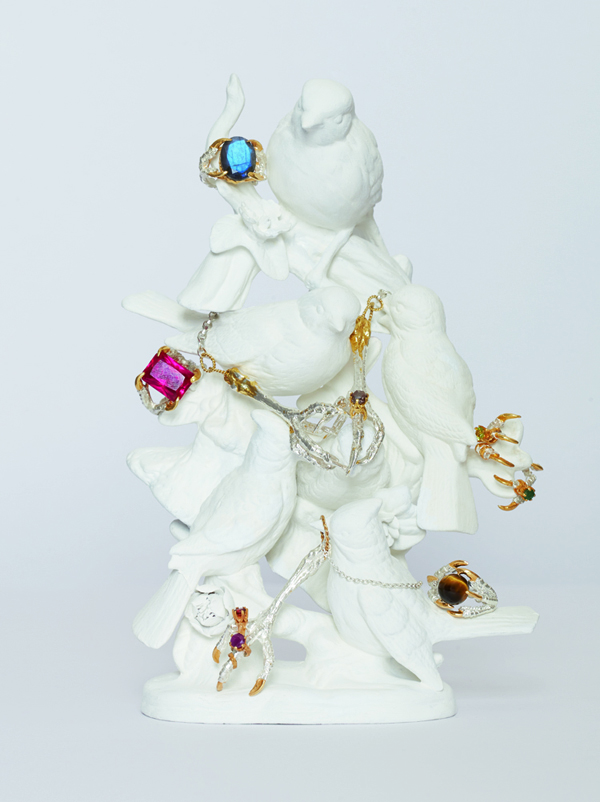 What draws you to jewellery?
I love that jewellery is something purely for pleasure, an object for the sole purpose of making you happy. Something you don't need, but that you want. Like a tattoo I guess.
Is your work inspired by tattoos?
I love that a tattoo can tell a story, much like jewellery. It's something that you should treasure and lasts forever, it is like a piece or form of you.
What is your favourite piece you have created?
I think I'd have to say the clawed pigeon feet rings that also have rings on their claws. I make miniature jewellery for the claws and I gold plate their nails too. I love the idea that they have the same feral lust for jewels as us and I think they deserve it.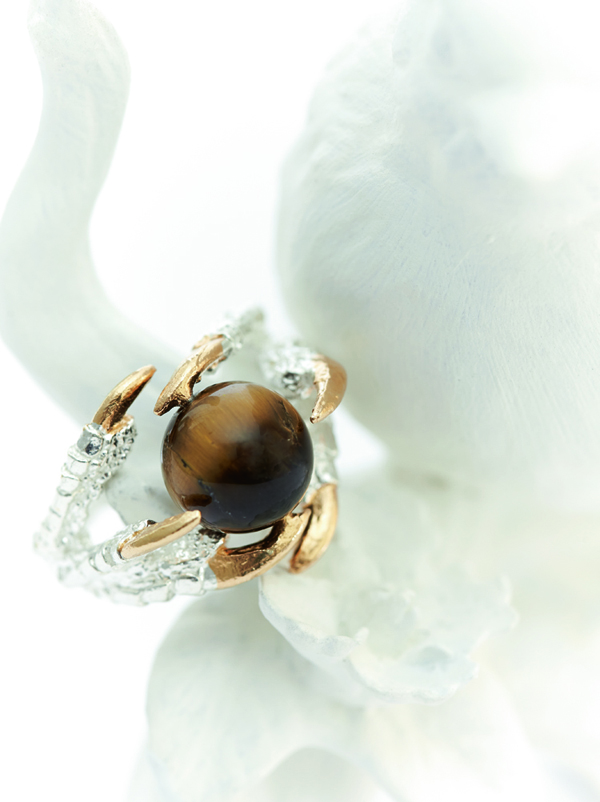 Can you tell us a bit about your tattoos?
My two largest pieces are birds, of course. I have a swan covered in jewels on my left arm and a pigeon on my right. I love the juxtaposition of the birds and the connotations connected with them. I also have the Hackney Council logo on my foot, everyone needs at least one drunk tattoo, and I've never regretted it. I've got wartime stocking seams up the back of my legs, with spiders at the top so the line is like a silk thread. And at the bottom I have upside down fleur de lis. I hand poked them myself, so they're not symmetrical.
Who are your favourite tattooists?
My best tattoos are my birds both by Brian T Wilson of Scapegoat Tattoo in Portland. I love his detail and he draws from wildlife book illustrations, which makes them realistic – I love that. I'm thinking of getting a royal orb shackle below my swan to add the suggestion that she may, or may not, have stolen her jewels from the Queen when she broke free. Next I want a tattoo of my Frenchie, Meatball, with her snaggle tooth and floppy ear, any takers? Course I'll have a whole flock of pigeons one day, I'd love one by Rudy Fritsch.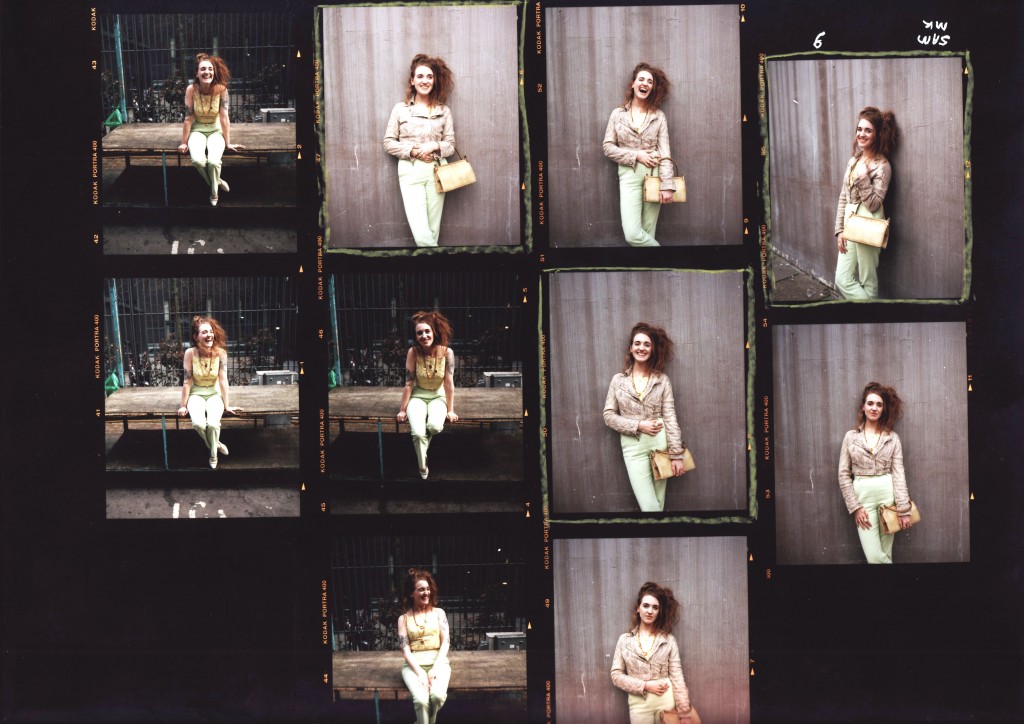 Do you have any jewellery inspired tattoos?
In a word, yes. My pigeon has her own set of rings that she wears, just like my collection, and a centre stone set into her bejewelled chest. Brian drew straight from a ring I inherited from my Grandma that I was wearing. I lost the ring when I moved house, so I'm really glad it's immortalised.
Do you think there is a relationship between tattoos and fashion?
Fashion is, in its nature, changing. It's influenced by trends and so many things. Tattoos are for life and I make jewellery for life too.
What future plans do you have for your company?
I don't feel confined to jewellery. I'm self-taught and we're in an age that if you want to learn something you can. I love to embrace that notion. When I fall in love with an idea I'll see where it takes me. ❦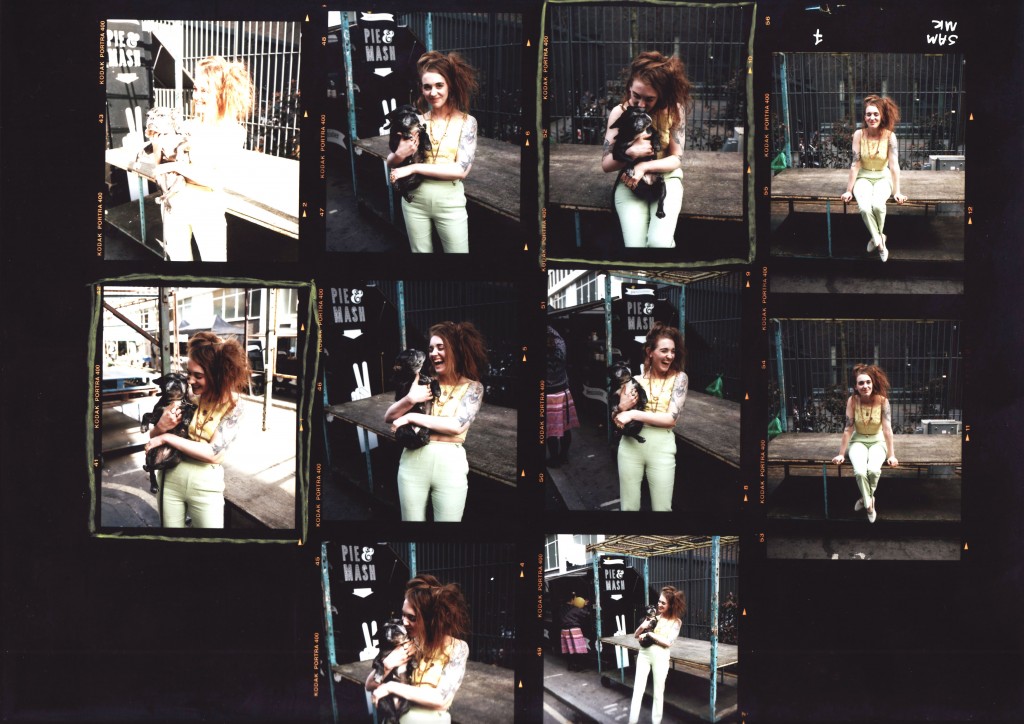 Photos of Tessa by Samuel Butt
Photos of jewellery by Kristy Noble Styled by Sarah Anne Smith