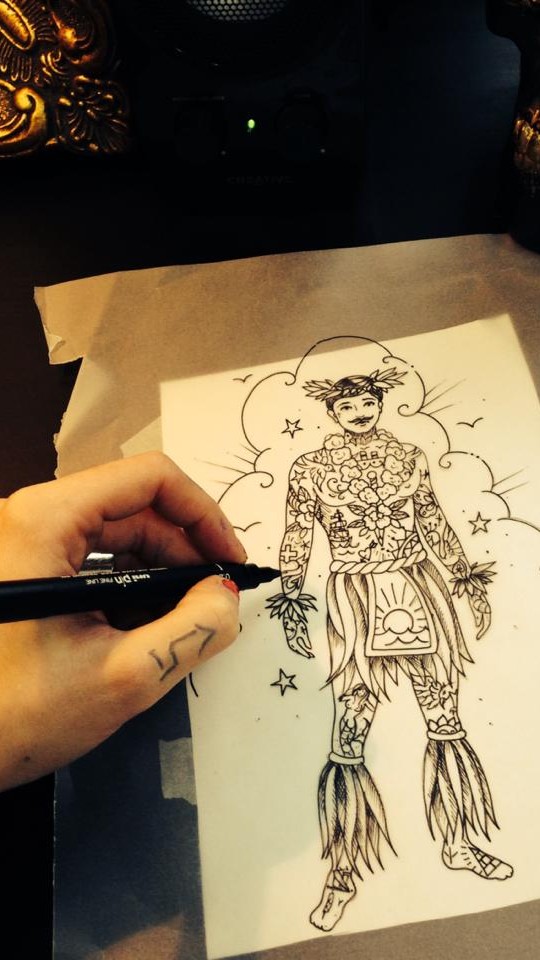 In the very first issue of Things & Ink, I wrote an article called "Old School for Girls". In it, I posed the question – Is it time to recreate the traditional pin-up tattoo for a female audience? – and I expressed my interest in getting a hula boy tattoo. After the article came out, I became rather determined to find an artist willing to tattoo a hula boy on me. He had to be handsome, sweet, fun, and with the right level of kitsch. He had to fit my style, complement the colourful tattoos already on my right arm which represent my love of all things 'Hawaii kitsch' – pink flamingos, palm trees, hula girls, tiki huts, etc., you get the idea. He had to be perfectly me.
I am extremely happy to report that in October I found the perfect tattoo artist for the job (Thanks, Reka & Maya for your help!), and in November when I was visiting London she gave me what my heart desired most … and then a whole lot more! Her name is Eszter David, she's an incredibly talented artist from Hungary, and she works at one of my favourite tattoo shops in the whole wide world, Hell To Pay. She took on the challenge with excitement and enthusiasm. I told her he needed to have a traditional feel in the way he was drawn, but I wanted some non-traditional features – some tattoos and a moustache, were a couple of ideas I mentioned. I left the rest up to her, and she exceeded all my expectations. She did a ton of homework in order to draw the right hula boy attire. She put a ton of thought into every little intricate tattoo she put on his body. She gave him lovely, stylized short and shiny hair, and a sweet flirty smile. Needless to say, she completely got my personality and taste, including the level of kitsch I wanted and my arm artwork demanded. He was absolutely PERFECT!!
Check out Eszter on Instagram, FB, and of course at the Hell To Pay shop and FB page. She's a super talented female tattoo artist who is the master of many styles. Really I cannot say enough wonderful things about her as a person and as a tattooist. I look forward to seeing her again in 2015, for more ink, good music, and some beers.
And, as Ester said, "Hula boys & pink flamingos forever!" She's a girl after my own heart!