Our guest blogger is Giselle, creator of Mindful Wanderlust – a travel blog about responsible travel, tattoos, and following a vegan lifestyle. This is the second of many posts to appear on th-ink, telling of her and her husband Cody's travelling tales. (read first post here)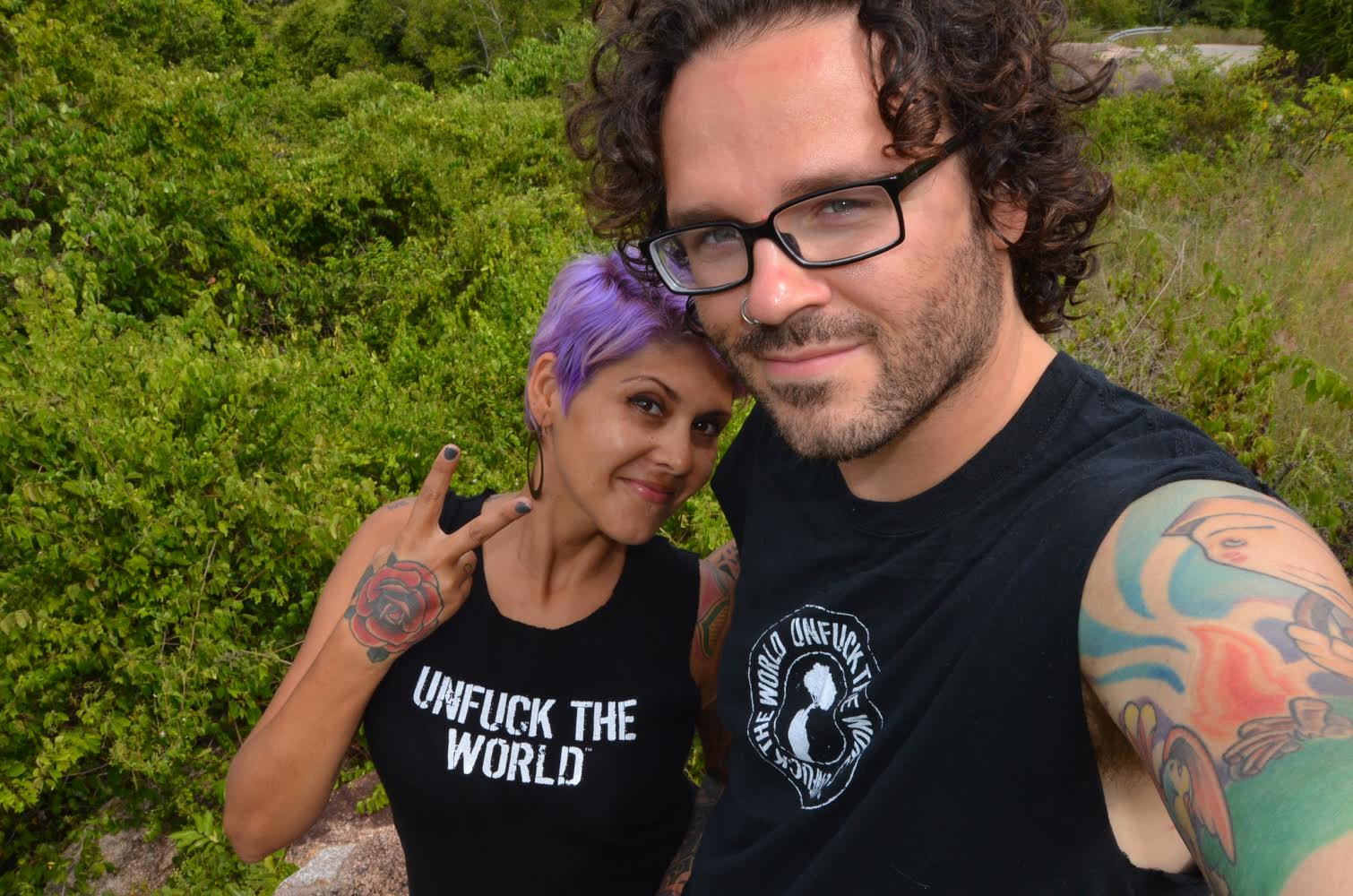 For as long as I can remember, I have been fascinated with travel and tattoos.
My first travel experience was when I was about five years old, and I received my first tattoo when I was just 15.
Driving on the open road for hours at a time gives me a sense of freedom; receiving a tattoo and not worrying about any consequence can also be very freeing.
Luckily, my husband and I have elected freedom as our life of choice and have been travelling the world for the past two and a half years.
The acceptance of tattoos has come a long way. Tattooing has evolved into a fine art, and this is partly what attracts us to it. They can mean so much to so many, but they also don't have to mean a thing.
All of our pieces don't have deep meaning. Many of them are permanently etched into our skin, simply because we love the design, or we were informed of a tattoo convention in Kathmandu and decided on spontaneity. But just getting a tattoo in the moment turns that piece into something of meaning – at least to me.
We have travelled everywhere from Tanzania, to Madagascar, Nepal, to Grenada, Venezuela to Thailand, Indonesia to Bhutan, and the response from the majority of people has been very positive.
In countries such as Burma and Thailand, tattooing has been steeped into their culture for thousands of years. The locals were always curious about our work, and it presented us with a great way to connect with people. We would be stopped on the streets and asked to see our work, often times getting photos taken with complete strangers.
As exciting as travelling the world is, it becomes even more exciting to imagine what kind of work we might get while visiting a country. It adds to our experience, making it richer, and more memorable.
My first tattoo while travelling was at the Nepal Tattoo Convention in Kathmandu. I hadn't planned on ever getting my hand tattooed, but I was travelling the world, doing exactly what I wanted, and had noticed a heavily tattooed man with both his hands beautifully done. I decided right there that I was going to get a traditional rose.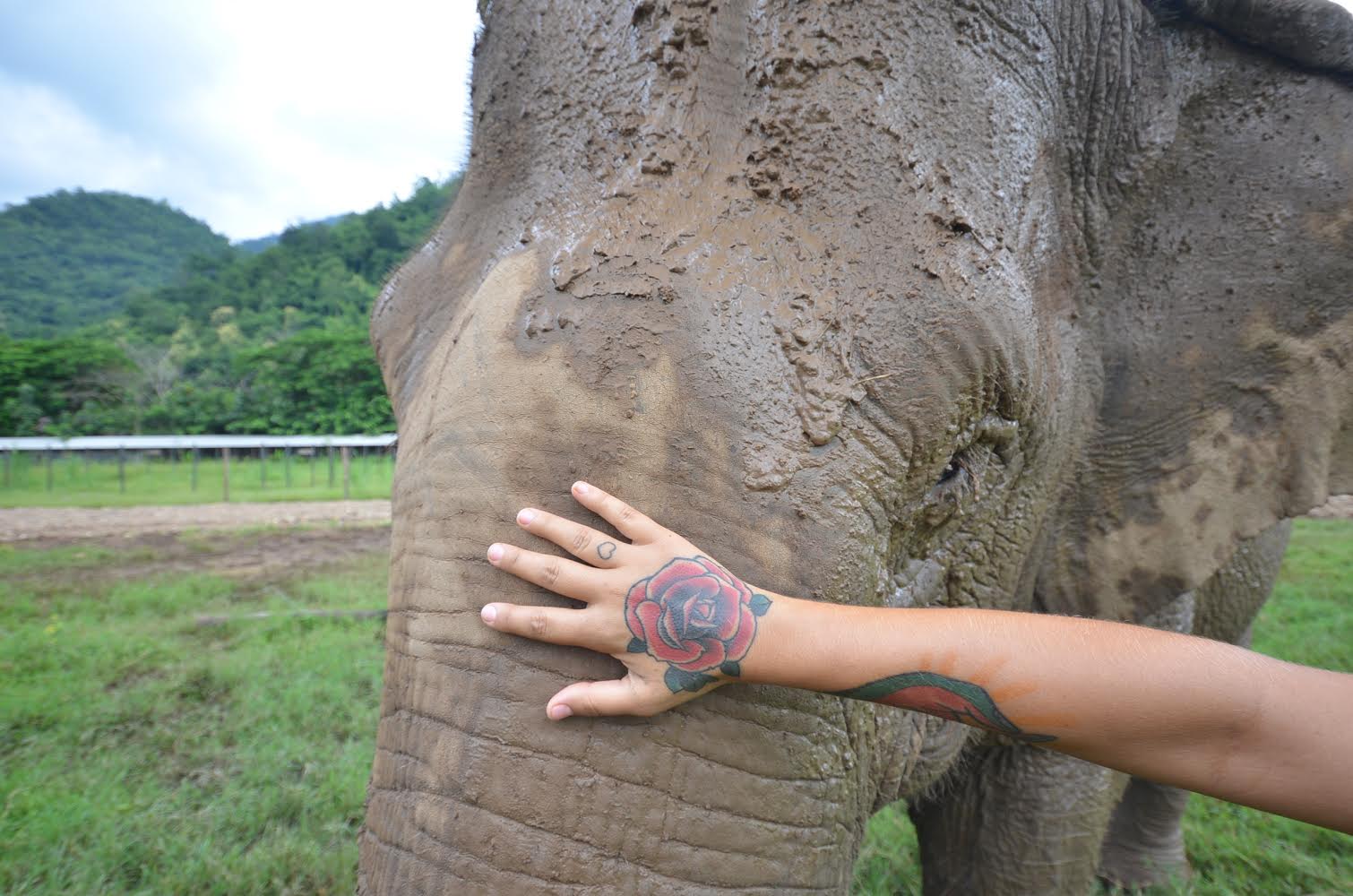 Funny how things can change so quickly. At the time it was a tattoo that meant nothing. It was just an impulsive decision, but now it means so much. It was the moment I had decided that I was going to live my life exactly how I wanted to live it. My personal happiness and how I choose to live my own life, far outweighs the expectations of others.
A few months later we had arrived in Thailand, and lived at an elephant sanctuary for six months. We became close friends with the local elephant expert and tattoo artist on the grounds, Jodi Thomas. She tattooed us in her bamboo hut in the middle of the jungle while watching elephants stroll by. It was unreal.
Travelling to Saskatoon, Saskatchewan this summer gave us another opportunity to collect some art from our good friend Jason Dopko. It's a different experience being close friends with the person who is tattooing you. There is an understanding, and it can be a real bonding experience. You become involved with the ins and outs of the art, and business, and learn to really appreciate what goes into the process.
This week I travel to Toronto to get tattooed by Franz Stefanik, and our next big stop is Japan in January of 2015. We would love to get some work done by Shige or Ichibay.
Only time will tell.
Next entry… January when we visit Japan to get tattooed.