Tattoo love story – The Wedding
Almost two years ago, we launched a competition to find the ultimate tattooed love story, we wanted to know if your relationship was linked by ink… (Original comp here.) The winners would receive wedding photography, by Eclection Photography, for their big day.
And the winners were Roxanne And Greg (read their story in this blog post with the other two finalists)… our Things & Ink Tattoo Love Story Wedding Competition Winners. And on Wednesday of this week, they made their commitments to each other in Ink, by getting their wedding fingers tattooed by Alexis Camburn at her studio  Two Snakes Tattoo in Hastings.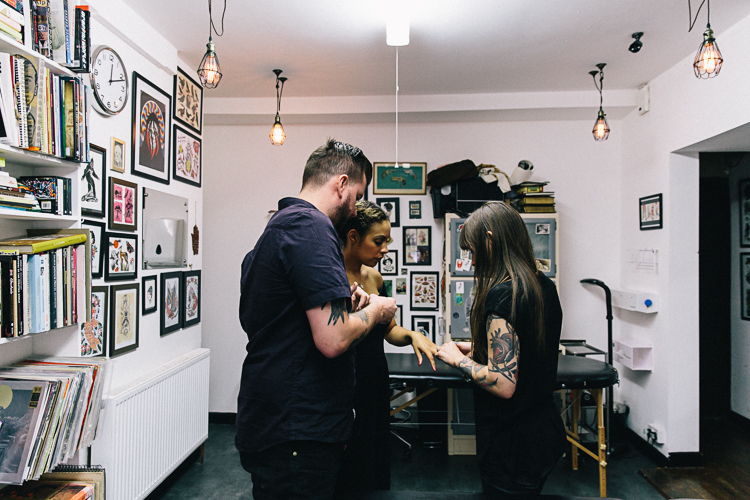 Greg and Roxanne designed the ring/tattoo together. The star and the moon simply symbolising that they are each other's moon and stars. The four dots represent Roxanne, Greg and their two cats (cute!).  Who, btw, will be at the wedding… in the form of cardboard cut outs!
Roxanne was first in the chair and Greg joked: "at least I know the odds of you turning up are pretty high now." Greg and Roxanne both had their wedding bands tattooed within 30 minutes.  Less time than your average wedding!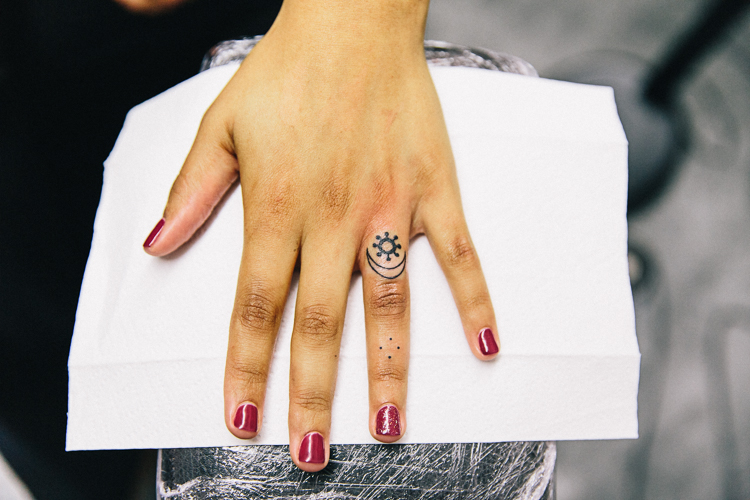 We are all very excited over here at Things &Ink HQ,  the wedding of Roxanne and Greg – the Things & Ink Tattoo Love Story Wedding Competition Winners.  They will tie the knot officially today (Friday 28 August) in East London…
Tattoo artist Alexis does lots of wedding band tattoos and people like the freedom to create what they like as opposed to being limited by what your can wear as a ring.  She has tattoeed couple's  dates,  initials and also made wedding rings from simple bands to extensive patterns.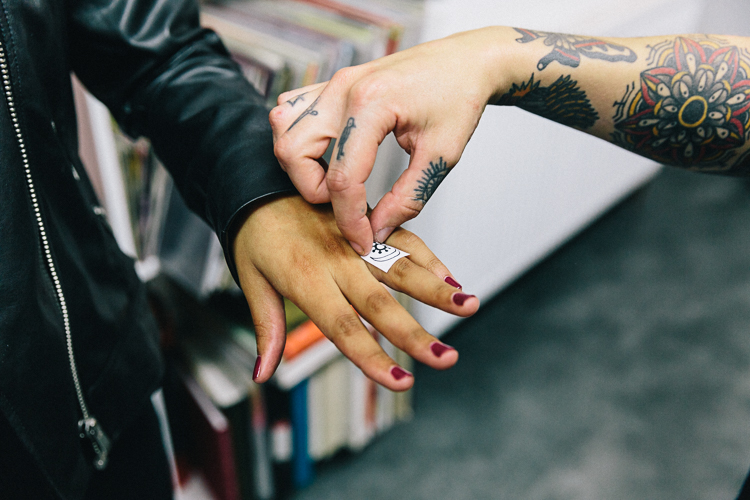 We will keep you all updated on the big day!