The 100 Hands Project, curated by our editor Alice Snape, forms the centrepiece of the exhibition Tattoo: British Tattoo Art Revealed at the National Maritime Museum in Cornwall, which runs until January 2018. Here Alice talks about the innovative installation and what it means for contemporary tattoo culture. 
It was the stunning work of tattoo artist Claudia de Sabe that made me fall in love with tattoos. From the moment, I discovered her work, I knew I wanted to be heavily tattooed. I wanted to turn my own body into a work of art, become a collector of delicate, beautiful work by an array of different artists. So, of course, Claudia was the first tattoo artist I put on my list when I was approached by National Maritime Museum Cornwall to curate the 100 Hands Projects.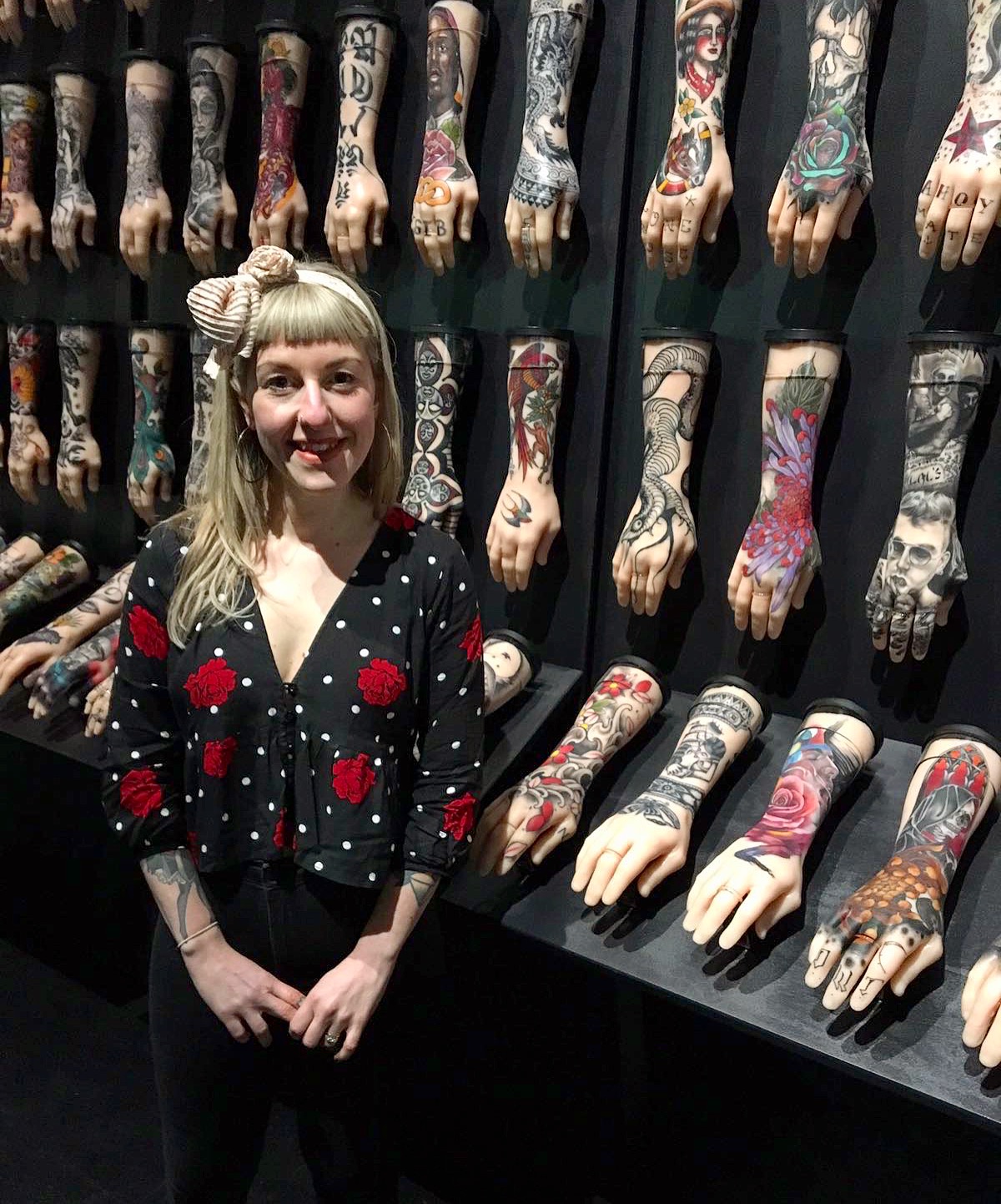 Curator Alice Snape standing in front of the 100 Hands at NMMC
For me, there is absolutely no denying that tattoos are art, that's not a question up for debate. Of course, all tattoos are not created equal, some are "good" and some "bad". Tattooing is another medium and tattoos can be analysed in a way that any other works of art can – watercolours, sculptures, sketches, oil paintings. This means that some are worthy of being housed in a museum. The problem is, of course, tattoos simply aren't objects that can be put in a frame or housed in a cabinet. They are on the skin of living, breathing people, which means ordinarily they disappear from existence once the wearer's life is over.
The 100 Hands Project is a way of representing the three-dimensional, living nature of the tattoo. I have handpicked 100 of the best tattooists all working in the UK right now providing a snapshot of the work tattoo collectors are currently getting inked onto their skin, from black and grey and geometric to neo-traditional and colour realism. My selection includes the most respected, talented and popular artists. And they have each created an original design on a silicone arm.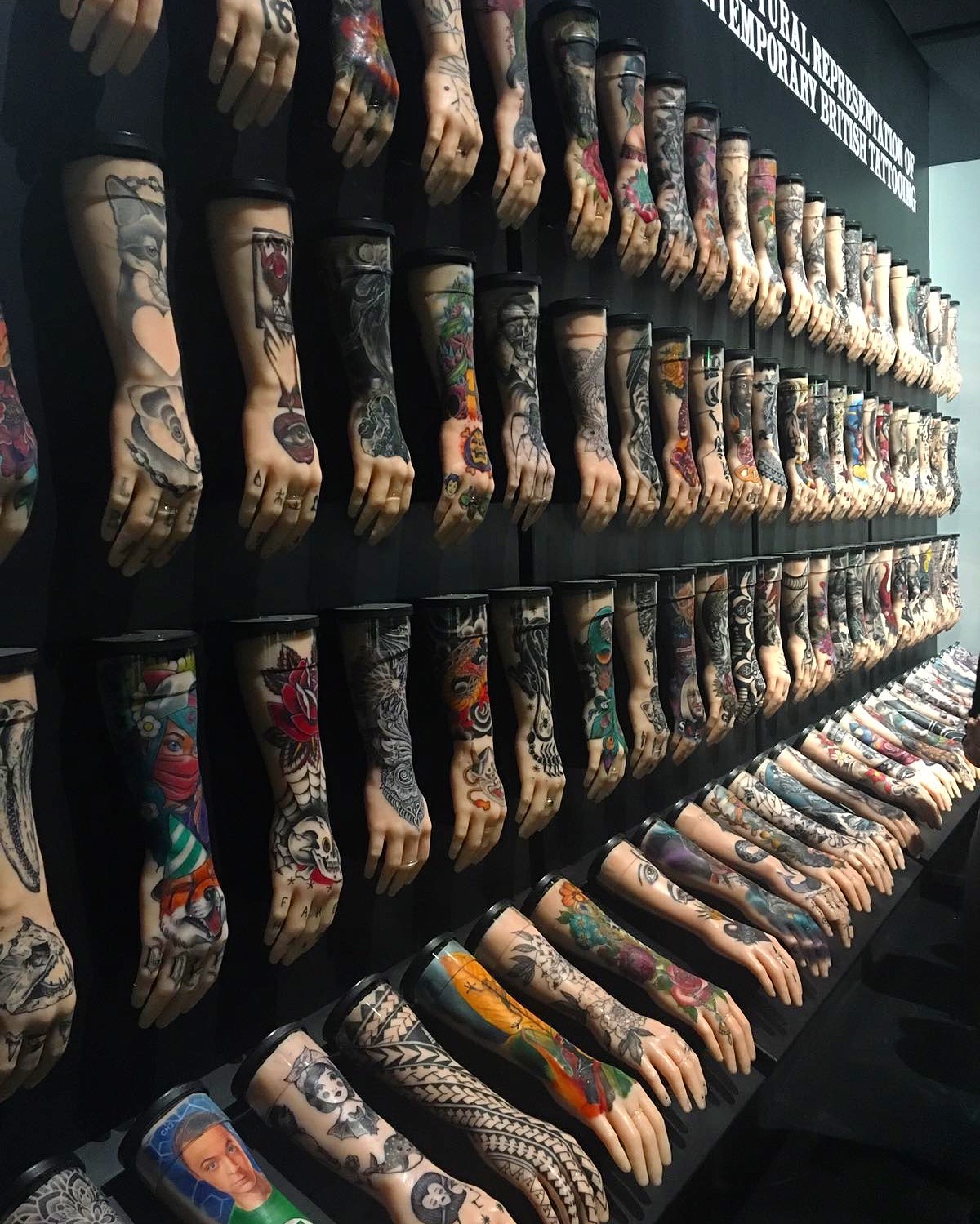 "For my submission I simply tattooed something that I would love to tattoo in real life, for a customer," said Claudia de Sabe, when I asked for her inspiration behind the piece she created – a stunning Japanese peony in purple and red. And the reason she wanted to be part of it? "There's still a lot of misconceptions on tattooing and every exhibition can perhaps be of help in establishing a secure space for this art/craft within the artistic community. Ten years ago, an exhibition like this would have taken place maybe at a tattoo convention for three days, but not at a museum for this same length of time, which is incredible."
Tattoos are so much more than just beautiful designs, they're reminders of the unique stories that can be told on human skin. So, bringing an intimate and personal art form into a museum space gives the practice a new, institutional legitimacy and a special kind of accessibility, dispelling outdated misconceptions and showing just what is possible when artists put ink into skin.
And now the exhibition has finally launched, seeing the arms come back together inside the museum is a spectacle to behold. After hundreds of painstaking hours, 100 blank arms are now works of art that have become part of tattoo history. No matter what the inspiration or motivation behind each piece, each work of art has become one to make an installation that  will have an impact on the future of this thriving, creative and magical industry.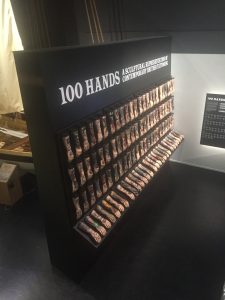 List of 100 contributing artists:
Louie Rivers, Travelling tattooist,  Exeter
Joe Carpenter, Five Keys Tattoo Studio, Norwich
Ricky Williams / The Family Business / London
Jo Harrison UN1TY / Modern Body Art, Shrewsbury / Birmingham
Caleb Kilby, Old Habits / Two Snakes, London / Hastings
Kate Mackay Gill, Private Studio, West Sussex
Jake Galleon, Studio XIII, Edinburgh
Paula Castle, Broadside, Swansea
Meg Langdale, The Burton Tattoo Collective, Leicester
Joanne Baker, Grizzly Art Collective, Coventry
Han Maude, Infinite Ink, Coventry
Antony Flemming, World of Tattoos, Ruislip Manor
Sophie Gibbons, Tommygun Tattoo, Plymouth
James "Woody" Woodford, 1770, Brighton
Pauly, Second City Tattoo, Birmingham
Dexter Kay, King of Hearts, London
Mike Stockings, Legacy Tattoo, Haverhill
Jondix, Seven Doors, London
Olivia Dawn, The Tattoo Company, Wilmslow
Matt Difa, Jolie Rouge, London
Kathryn Kirk, Addiction Tattoo & Piercing, Bangor, Northern Ireland
Tamara Lee, The Circle / Two Snakes, London / Hastings
Aaron Hewitt, Cult Classic Tattoo, Romford
Louis Molloy, Middleton Tattoo Studio, Manchester
Abbie Williams, Lost Time, Peterborough
Amy Savage, The Warren, Canterbury
Araceli Forever, Death's Door, Brighton
Anrijs Straume, Bold as Brass Tattoo Company, Liverpool
Allan Graves, Haunted Tattoos, London
Neil Dransfield, Oddfellows Tattoo Collective, Leeds
Dominique Holmes, Black Lotus Studio, London
Chrissy Lee, Colchester Body Arts, Essex
Lucy O'Connell, Red Tattoo and Piercing, Leeds
Delphine Noiztoy, The Lacemakers Sweatshop, London
Gibbo, Oddfellows Tattoo Collective, Leeds
Sway, Sacred Electric Tattoo, Leeds
Harriet Rose Heath, Crooked Claw Tattoo, Sheffield
Little Andy, The Church Tattoo Studio, Birmingham
Lal Hardy, New Wave Tattoo, London
Dane Grannon, Creative Vandals, Hull
Hannah Keuls, Good Times, London
Akuma Shugi, Wolf & Dagger, Hove
Ché Crook, Level Crooks, Bristol
Miss Jo Black, Black Inc, Frome
Philip Yarnell, Skynyard Tattoos, Westcliff-on-Sea
Lucy Blue, Cobra Club, Leeds
Clare "Goldilox" Deen, Incandescence, Birmingham
Alex Candela, Black Market, Leicester
Matthew "Henbo" Henning, Redwood, Manchester
Jack Goks, Cloak and Dagger, London
Jelle Soos, Swansea Tattoo Company, Swansea
Matt Finch, Atelier Four Tattoo Studio, Truro
Dan Hague, La Familia, Newquay
Paul Hill, Vagabond, London
Dawnii Fantana, Painted Lady Tattoo Parlour, Birmingham
Kerry-Anne Richardson, Cock A Snook, Newcastle
Chris Jones, Physical Graffiti, Cardiff
Kat Abdy, Cloak and Dagger, London
Touka Voodoo, Divine Canvas, London
Rosie Evans, MVL Tattoo, Leeds
Joao Bosco, Parliament, London
Claudia de Sabe, Seven Doors, London
Emma Kierzek, Aurora Tattoo, Lancaster
Tacho Franch, Follow Your Dreams, Sheffield
Justin Burnout, Ghost House Collective, Derby
Mitchell Allenden, Dock Street Tattoos, Leeds
Lewis Parkin, Northside Tattooz, Newcastle
Mister Paterson, The Fifth Chamber, London
Charissa Gregson, Bath Street Tattoo Collective, Glasgow
Otto D'ambra, The White Elephant, London
Holly Ashby, House of Thieves Tattoo, Birmingham
Fidjit, Dharma Tattoo, London
Deryn Stephenson, Tenacious Tattoo, Sheffield
David Corden, Semper, Edinburgh
Sarah Whitehouse, Redwood Tattoo, Manchester
Fil, Broad Street Tattoo, Bath
Radu Rusu, Atelier Four Tattoo Studio, Truro
Ella Bell, Dust'n'Bones Tattoo, Plymouth
Ashley Luka, The Square Tattoo Studio, Solihull
Danielle Rose, Sanctuary Tattoo, Dundee
Matt Youl, Painted Lady Tattoo Parlour, Birmingham
Liam Sparkes, Old Habits Tattoo, London
Sadee Glover, Black Chalice Tattoo, Swindon
Jemma Jones, Sacred Electric Tattoo, Leeds
Gemma B, Black Ink Rebellion, Newquay
Kodie Smith, Edshead Tattoo Studio, Chelmsford
Billy Hay, Bath Street Tattoo Collective, Glasgow
Henry Big, Rain City Tattoo Collective, Manchester
Freddie Albrighton, Immortal ink, Chelmsford
Daryl Watson, Painted Lady Tattoo Parlour, Birmingham
John Anderton, Nemesis tattoo, Seaham
Hanumantra, UN1TY, Shrewsbury
Just Jen, Den of Iniquity, Edinburgh
Iain Sellar, The Black Lodge, Bristol
Olly Streeter, La Familia, Newquay
Cally-Jo, New Wave, London
Sophie Adamson, The Projects Tattoo, Plymouth
Loz Thomas, One By One, London
Kayley Henderson, Northside Tattooz, Newcastle
Tasha Pollendine, Physical Graffiti, Cardiff