Interview with Kerste Dixon
27-year-old tattoo artist Kerste Diston creates beautifully abstract watercolour tattoos at her tattoo studio, The Drawing Room in Coventry.  We chatted to Kerste about her style, and running a fully female tattoo shop…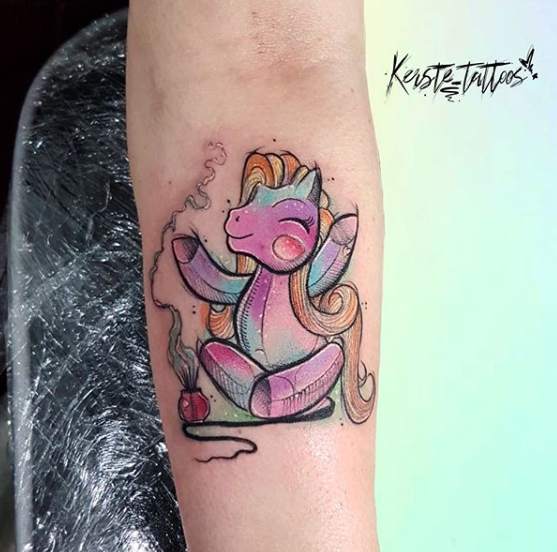 How long have you been tattooing? I've been tattooing around seven years.
How did you start? I started as an apprentice at a studio in my home town in Rugby where I worked for about four years.
What drew you to the tattoo world? Its always something I've been interested in. As soon as I turned 18 I was in studios getting work done. I've always been more interested in creative industries. I did footwear design at uni before getting my apprenticeship and I did art at college. I can't imagine not doing something creative as a career.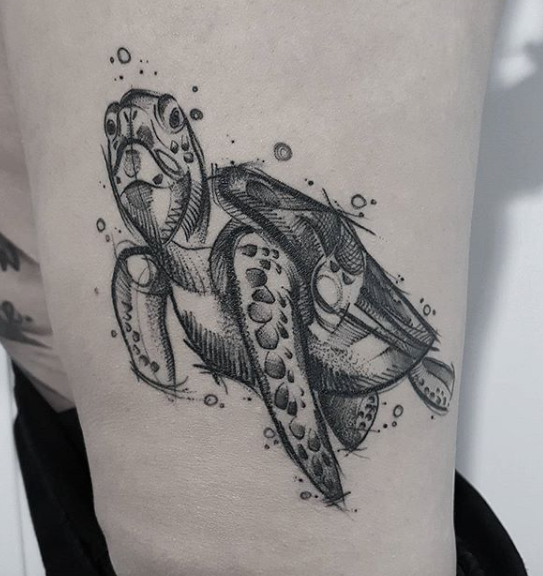 How long have you been a studio owner? How did it all come about? I've had my own studio for nearly two years. It just sort of happened – I left the studio I worked at in my home town in Rugby and I started working in Coventry. I had an old school friend who has their own business at Fargo Village where my studio is based. When I saw him posting on social media photos of Fargo I was intrigued. It's a village for creative business and I thought that it would be the perfect place for a studio. They thought a tattooist would fit in well and they had a small unit available. My mum and dad encouraged me to go for it and set off on my own! I'm not sure I would have had the confidence without them to do it. But it's definitely the best desicion I made. I opened in May 2016, and it started as a small private studio with just me. In May 2017 we expanded into next door and now we have myself and four other full time artists.
Who works in The Drawing Room and what kinds of tattoos do they create? We have myself who specialises in abstract watercolour and black work. Hanah who does super cute girly neotrad work, Emily our apprentice who does blackwork and Haley who does minimilist blackwork

Was it your intention to have a fully female shop? To be honest it just sort of happened and now it's a thing. Most of us have a mostly female customer base too because of the style of work we do so it all just sort of fits. That's not to say if the right artist came to me looking for a job and was a guy I'd turn them down! It just happens that everyone so far that's been right for us has been female! We also have lots of guest artists – we seem to have made this reputation where ladies like to come guest too, which is lovely! So many people think a big group of girls can be bitchy but honestly the studio is the complete opposite of that – it's such a lovely place to work and I'm so pleased to have the team I do!
How would you describe your style? Has this changed? I do mostly rainbow watercolour work, however I've branched off into doing darker blackwork. It's still quite abstract but it's just opened up some more doors for me work wise!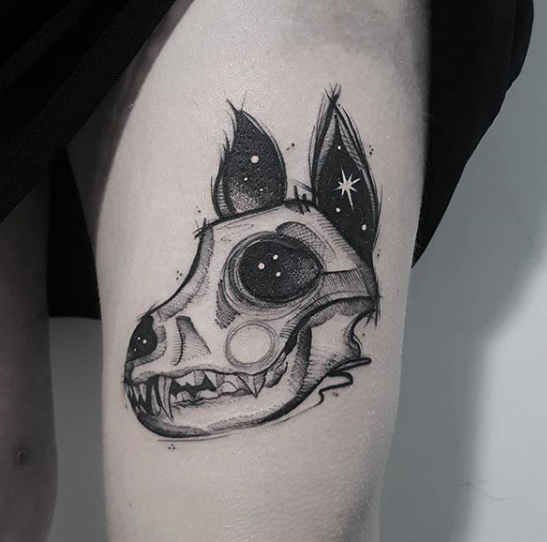 Do you prefer colour or blackwork? Is there anything you would love to tattoo? I like both colour and blackwork equally – it's nice to break things up sometimes If I've had a week of all colour work and a blackwork piece comes in that's nice and vice versa! Keeps things interesting! I love to tattoo all things nerdy/ponies and animals mostly!
Do you have any conventions planned? Just one more this year – Scarborough in May. We may look into a few more towards the end of the year though.