In this post our guest blogger Amber Bryce discusses how she thinks veganism and tattoos go perfectly together and she talks to two tattoo artists who also share her point of view…  
In many ways, I think that veganism and tattoos make a perfect pair. They're  decisions that hold a lot of weight and impact, they can change your entire outlook on life and help to narrate a new kind of future for either yourself, or the world. To discuss the subject further I spoke with two lovely women in the tattoo industry: Avalon, a tattoo artist who works at The Grand Illusion Studio in Melbourne, Australia, and Dina, who owns Gristle Tattoo in Brooklyn, USA.
Here's what they had to say…
Avalon Westcott, 24, Melbourne
How long have you been tattooing for? I started apprenticing at The Grand Illusion (Melbourne) at the start of 2013 and did my first tattoo ever on myself by the end of 2013. Before tattooing I had been painting for a few years, doing custom pet portraits for people, which was so much fun.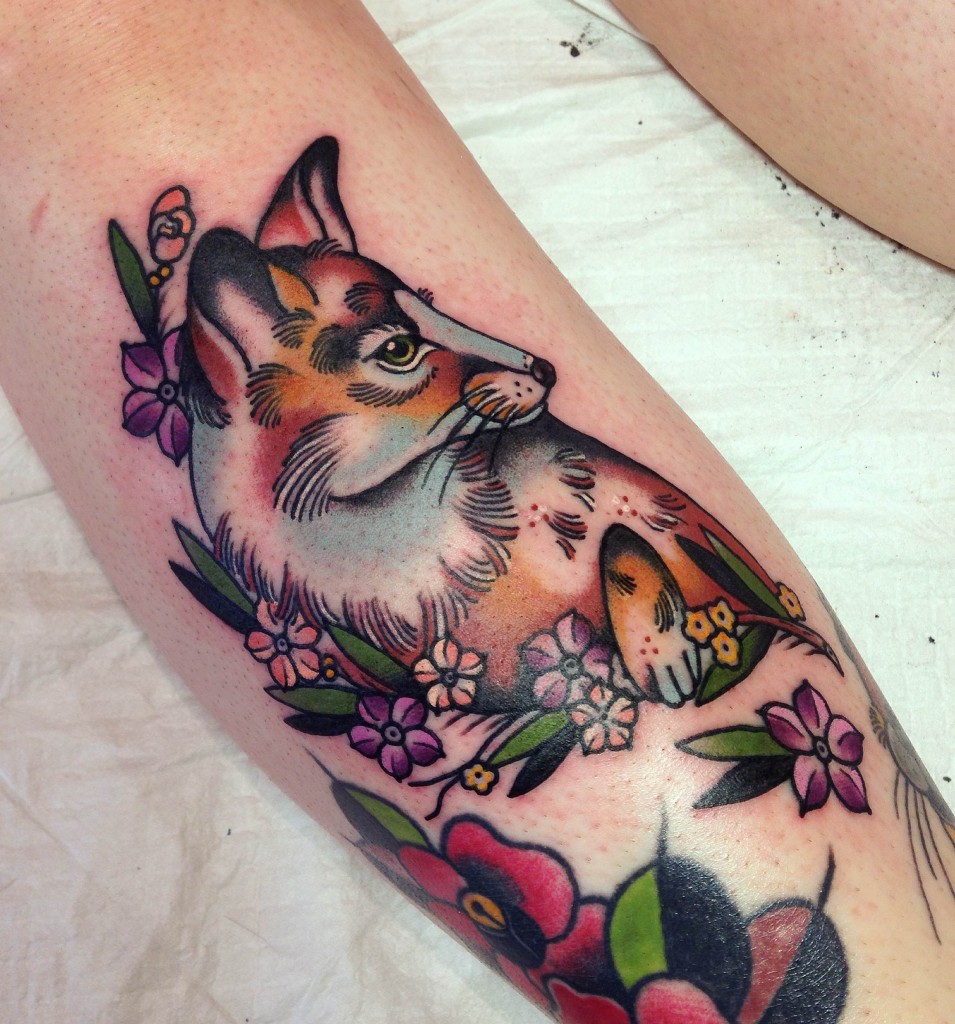 When did you become vegan? I went vegan five years ago when my fiancé Josh and I moved to the states for a few months. A month into my veganism I realised how amazing I felt, like a weight had been lifted off my shoulders. At that point I knew there was no turning back and that nothing, no peer pressure, no craving, no situation would ever make me eat animals again.
Is your veganism something that has always inspired your tattoo designs? I can't count the amount of vegan inspired tattoos that I've done. Animals have become my speciality! I usually tattoo a combination of animals together, cows, lambs, chickens (lots of chickens) and piggies. Meeting like-minded people, chatting food, chatting animals and sharing a mutual lifestyle really brings me closer to the clients.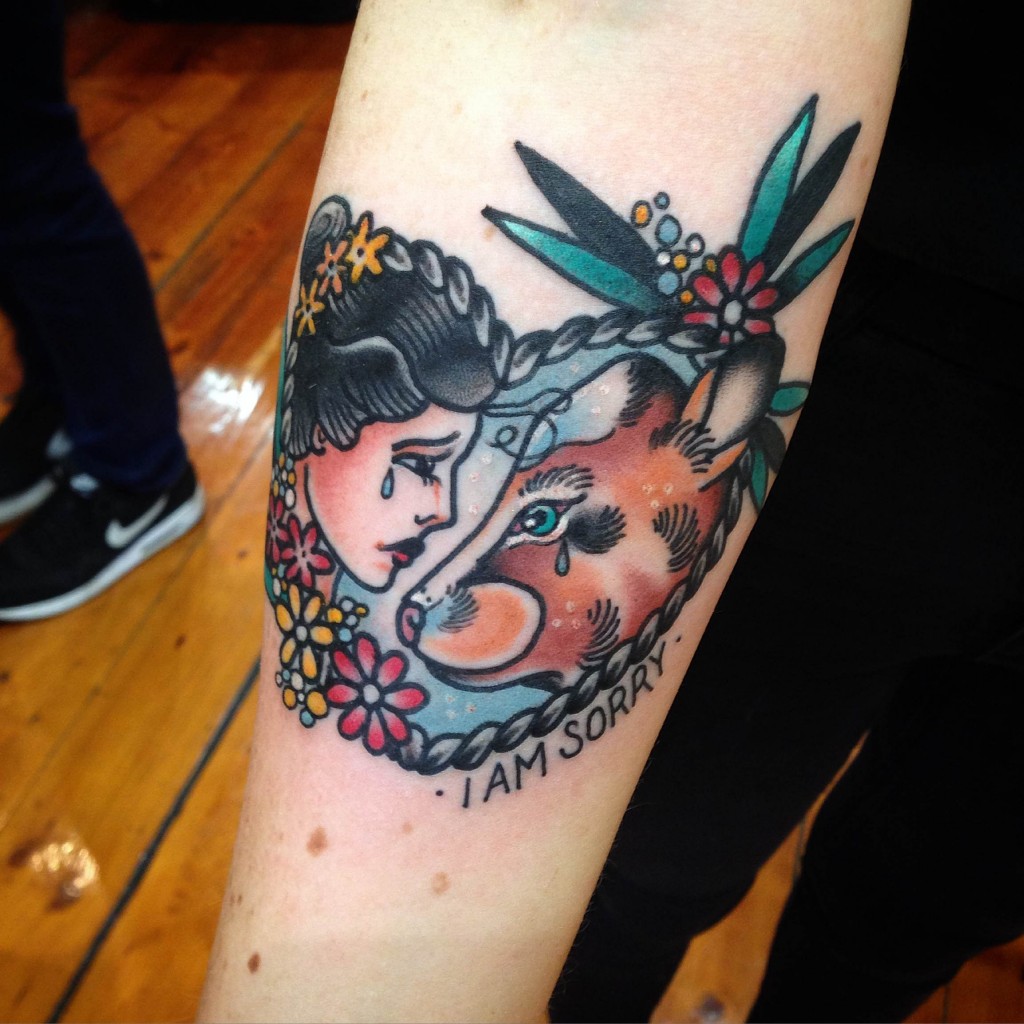 How do you think tattoos can help veganism? It's no surprise that people with tattoos are often asked about why they have particular tattoos. My clients get tattooed for themselves, often to celebrate a milestone in their veganism or to commemorate animals, however, if anyone were to ask about why they have a love heart with animals in it tattooed on them I'm sure they're proud to explain why. I believe that having a vegan tattoo is a very courageous and inspiring thing. To welcome people to question your lifestyle or even comment on it takes strength.
Do you have any personal vegan tattoos? If so, who are they by? I do have a few animal tattoos myself! My most recent is a girl dressed up as a chicken referenced from some vintage flash painted by Earl Brown, circa 1950, on the side of my thigh by the brilliant Becca Gené-Bacon from Hand of Glory in Brooklyn, NY.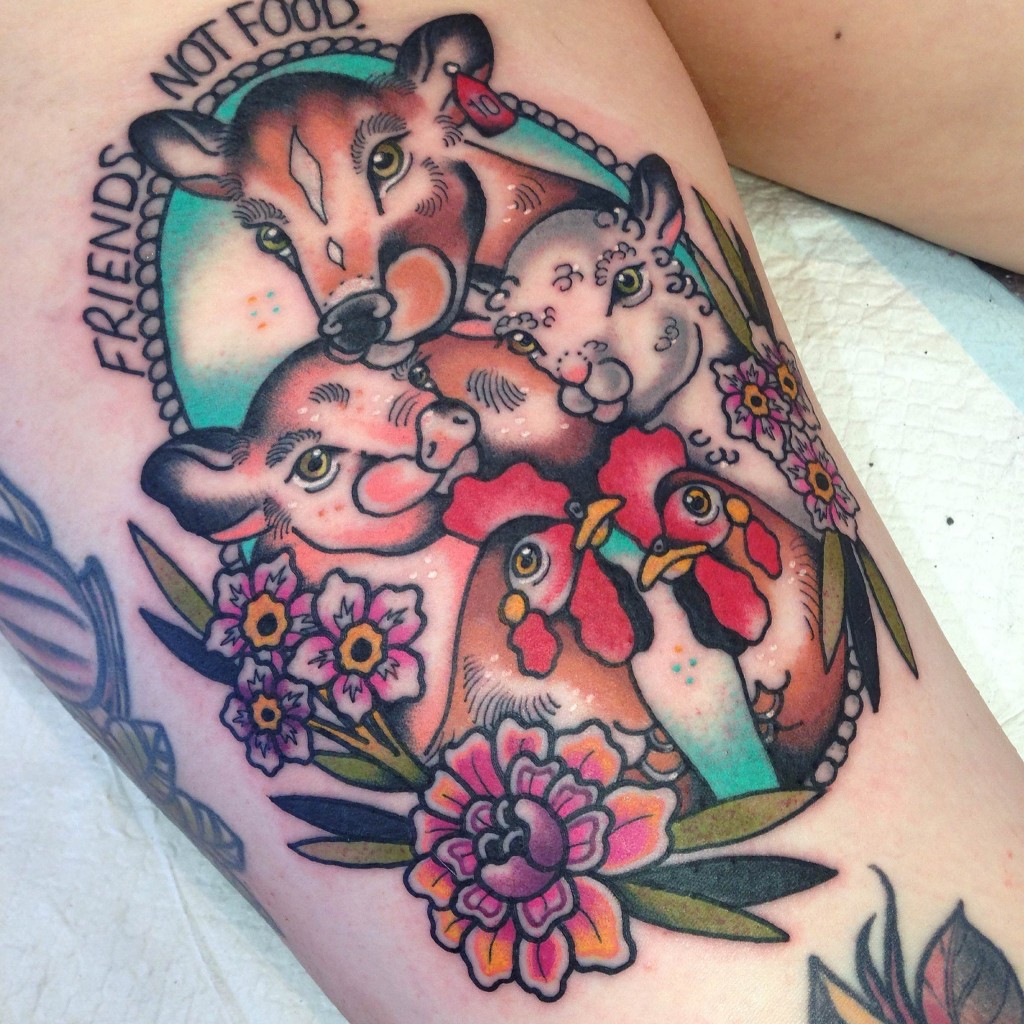 What's your favourite vegan tattoo that you've done? Every vegan tattoo that I have done holds its own meaning and its own memories. Really, they're all as special as each other for the client, and myself.
Dina DiCenso, Brooklyn
When did you become vegan? I've been 100% vegan for six years and the two years prior to that I was 90% vegan (I ate cheese once every four months) and then I was vegetarian for about 15 years prior to that. So when I opened my own business it seemed natural for it to be vegan.
How has veganism informed your business? I use the shop to do a lot of fundraisers for animal rescues. We work with small, local rescues that are in desperate need of funds. We tailor each fundraiser flash to fit the organisation. For example, we do wolves when we work with Wolf Conservation Center, we do farm animals when we work with Skylands or Woodstock Farm Sanctuaries and we have a TnR event coming up so we'll design cat related flash.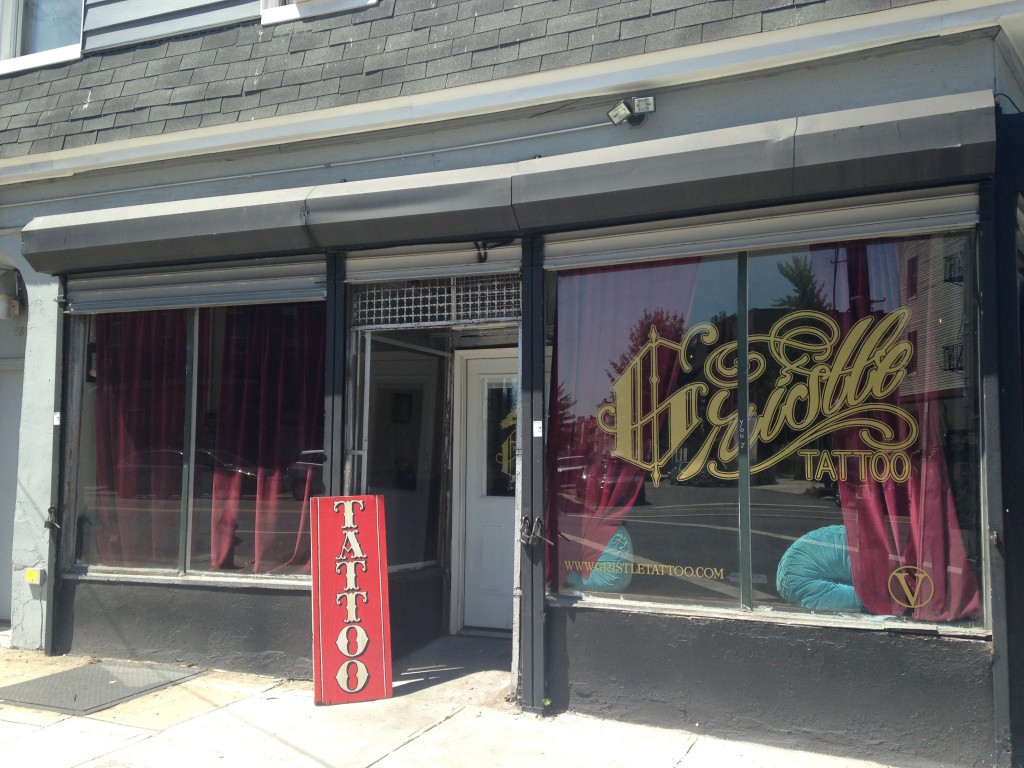 How do you think tattoos can help the cause of veganism? I think tattoos can inspire veganism in a few ways. First, if people encounter enough people with vegan tattoos, they may stop and think about how many people are vegan and that it's possible for them to change and be vegan too. And second, they may also see an image that inspires them to change their own lifestyle and habits.
Tell us about your tattoos? For me, it's important to have my tattoos have meaning so I don't get sick of them. Few things have more importance to me than the animals I've rescued, and animals in general, so I've tried to get a few of my favourites as tattoos.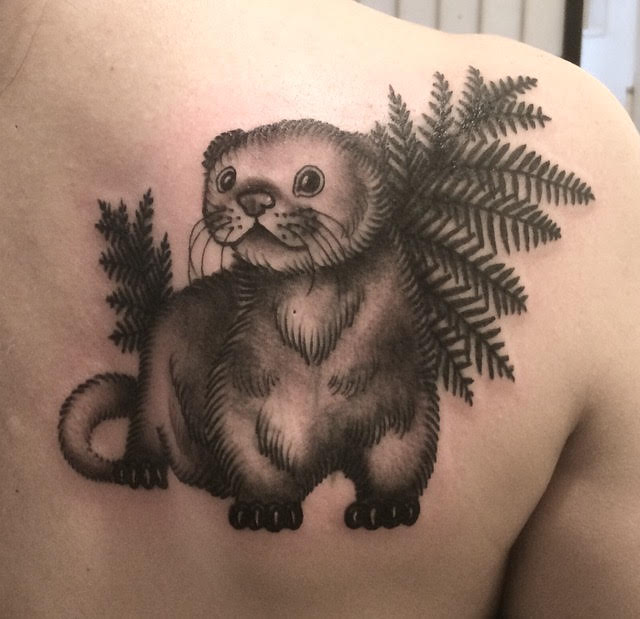 You convinced Reprofax to make the first vegan stencil paper! Tell me more about that. I had read online about the stencil paper possibly not being vegan. Rather than take the postings at face value, I tried to contact the company directly. After several contact attempts and no response I had my geneticist friend test it. He came back with lanolin as the offending ingredient and then about the same time I got his results, the company responded confirming it was indeed lanolin — it holds the ink onto the plastic sheet.
I then began harassing them until they agreed to make a vegan stencil paper. Their chemist had retired ten years prior, which is why they were reluctant to create any new versions of the paper. We helped test their early versions and when they had a solid final version, I was the first one to buy it. Many artists are unaware products in the tattoo process are not vegan – they think it's limited to the ink and aftercare. But it's the ointment, the soap and even the moisture strip on razors.