Our guest blogger is Natalie McCreesh aka Pearl, a fashion lecturer, freelance writer and creator of Fashion Pearls of Wisdom. In this post she'll be talking about getting tattooed at tattoo conventions… 
I went to my first tattoo conventions this summer, the first Liverpool Tattoo Convention, the second Leeds International Tattoo Expo. They were two fairly different experiences, Liverpool being a huge gathering spread out over a warren of rooms filled with artists and merchandise stalls whilst Leeds was a smaller, more intimate affair. I enjoyed both equally.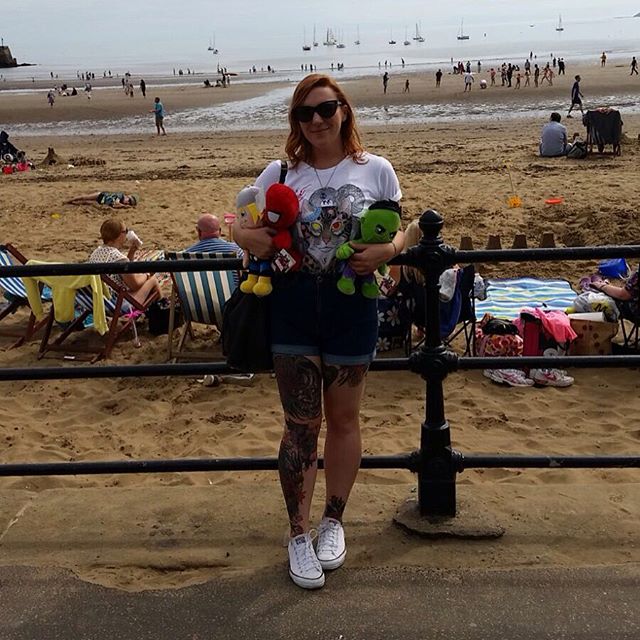 Before my first convention I wasn't sure what to expect, admittedly getting tattooed with an audience wasn't on my list of fun activities but it was an occasion to get tattooed by my artist without having to travel as far. So I booked in to have my knee cap tattooed by Max Rathbone who had tattooed the rooster on my shin the year before. Yep my knee cap, in public – one of the most painful places or so I'd been told. I wasn't getting tattooed until later in the afternoon so I had chance to say hello to friends and watch my boyfriend James get tattooed by Andy Walker. This is where we differ as a couple, I like to book my tattoos in advance whereas he prefers to be spontaneous on the day and go for walk-ups (choosing from the artists flash or pre-dawn designs on the day). He also got a little filler from Ad of Folklore Tattoo– a super fun bunch. My turn came and Max scribbled on my knee with coloured pens, he assured me these freehand scribbles would be a peony so I trusted his word and let him crack on. Max had tattooed me before and I was familiar with his style so I could sit back and relax knowing I would end up with an amazing tattoo. To my surprise getting your knee tattooed wasn't half as bad as I'd expected, phew! Although the swelling after scuppered any plans for a night out, it was back to the digs with a pizza and a bag of frozen peas, our arms laden with prints and other trinkets.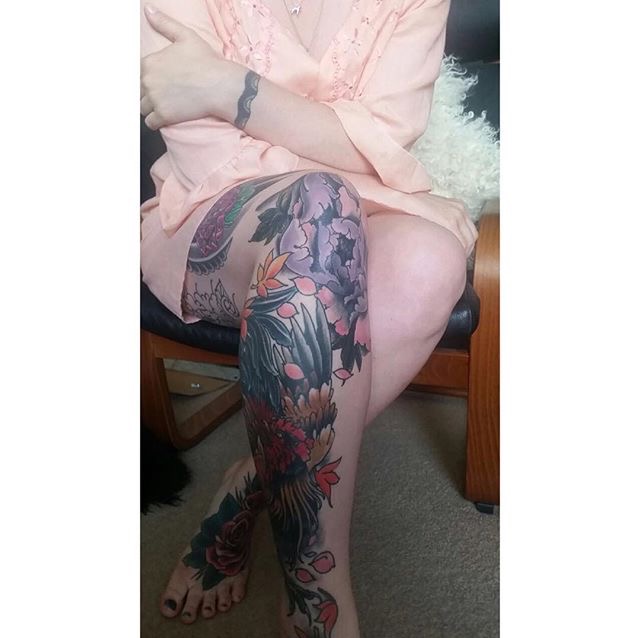 My second convention experience was just as good, after the vastness of Liverpool the intimate nature of Leeds Expo was a real contrast. Whilst there was less to do there was more time to chat. I had booked in with Holly Ashby whose work if been a fan of for a while, having bought some of her stunning prints for our home and as gifts so I was excited to meet her. Even though I'd not met Holly we had chatted before hand and decided on a design, having already been tattooed at a convention I wasn't freaked out like I had been for the first convention. That said at Leeds there was a lot more people walking past and taking photos, at first I found this a bit weird but Holly was absolutely lovely and it ended up being really fun talking to other people approaching her booth. We got to chat to people from all over the globe including other people there to get tattooed by Holly – it was like joining a special club. Inner thigh was a bit of an awkward spot as I ended up sat on a bench with paper towels tucked in my knickers, but it was worth the slight embarrassment as I adore the placement of my gorgeous pooch tattoo. In one hilarious moment a couple came running up to us brandishing a napkin, after some confusion it turned out they wanted a lipstick kiss print too use as a tattoo template. I am still left to this day wondering if some has my kiss tattooed!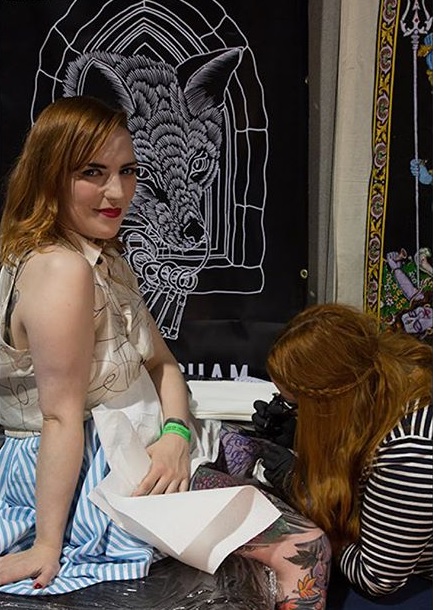 Natalie getting tattooed by Holly Ashby taken by Graham Pile