27-year-old tattoo artist Tan Van Den Broek works out of Dark Cloud Electric, a private studio in Fitzroy, Melbourne, and creates beautifully colourful neo-traditional tattoos. We chatted to Tan about her love for hard working bees and a dirty olive colour pallet…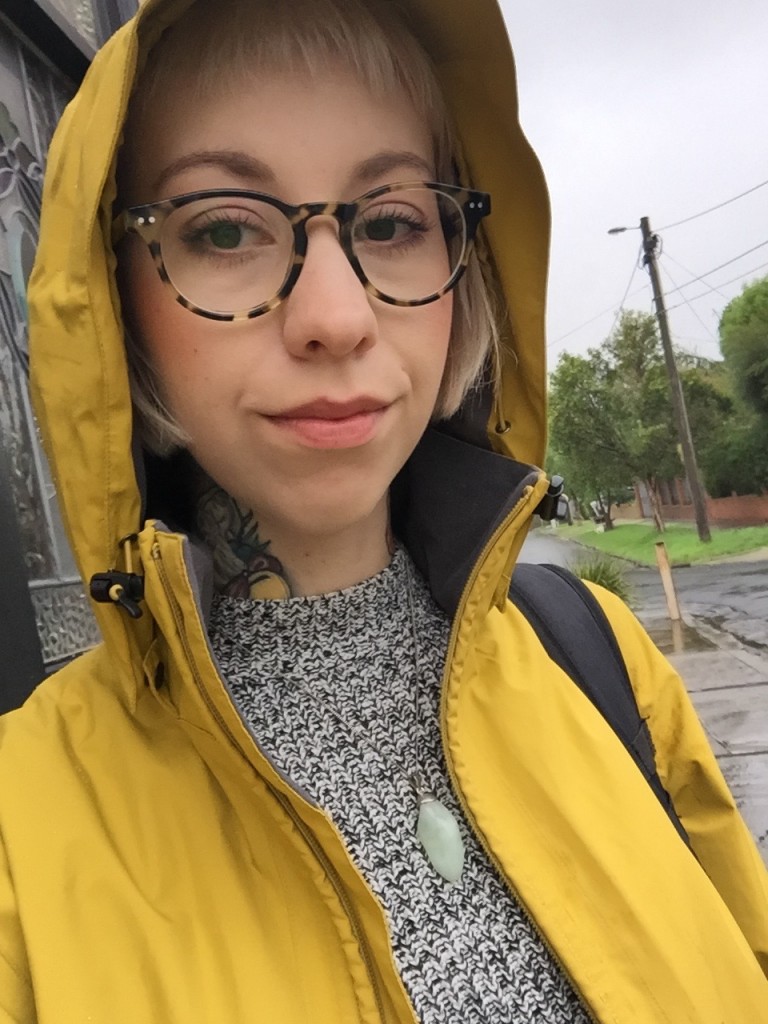 How long have you been tattooing? It'll be my sixth year of tattooing this August, I completed an apprenticeship over three years in two separate studios. I'm currently working in a private studio in Fitzroy, Dark Cloud Electric, with Dean Kalcoff.
What did you do before? Before tattooing I was at university completing a Bachelor of Creative Arts in Drama. Performance and art have always been an important part of my life, so it seemed fitting to do a degree in it. While studying I was waitressing (classic part-time actor job) and continued to waitress over the weekends while apprenticing. I would work five days a week at the studio, weekends waiting tables, drawing every other moment.
How did you start? Straight after I graduated uni, I applied for an apprenticeship in a local tattoo studio that was just opening up. He already had an apprentice, who had a fancy tattoo nick-name and lots of Kohl eyeliner, but I dropped by the studio with my folio of work anyway. He set a two year apprenticeship for me, I spent the first six months just observing and cleaning before I was allowed to tattoo.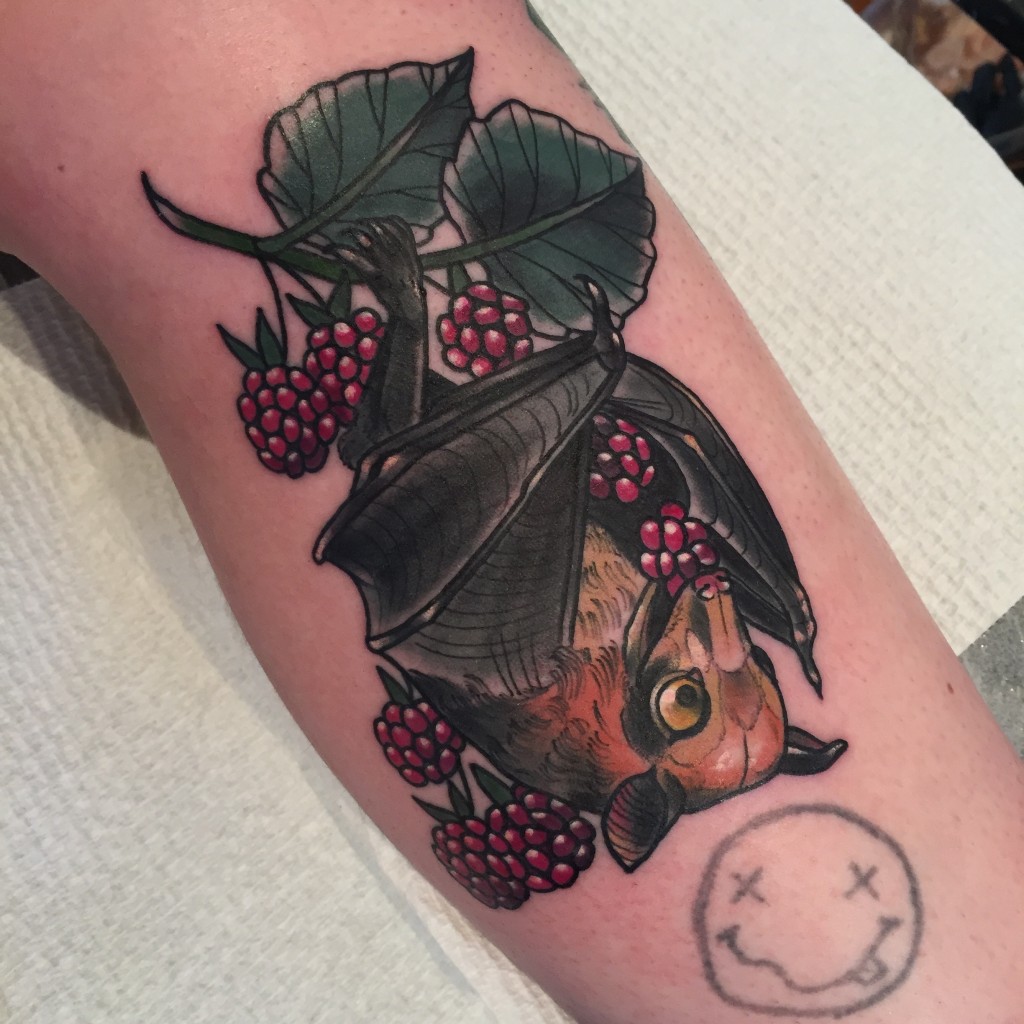 Do you have a background in art? Yes, I was a really quiet child and so I escaped into drawing imaginary worlds and what was around me; lots of flowers, animals and vegetables! I grew up on a organic vegetable farm, and both my parents are avid gardeners. I took on life drawing classes and later completed my drama degree doing as many visual art subjects as they would allow me to do. I stayed in most nights during my adolescence drawing, I guess nothing much has changed.
What drew you to the tattoo world? Music and my sister. Most of the bands I was listening to when I was younger had tattoos and their cover artwork always made me start brainstorming my first tattoo ideas.
My sister got her first tattoo under age over new years eve. She lied to our parents saying it was semi-permanent and that the pigment would fade away after a year. After a year rolled by and more tattoos were added, my parents clued on. Every tattoo she got, I just kept thinking that I could've drawn that better for her and made her happier.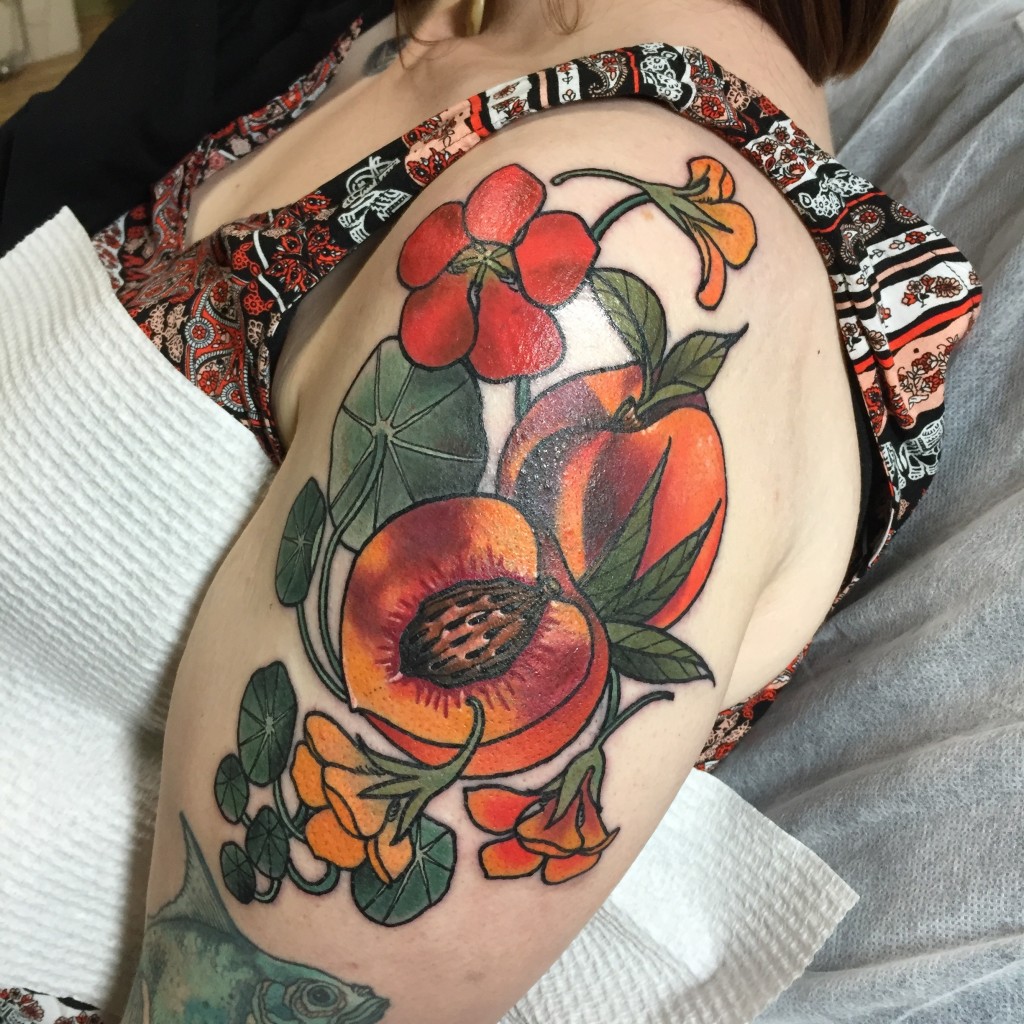 Describe your style, how has it changed? My style is neo-traditional but more on the bold, colourful traditional side. I like bold lines balanced with finer details.
Initially I wanted to be strictly a traditional tattooist, I loved the work produced by Andrew Mcleod and Jaclyn Rehe (still do) and loved the aesthetic. Tattoos that look like tattoos. Bold and badass. Vintage photographs of men and women adorned with ropes, ships, butterflies, women got me going! I quickly discovered I would over complicate my traditional drawings and I could not restrict my colour palette. I liked soft pastels and dirty olives. Neo-traditional was a better fit.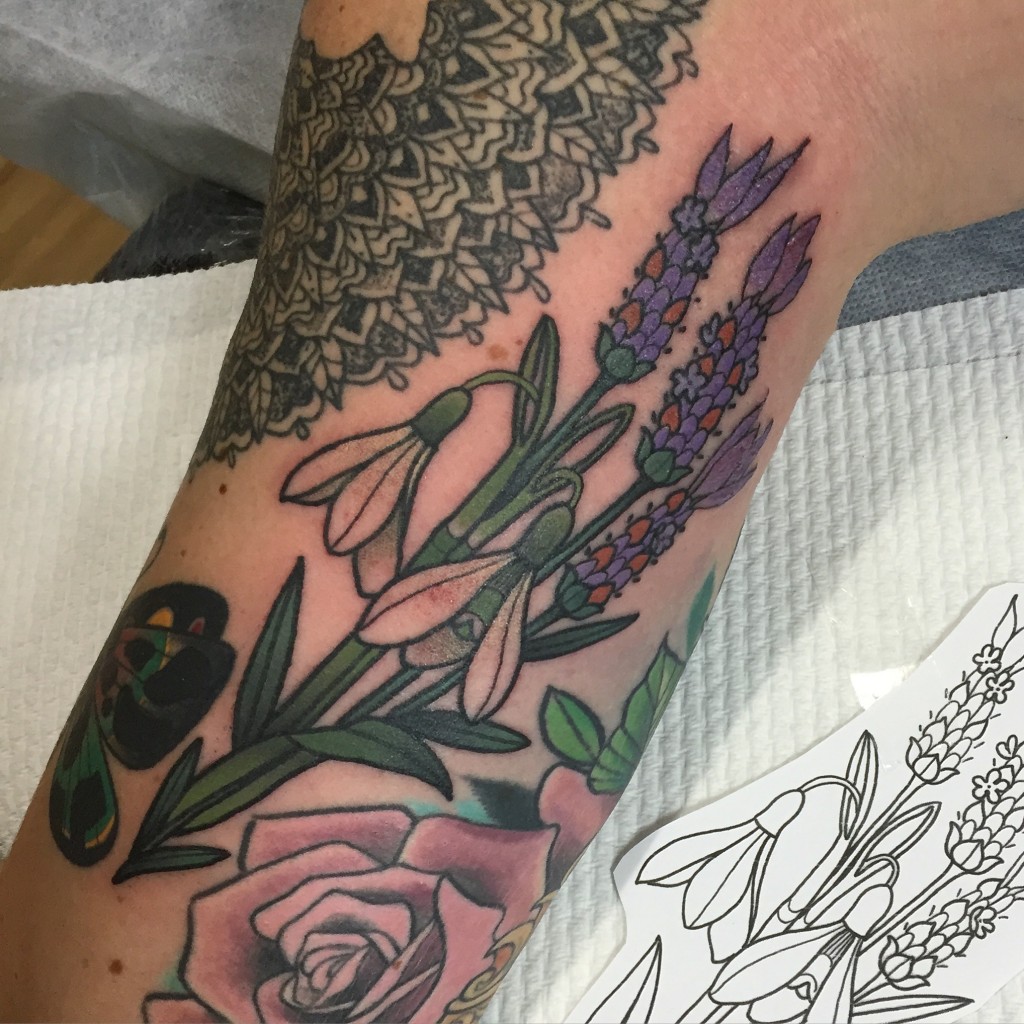 What do you like to tattoo and draw? Easy! Animals, flowers and Birds! Lately I've been tattooing lots of Native Australian flora, which can be a challenge but I LOVE the challenge and the colours of our flowers.
What inspires you? Beautiful gardens, climbing roses, old buildings, lakes, lead-light windows, crystals, Scandinavian towns, autumn leaves, caves and good coffee.
What would you love to tattoo? Monkeys, I love their expressions. Big cats, toucans/horn-bills, fishing birds, flowering fruits and more native flowers.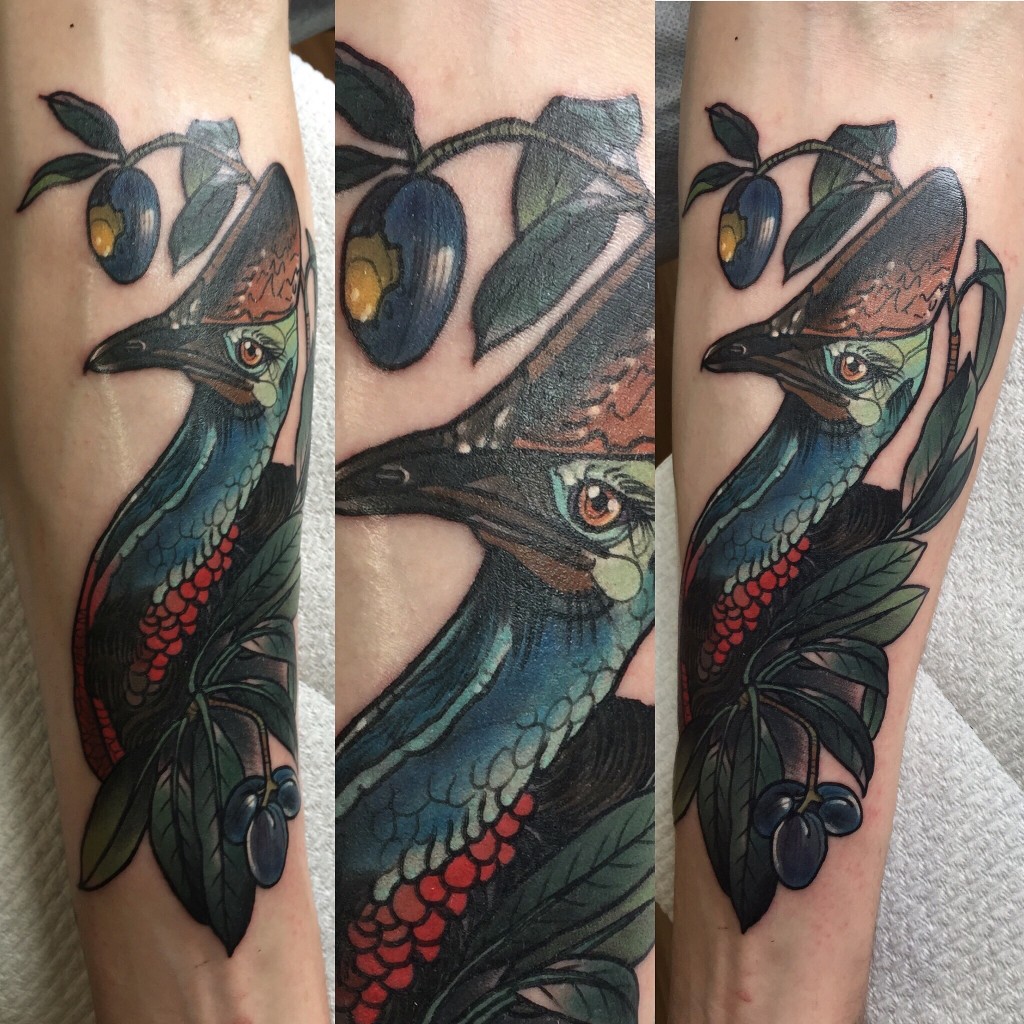 Do you have any guest spots or conventions planned? I'm heading back to Hobart for a week in June, then my next convention will be New Plymouth NZ Tattoo & Art Expo in November. Then Three Eyes Convention in Adelaide in February 2017. I'm currently planning a trip for Aug/Sept, fingers crossed I'll be heading to United States or back to Europe. I miss Vienna and Göteburg.
Can you tell us about your own tattoos? Sure, my left thigh, left sleeve/hand and left side of my neck was tattooed by my amazing co-worker Dean Kalcoff. My sleeve is inspired by my love of Art Nouveau and 1920s fashion. I've got a big orange rose on my neck, my hand has another rose and a Mike Pike Teacup machine. My left thigh has a rabbit being constricted by a snake.
My chest was tattooed by Emily Rose Murray, fuck I was lucky to jump in on a last minute availability! That piece makes me feel really beautiful, big soft peony roses and a little bee. I have three bees tattooed on me (so far), I love their meaning of female strength, hard work, self sacrifice and the importance of teamwork for a greater good.
I have four tattoos from my dear friend Clare (Clarity) Hampshire, one is a vintage nurse with red poppies for my G'ma who served as a head nurse here in Melbourne during the second World War treating the returned soldiers and my G'pa who passed due to WWII PSTD. I have only one matching tattoo with my best friend Jen, it's a little teapot with the words "Tea For Two" We always catch up over a cuppa, and it's helped us get through the more difficult times in our lives. Tea just seems to help, you know?