Our Managing Editor and resident make-up artist, Keely, recently got her eyebrows tattooed by the superbly talented Rachel Pitman. She kept a diary of the overall experience of having what technically is a face tattoo and how they healed over a few weeks.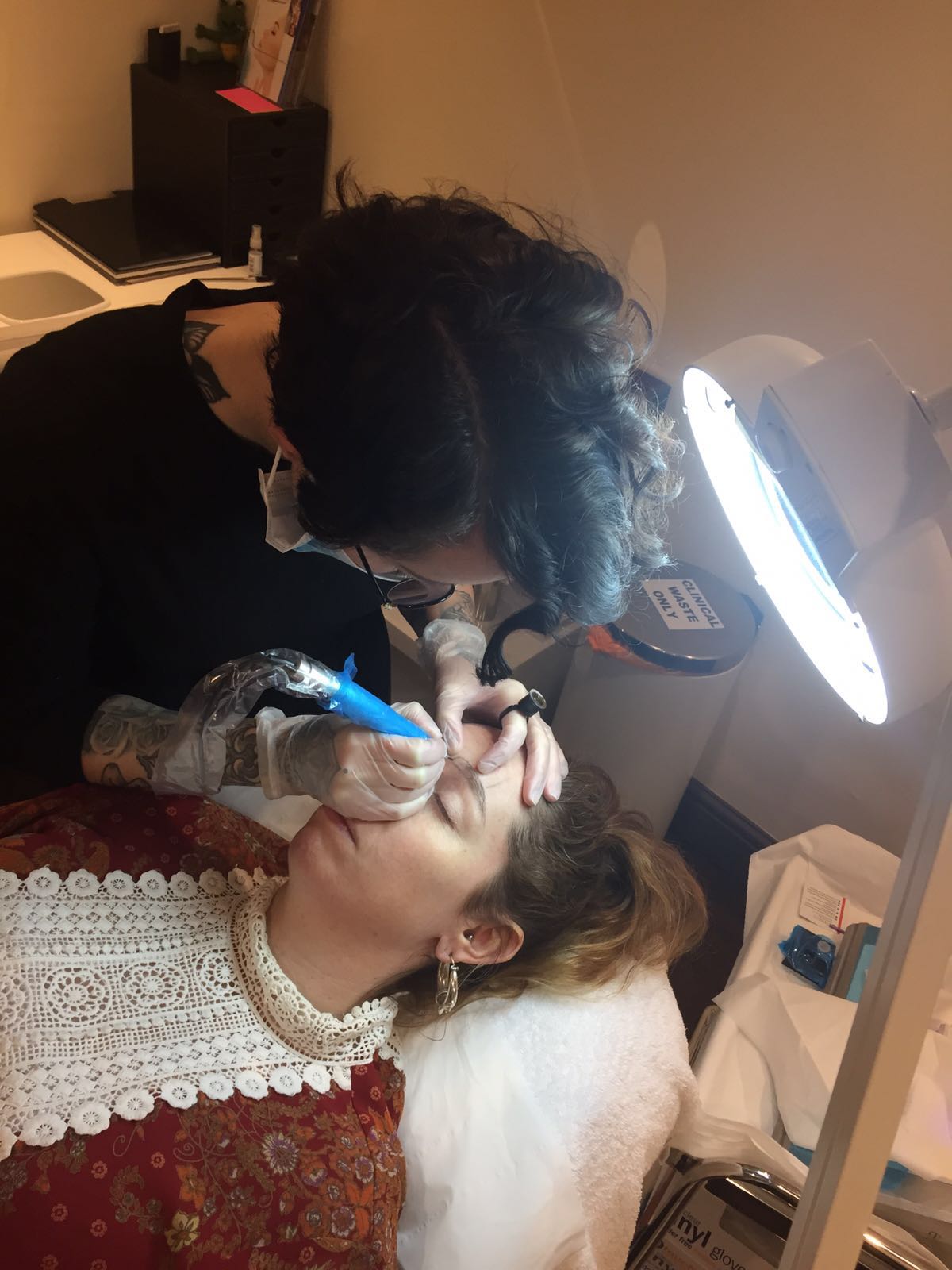 As a make-up artist I have always been interested in permanent make-up and the attraction it has for many people. My mother got her eyebrows tattooed over 12 years ago when it first gained attention in the UK – I always used to think it was quite badass that my mum had got her face tattooed. But as I got older I became wary about tattooing your face with what will be a permanent feature.  What if one day you didn't want to have black eyeliner or drawn-on brows? But all of this changed once I saw the subtle and beautiful technique used by Rachel…
Luckily enough I have been gifted quite full brows, but I was always dyeing them and drawing them in when applying my own make-up, so I thought, why not take away all of that hassle and have permanent brows 'on fleek?' (God I hate that term…!)  So off I went to meet with Rachel who is based in Soho, London, with slight trepidation and excitement. I had dragged Alice, our Editor, along to kindly take photos and possibly hold my hand… I had also been trying to convince Alice to do it with me but her fear of face tats got the better of her.
Rachel began by drawing on my desired shape and spent a long time perfecting this until I was 100% happy with the shape and thickness. We then discussed how dark I wanted them to be and agreed on a dark brown with a hint of a lighter brown to take away the edge. I was then treated to a nice surprise of an anaesthetic cream which takes approximately 30 minutes to come into effect. I was not expecting this so definitely helped to calm my nerves!  The tattooing then began and I was told by Rachel not to talk due to movements in my face and that the whole procedure would be finished within an hour.
The most uncomfortable part of the whole procedure was the ticklish sensation that Rachel's gloves made while resting on my nose… the rest was a-ok! There were parts where I could feel the needle so Rachel just added a bit more of the anaesthetic cream and moved onto the other brow but all in all, it was pain-free.  She uses the tiniest of hair strokes so that the overall result is very natural and looks like actual hair, rather than a block of colour.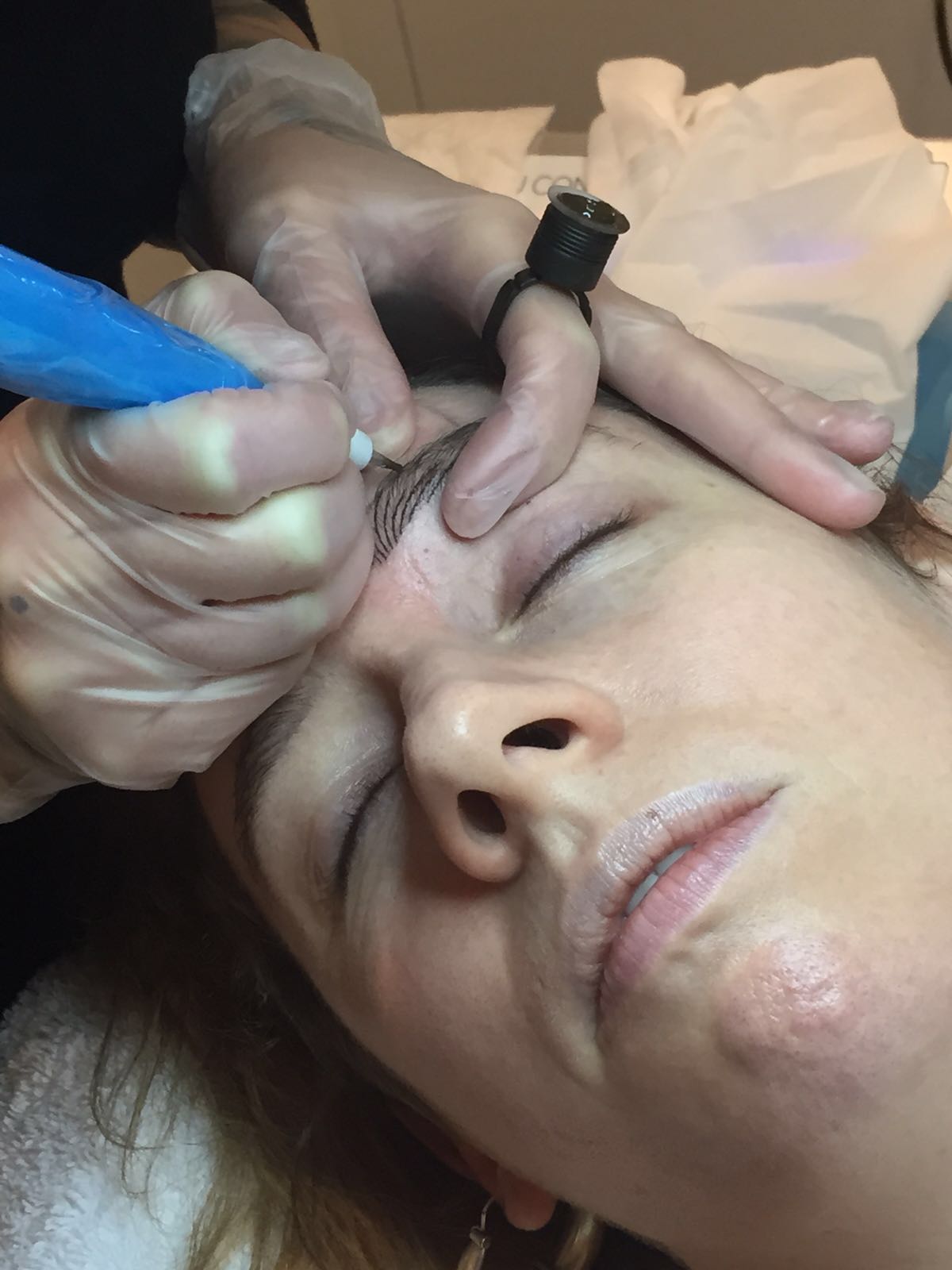 After Rachel finished tattooing, she then paints the ink over the brows so that some of the ink can sink into the open wounds for about 10 minutes.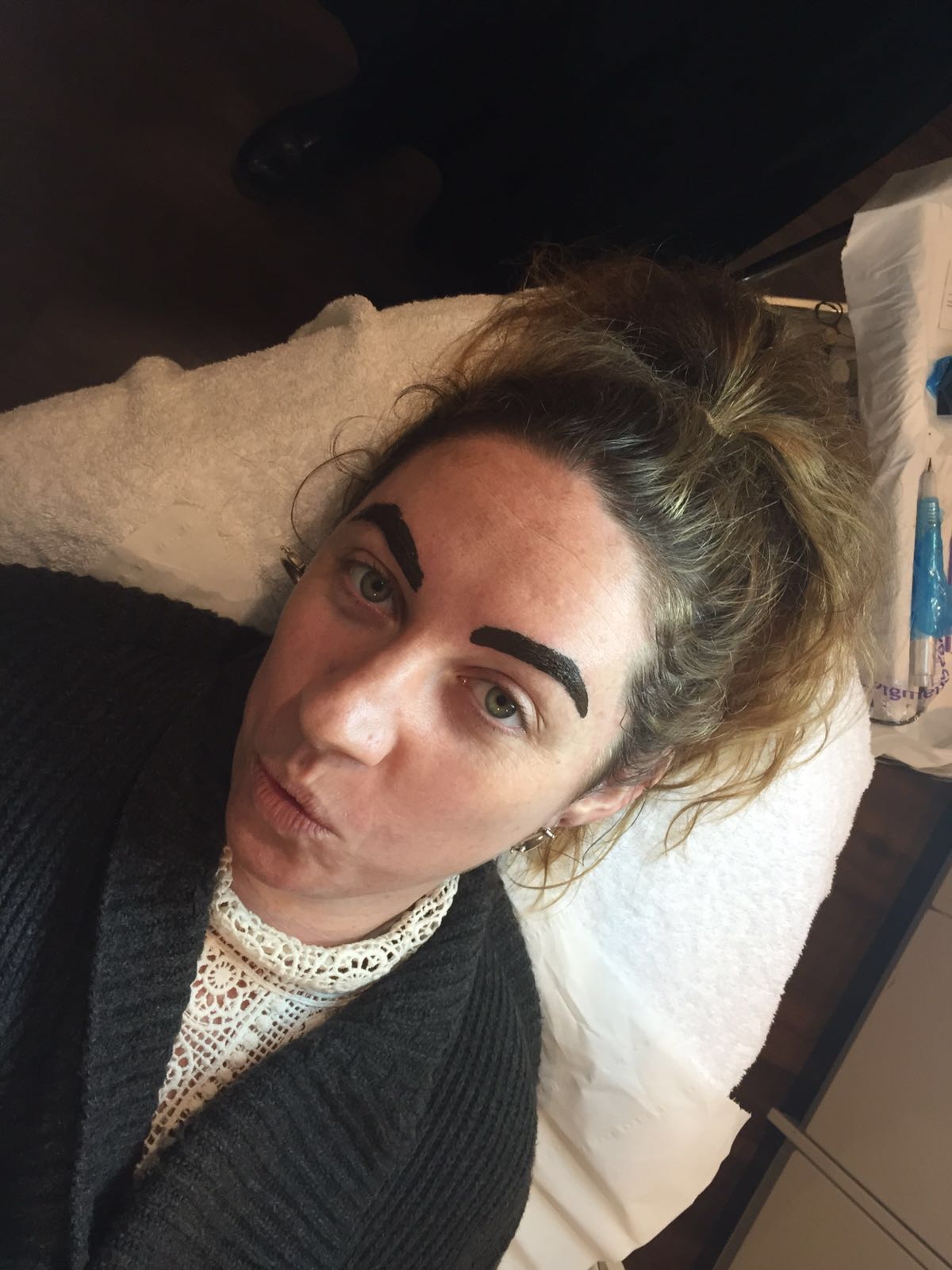 Rachel then gives me the lowdown on the healing process and is very strict on what I can and can't do. She recommends keeping my face as dry as possible for the next 5-7 days, which means not wearing make-up over the brows or soaking them in water.  She also recommends staying away from any exercise for the next 5-7 days as she believes that when you exercise our skin heats up and this could possibly push some of the ink out. The ink can also be pushed out more easily on people with oily skin, which is my skin type sadly, so I agree to do everything in my power to keep my brows dry, sweat and oil free!   Rachel also gives me a balm to apply once a day sparingly with a cotton bud to help with any dryness and flakiness during the healing process.
Unlike traditional tattooing, I booked in to come back in 6 weeks time to have them tattooed again to make sure that the ink holds.  This is complimentary with the overall treatment as the technique used for PMU is slightly different to that of traditional tattooing… you can read more about the difference in techniques in an interview with Rachel that we will be sharing in the next week or so. Watch this space!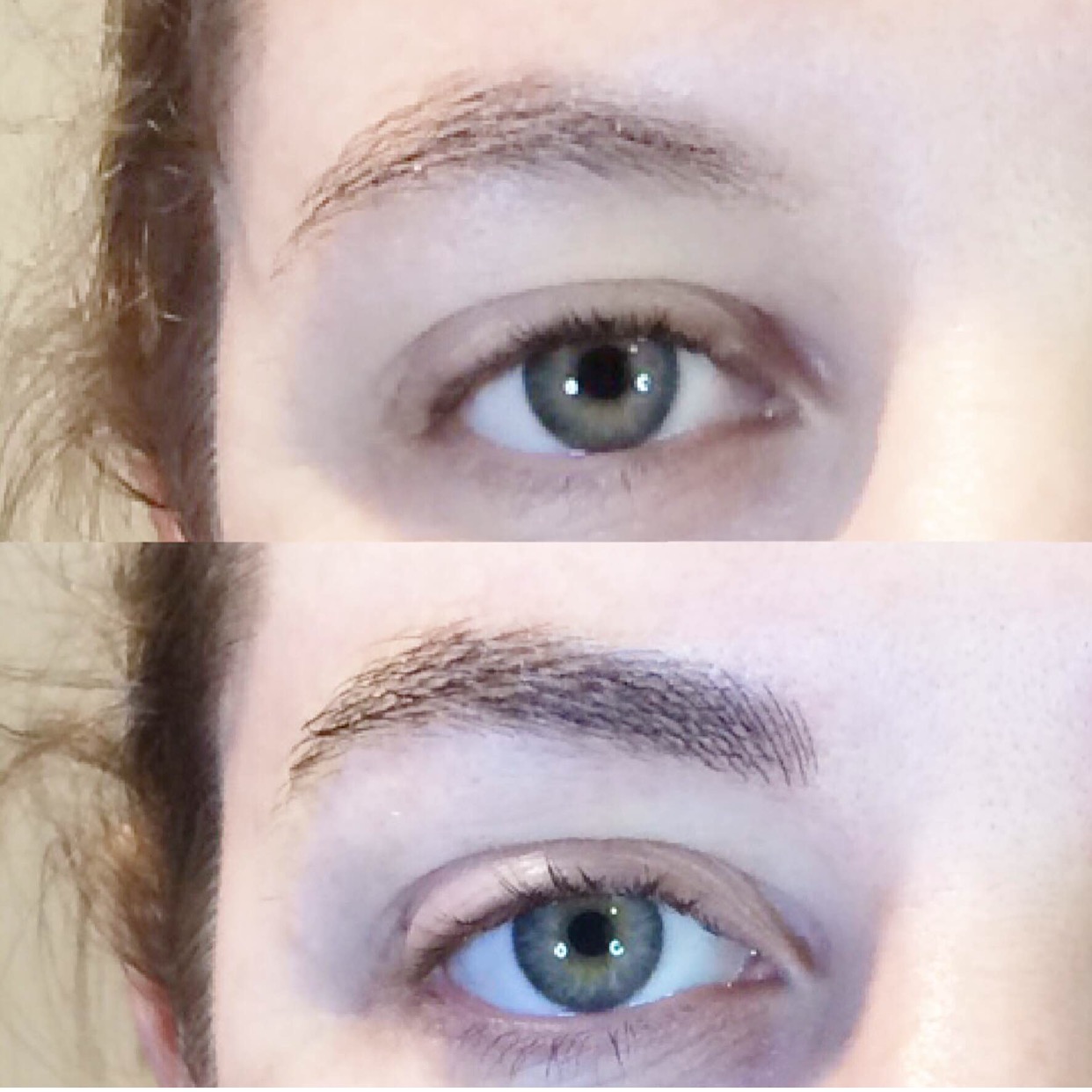 Before and after the tattooing
I was worried about leaving the clinic with a very red, swollen looking face and having to wear my largest sunglasses for the next few days but surprisingly there was no redness whatsoever and you would never have known I'd just been under the needle on my face for one hour!  The next few days of healing were stress free and I stayed away from exercise as promised and only cleansed my face with Bioderma micellar water (which is my absolute beauty must-have, btw) and avoided putting any make-up directly on my brows.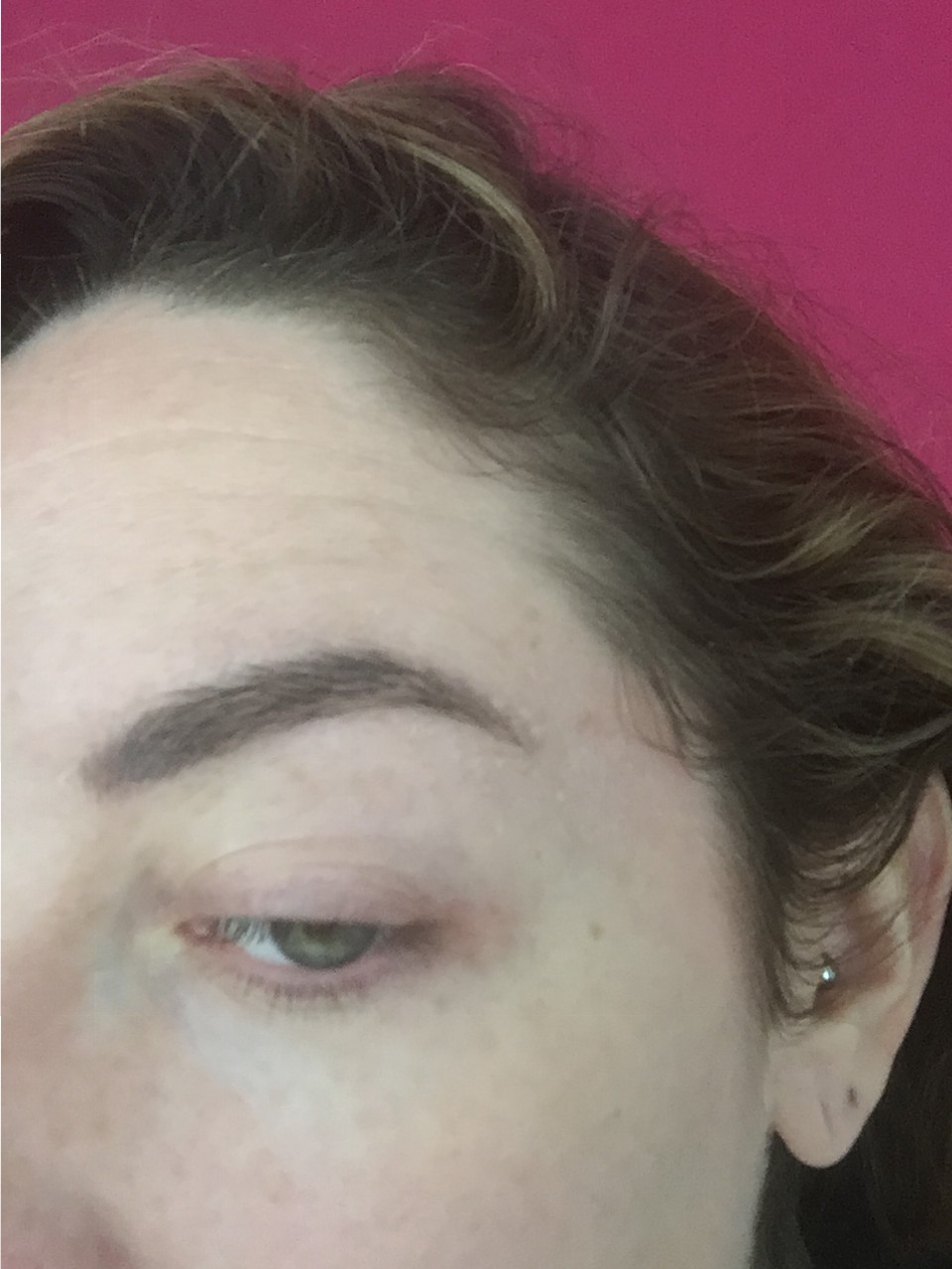 Day two after having my brows tattooed
Day 4 and 5 saw a bit of flakiness but nothing in comparison to the healing of a traditional tattoo and after using the balm this quickly got rid of any dryness. My brows were completely healed after about 10 days and this is when I felt that I could put makeup directly over them… which wasn't at all necessary as they looked totally made up without having to draw them in… I'm just an obsessive when it comes to a strong brow! Even though I work as a make-up artist, I do spend a great amount of time without any makeup on my face so having my brows look perfectly symmetrical and defined is my dream come true.
Six weeks later and I am back in the clinic with Rachel ready to go under the needle again. Rachel is very pleased with how they have healed and how disciplined I had been with not exercising and looking after them properly (I'm not always the most obedient when it comes to being told what to do.)  We discuss whether I want to change anything about them and I decide to go a bit thicker, darker and extend them slightly at the ends.  Rachel says this is quite common when people come back for their second round of tattooing, as the first time most people are a bit nervous and don't want to go too heavy in case of not liking it.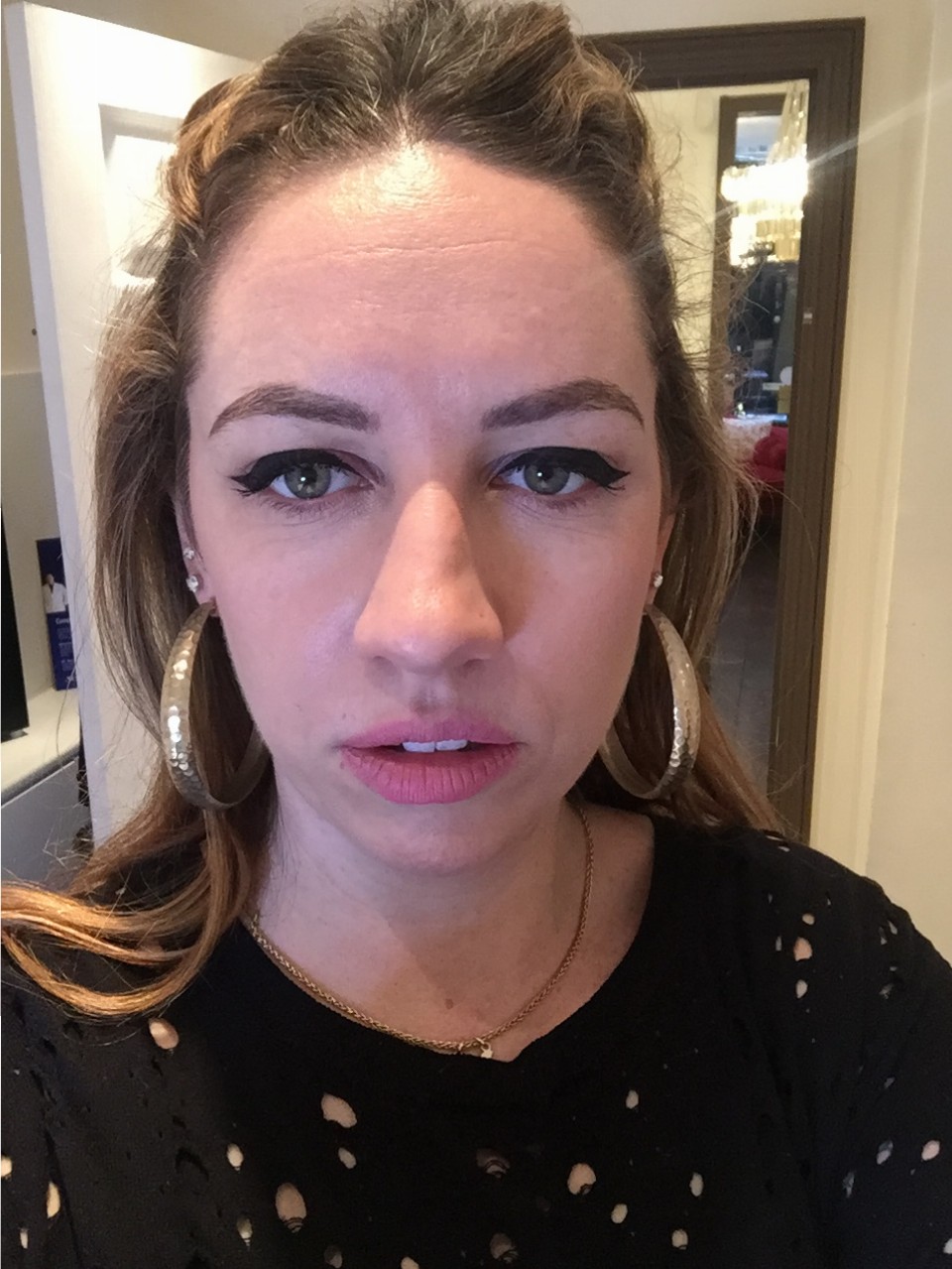 So after having my brows drawn in and the anaesthetic cream applied we begin.  The second time around hurt sightly more than the first and Rachel said this may be due to the fact that my skin was still healing hence feeling a bit tender, but the pain was nothing in comparison to a traditional tattoo.  After about 40 minutes of tattooing we are finished and I am again over the moon with the result!  I am really happy I decided to go a bit thicker and darker as I felt like I was ready for my brows to be a bolder.
The healing process was very much the same as the first time around and I avoided exercise and washing my face with water for the next 7 days which I do think is a must for successful healing.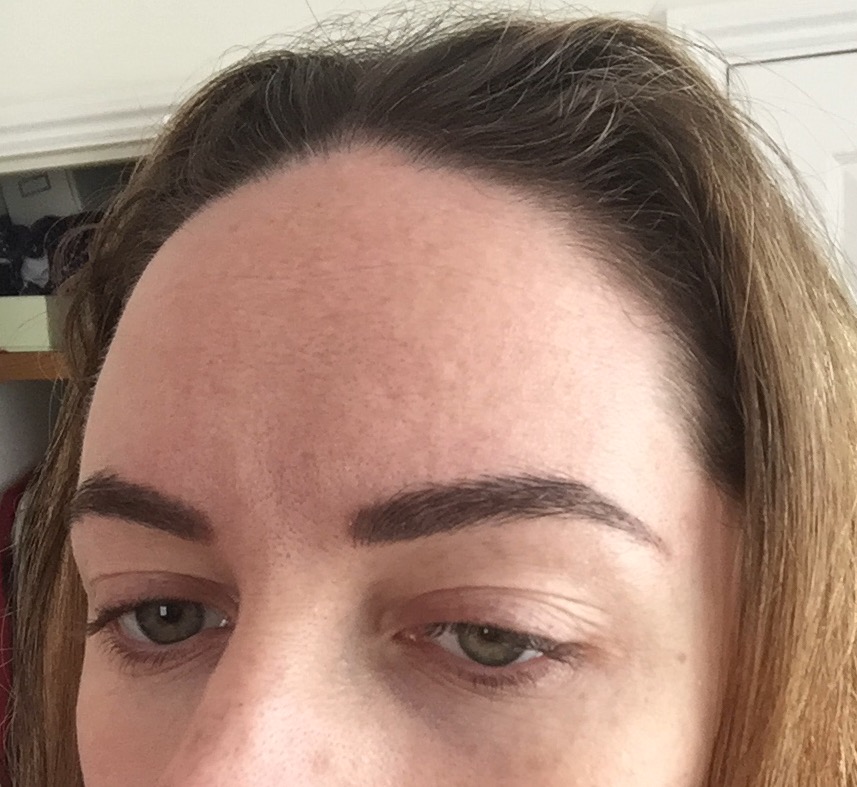 My healed brows after two rounds of tattooing and 10 days of healing
Overall I could not be happier with the results and I love looking as if my face is 'done' without having to wear a speck of makeup.  I had a recent spell in hospital which is never an enjoyable experience and I swear my saving grace for not looking like a zombie was the fact that my brows always looked amazing and framed my face.  Rachel does say that I will probably want a top up after about five years due to the fact that the technique is different to traditional tattooing and can fade slightly. But without a shadow of a doubt I will be having them topped up if needs be because I could not imagine my face without my spectacular tattooed brows.
Keep your eyes peeled in the next week or so for an interview we conducted with Rachel who explains a bit more about what permanent make-up actually is and the difference in traditional tattooing compared to PMU.
Rachel can be contacted via her website: rachel-pitman.com or via Facebook and her Instagram @permanent_makeup_london and her tattoo apprentice page is also @p_i_t_m_a_n