Recently I was alerted by my tattooist that one of my tattoos had been copied and inked onto someone else.
I know that with social media nothing is sacred. Yes, if I post pictures of all my tattoos, others will see the design and want it for themselves. But this shouldn't stop tattooists from advertising their work and customers celebrating their new tattoo.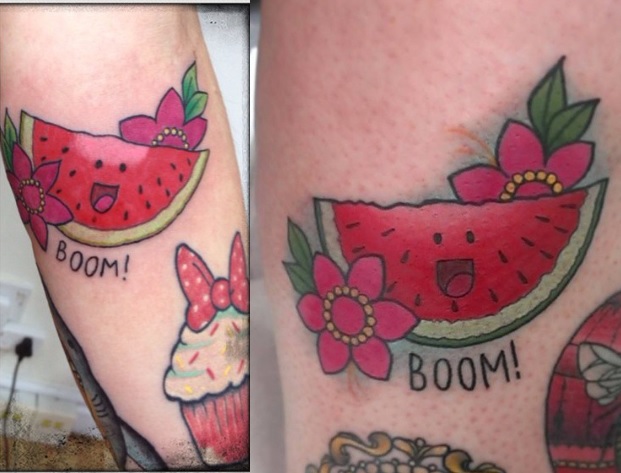 The copy on the left and my original on the right
It should be up to the tattooist to either out-right refuse to tattoo a direct copy or create a piece inspired by the said design. Then both people get a custom and unique tattoo. Tattooists must have some sort of responsibility to their clients and respect for other tattooists not to steal their work.
I suppose copying is the highest form of flattery and in some ways it is a compliment that someone liked the tattoo so much that they wanted it, but that doesn't mean you should get it.
The tattoo in question is one of the few ones on my body that has a real significant meaning, it goes with one my boyfriend has to mark our five-year anniversary. I have a watermelon slice and he has a whole watermelon with a slice missing. Yes it's silly but it means a lot to us.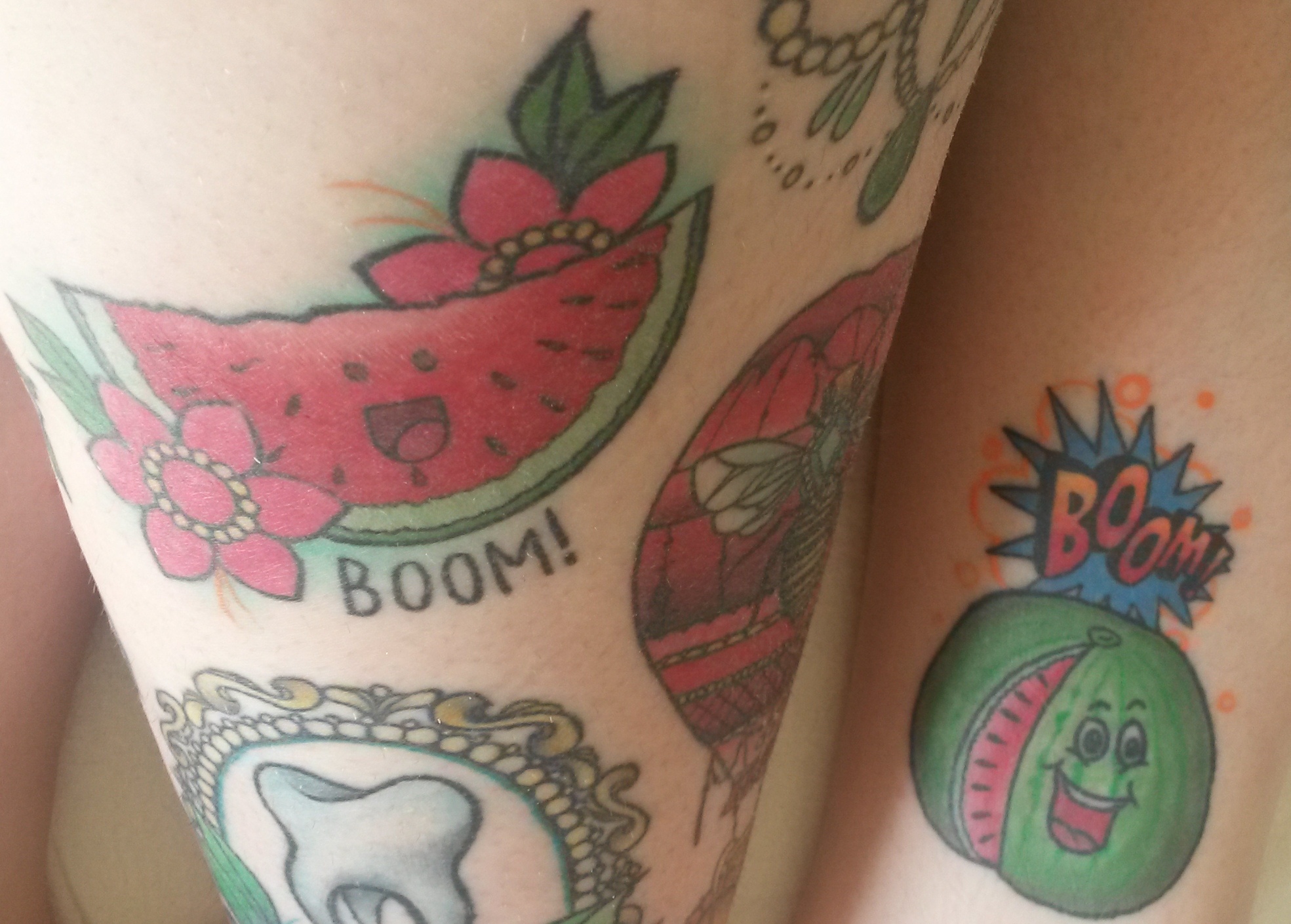 This isn't the only issue, the tattoo is badly done, and perhaps something that the wearer may come to regret.
Also what about the tattooists? Sophie who created the original has had her work stolen and the one who tattooed the copy is re-creating work that isn't original. They aren't creating a name or style of their own.
Nonethless I still love my tattoo just the same and I know that I have the original and the better tattoo.
I know for sure that I'm not the only one that this has happened to. Have you had a tattoo copied?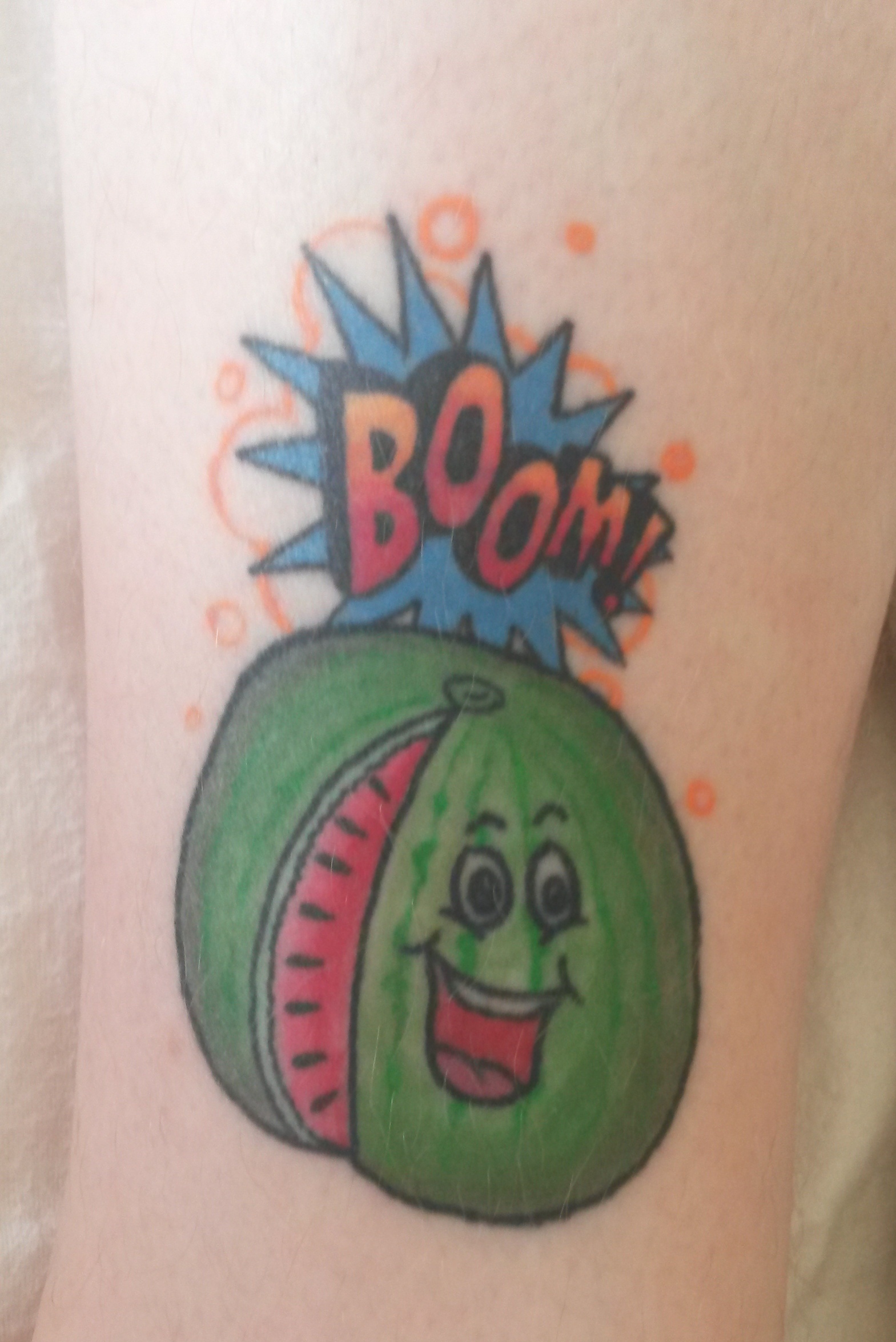 - DEFINITION OF FLASH- from Salon Serpent
"Flash is a number of designs, specifically made for tattoo purposes, placed together on a sheet of paper. Usually they are made in a set of multiple sheets. Meant to hang on the walls of tattoo shops, to be picked from by customers and tattooed. (not every painting by a tattoo-artist is flash and sometimes even unsuitable, because not specifically made to use as such) As with all (art)work, flash has copyright. Buying a set of flash gives you the right to use this flash for tattoos. It can, however, not be used for any other commercial or otherwise purposes then tattooing."
Custom work is different, it is designed by the artist for that customer and should not be copied.