'Shaded' is an on-going interview series created by 22-year-old Bournemouth-hailing music journalism student, writer and editor James Musker, which focuses on tattooists, the interesting people that wear their work and both the artist and canvas's relationship to the craft.
Megan Climaldi is a 19-year-old illustrator and tattoo artist who is currently working and living in Portland, Oregon. Born in Las Vegas and raised in Hawaii, Megan describes herself as an openly-gay half-Korean who is trying her best to be happy and kind. As part of Things&Ink's on-going feature 'Shaded', Megan opens up about her personal relationship with art, Portland's tattoo community and her attraction to the darker side of things.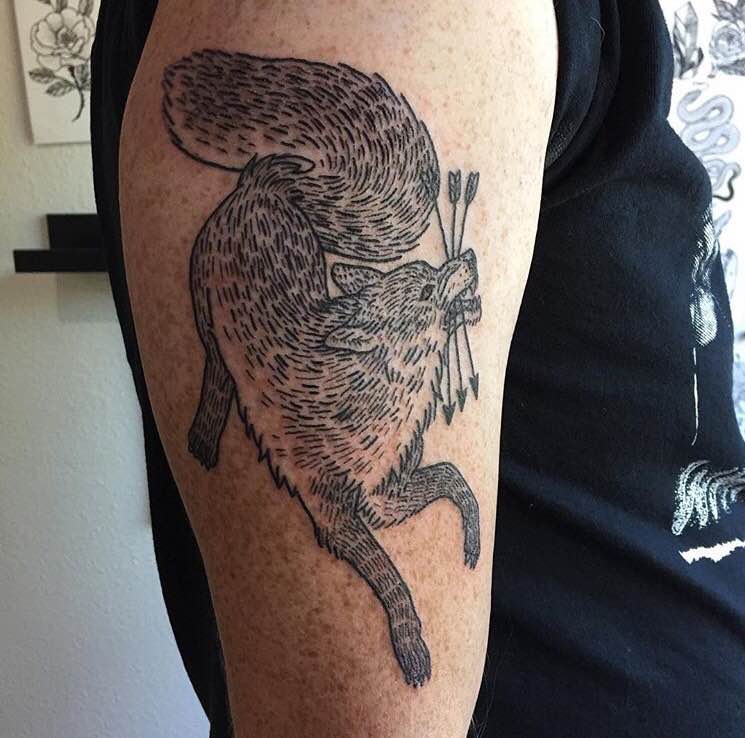 Can you tell me about your relationship to tattoos? My relationship to tattooing is deeply personal and mostly centred around the healing aspect of it. I got my first tattoo as a 15 -year-old. My mom signed off on it, but would only allow it if the tattoo related to her in some way. She eventually became a negative part of my life, and we haven't spoken for years. I think that was a bit of a sad beginning to my relationship with tattoos, but every tattoo I've gotten after, in comparison, completely relates to things that I want myself. It's more about the feeling I associate with the imagery than anything else. It's healing for me, and has an ultimate sense of self care to it. It's almost ritualistic.
Who's currently inspiring you as an artist? I look up to a lot of people, as I'm still very new to the industry. I've barely scratched the surface, but I have very high hopes and dreams for myself. Some artists I really look up to are Nomi Chi, as someone who is also mixed race and queer. Other artists who I have immense respect for include Cal Jenx and Alice Carrier. I have always been hesitant about tattooing because I feel that a majority of the industry in the US is geared to a certain demographic, and that anyone outside of that is an outlier. It's great to see artists that are happy and proud of their identity outside of that.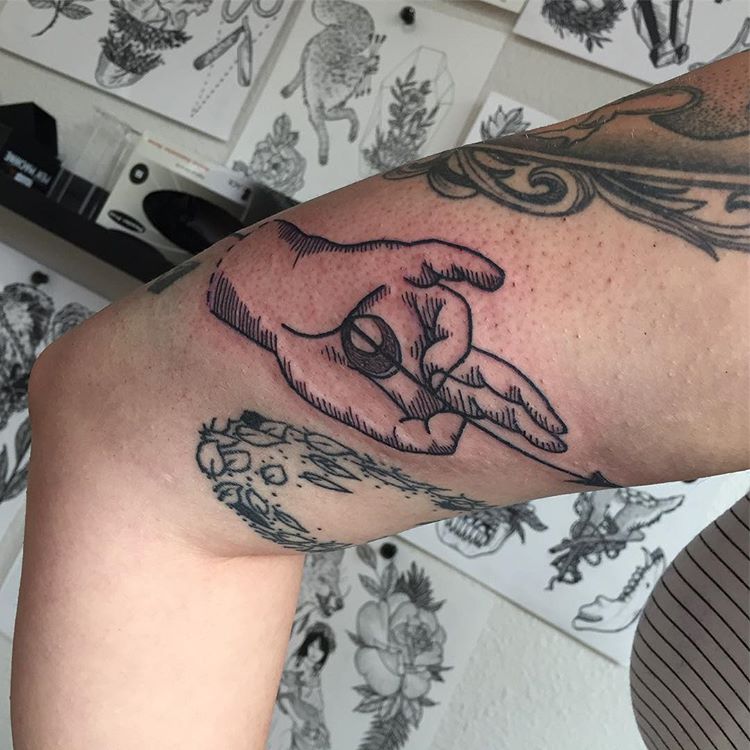 What's tattoo culture like in Portland, Oregon? Tattoo culture in Portland is very, very interesting! People here are so open and supportive of art in all of its forms, and I feel like the people I've met through tattooing have mostly been very welcoming and genuinely good folks! It's a small community, even though it feels large. The art scene here is very community centred. Everyone knows each other and will show up to each others shows. The line from tattooing to art, I feel, is starting to blur. I only hope that the worlds continue to collide! I went to a gallery show for the first time here and was in awe of how supportive and relaxed people were. I could only hope to bring that sort of feeling, that inclusivity, to tattooing. Art should be for everyone, and I feel that it has such deep benefit for so many people that it should be accessible, comfortable, and most of all, inclusive! My friends influence me greatly and their continued support and understanding has inspired me to always be kind, and to grow on a daily basis.
What attracts you to blackwork? I love contrast. I love a strong silhouette; I draw much of my artistic inspiration from the art world, and have always been interested in black and white as its own genre. I feel that being able to express with a balance of minimalism and detail is something that is very beautiful. I aspire to create things that are simple, but still complex. Black and white is a fantastic platform for this, and also happens to look great on any skin tone.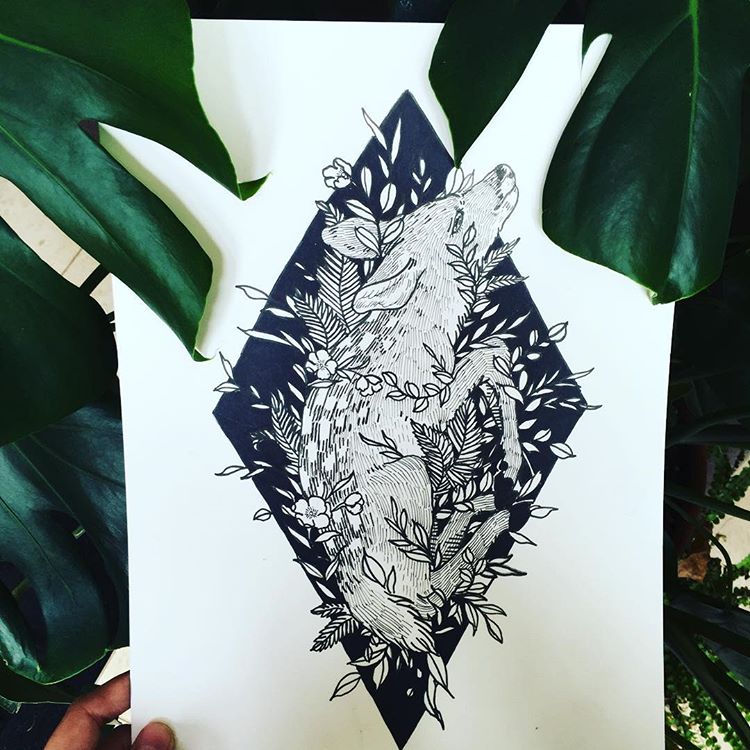 What predominantly inspires your work? My art is predominately inspired by emotion and things that I find beautiful, whether that be a feeling or an image. All of my drawings I could look at and describe exactly how I felt when I created them. I draw so much out of my own personal emotion – my own suffering, that when someone I don't know sees something I've drawn and wants it tattooed, I always am astonished that the imagery resonates with them as well. The fact that a complete stranger could see something I've made and feel deeply enough to want it tattooed, I feel like it's sharing in a subconscious feeling, an unspoken "me, too". Outside of this, I draw much artistic inspiration from art with strong silhouettes and imagery, traditional Japanese and even American traditional have influenced the way I draw and create my artwork.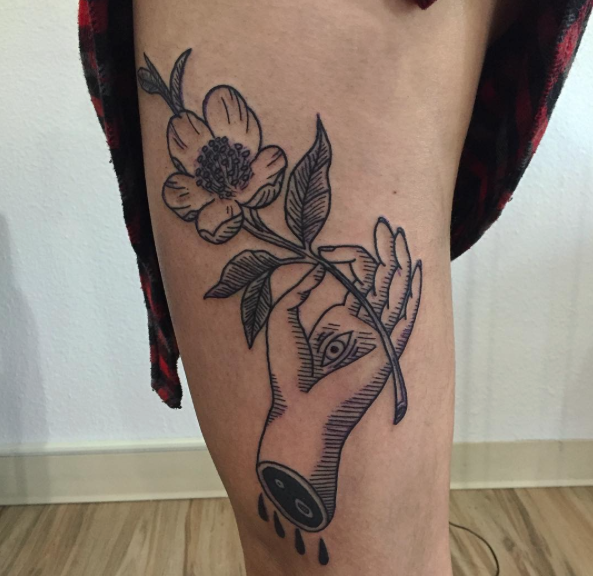 The imagery of your work naturally gravitates towards the dark and morbid. Can you tell me about your relationship to these things? The things I draw tend to gravitate towards themes of death, pain and even self induced suffering; I attribute most of this as a reflection of my own psyche. Art is for me very personal, and always something I have done to heal, express and recover. I have suffered for years with depression and have recovered well and am happy, so perhaps my gravitation towards images of sadness is a way of remembering. I feel like being able to take these feelings, these sad images, and make them beautiful and make them something people enjoy looking at and having on their bodies is truly where I want to triumph. I am growing as a person every day. I am still sad sometimes, but I want to spend my life making beautiful things out of the darker, more tragic parts of life. It is how we heal, and how we all exist as a microcosm of living and dying, forgiving and forgetting.
How do you see your work evolving? I see my work moving in a direction where I use more traditional influences. I would also like to work in larger spaces, but that'll come with time. I want to involve myself more with programs that cater to marginalised groups, LGBT youth and folks with mental illness outside of my tattooing endeavours. I am so new to this – still developing and still growing that what my future holds is still so open. The possibilities are endless, I believe.