Our resident film reviewer is writer Harry Casey-Woodward who will be sharing his opinions on things he has watched…
The Hateful Eight, 2016, cert 18, dir Quentin Tarantino, 4/5
The first thing you should know about Tarantino's latest feature is that it is very different to his last offering, Django Unchained.
I have decided that the quality of Tarantino's films follows a certain pattern: he does two good films, then a not so good film, then repeats. His first two movies, Reservoir Dogs and Pulp Fiction are considered cinematic classics. His third movie Jackie Brown is not quite as exciting. The two Kill Bill movies that came after are still very popular, while many people I've met loathe his sixth film Death Proof  and it certainly showed at the box office. Inglorious Basterds and Django Unchained wowed nearly everyone.
So I was worried about Hateful Eight fitting the pattern and being a poor film. After seeing it, I feel it shares some of the negative aspects of Tarantino's lesser efforts and lacks the energy and creativity of his best. However, it's lack of action and location-hopping compared to Inglorious Basterds and Django doesn't make it a bad film, just different.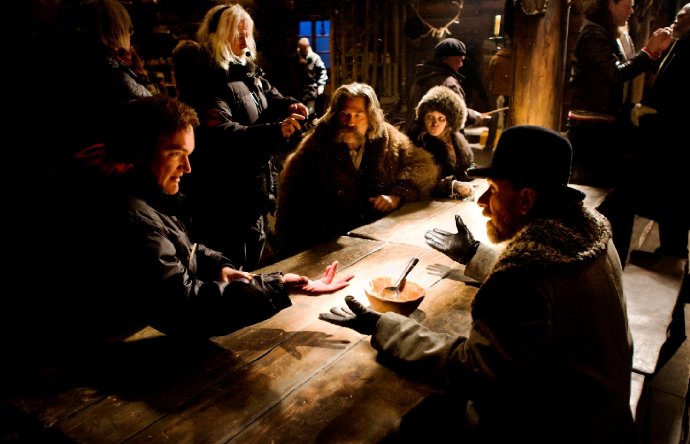 I was excited enough about Tarantino making a period western with Django after repeating how much he's inspired by them. I was even more excited when he said he was making another one. With both films, he has mastered what I believe are the two essential western plotlines. Django is obviously a journey western, where the hero goes on a quest through the ever-changing landscape of the Wild West and grows in some way. Then there are westerns centred in one location like a town, which tend to be tense action pieces.
Hateful Eight is an excellent example of this, for apart from a few outside scenes on a stagecoach the action nearly all takes place in one wood cabin. It's more like watching an intense stage play than a movie. This made sense after reading an article on cinemablend where Tarantino declared he was thinking of writing for theatre.
I personally enjoy plots that are stripped down to the bare essentials, which is partly why I enjoy plays. Stories set in single locations are more intense and focused than plots that jump around locations, because you're thoroughly engrossed in the characters and their dialogue.
Hateful Eight is no exception, as Tarantino never fails to hold your attention with his colourful cast of characters and their dialogue. Nevertheless, the film sometimes suffered from the same problem as Death Proof, which is that Tarantino over-indulged in his love for dialogue. In both films, the first halves are full of long scenes of characters chatting about topics not immediately related to the plot. Although the dialogue is entertaining, there were a few moments where I wondered if certain scenes were going anywhere and what was the point of them.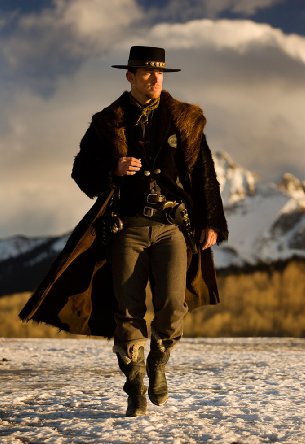 On the other hand, these scenes are certainly good for building up suspense and character and the audience's long wait for action is rewarded when all hell breaks loose in the second half. There are Tarantino's trademark scenes of outrageous violence, but there's a darker, more macabre spirit wreaking havoc in this film than in previous. The violence of Hateful Eight is over-the-top and streaked with Tarantino's viciously black humour. But there's none of Django's tounge-in-cheek or thrilling heroics, nor any sense that Tarantino is daring you to enjoy the violence. Like Reservoir Dogs, it's played for brutal shocks.
Like Django, the film is also firmly rooted in the history and issues of the time. The film is set after the American civil war and the emancipation of slavery. These events cause some of the tensions and divisions between the characters, for they still feel very strongly about them. Racism rears its ugly head, with frequent use of the n word directed at Samuel L. Jackson's character. Misogyny also joins the party, for the only female character gets the worst treatment. However, this is more for her personality than her gender and the offensive attitudes expressed by the characters are simply reflections of American history. The historical background adds to the film's quality and, along with Tarantino's mastery of drama and the camera, balances with the moments of explicit crassness on screen.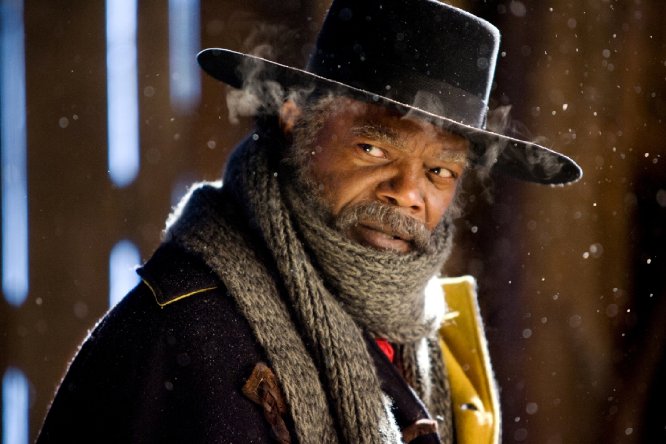 As with any good western, the scenery and music are quality too. The menacing original score (a first for the soundtrack-stealing Tarantino) is composed by Ennio Morricone, who also wrote the iconic music for such classic westerns as The Good, the Bad and the Ugly. When the action was happening outside of the stagecoach and the cabin, the snowy mountain scenery looks stunning too; especially in the extra-wide 70mm camera format Tarantino shot in that got him in such technical issues during cinematic release.
So don't watch this expecting another Django, but do expect a master class in suspense, acting and cinema in general. Yes it's slow and not packed with action, but Tarantino has really pushed himself and succeeded in making a unique film not just for his own filmography but westerns in general. Although there are good westerns regularly coming out, Tarantino has been the director to smash the most generic conventions. With Hateful Eight, he proves westerns don't necessarily need showdowns at noon and characters riding off into the sunset.
All gushing for Tarantino aside, it is really the cast that keep you gripped. Samuel L. Jackson, Kurt Russell and Walton Goggins  from Justified are all perfect, and Jennifer Jason Leigh's deranged role can be added to Tarantino's gallery of powerful female performances.
So as it's winter, hop on the stagecoach and ride into Tarantino's cramped, snowy, blood-drenched hell. You're in for a treat.