Tattoo artist Lain Freefall, 31, asks who owns the tattoos on your body… first published in The Identity Issue of Things&Ink.
Words by Lain Freefall / Photo of Lain by Marco Ferrari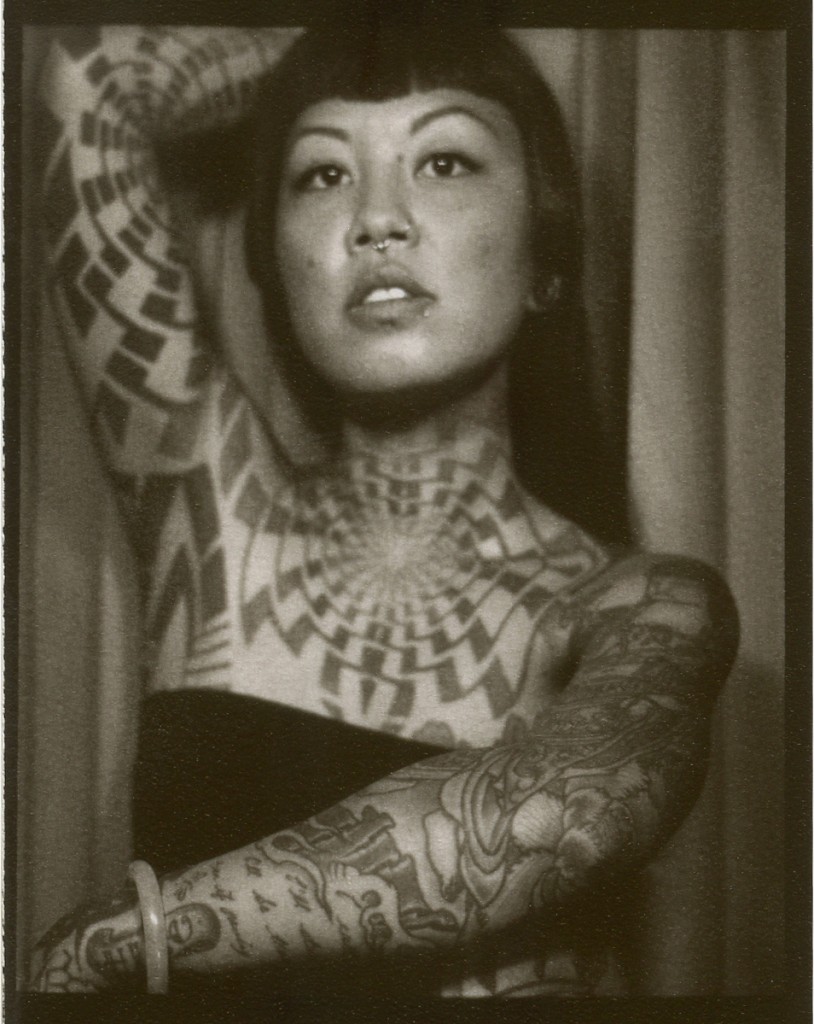 "I was 15 when I got my first tattoo. Of course I'm not actually supposed to admit that, but it's the truth. I walked into the small tattoo studio and picked the first one I liked from the flash sheet on the wall and off I went. I loved it. My first tattoo. At that time I'd known nothing about tattooing, where it came from or how it all came about. Never in my life did I think I was going to be in a studio 15 years later working with such amazing and talented friends and colleagues and never imagined I'd look the way I do today either."
"We are now in a day and age where tattoos are incredibly accepted and highly fashionable. The age of "fuck you! I do what I want! I'm going to be a rock star." We are so highly knowledgeable of "the rules" of tattooing yet fail to abide by them. Everyone "wants what he's got" or "she has her hand tattooed! Why can't I?" Don't get me wrong, I'm not really complaining (why on earth would I complain about work?) just merely stating, in brief, where we stand amongst the vast amount of tattoo TV shows, books and magazines. We all, as artists, want to offer something unique, fresh and new, whether it's through our work or our own aesthetic. It's a tough world out there and it's dog-eat-dog, but where do we draw the line?
"We are so lucky that we have evolved to the days where we now stand. Every tattooist and artist can draw from everything around us, past and present. The internet never ceases to amaze me with so much information to offer – even the things you don't want the world to see, the internet will find a way to show it.
"In the very recent months, to the last few years, there has been more and more media coverage involving tattoos, including posters and commercials of celebrities, athletes or "alternative" models. I was pleasantly surprised the first time I saw a tattooed model in advertising on the underground or in a magazine – and modelling for huge brands. I had often looked at these models and wondered how much of their bodies were really covered and who tattooed them (especially if they were bloody awful!) Do they get tattooed to become models? Or are they models who made enough money to not care about being tattooed? What were their plans after tattoos if they really did  go out of style? More importantly I'd like to know how they felt about their bodies from time to time. It seems empowering to be tattooed. Even making the decision (it's yours to make) so surely once you've sat down with your tattooist, discussed and agreed on the design (whether it be your idea as a customer, or you completely trust your tattoo artist) the process begins, and in time you'll be leaving with a tattoo on your body.  A beautiful piece of art that's been marked on you for life.
"So we get to the nitty-gritty. Who owns this tattoo? You, the customer and wearer of the tattoo? Or the artist, the person who put the idea onto the skin? This is what has recently been playing on a lot of people's minds. In no less than a few months, I've heard, on several separate occasions, about law suits concerning compensation, ownership and royalties. With the uprising of tattoos and rock star lifestyles, comes money, fame and greed. What I found more deeply heartbreaking was the act of such selfishness towards our own tradesmen. Now as an artist, I've always seen the business/money part of my job as straightforward (even though I hate talking money). Once I've tattooed you, this tattoo belongs to you. This is what you have sought me out for, to basically buy an art piece from me. With all the media involved I can understand if there are general legalities that need to be signed, but as far as I'm concerned, if you're the wearer of my tattoos, kindly mention that I was the artist of said tattoo – a credit is all I need. After all, you're helping me along the way.
"With today's social media, we are constantly being photographed, by photographers, people in the street and friends. It is spread across the world through Facebook, Instagram, Tumblr etc. We sign away agreements on iTunes and YouTube without even a thought as to what the fine print says, so long as we get to share what we want to – show the world as soon as possible.
"So what happens when you get a letter through the post one day telling you you're being sued on the grounds of copyright ownership? (Yep this is happening to me right now). "What ownership? How does that work? It's my body right?" I'm here to tell you in UK law, this might not be entirely true.
"A copyright gives the creator of an original work exclusive rights to it, usually for a limited time. Copyright may apply to a wide range of creative, intellectual, or artistic forms, or "works." Copyright does not cover ideas and information themselves, only the form or manner in which they are expressed. Does copyright law extend to tattoo artwork? It would appear to (1) contravene privacy and image rights; (2) prevent freedom of expression under article 10 of the Human Rights Act 1998 – receiving and wearing a tattoo is akin to a choice of wearing a particular hat or having a particular hair colour; and (3) be inconsistent with the trade practice and customs of the UK tattoo industry. All UK legislation must be read to give effect to the rights established under the HRA.
"I have seen the latter first hand on paper from a lovely legal team. Things have now been settled out of court and all in the name of greed, unfortunately. This will now be a case that can arise again and, if it does, I'm here to spread the word of Human Rights. No one owns your tattoo, but you do own your body. We as artists have a right to be proud of what we have created and will want to share this with the world – same as you! However the art piece we have personally drawn up is owned by the artist, but when we bring into question the ownership of an actual tattoo, custom made or otherwise, that is when the lines are blurred and the law has no solid legislation.
"Unfortunately I don't have a real conclusion in this article. All I can say is we are very lucky to be in an era of tattooing where we can request custom work. There will always be amazing artists with something unique to offer, a personal touch of style along with amazing all rounder tattooers (I'm still blown away by these people), but we are also now in a time where there is nothing new. We are inspired by the forefathers of tattooing and everything around us." ❦