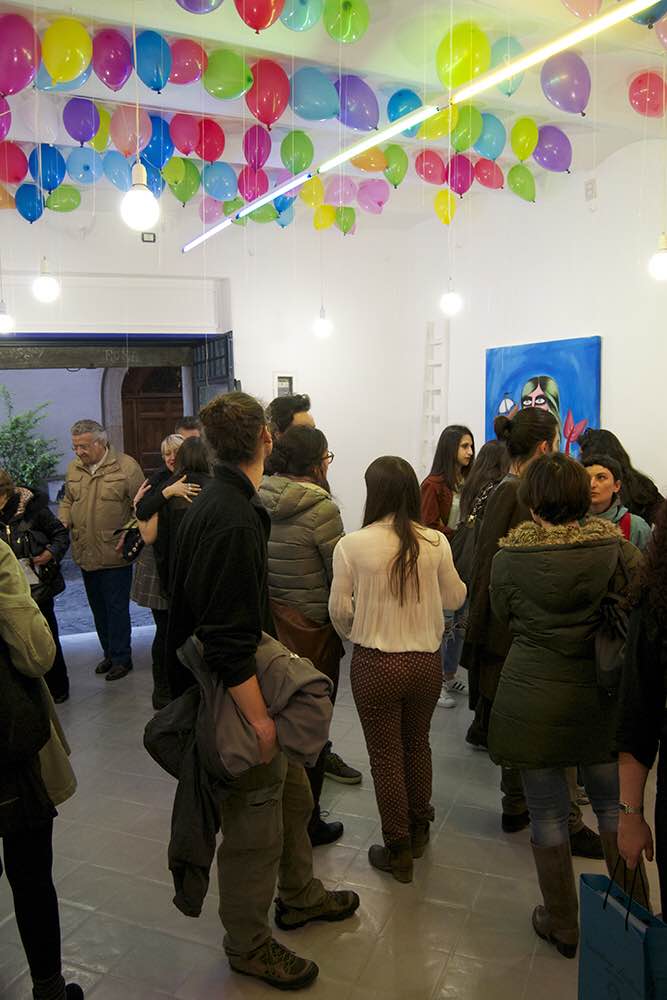 We sent one of our lovely readers, Ilaria, to the opening of Amanda Toy's exhibition 'Abracadhybrid' at Parione9 to review the event for us…
"Last week I was at gallery Parione9, in Rome, near Piazza Navona. As soon as I walked in, my eyes were welcomed by a feast of balloons, colourful walls… and so many people! Here I had the pleasure to meet two lovely ladies, Marta Bandini and Elettra Bottazzi, who curated 'Abracadhybrid', the first solo show by Amanda Toy. Amanda Toy, as you may already know, is a tattoo artist from Italy. For over 18 years,  she has reinterpreted old school with a really personal touch that is now very recognisable.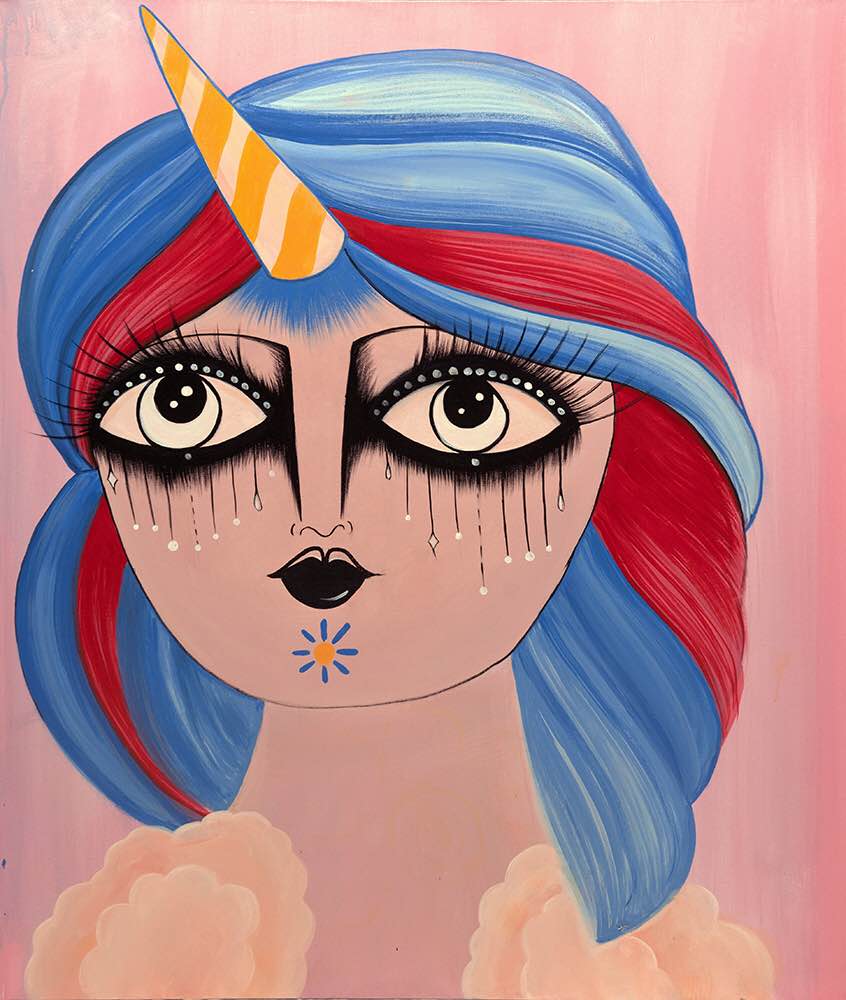 "On 10th April, she was in Rome to celebrate the opening of her chimerical art exhibition. Among nature, childhood and bright colours, you immediately get caught up by and feel involved with the artworks on the wall. It's like falling into a dreamy yet very realistic world. It's magic but also reality…  Abracad(abra)… hybrid!
"It was one of those rare moments in which you could feel the power of art and the passion all around, because Amanda truly painted her deep emotions and feelings onto canvas. She found a way to bring together happiness and sadness. That's what she always says: no rain, no rainbow! Seven canvases on which hybrid creatures live to make you think and wonder. Seven characters in which are hidden different themes, from love to fear, from strength to fantasy.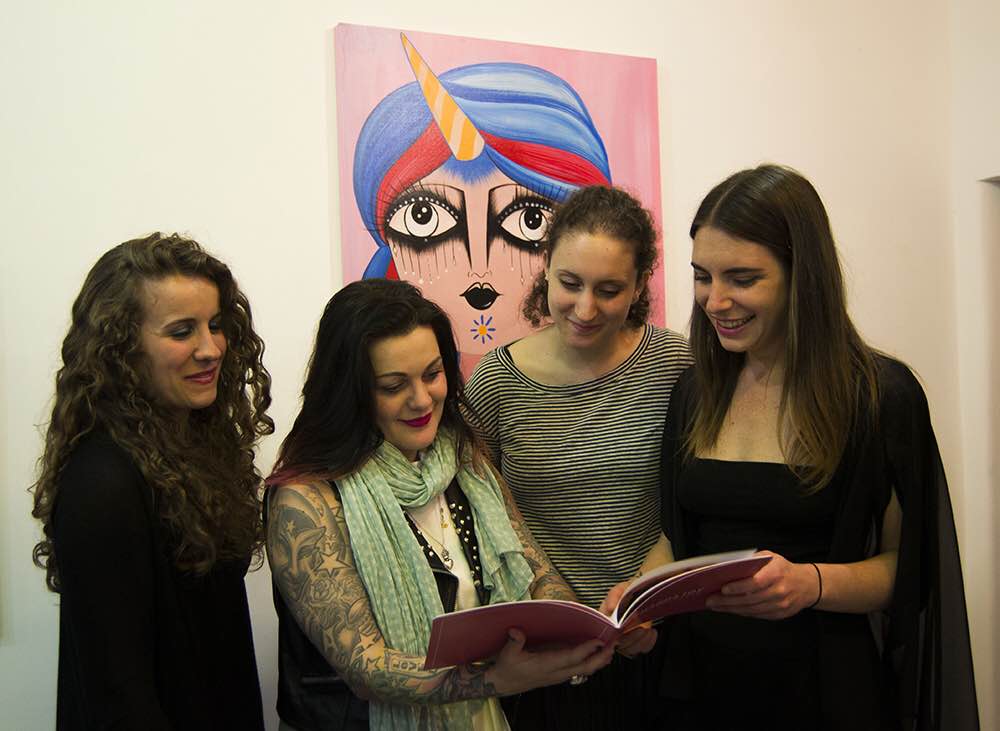 From left to right: Marta Bandini, Amanda Toy, Ilaria, and Elettra Bottazzi
"As Amanda Toy explained, her paintings are her own vision, a transformation aimed at personal growth. Canvases play with the observer, and those big eyes are a key to self-exploration. The lady faces on the walls, at first glance, seem funny and cheerful, but… if you take a closer look, they will reveal the stratagem of life: not everything is what it seems. Here, as in our lives, there is space for happiness and joy, as much as for sadness and nostalgia.
"By this artistic mean, Amanda lets you get a closer look to yourself and be aware of this equilibrium. Abracadhybrid is her spell for a magical life!"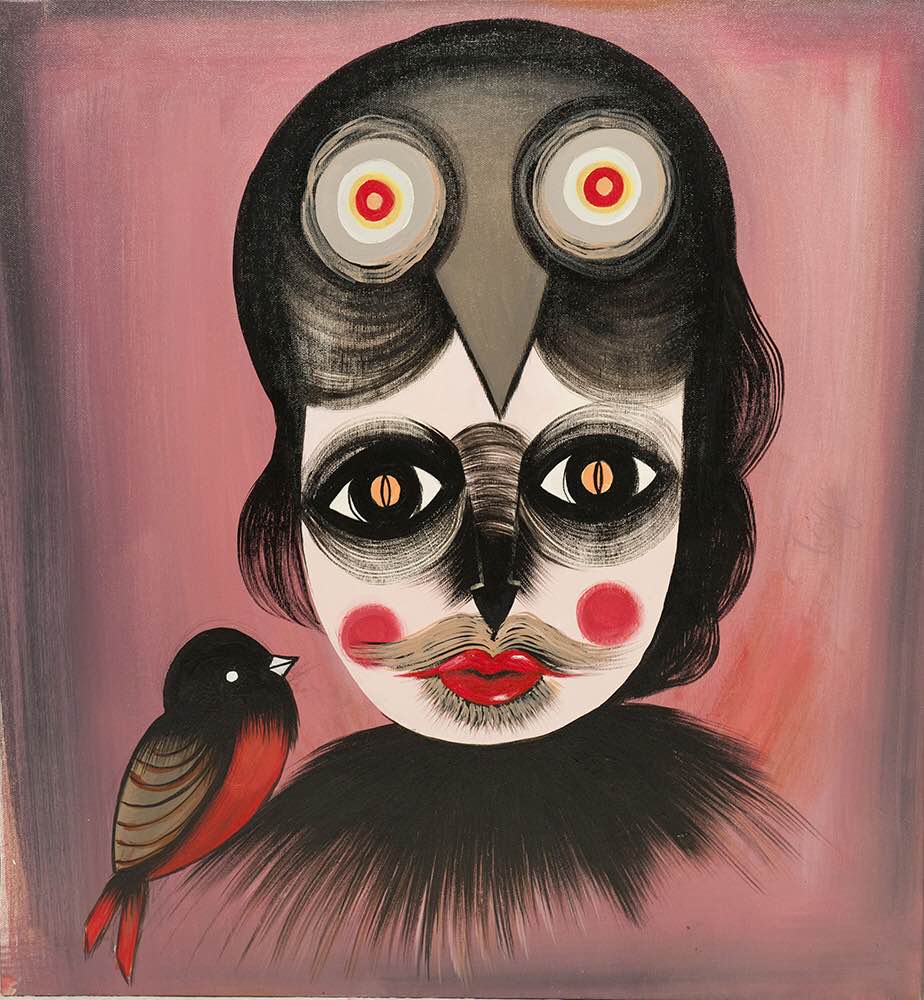 You can see Abracadhybrid exhibition until 10th June 2015, at Gallery Parione9. You will also find Things&Ink mags, as the gallery has just become the first official stockist in Italy!
Photos by Diana Bandini and Matteo Rasero