Céline, 26, Paris.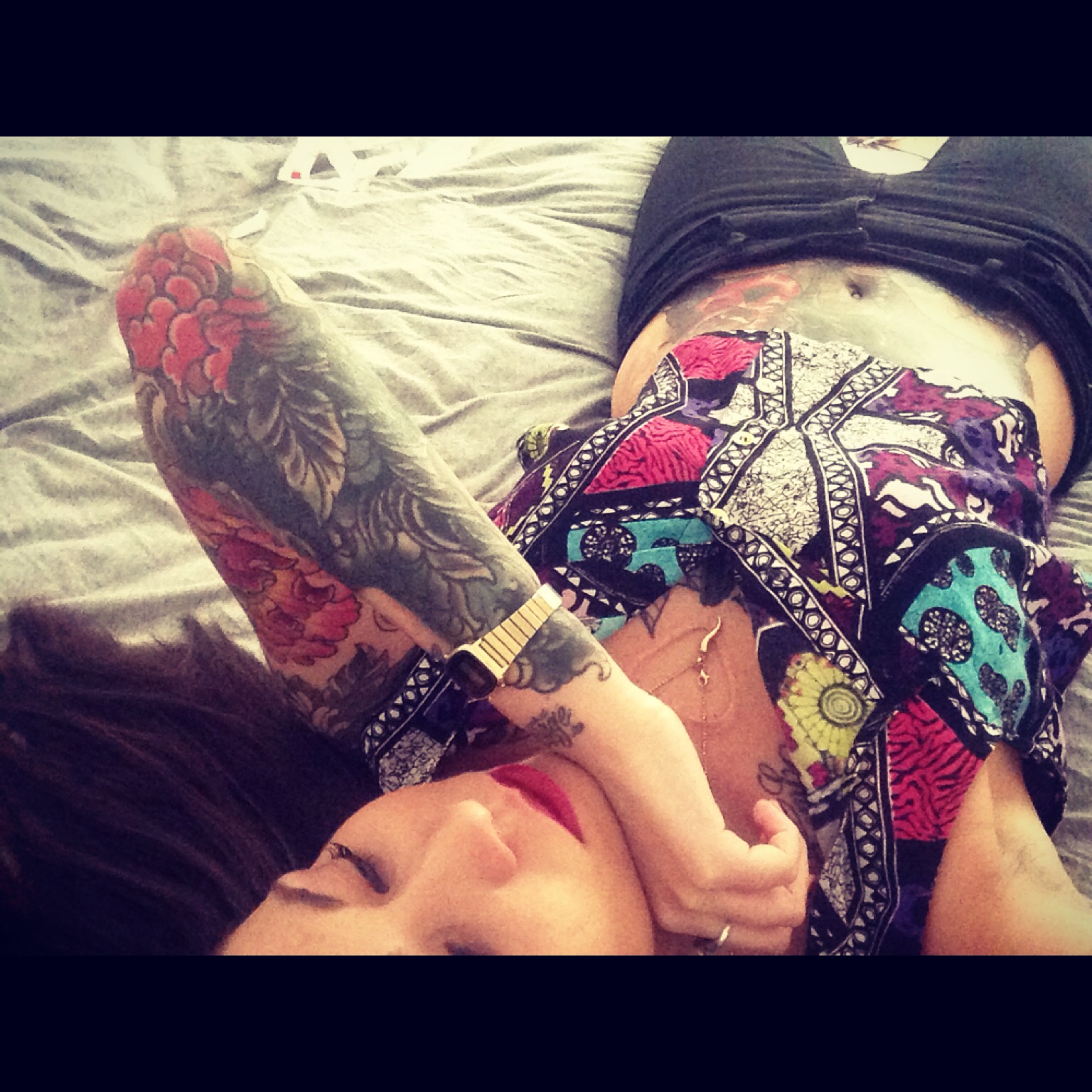 What first drew you to the tattoo world? When did you decide you wanted to become a tattooed person? This is such a difficult question. I couldn't really explain what really drew me to the tattoo world. In 2009, while I was in Albuquerque New Mexico to study, I met Steve Truitt a renowned body modification artist. I quickly became friends with him and the guys at his shop and I started to spend a lot of time there. So I would say that I was firstly introduced to the world of body modifications. At the time, seeing Steve's tattoos was quite a visual shock. That was the first time I saw blacked-out arms, face tattoos and almost a complete tattooed body. I slowly started getting small tattoos until I eventually considered getting a full body suit.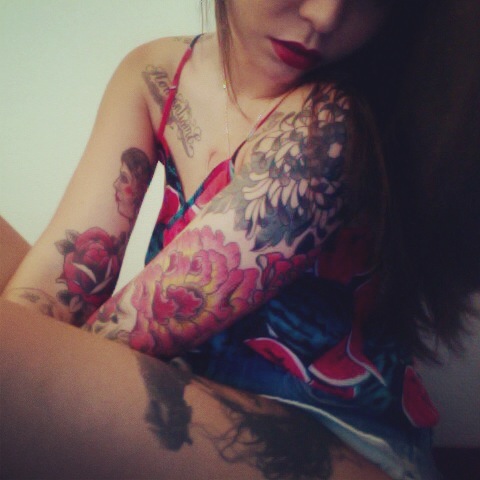 What is your job? I have never been able to do one thing at the time, so I'm currently working several jobs. I'm in charge of the advertising for a magazine, I'm also managing a tattoo artist working at Sang Bleu London and, last but not least, I'm part of the Paris Tattoo Convention staff, Le Mondial du Tatouage organized by Tin-Tin, where I'm in charge of the sponsoring.
Tell us a little more about your project Inspired Tattoo Portraits? When did you start it? Inspired Tattoo Portraits is an artistic and journalistic project that I started in April 2013, which focuses on heavily tattooed people wearing quality art. I aim to create beautiful images and provide content that opens the door to new ideas. Each portrait is made of an interview, a set of analog pictures and a video. I never read tattoo magazines, so it came from a personal need to see something different. For each portrait, I try to find interesting and strong personalities and to shoot them in visually rich environments in order to create unique atmospheres. On one hand, it's a way for me to broadcast an aspect of the tattoo culture I love and on the other hand to understand myself better thanks to the people involved in the portraits.
Do you find that you often get comments about your tattoos from the public when you're out? Do you mind this? People are generally surprised, but not in a bad way and I actually get pretty good comments. I guess they can appreciate the artistic value of my tattoos. But having people staring at me in the street and on the subway is not something I always felt comfortable with. When I first started getting tattooed my tattoos were not visible, so as they began becoming more visible I had to adapt to the way people were looking at me. Now I try not to care anymore.
Tell me a little about the work on your body. Who did it? How does it make you feel as a person? The list would be too long to name everyone, I'm a collector. I get work by very different artists: black & grey portraits, neo-traditional, ornamental… So far I have been tattooed by Cokney, Mikael de Poissy, Jean-Philippe Burton, Matthew Gordon, Antony Flemming, etc. I just enjoy being surrounded by art on a daily basis. My tattoos don't change me as a person. Also it is a big commitment and it's definitely not a neutral choice…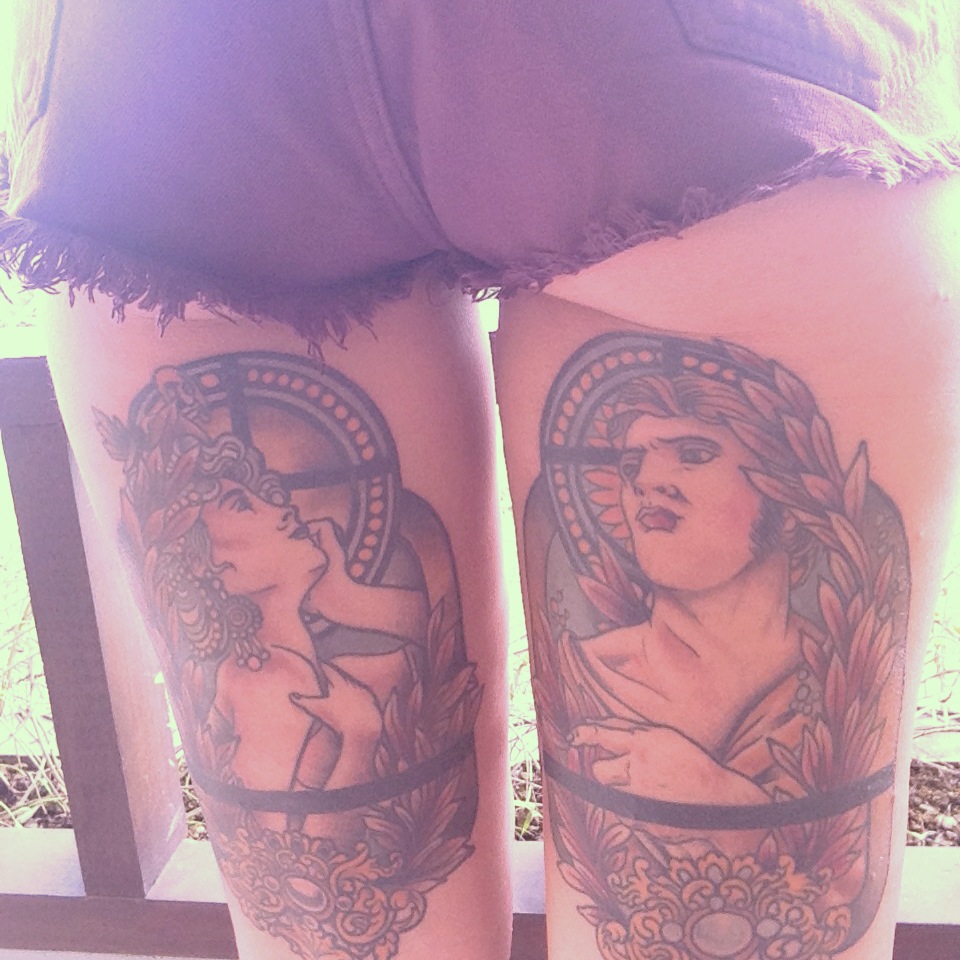 Thigh tattoos by Mikael de Poissy
We have been watching the progress of your stomach piece on Instagram. Where did the inspiration for this come from?  Many women are nervous about using their entire front as a canvas, did you have any apprehensions? I have been looking at Matthew Gordon's work and I noticed he was super-good at large-scale tattoos and I wanted a big piece for my torso. As I'm working on a body suit project it made sense to go big. I just gave him a few ideas and he nailed it. The placement and size were pretty audacious but I guess I was crazy enough to do it. Of course I had apprehensions. It's a pretty big commitment. I was scared it would affect my femininity, but it didn't. In fact feminity really depends on who you are as a person. So I feel pretty good about it.
You recently added a flower below the piece by Matthew, what inspired this? Honestly, it wasn't really part of my plan but after finishing my torso this little area was left untattooed and blank spots just annoy me. That's the problem when you're getting a lot of work done, you tend to only notice the non tattooed areas! Also I wanted someone special for this piece and therefore I asked Japanese artist Gotch to do it.
Do you enjoy working on big tattoo projects? What are you planning next? I think bigger is better, but it's also pretty hard to work on big projects. It takes a lot of time and commitment, plus it's usually really painful. Working on my torso piece was challenging and I sometimes felt discouraged. Going through long sessions and having to catch a flight back home to Pares the day after to go back to work is something difficult. But I experienced amazing things as well. It made me realise how strong I am. My next big project is my back piece with Guy le Tatooer, which I'm pretty excited about…
Who else would you like to get tattooed by? Too many! Haha. But to name a few: Claudia de Sabe, Valerie Vargas and the guys at Sacred Electric.
Where do you seek tattoo inspiration? My inspiration mainly comes from artists' work. I like to pick artists with a strong artistic personality and I only give them a few ideas. I just want them to enjoy the piece and do what they think is good.
Any advice for first timers thinking about getting tattooed? Have a look at artists' portfolios and choose them regarding their style and most importantly trust them!
Below are some of the portraits from the Inspired Tattoo Portraits series, check out the project in its entirety at www.inspiredtattooportraits.com