Our guest blogger is Giselle, creator of Mindful Wanderlust – a travel blog about responsible travel, tattoos, and following a vegan lifestyle. This is the third of many posts to appear on th-ink, telling of her and her husband Cody's travelling tales. If you have missed their previous travel posts catch up and read Part Two and Part One…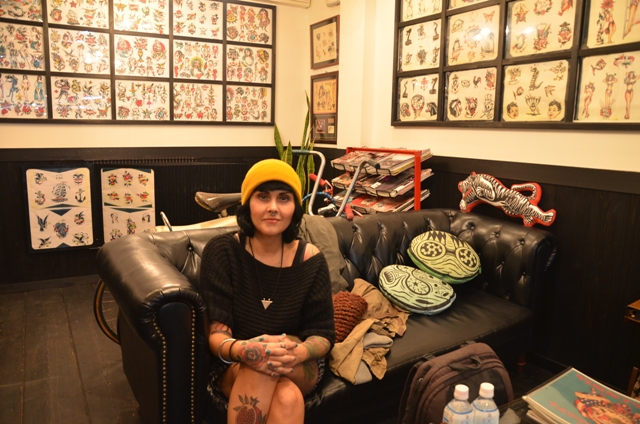 We made it to Tokyo! Before we even booked our flights to Japan I knew it was a country I really wanted to get tattooed in, so I spent some time back in Canada researching different artists.
After taking a look at their consistently beautiful bold artwork, I decided on American traditional for the design, I chose to go with the guys at Inkrat Tattoo in Tokyo. Rei is the owner of Inkrat Tattoo, and has been tattooing for over 22 years.  His shop is covered in art, new and old, and original flash from the 1950s hangs on the walls.
  I couldn't stop picking out all of the pieces I wanted.
Prior to arriving at Inkrat I decided on a geisha and left the design up to Rei. I thought, "Other than a Sumo wrestler, what's more Japanese than a geisha?" It's the perfect souvenir from Japan.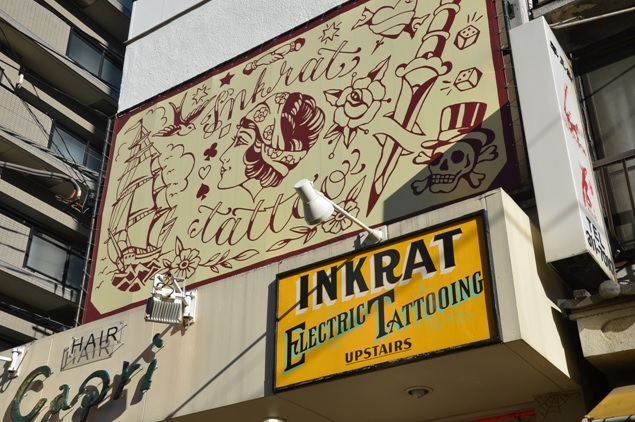 I learned something very interesting and new about Japanese tattoo etiquette (or at least Rei's tattoo etiquette) at the shop that day. Before arriving for my tattoo appointment, I was asked where I wanted the tattoo, and I said on the outside bottom of my left leg.
On the day of, Rei walked over to me to fit the design on my leg and it didn't quite fit properly. I said "it's ok, we can do it on my other leg" But Rei didn't really respond, he just told me he would make it a little smaller so it would fit. A regular customer sitting across from me said that where I asked for the tattoo is where I am going to get it. The reason for this, is that the artist doesn't want to inconvenience me, as I already chose the placement and he wants to respect that.
That came as a little bit of a surprise to me. I would have been perfectly fine with the tattoo on my right leg, but just hearing that he refused to put it on my other leg out of respect made me smile a little.
Respect – and integrity – seems to be an extremely important thing in the tattoo world among tattoo artists. It is something that really resonates with me, as integrity is hard to come by these days. I have a lot of respect for people who have a lot of respect for people. Go figure.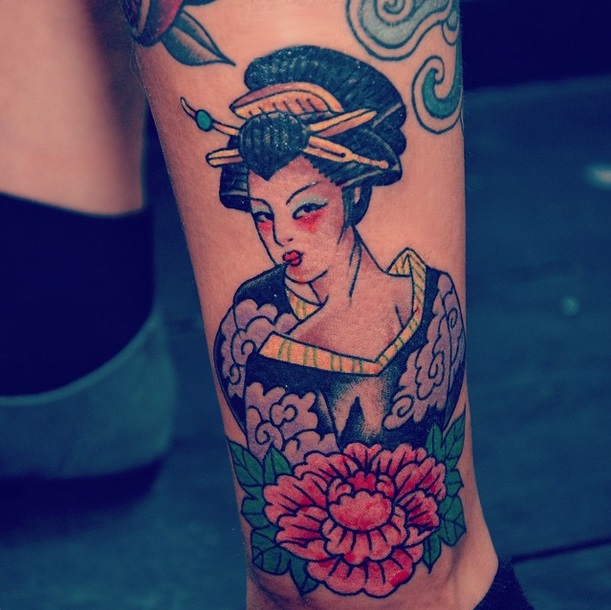 On top of my excitement over visiting and getting tattooed in Japan, arriving in Tokyo was a sensory overload. My senses were pulling me everywhere. The colours, the lights, the droves of people, and the, sometimes, disapproving stares from some of the locals.
Although tattoo shops are legal in Japan, the long history and mentality of tattoos being only for criminals and misfits has not yet dissipated.
The earliest signs of the Japanese getting tattooed date back to 5,000 BC. By the 7th century the Japanese adopted much of the same mentality that the Chinese had for tattoos, seeing them as barbaric and using them as a punishment for crimes committed.
In the middle of the 18th century Japanese tattooing was popularised by a Chinese novel with several of its heroes covered in tattoos. This novel influenced all Japanese culture and arts, but the yakuza also became interested in tattooing, further making it a tasteless form of art and self expression to many. The yakuza felt that because tattooing was painful, it was proof of courage, and because it was illegal, it made them outlaws forever.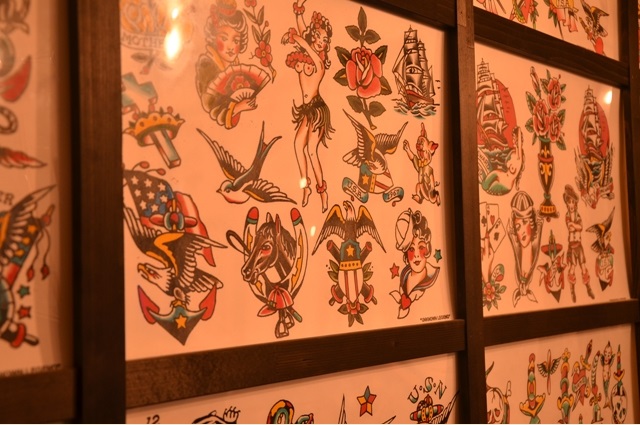 Finally, tattooing in Japan was legalised in the 20th century, but to this day it is still taboo. People with tattoos cannot enter into any hot baths, so unfortunately we will not be visiting any onsen (hot springs) in Japan.
Thankfully the mentality of tattoos being only for criminals is dying out with the old generation and new generations are embracing their rich culture of the art of irezumi.
 It is an ancient craft that should be appreciated and respected for what it is, not looked down upon, because it is misunderstood.
As Japan tries to reclaim all of the beauty and positivity of this ancient art of expression; I feel honoured to be able to collect an original piece from a country so steeped in the tradition of tattooing.
Follow Giselle and Cody's travels on their blog and Instagram