Embrace the change, don't deny it.
We chat to 31-year-old civil servant Drew Beckett (@drewjbeckett) who lives in London about alopecia, body confidence and tattoos…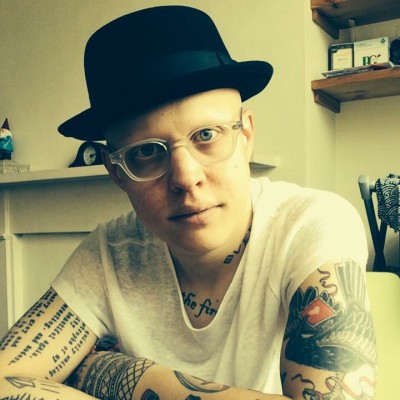 Drew Beckett
Can you tell us a little about your background, and what first attracted you to getting tattooed? I grew up in Hertfordshire in a very middle-class environment and enjoyed an extremely happy childhood. I went to an all-boys private school and had very little exposure to anything alternative beyond what I might see in films such as Bound and Run Lola Run.  Once I was old enough to establish a bit of independence, I began to commute to London a lot and fell madly, hopelessly in love with a city of infinite variety. I saw tattooed punks in Camden and realised that there was another world to explore, and more than one way to look and live your life. I also hit puberty about the time Angelina Jolie was emerging as an alternative figure in Hollywood, which certainly didn't hurt my perception of tattoos! As soon as I was 18 I went with my best friend to a tattoo parlour in the basement of a Camden nail salon. As luck would have it, tattoo artists Thomas Hooper and Nica LeHead worked there. Forcing Thomas Hooper to tattoo a rubbish tribal dragon on my stomach remains a source of perverse pride. But even though the dragon is terribly dated, it began a fascination with tattooing and the culture of tattooing that I doubt will ever leave me. I have very fond memories of that basement!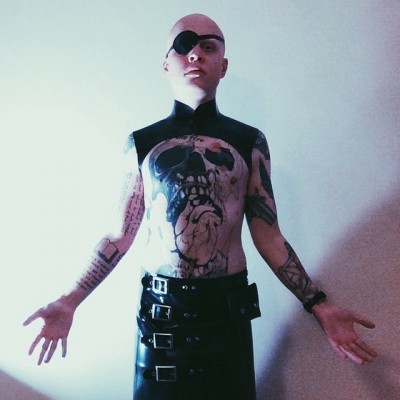 Drew and his tattoos
When did you get alopecia? Can you tell us a little more about what alopecia is and how you got it? Alopecia is an auto-immune condition initiated when the body attacks itself. There are three types – areata, totalis and universalis. Universalis represents total hair loss, and that's  the type I have. There are many theories as to what triggers alopecia – from genetics to lifestyle – but there's been very little research and no cure. The general consensus is that my alopecia was triggered by stress, though I choose not to dwell on the cause too much. I began noticing the symptoms  in 2011. At first it manifested itself as a hole in my beard about the size of a 50p coin, before clumps of hair fell out until my head looked as if someone had shaved a map of the world onto it. I saw a specialist, but by this point my hair was falling out at such a rate that there was nothing they could suggest, and any suggestion probably wouldn't have worked anyway. I remember crying in the back of my parent's car for around one minute once I realised doctors couldn't help me. That was the first and last time I've cried about it. Soon after my eyebrows fell out, then my eyelashes, then everything else. Be grateful for having nostril hair – I now have no idea when my nose is running!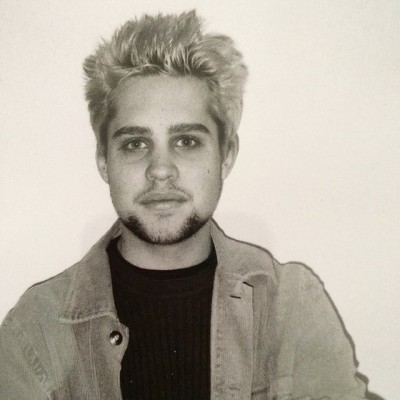 Drew – Before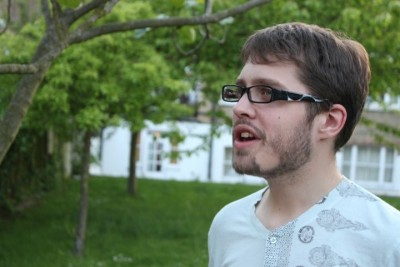 Drew's alopecia was brought on by stress and began as a small patch in his beard.
What artists have tattooed you and how did you pick them? I consider myself extremely lucky with regards to the artists I've been tattooed by. 14 years later, and the shoulder caps Thomas Hooper did for me still look amazing. Being tattooed by Nica LeHead changed my life in ways I didn't understand until I was considerably older, but gave me access to places like Into You and Divine Canvas. I have a sleeve by Duncan X and the genius Delphine Noiztoy from the Lacemaker's Sweatshop has begun an epic front-piece that I can't wait to continue. I collect hearts as well, to which Alex Binnie and Matty D'Arienzo have contributed. My hands were tattooed by L'ain Freefall, and I have some awesome work from Paupiette, who designed the sexiest bald pin-up for me. I've also got a sleeve of Frith Street designs, and a cool Godspeed You! Black Emperor tattoo from Dwam. A lot of thought went into my Duncan X sleeve, but beyond that everything else has come about fairly organically. Alopecia was strangely liberating; by removing a certain level of control over the way I look, I was forced to find ways to re-define my image and have been able to be a more experimental and carefree as a result. My time at Into You was integral to that process as they are such a nurturing family of artists. Since then, Delphine has been instrumental in helping me rebuild my confidence and reshape the way I feel I'm perceived. So tattoos have formed two functions; the aesthetic and the therapeutic.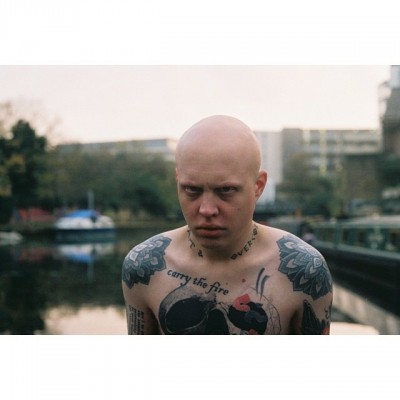 What is your favourite tattoo? There is no way to answer that question as I don't really think of my tattoos as distinct pieces, more as components of an ongoing whole. I've always been proud of Duncan's script of a Frank O'Hara poem on my arm, as well as the fact I have an example of his actual handwriting permanently inked onto me. Sometime I have to pinch myself when I think about how lucky I've been.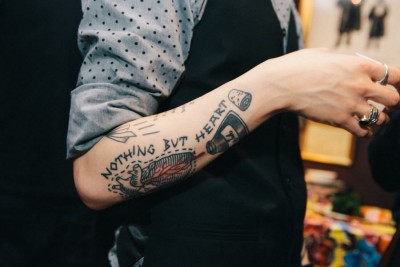 What tattoos are you working on at the moment? The main project is my front-piece, and I don't think poor Delphine quite realises how much I've got planned. She is the only person I trust to tattoo my head and neck, which I think will be an extremely exciting project.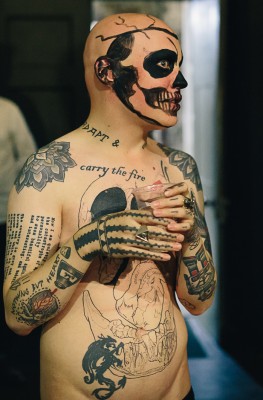 Drew was a model at an 'Art Macabre' life drawing evening at Somerset House last year. Photo by Heather Shuker
What next? What tattoos do you have planned? Beyond my work with Delphine, I haven't got any concrete plans. I have a 'party' leg of random designs which I'd like to add too, particularly as everything on it so far has been done by artists I'm close to. I have saved my left leg for Paupiette, and one day I look forward to starting that – which will hopefully be a design that's planned in advance!
Does alopecia make tattoos hurt more or less? Or does it make no difference The only difference alopecia makes is that you don't need to shave the area getting tattooed, but after that the pain is just the same for everyone!
Do you think that getting tattooed is an important part of body acceptance? For me, yes. I was able to take control of how I presented myself to the world. If I was given the opportunity to have my hair back, I wouldn't take it. But this is a personal and subjective decision. I certainly don't think body acceptance is predicated on body modification. Tattoos aren't for everyone, and I think there are other ways for someone with alopecia to mitigate their loss without the need to black in their nipples. Thanks to the democratisation of the internet, there is a lot of inspiration online for anyone wanting to own a condition they didn't choose. Once you get your agency back – by whatever means – alopecia becomes much easier to handle. My outlet was tattoos, but I have seen some sufferers find all sorts of creative outlets to embrace the baldness, and that's incredibly inspiring.
What do you enjoy about the aesthetic of your tattooed body? First and foremost, I enjoy wearing my friend's work and their love on my skin forms a permanent armour that I carry with me every day. Aesthetically there is something incredibly empowering about having a giant skull on my chest, and I enjoy the heightened feeling of otherness the combination of my tattoos and baldness give me. I hope to continue to explore that union and harmony, and eventually perfect a look somewhere between androgynous alien and Mad Max War Boy. There is nothing better than wearing a well-fitting suit with tattooed hands though!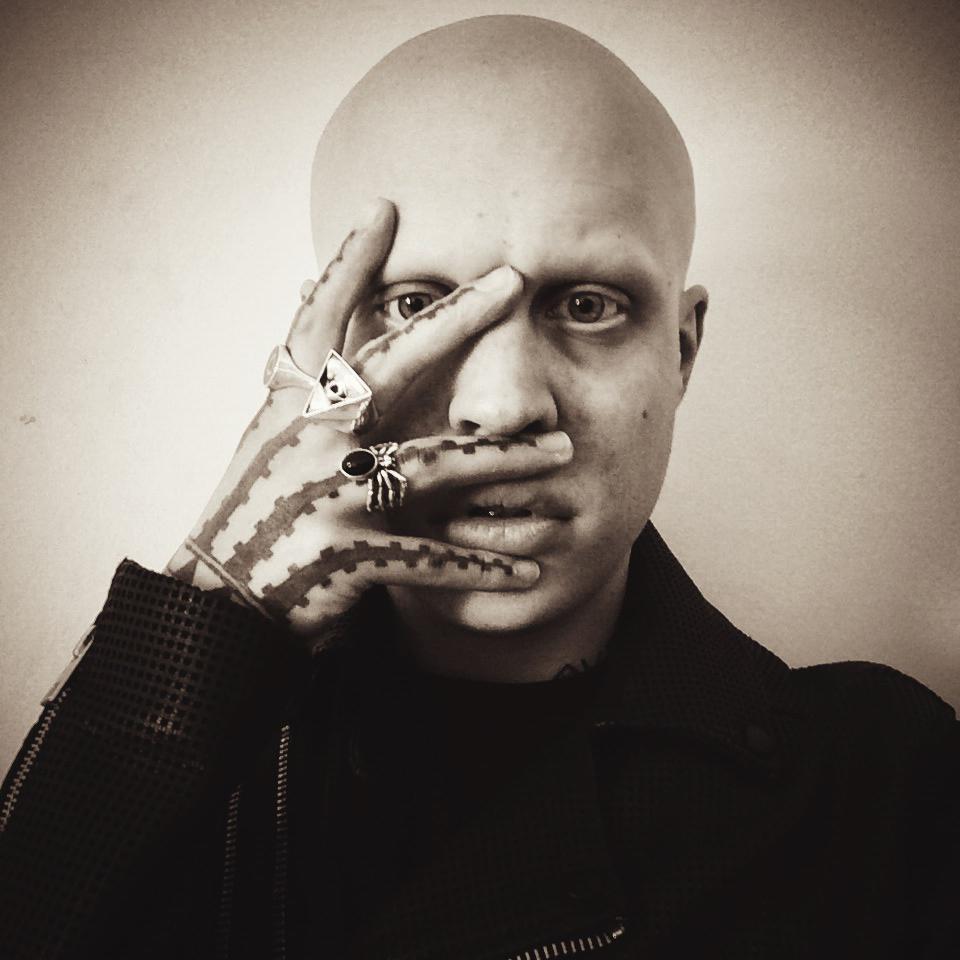 Any advice to others who have alopecia? Alopecia is a deeply traumatic experience which no-one can fully empathise with until they've experienced it. As a result, it's rare that people will accept how emotionally difficult the loss of control over your body is. So firstly, I would reassure anyone that it's OK to grieve for what you've lost. Secondly, I would suggest (though this is a matter of choice) not fighting it. When my hair began falling out, Duncan tattooed 'Adapt and Overcome' on my neck. Embrace the change and style it out. Alopecia gave me a modelling contract, left me better dressed and – most importantly – forced me to become a kinder person. The process of change is wrenching, but once it's over you have the opportunity to be reborn, to reshape your identity both spiritually and physically. Alopecia can grind you down, but it can't kill you. You'll still be hot without hair, you'll still be charismatic and you'll still be an amazing human. Embrace the change, don't deny it.