We chatted to the awesome tattoo artist Lorena Morato, 31, who is based in Cologne, Germany, about her "mystic neo-traditional" style, weirdest requests and UK guest spots…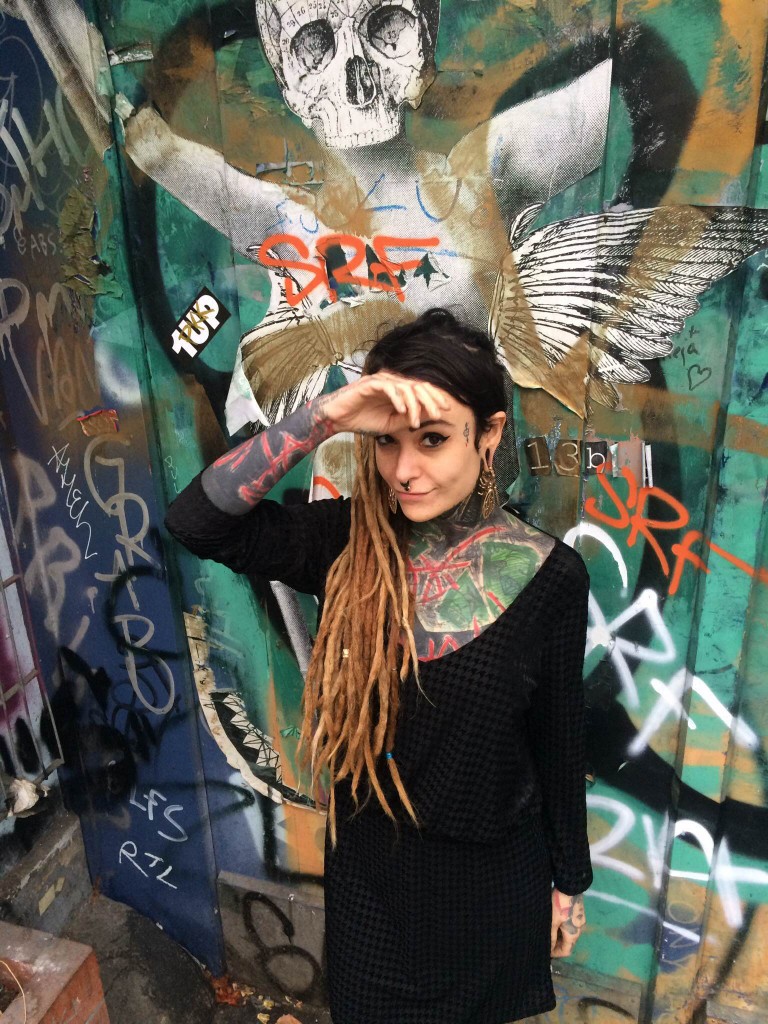 What first attracted you to the tattoo world?
The great and magical idea that you can record something on your skin that often symbolises something important, a certain kind of ritual using blood and ink… tattoos can be used as a magic tool too.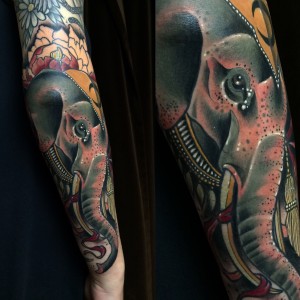 How would you describe your style?
My style is neo-traditional, a mix of traditional with a touch of realistism. I use elements of spiritual and mysterious things, animals with a touch of dark magic, obscure figures who are at the same time full of grace, memories of childhood books and stories I used to read and create, and the magic crystals of which my mum once told me that fairies were living in and that they would protect me. I would say I do "mystic neo-traditional" tattoos.
How do you like to work with a customer to create a tattoo?
I ask them to send me pictures of what inspires them, and if they have a story to tell, I like to hear it to feel inspired. I like to meet them in person before the appointment, if it is possible. I like to know a bit about their personality to create the design, I think that is important.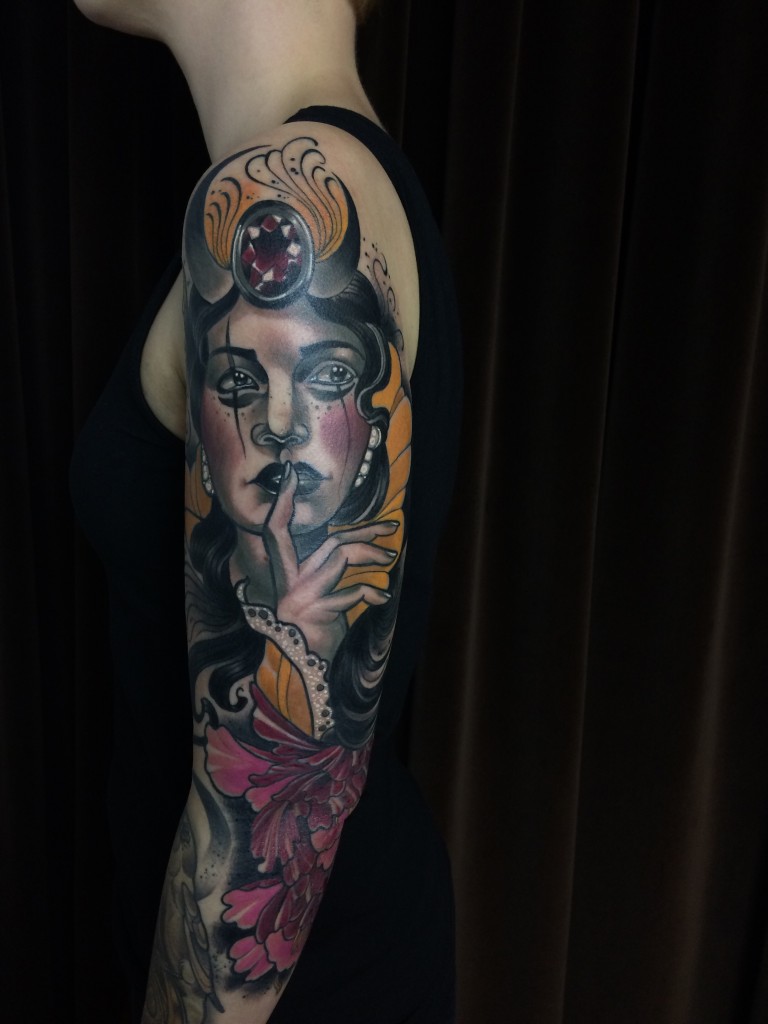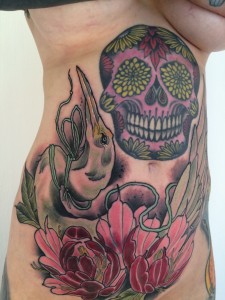 What's the weirdest request you've ever had?
I had many weird requests when I worked in a street shop. There were so many funny moments back then. No part of the body is weird for me now, since I'm working on my own body suit… but what I don't like to tattoo are armpits and palms. I have denied many requests for armpit and palm tattoos…
What's your favourite tattoo you've ever created?
I have many, many favourites, but the herbal incense I did at Brighton Tattoo Convention this year is definitely one of my favourites [below]. The peony and incense burner symbolise my new path into a more peaceful inner self, a walk seeking inner peace and calmness.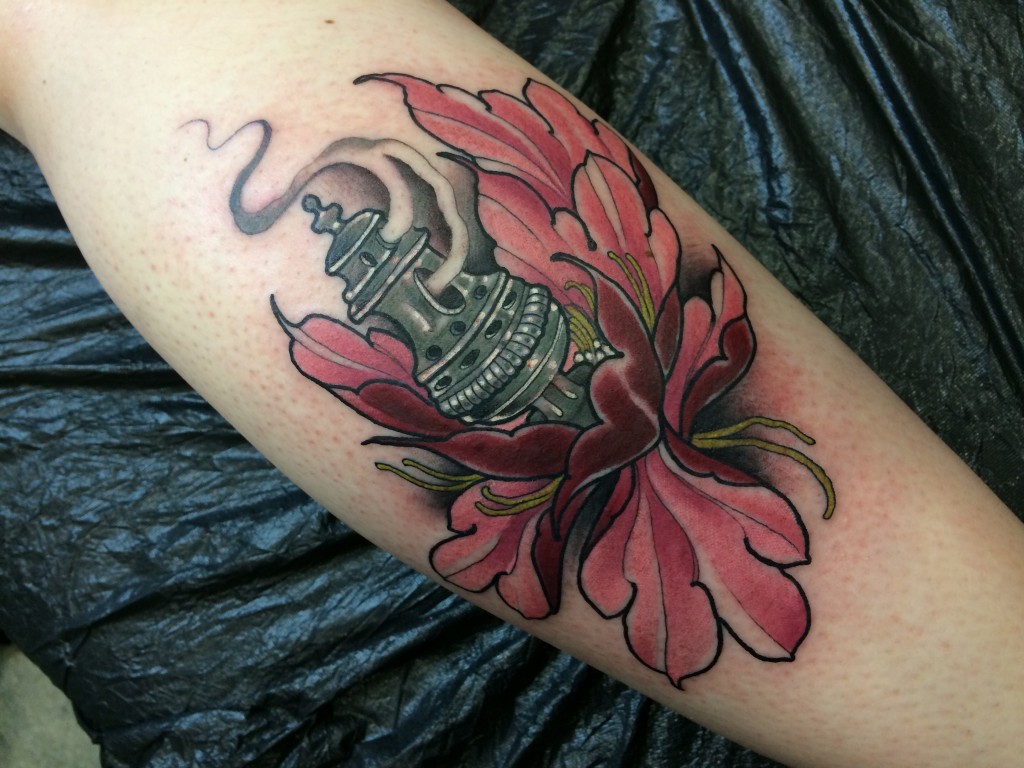 Is there anything you haven't tattooed that would really love to?
I would love a request for a design picturing the goddess Kali, but I am still waiting, anybody out there?
Do you ever guest in the UK?
Yes, very often! I will guest at The Warren in Canterbury with the talented Amy Savage in October!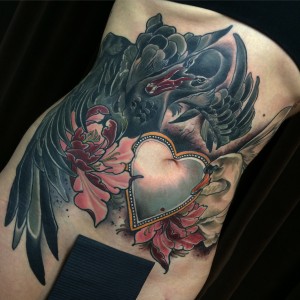 What does the future hold?
More meditation, more time for investing in new watercolour paintings, more little projects and hopefully working not five days a week anymore.