Meet 30-year-old tattooer Harriet Rose Heath. She's based in Sheffield and works as a travelling tattooer, with a permanent monthly spot at Dharma Tattoo in London. We chat to Harriet about her tattoo style, the body positive Facebook group she started and why no one should ever apologise for their body…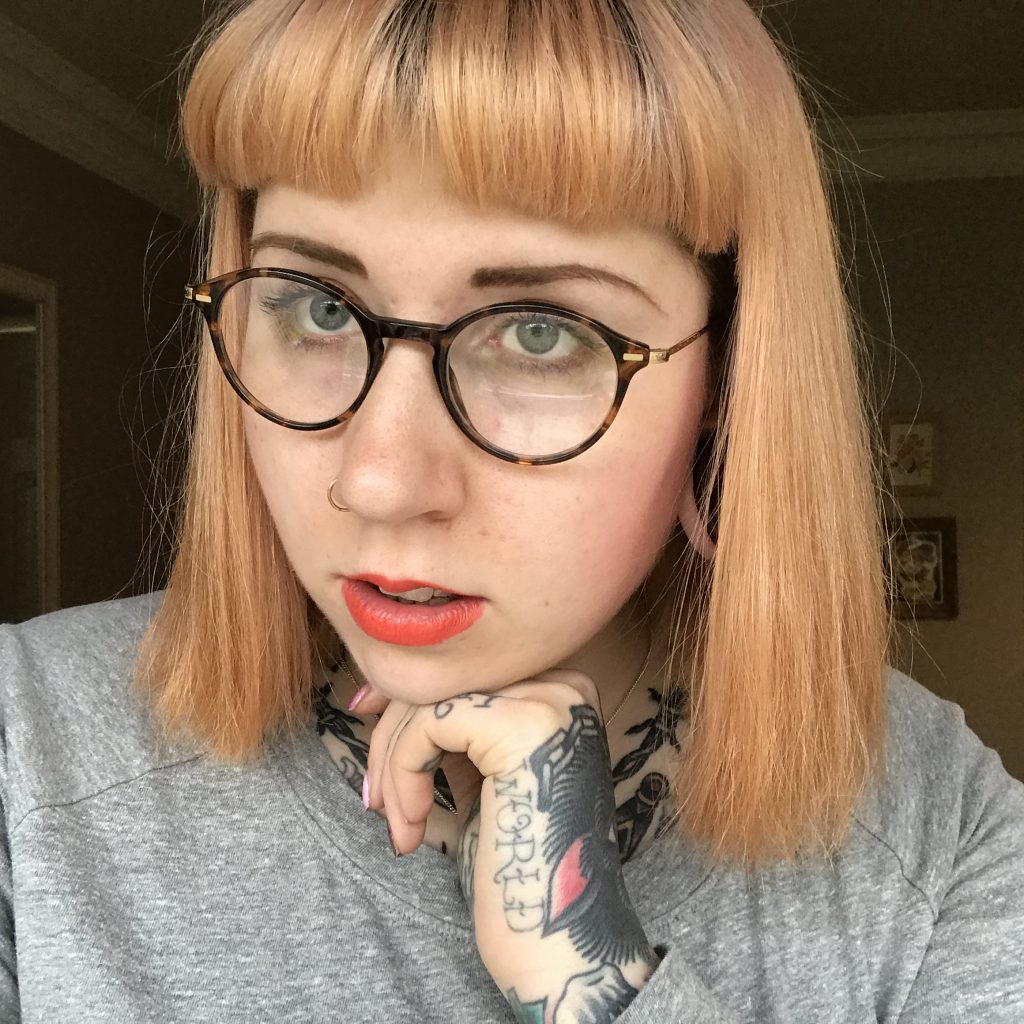 What drew you to the world of tattooing, when did you start? The first thing was getting into alternative music and seeing all the band members I loved having tattoos and wanting to be like them. I got my first on my 18th birthday and have barely stopped since. I used to work in music retail and after being made redundant, I realised I needed to sort my life out. I had a lot of tattoos already by this point and drawing has always been the one thing I am good at, so it made sense to give tattooing a shot! I used to feel like it was hugely inaccessible and how could some girl just become a tattooer? These days I think it's too accessible! A lot of hard work paid off though and now I've been doing it for over six years.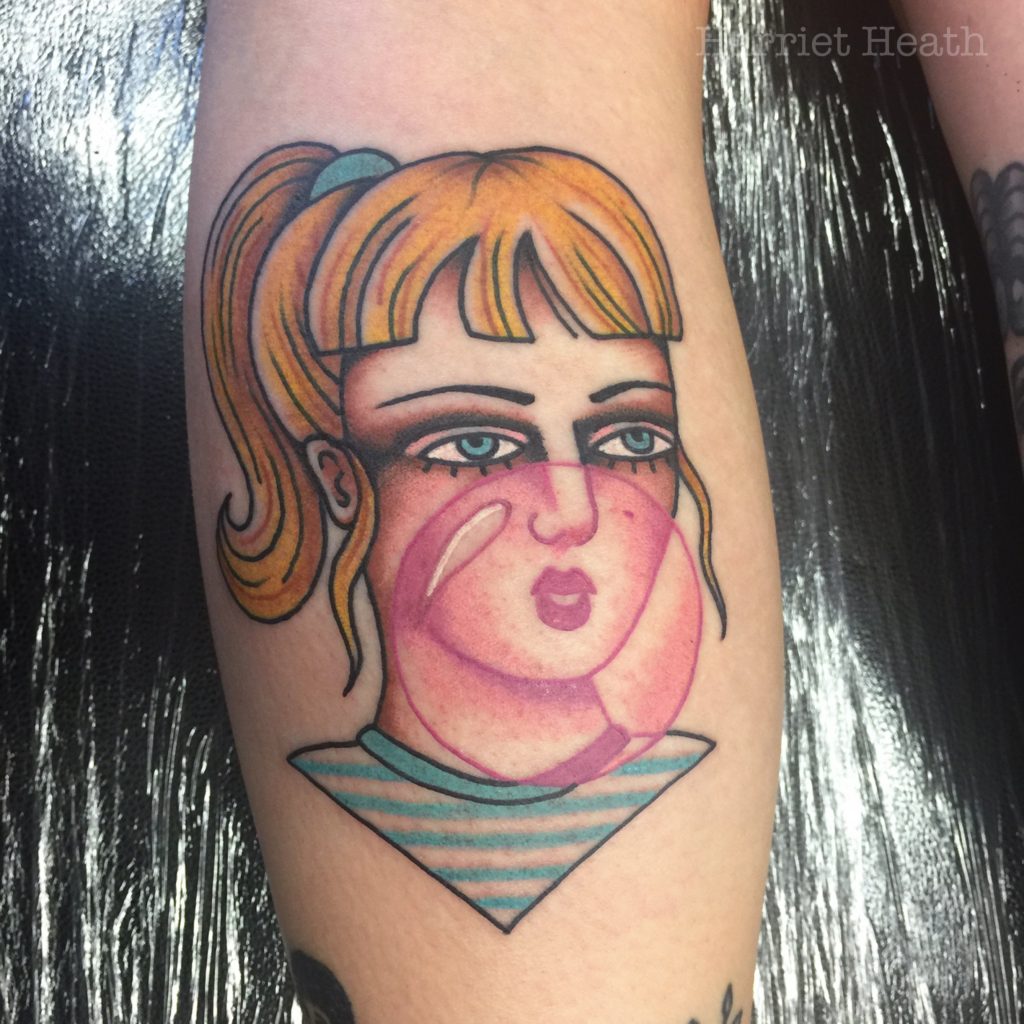 How would you describe your style, both fashion/lifestyle and art/tattoos? My style has evolved a lot over the years, both in my work and in myself. I've always had a huge passion for tattooing girl heads, but my work used to be a lot darker in subject matter and colour palette. These days I've learnt to embrace fun in my work. For so long I felt that I had to conform to a set of rules, and if I did anything too feminine then I wasn't a real tattooer.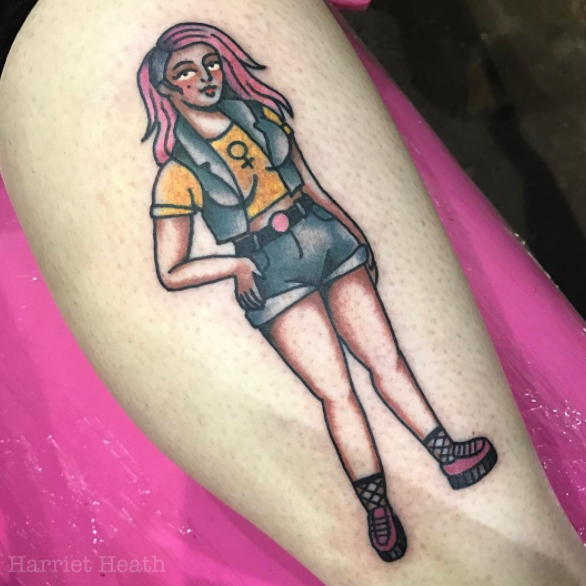 This carried through into how I presented myself as a person. Embracing femininity within my work has been one of the best things I've ever done. I love trying to represent all shapes, sizes and styles of women. Learning to be more unapologetic about myself has made me more unapologetic about my tattooing. I love working in colour, I love creating these fun babes that mirror my amazing clientele. I have quite a strong personal aesthetic that carries over into my work. Strength and beauty have always been the two main ideals I hope to achieve with everything I do.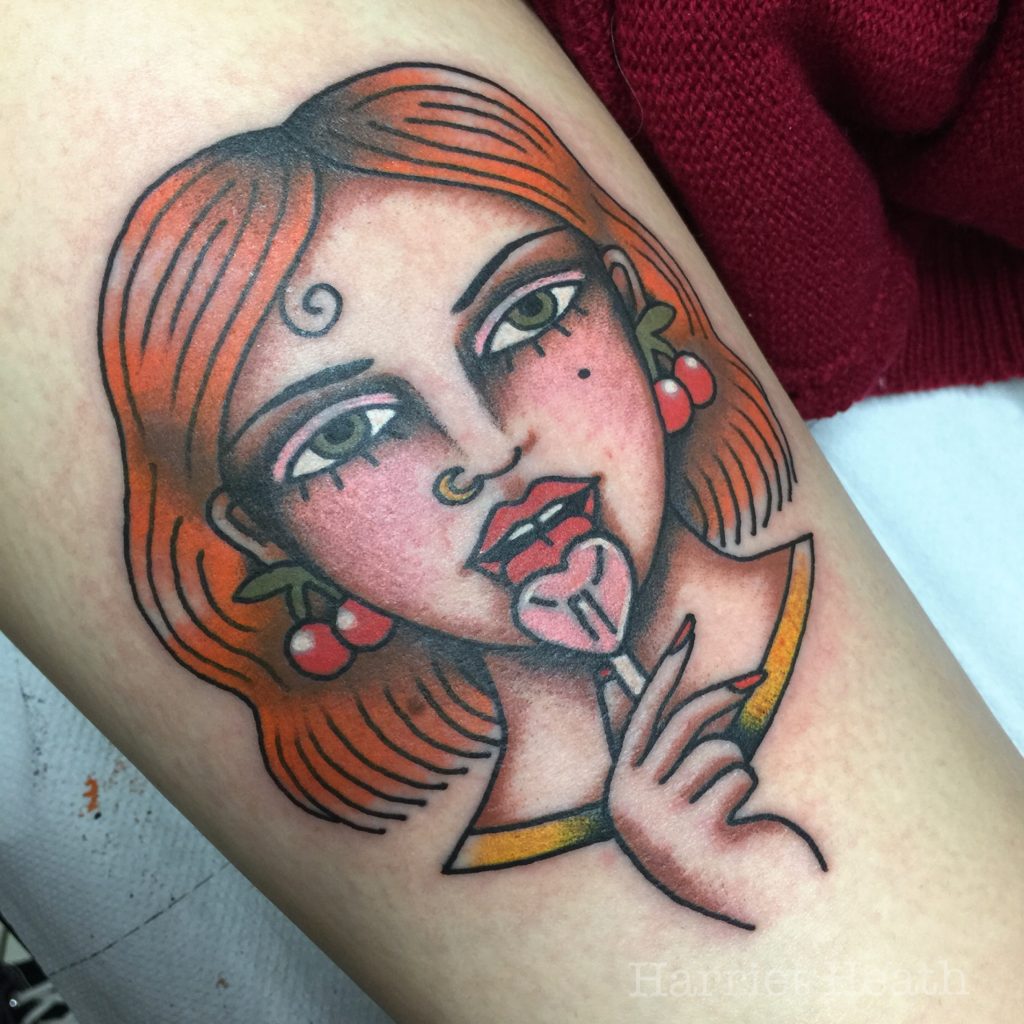 You have created a group on  Facebook called Take Up Space, can you explain what this is, why you created it and how others can get involved? I created the group after being disheartened by so many vegan and feminist groups on Facebook. Every time I joined one I felt like instead of championing people for trying, everybody was attacked for not being good enough. Your time online should never make you feel anxious and afraid. I wanted to create a space with like-minded people and really make a difference.
I'm a fat woman. I'm not ashamed to say it and I don't think I should be. I'm happy with my body, I love how it looks and what it does, but it can be hard to navigate the world sometimes when train seats are too small, when shops don't make clothes big enough and the world tells you that you need to minimise yourself, to become smaller and that if you are over a certain size, you are not welcome.
Learning to Take Up Space is important. Everybody is entitled to the space that they take up, both physically and more. The ethos of TUS is fat positivity, body acceptance and helping others along that journey in a warm and welcoming environment with other people that you can relate to. No restrictions on gender, size, age etc, it is for anyone who "feels big". It's taken me a long time to reach this level of acceptance and happiness about myself and it's made me so happy to be able to share that wisdom with other people.
Seeing so many people grow since the birth of the group has been phenomenal. People who are now happy to wear crop tops, have bought their first ever bikini, are standing up and being more confident at work, discussing issues with people outside the group that they were too ashamed to talk about before. There is still so much negativity towards fatness, specifically in women, that we face on a daily basis, but we shouldn't be treated as or made to feel lesser due to the vessel we exist in. If this sounds like a community you want to be a part of, search Take Up Space on Facebook and request to join then keep an eye on your inbox!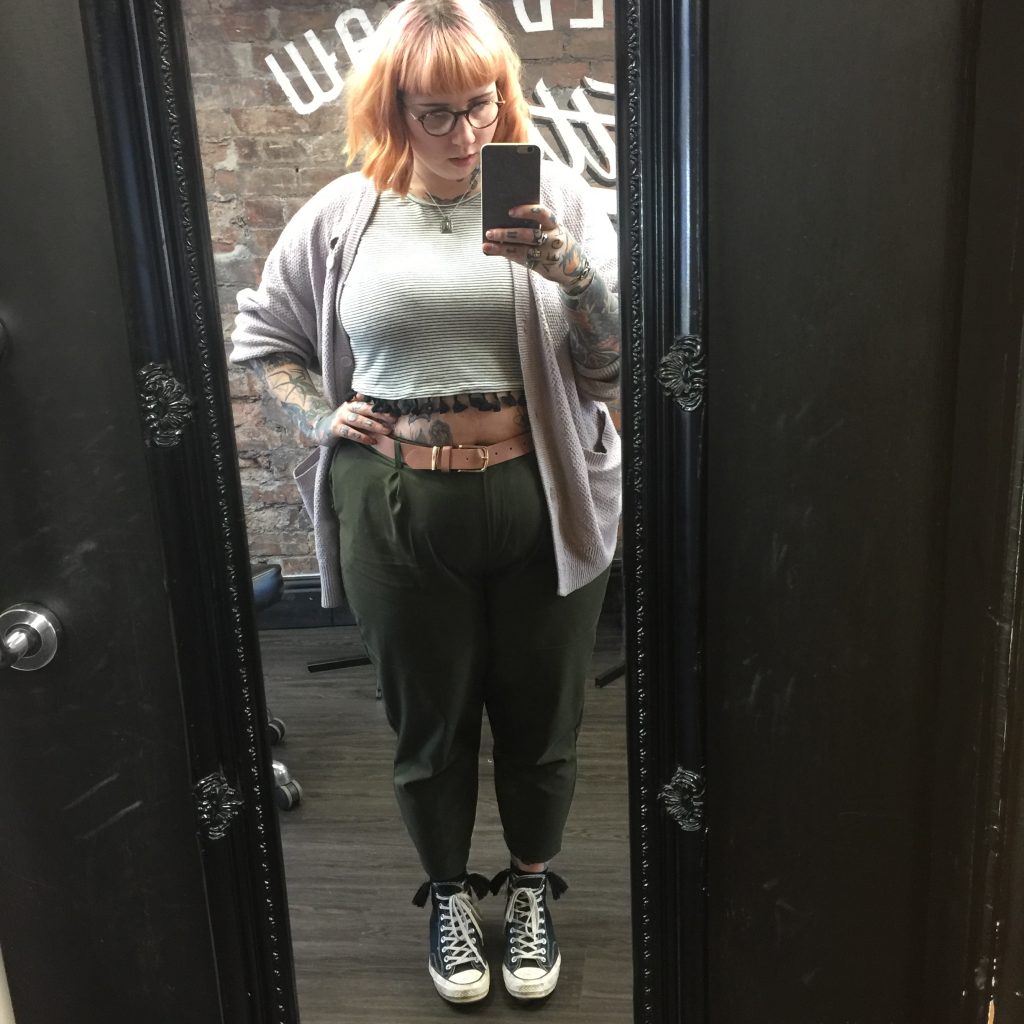 Is it important that people become more positive about their bodies? Body positivity is a huge deal to me. So much collective brain power is wasted in this world worrying about rolls and inches and numbers and scales. I can't tell you the number of times people have apologised for their bodies when I tattoo them, whether it's people hating their toes, embarrassed because they forgot to shave their legs, or telling me they are sorry that I have to touch them. It breaks my heart every time. Nobody should ever have to apologise for just existing as they are!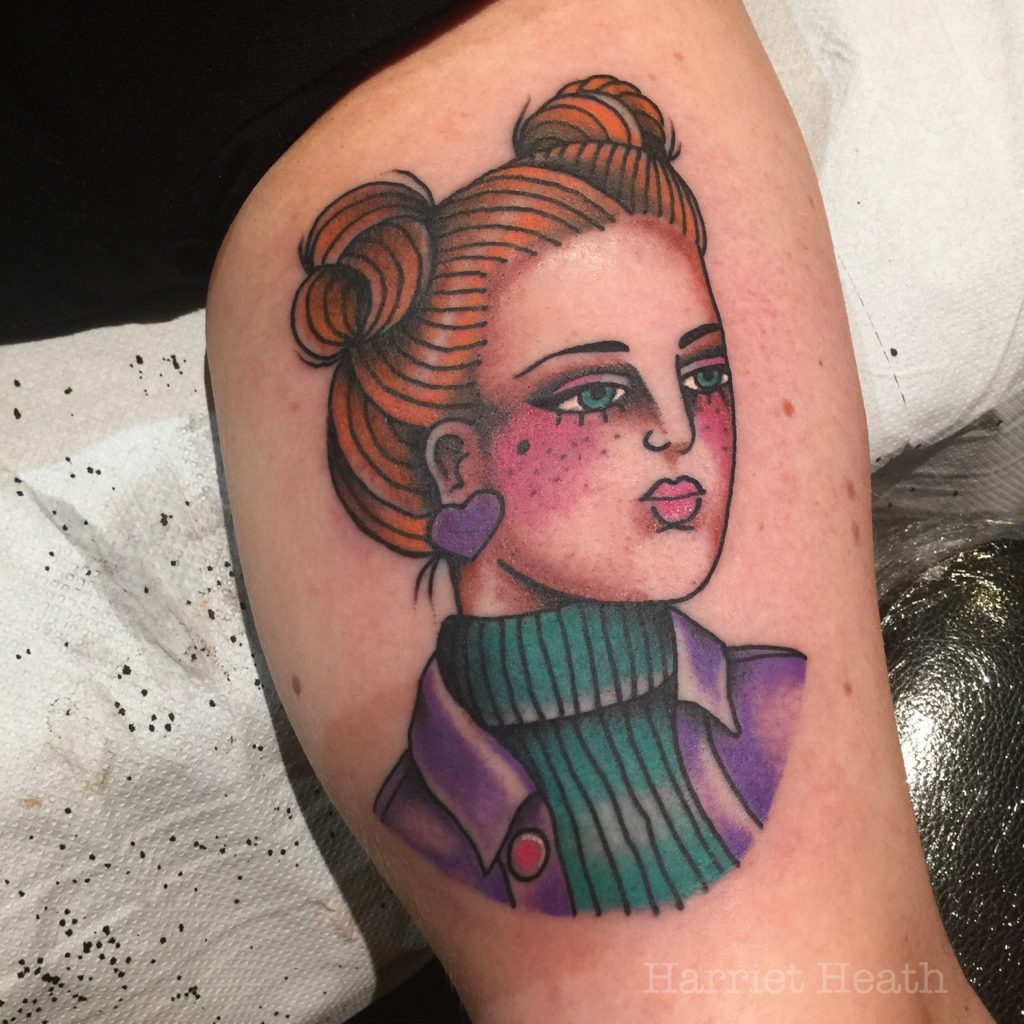 What would you say to others who are worried about getting tattooed because someone will be close to their body, or they perhaps don't like their body? Please. Please. Please, do not worry. We have seen everything before. You are never too fat, too old, too hairy, too anything to get tattooed (except too young). Tattooists are professionals and should act as such. If you have self-harm scars, 99% of the time we can cover them for you, also you would be surprised how many we see all the time and a bunch of us have them ourselves. We work with skin all day long and it's totally normal for us. If you want privacy, most studios should have blinds or screens they can put up to ensure that nobody other than the tattooist will see you. If you pick the right artist I guarantee you'll leave feeling better about yourself! Never apologise for your body and just try to enjoy the experience!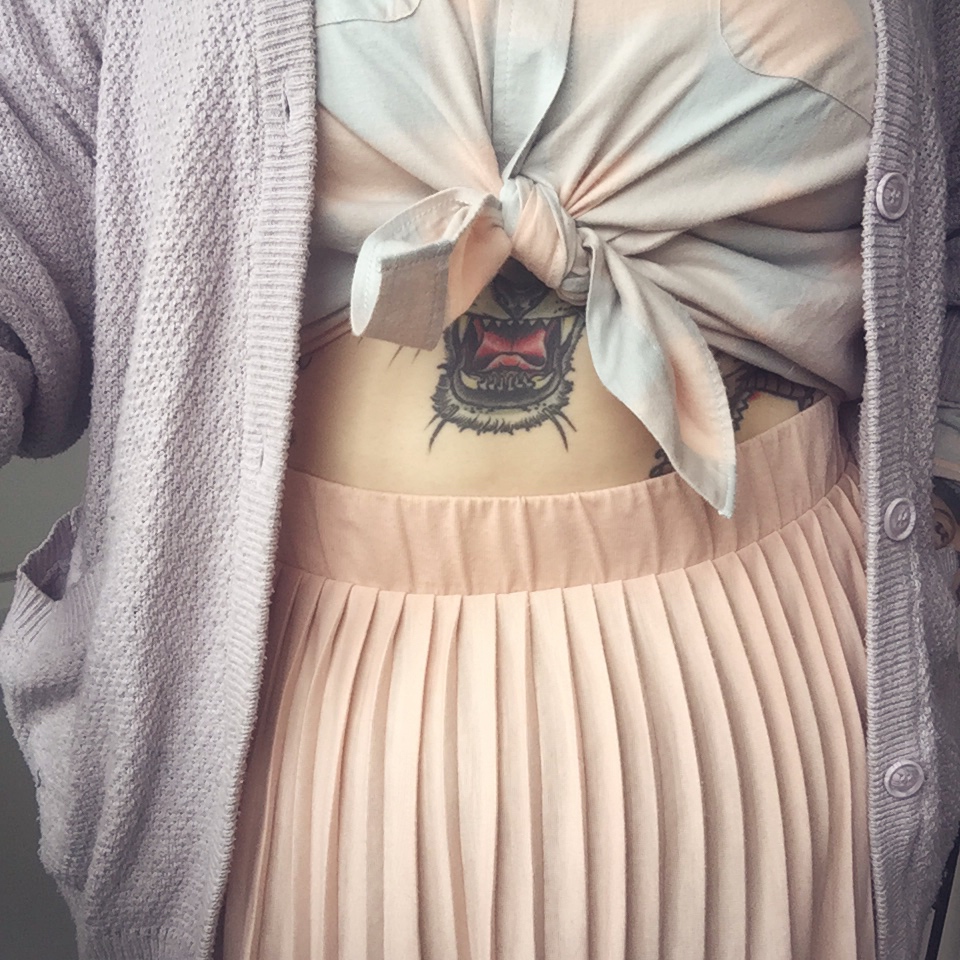 Can you tell us about your own tattoos, have they helped you to see your body differently? I remember getting my stomach tattooed and transforming from somebody who was horrified by the idea of my shirt lifting up when I reached for a high shelf into someone who would lift their top and say "look how great this is". The more tattooed I get, the happier with myself I become. Looking at your body and seeing something you have taken control over, chosen yourself and turned a few inches of skin you once hated into something beautiful is a powerful thing. In summer you'll find me in short shorts and crop tops because I just love showing off my skin. I'm proud of it not only for how it looks but as a sign of what I am able to go through and come out the other side of stronger.