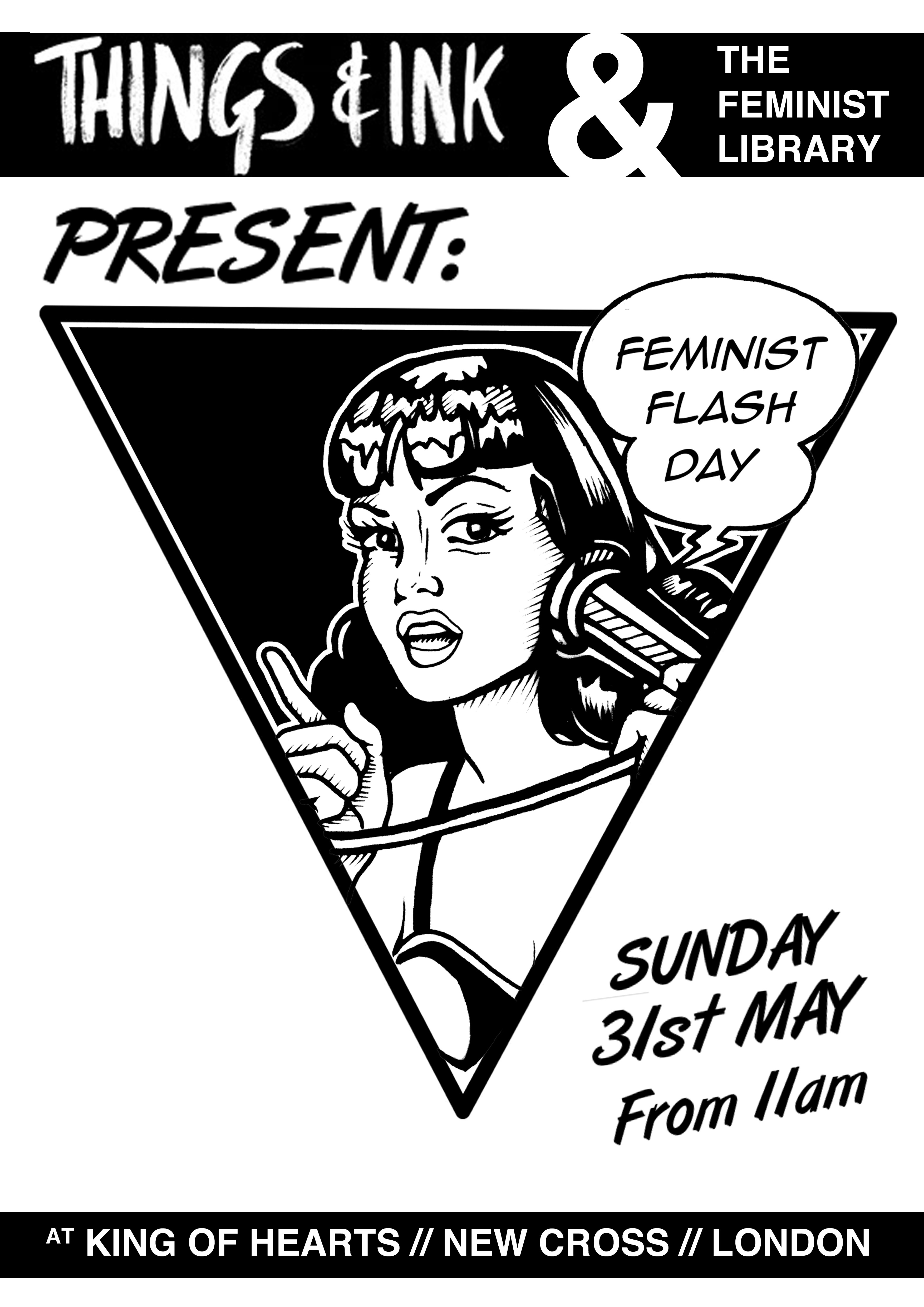 Things&Ink and theFeminist Library present:
FEMINIST FLASH DAY
Sunday 31st May 2015
At: King of Hearts Tattoo Studio
137 New Cross Road, London SE14 5DJ
 Things&Ink magazine and the Feminist Library are delighted to announce Feminist Flash Day, a day celebrating feminism, females and tattoos. The day is being held to raise funds for the Feminist Library, with the aim to buy a new building to house their growing collection.
The day will bring together tattooists and enthusiasts alike to discuss the bonds between the female body, feminism and the empowerment and ownership that tattoos can afford women. The day will start with the opportunity to get a tattoo of feminist flash from one of three talented tattoo artists: Dexter Kay, Julia Seizure and Lou Hopper. This will be on a strictly first come first served basis, and all designs will be priced between £60-£100.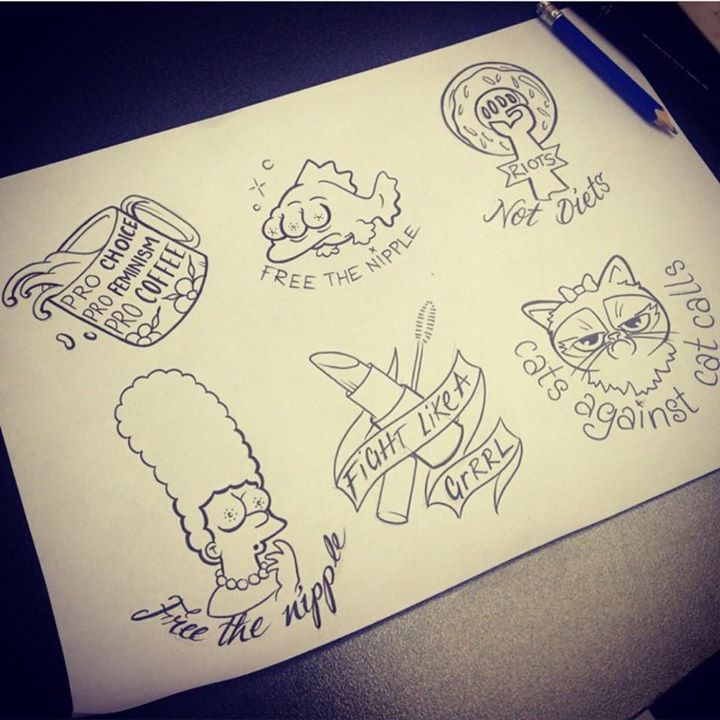 Feminist Flash by Julia Seizure
This will be followed by a panel discussion comprised of some of the industry's most knowledgeable individuals, including renowned tattoo artists Dominique Holmes and Claudia de Sabe, who curated the Time: tattoo art today exhibition at Somerset House, performers Maxi More and Ruby Jones, and feminist cultural critic Doctor Jane Elliott. The discussion will be lead by art historian Dr Matt Lodder and cult tattoo figure Blue from Into You in Farringdon.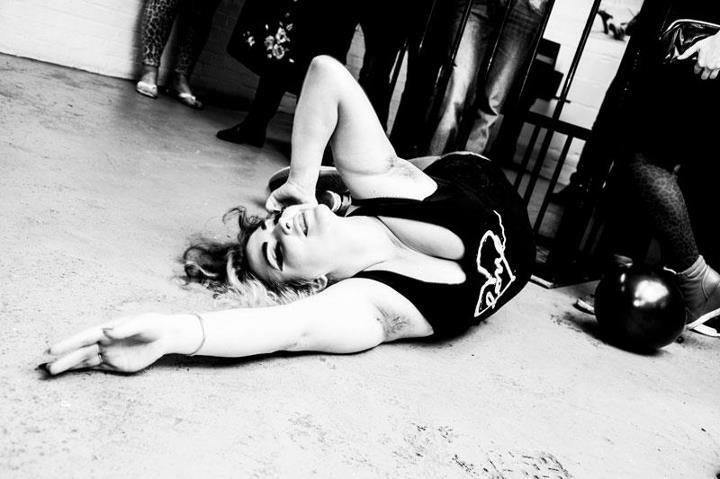 Performer Ruby Jones will be part of the panel discussion on tattoos and the female body.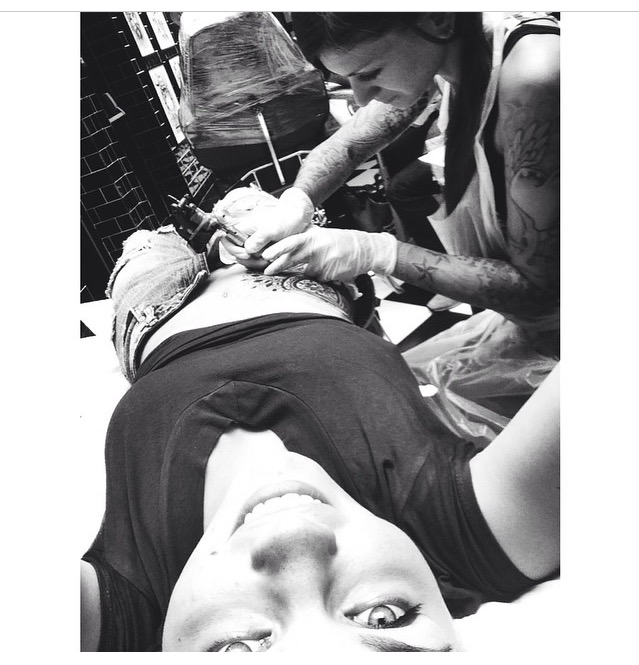 Dominique Holmes at work
Originally set up as an alternative to what founding editor Alice Snape felt was largely sexist tattoo media, Things&Ink magazine has worked hard to promote a variety of alternative lifestyle choices, by challenging beauty and body standards, and exploring themes such as sexuality, gender and feminism throughout its back catalogue.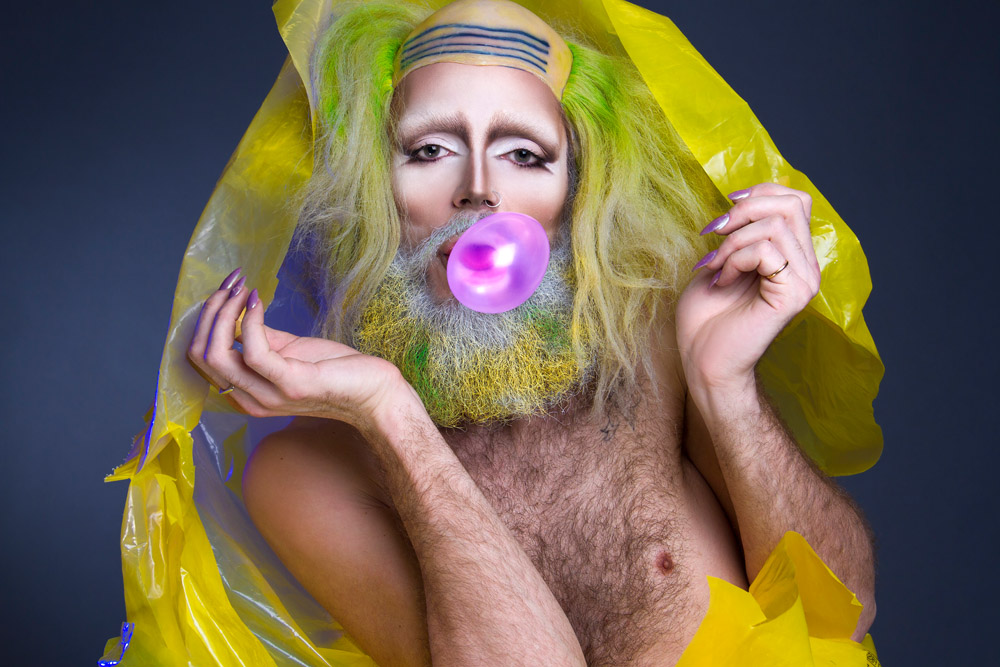 Performer Maxi More will be part of the panel discussion which starts at 4.30pm.
As the Feminist Library has reached its 40th anniversary this year, this is the perfect opportunity to celebrate how far the library, and the feminist movement, has come as well as setting sights on securing its future.
The event will showcase the history, progression and future of women in both the feminist movement and the tattoo lifestyle, and it hopes to highlight topics such as the female body, ownership, notions of beauty, societal reactions and equality within both worlds.
Feminist Flash Day is also supported by award-winning Sacred Microdistillery. It is the first and smallest commercial distillery of its kind, and  the only one based in a residential house, in north London. Sacred Spiced English Vermouth, made with English wine from Three Choirs in Gloucestershire, and Sacred Rosehip Cup – the English alternative to Campari – all of which can be enjoyed together in a Sacred Negroni, served from 3pm before the panel discussion.
 For more information email hello@thingsandink.com, or head over to the Things&Ink social media pages, @thingsandink | facebook.com/thingsandink.