We chat to Stuart and Sam, a husband and wife duo producing design-led, British made home-wares and founders of Stuart Gardiner Design. Check out our Instagram for details of our giveaway (you could win the oven gloves in this photo!)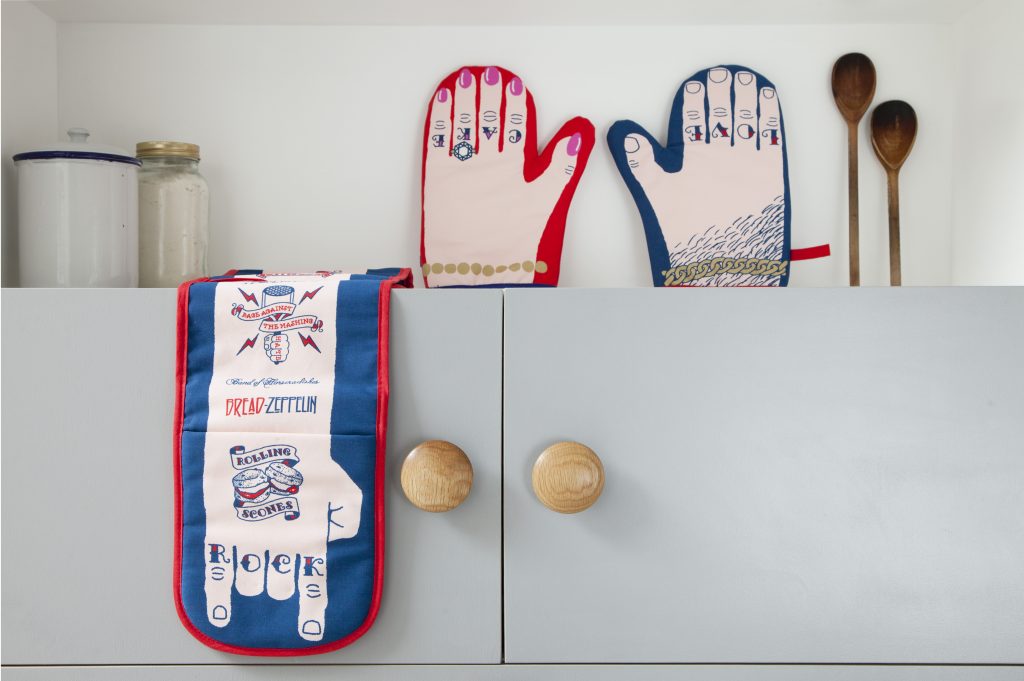 When did you set up your business? What did you do before? I set up on my own in 2008 leaving behind a job in the music industry designing album covers etc, which after a few years seemed to be a dying business. Going alone seemed like the only option for me, and after that and I had lots of ideas. Sam is a textile designer by trade and she worked at Laura Ashley HQ for 14 years, designing fabrics and wallpapers, but has always had a hand in the business. I used her colour skills from the beginning.
What inspired you to do so? How did it all come about? My degree course was in Graphic Information Design, so this was the info graphic direction was the format my first designs took.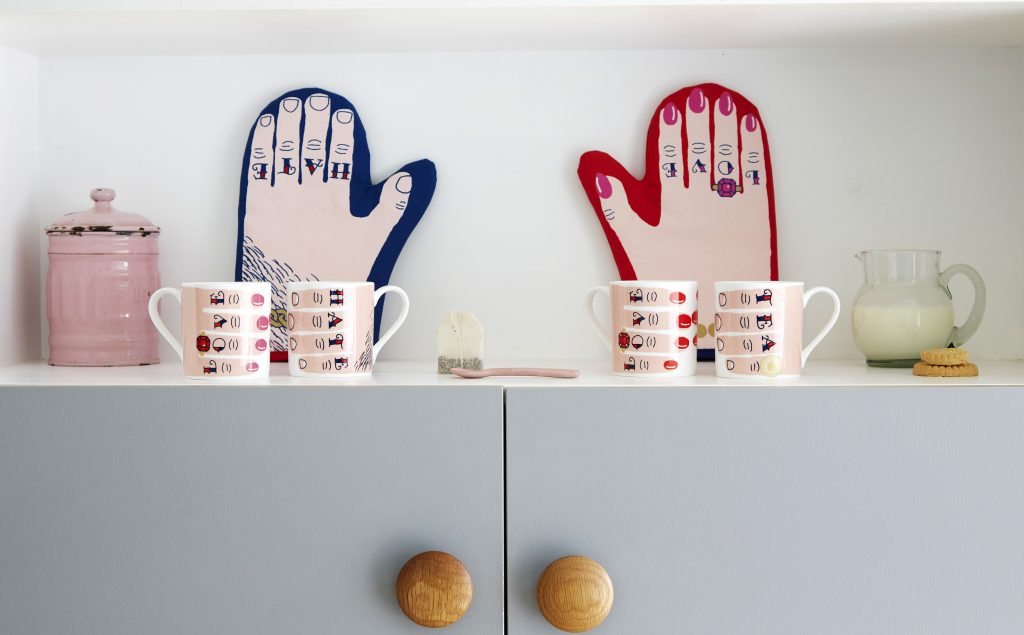 How long have you and Sam been together? How did you meet? Why did you decide to work together? Who is more creative?! We met at school about 25 years ago! We went off to different colleges/universities (me to Falmouth, Sam to Huddersfield). I got my first job in Bristol and Sam in London, so it was a few years before we lived in the same city again. By 2011 the business was growing, we'd had our first child and so after maternity leave Sam joined me in our studio in East London. We made the move out of London two years ago and Sam now works with me three days a week researching and developing new ideas, doing our social media and sales. I wouldn't dare say who is more creative but it would have been handy if one of us was more business minded – we just have to wing that side of things!
What influences your designs? I grew up heavily into music and skateboarding, and still am, so the rich visual culture of both have had a massive influence on my design work. I'm very drawn to typography and graphic images/illustration in general which I think comes across in my work.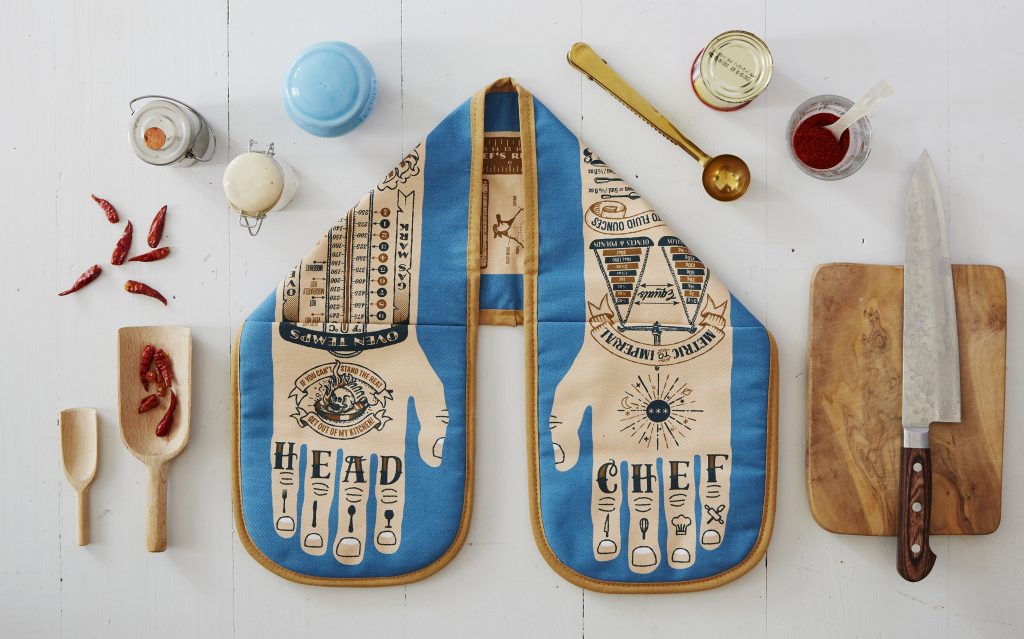 You create a host of tattoo inspired products, do you have tattoos? What draws you to tattoo artwork? We don't have any ourselves – as a designer I could never commit to having a permanent image etched onto myself – I change my mind too much. I also remember desperately wanting a Celtic band tattooed on my bicep when I was about 18. If I'd had it done, I would never get my arm out now! Saying that, I am very drawn to the graphic styles of tattoos, and I really love the work of tattoo artists like Mike Giant. Someone has had one of our designs tattooed on their leg though (see below)!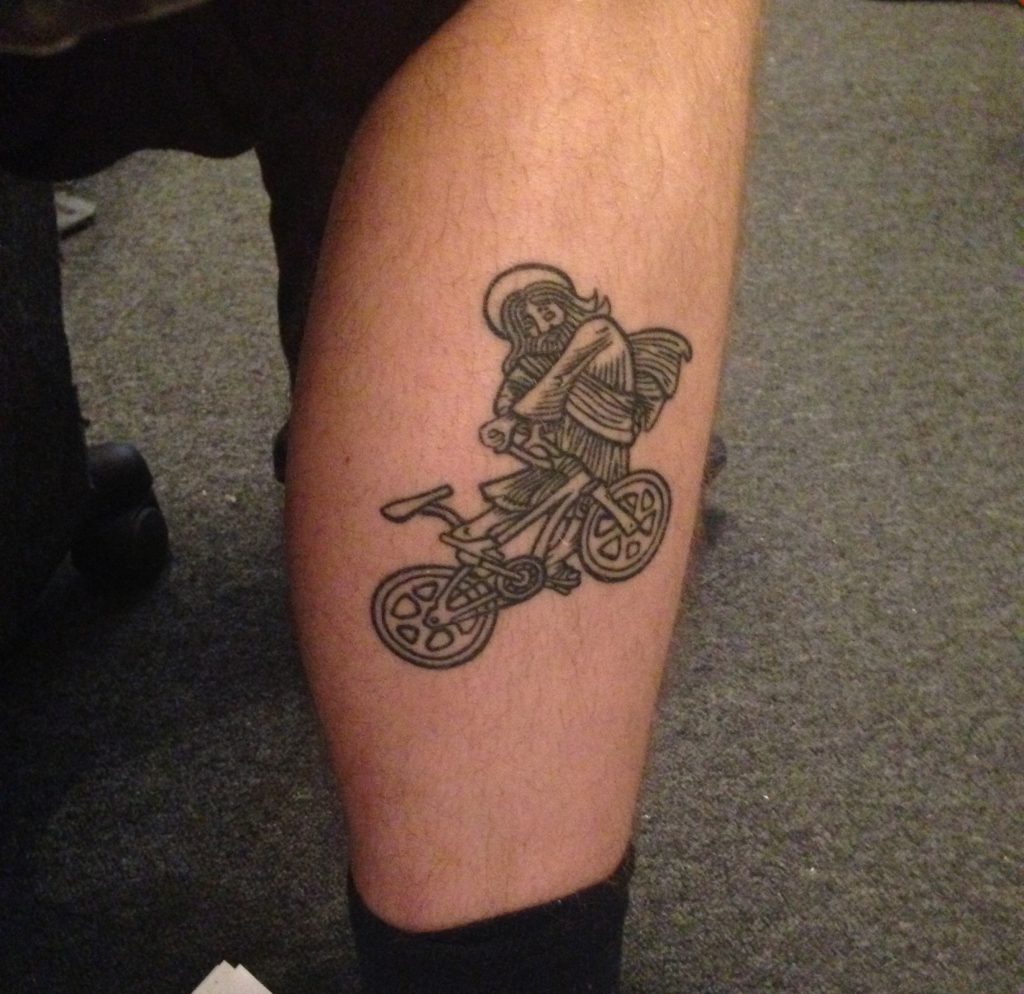 What types of things do you sell? Do you design the illustrations? How are pieces created, what is the process? I never intended the business to be so focused on tea towels and oven gloves, that's just how it's happened! My first design 'A Seasonal Guide to British Fruit and Vegetables' was originally going to be a print to frame and hang on the wall. But I then thought a tea towel would be handier and always in the kitchen.  The design side is just down to me at the moment. We generally pick a food or drink related subject, research the hell out of it, and then begin an appropriate design solution. It can often take a long time as we try to be as thorough as possible, and we often don't know much about the subject matter.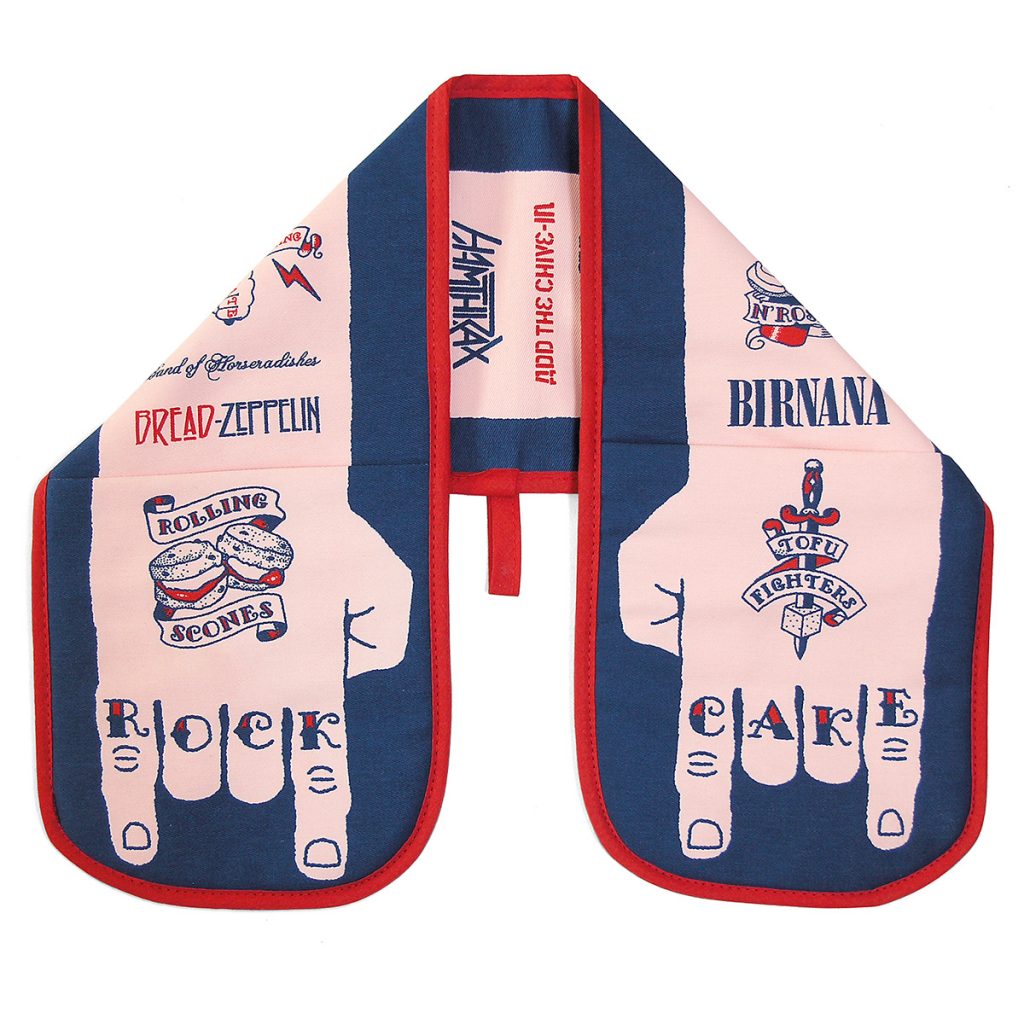 Do you do commissions? Where can people buy your products? We do occasionally work on commission and have done projects for Liberty London, the V&A, Selfridges, Friends or the Earth and Lurpak. We have just finished a commission for a new shop called Naiise, a print all about gin. Our products are sold all over the country from gift shops to delis and vineyards, but you can buy the whole range from our website and we ship all over the world.
Head to our Instagram to find out how you can enter our give away to win a whole host of tattooed oven mitts and gloves!