We couldn't resist a trip to south London's Hither Green, when tattoo artist Tiggy Tuppence invited us down to her brand new (and Disney inspired) tattoo studio Briar Rose. It's the most perfect place to get tattooed and she's thought of every last detail, including an antler chandelier that reminded of her Beauty and the Beast's Gaston…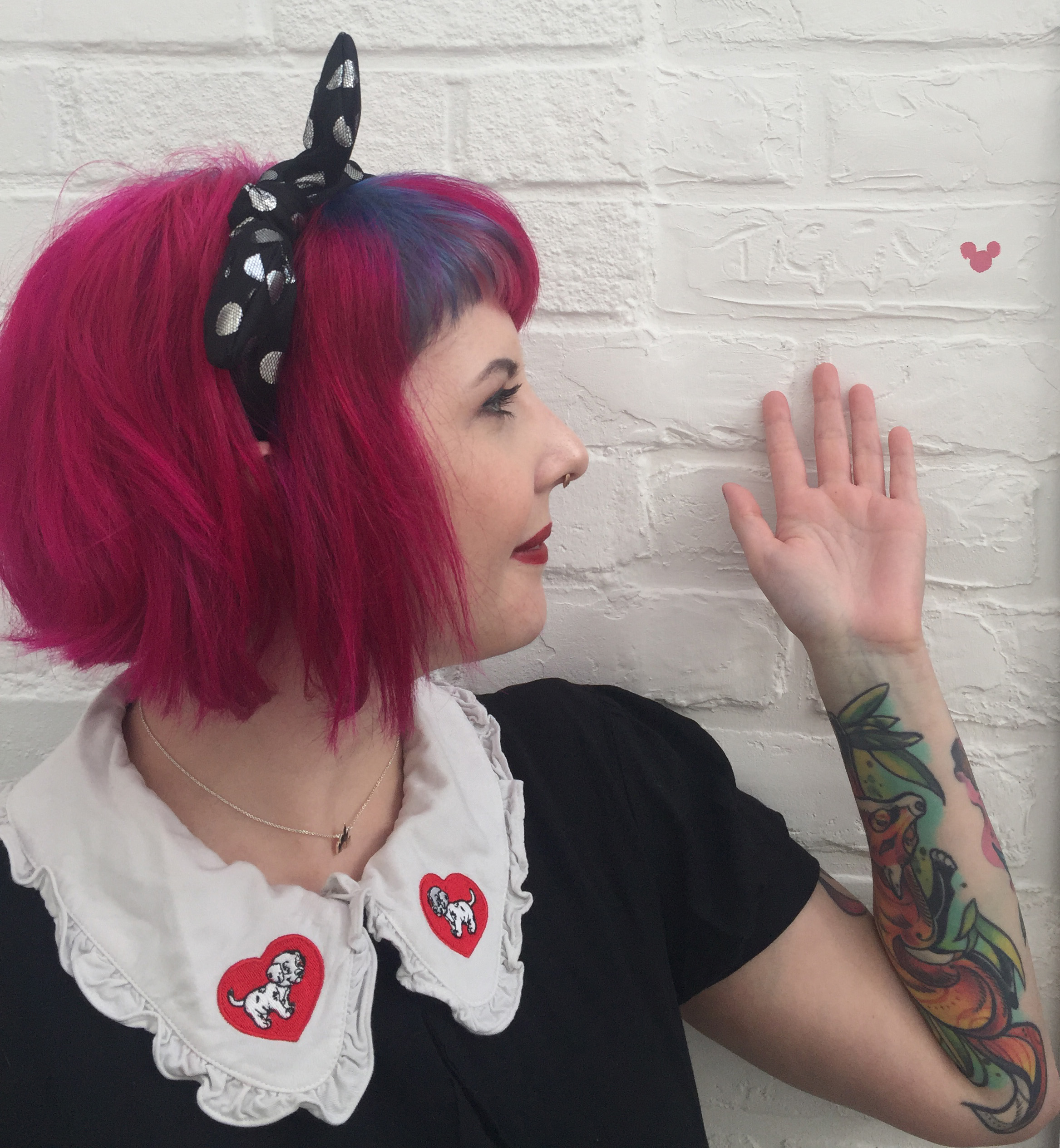 What inspired you to become a tattoo artist? I worked in the games industry, but I hated being in an office environment, it felt static and uncreative. I'd been thinking about tattooing as a career as I felt that it would give me the creative freedom I needed, and the opportunity to be around people I might fit in with more. I had a tattoo artist friend, who told me that it would be too hard, that I'd have to quit my job and work for nothing for years, which was a bit disheartening, so I never felt like I would be good enough  to become a tattoo artist. However, I was offered an apprenticeship by Kamil in north London because he had seen my work and  liked it! That was a huge confidence boost! I quit my main job to pursue tattooing, and  took on a part-time job in GAME to support me. It was the best thing I ever did, and I'm so glad I didn't give up. 
Where does your inspiration come from? I've had many different creative backgrounds, I grew up sewing with my mother, watching Disney as well as every other cartoon going, and drawing every day for fun. I left school at 16 to do a National Diploma in Fashion Design,  then I went to university to do a degree in computer games design. I'd always wanted to go into concept art for films and games, as this was the sort of art I loved. My drawing style reflects that, my work isn't typically 'tattoo-ish'. I've always worked digitally, working with a Wacom tablet and Photoshop for the last 14 years, and I love to incorporate all different colours into my work – I love colour! My inspiration comes from this rich background, and my love of cartoons, games, films, digital artists, and traditional artists.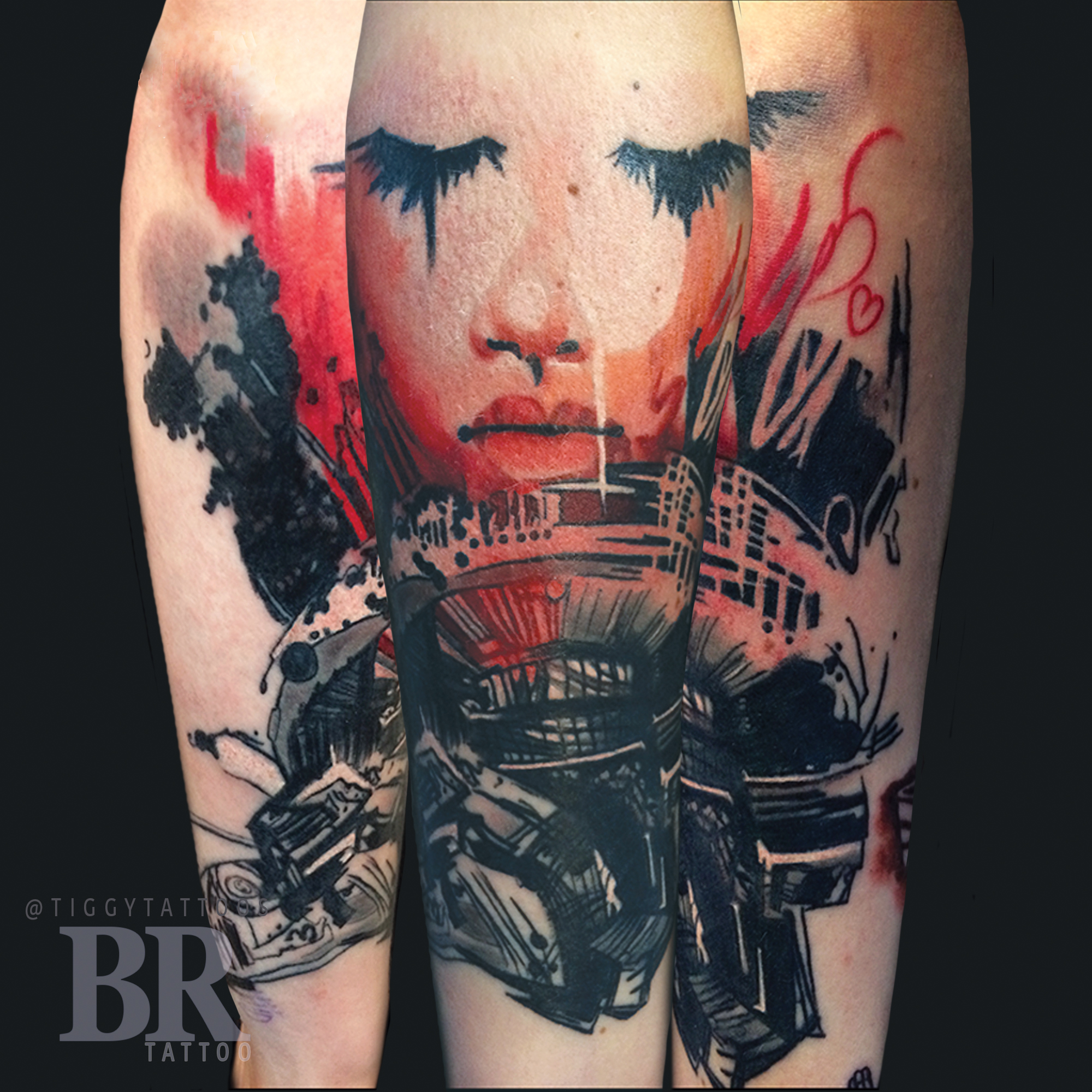 What are your favourite subjects to tattoo? I love tattooing cats, animals, nature, flowers, birds, wildlife. Yeah, I really love tattooing cute animals. I grew up in rural west-country so I've always been into nature and local wildlife, living in London I miss this aspect of my home so tattooing animals is my happy place. I also love tattooing any sort of pop-culture stuff – Pokemon, Disney, Studio Ghibli, stuff from games like Okami, Portal, and Final Fantasy, and many others too.
Your new studio is "unapologetically Disney inspired", why did you decide to do this?  I didn't decide to make my studio Disney inspired, it just happened.  After I came up with the name Briar Rose it just all fell into place. I loved that I was able to come up with an original shop name, and I figured there probably aren't too many tattoo shops like this. I just buy things as and when I see them, and before you know it I have an entire shop (and home) full of Disney!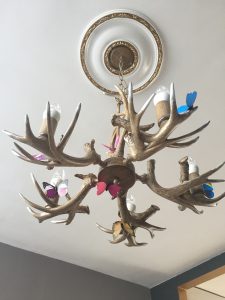 Even down to the antler chandelier, that reminded me of Gaston, the rug in the hallway was inspired by the magic carpet from Aladdin, and the wallpaper in the main studio area made me think of The Jungle Book. It's not officially Disney but each little element has been inspired by it as that's just how I am! I really did put my heart and soul into making this place. I've got a lot of compliments on it, many of my customers have said they've never been in a tattoo shop like it before. I like to think I have something magical here.
Favourite Disney film? Man that is the hardest question and it comes up all the time. I ask most people what theirs is (apparently I attract other Disnerds here too) and then of course I am always asked this question back. Can I give a top 5 in no particular order? Aristocats, Robin Hood, Moana, Sleeping Beauty, and Tarzan! It feels horrible having to choose. I love them all.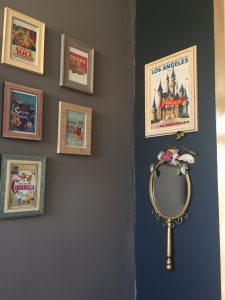 Describe your studio in just three words… Whimsical, Warm, Welcoming
How did you pick the location? What kind of clients do you hope to attract? And what can they expect from their experience? I wanted a shop that was in a safe, friendly area, as I know that many of my customers who are female would have to carry cash with them. I don't want people to feel like they have to look over their shoulder when finding my shop. I'm in the process of getting a card machine as well, which I hope will help that. Also for first-time customers, who are already feeling nervous, I think it's just nicer to show up to a place that's easy to find, and where you feel comfortable. This was really important to me, I want people to have a lovely experience, and then go home and feel like they're always welcome back, even if it's just for a chat or a coffee.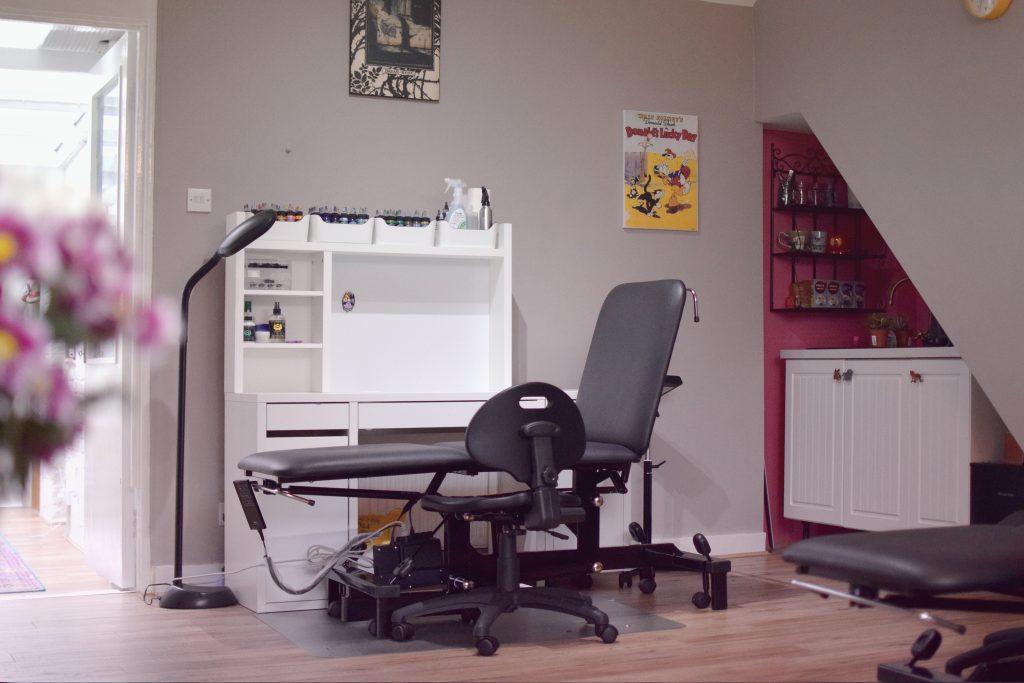 In the studio, I've tried to provide all sorts of things to help people feel welcome and looked after, I like to take care of people. I've bought all different coffees and teas for my fancy coffee machine, I've got phone charging ports in the waiting area, complete with Android/iPhone and USBC cables, there is wifi, customers can choose their own music if they like by playing it through our fancy Sonos speaker. Whatever makes their experience comfortable, as they're often sitting with me for many hours at a time.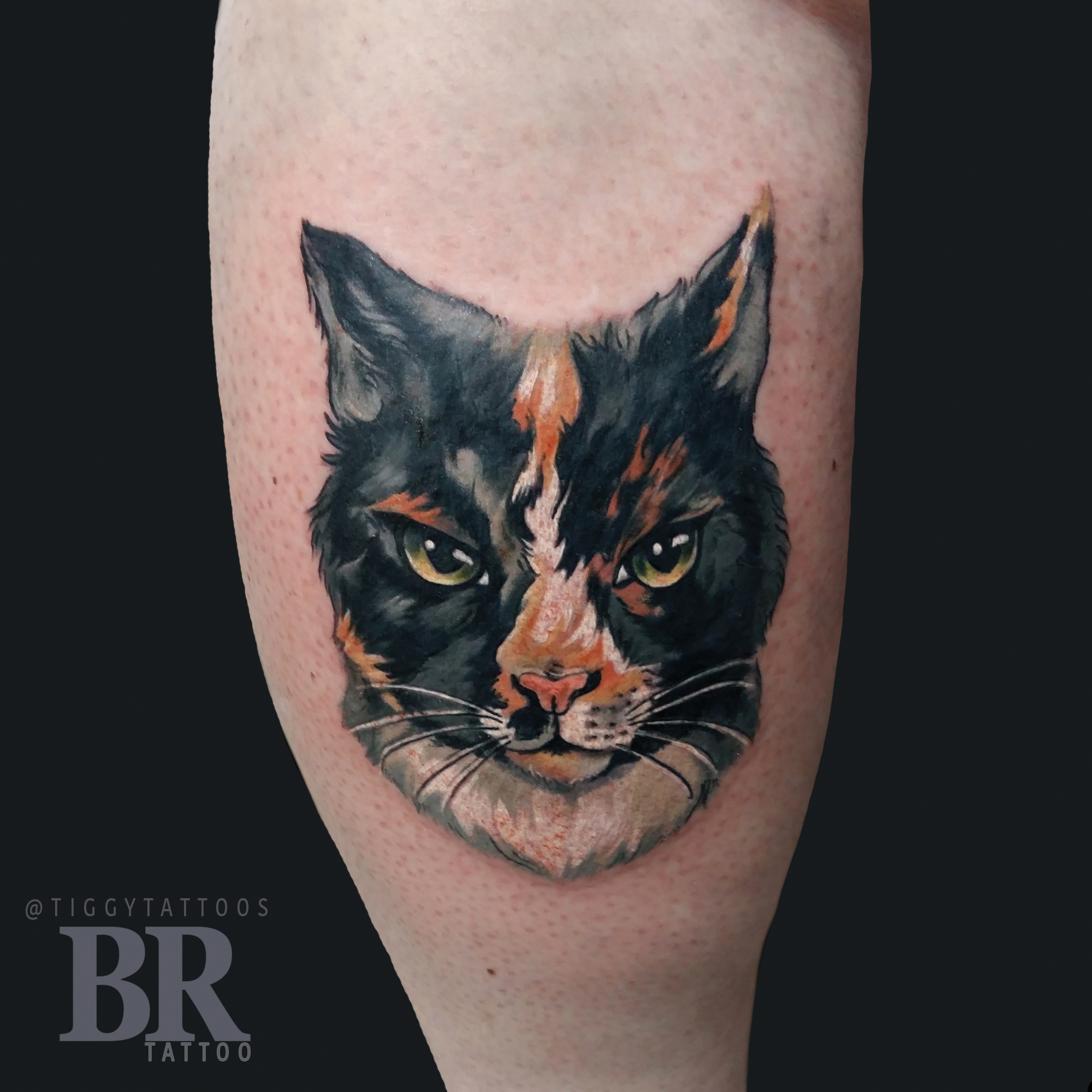 What has been your most favourite tattoo you have ever created, why? I think the one that takes the top spot will have to be a cat portrait I did. Her cat was called Diamond who had the most impressive resting bitch face, which we managed to capture in the tattoo. As an extra bonus, this girl emailed me after her appointment asking if I'd like to meet up some time, it was the most awesome thing ever and she is now one of my best friends, we talk literally every day. Love you Kerri!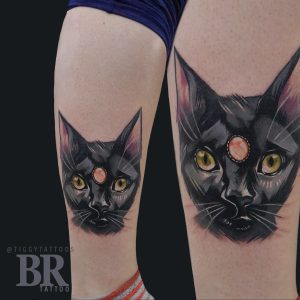 How do you like to work with your clients? The shop is by appointment only so clients will email me with their ideas and organise a consultation, I think it's important to get to know your client before drawing something for them, to get those extra personal touches into the design, but I know this isn't always possible. 
I'll always draw up my client's designs before they come in so they can see and make changes, I feel like the work is a collaboration where I'm the art director! But it's important for people to be able to have some amount of say on what lives on them permanently. I've also become friends with quite a large handful of my past clients as well, which is wonderful. This is the best job!
Visit www.briarrosetattoo.com, or follow Tiggy's studio on Instagram @briarrosetattoo