The launch issue is filled with everything I love from the tattoo world.
Wow, it has been amazing hearing the feedback from all the lovely readers who have bought the launch issue of Things&Ink. I am so happy that so many people seem to relate to the content and really believe in the idea. It has been a dream of mine to create a female-friendly tattoo magazine that is printed beautifully and perfect bound and now that dream has finally come true. It's encouraging to hear that a lot of other people have been waiting for a magazine like this too.
Here is the contents page of the first ever issue of Things&Ink…(click to enlarge). It is filled with all the things I love about the tattoo world – inspiration, history, art and stories – it even has a really lovely toilet seat, thanks to Claire from The World of Kitsch who has compiled a lovely homewares section full of tattoo-inspired kit.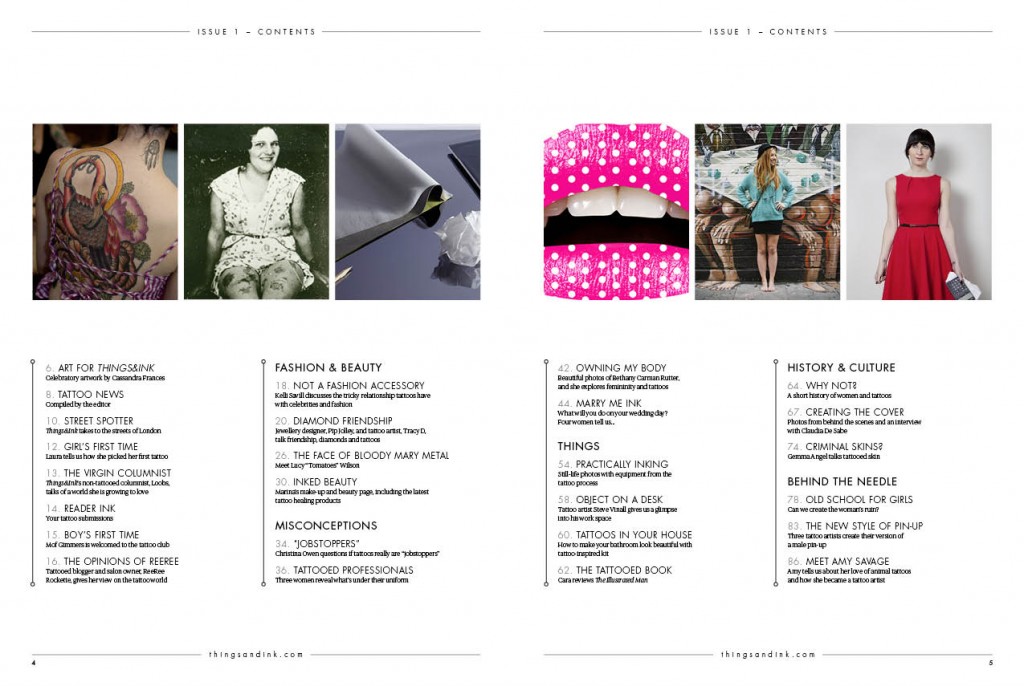 Send me your pics of you reading your copy of the launch issue, so I can add it to the Things&Ink 'On the move' album on Facebook.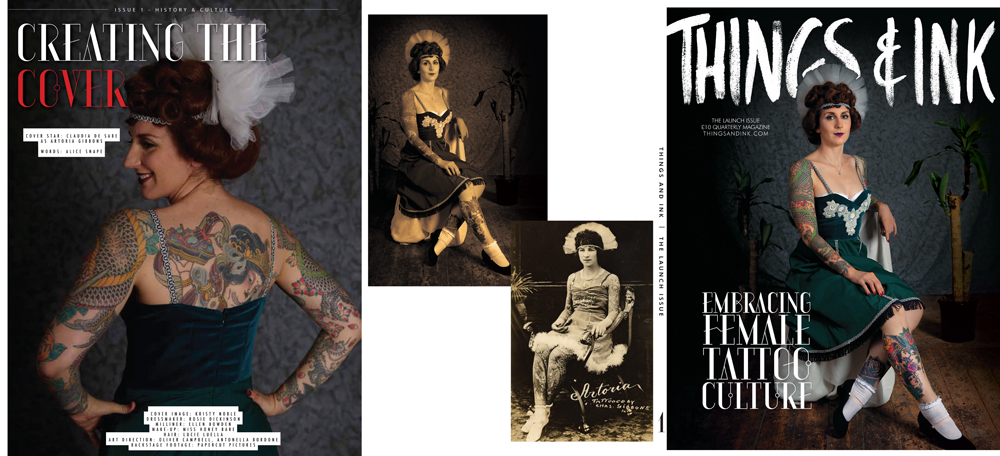 Read all about how Claudia De Sabe felt about being on the cover and recreating the photo of Artoria Gibbons, who was a heavily-tattooed circus lady in the 1920s.
To help me recreate the cover I enlisted the help of my fellow Wonderful Women. Wonderful women is a business networking group for freelancers and women who own their own businesses. Miss Honey Bare did the make-up for cover star Claudia De Sabe, and Lucie Luella of Rockalily Cuts styled her hair. The dress was made by Rosie at Nightfeather Designs, the headdress was made by Ellen of B Millinery. The shot was taken by Kristy Noble. Design by Oliver Campbell and Antonella Bordone.
You can view the latest news about Things&Ink on Twitter and Facebook. You can buy this launch issue from Newsstand.