We chat to 24-year-old Ruth Finn Leiser (aka Roobs), writer, feminist and founder of GRLCLB about starting her own business, creating a zine and her tattoo collection…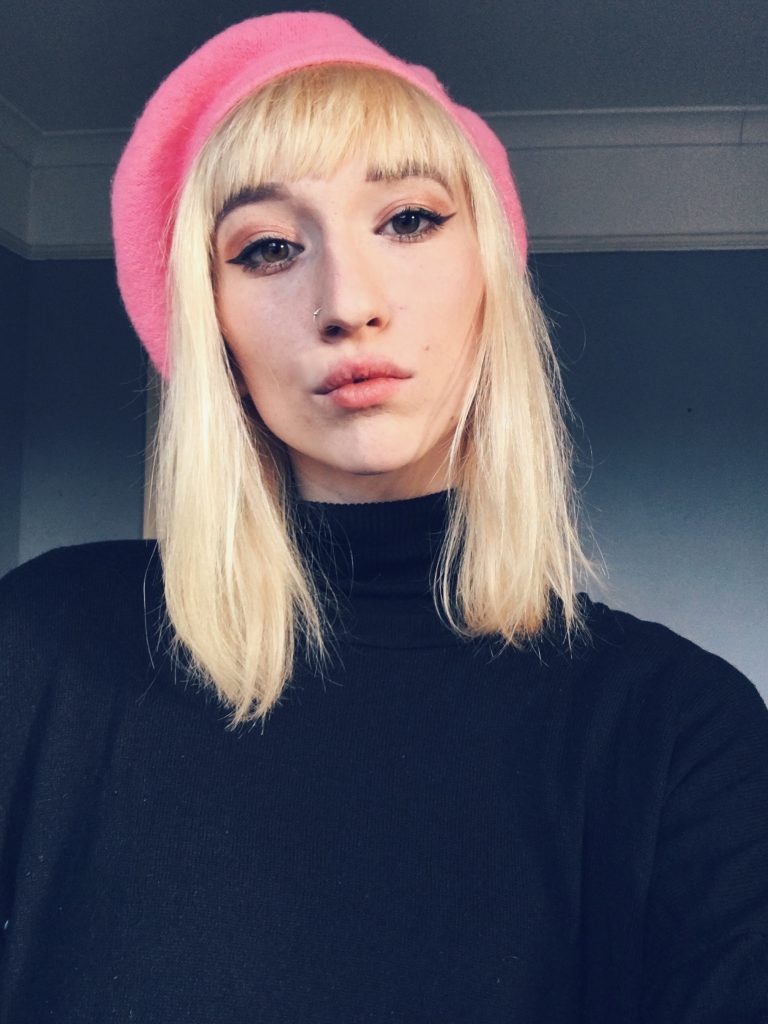 What inspired you to start GRLCLB? How did it come about? How did it start? GRLCLB is the product of frustration, neglected creativity, and a horrible job. I was working full time, often up to 60 hours a week, running a gift shop – for a boss who wanted me to give my all for just £7 an hour and to whom nothing was ever good enough.
I spent so long looking for that one thing that would save me, the outlet that I needed, and eventually I realised that the reason I couldn't find it was because I needed to create it. I had stitched a couple of t-shirts – the reaction from my Instagram followers was really positive and I just sort of thought 'well what have I got to lose?' I bought the domain name for under a tenner and set up this rookie website with no clue what I was doing, and just took it from there.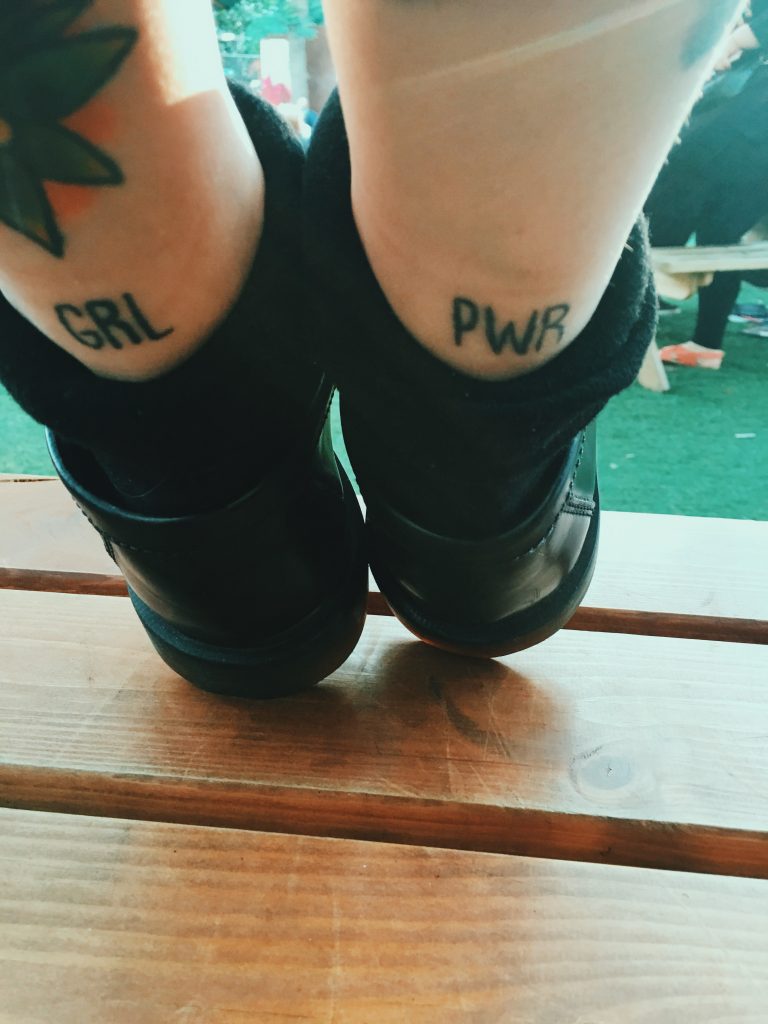 What message are you hoping to spread or share? Really, I just want to be honest. It's so easy to shy away from speaking your mind when the internet can be such a brutally unforgiving place. But when you realise that by simply speaking your mind, you can be providing comfort for other people who are thinking the same things as you or feeling the same way as you, it becomes a) less scary and b) more important. In a world where you can create an entire existence – persona, success, lifestyle – out of square pictures on a social media app, it is, I think, genuinely necessary that people are shown what's real from time to time.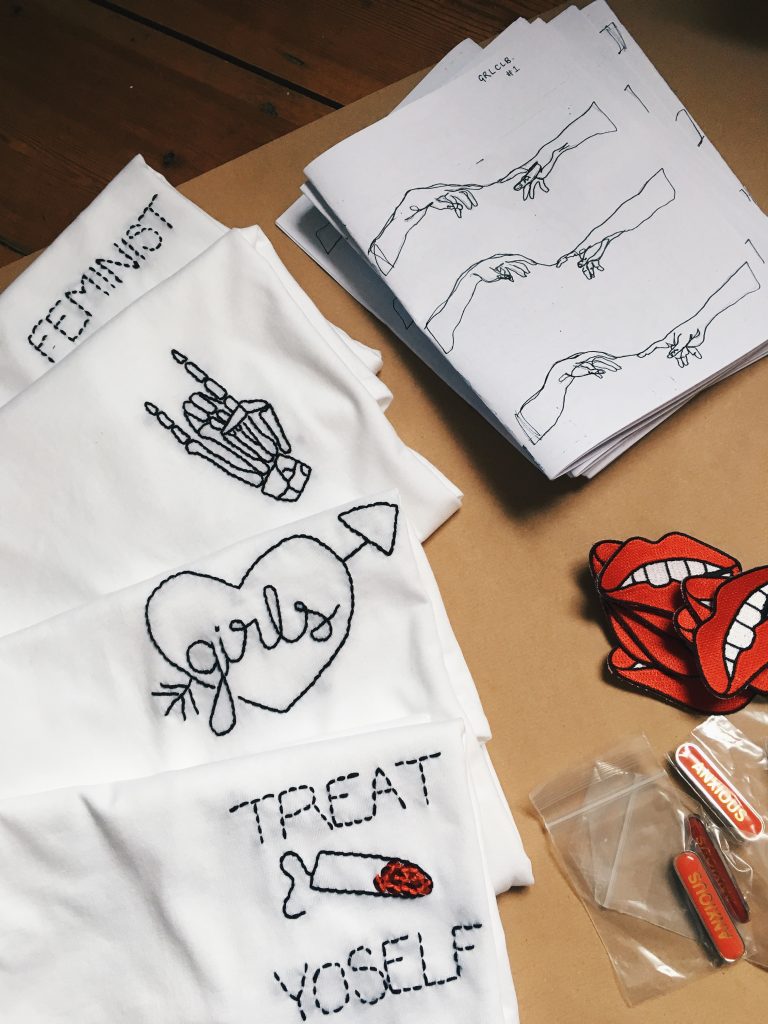 What can people expect to see and read on your blog? Well that's where I start to feel like 'blog' doesn't really apply. To me, blogs are like really well-oiled machines that rely on organisation and planning and structure and conforming to a particular kind of aesthetic/content for a specific intended audience. The writing side of GRLCLB is, honestly, completely shambolic. I've never really been able to write for purpose, I've always just gone with the flow and refused to ever force anything.  So the Girl Talk section of the website is littered with unscheduled outpourings talking about stuff ranging from body positivity to domestic abuse to the neurochemistry of introversion to what's happening with the business side of GRLCLB to why I'll never promote skinny tea.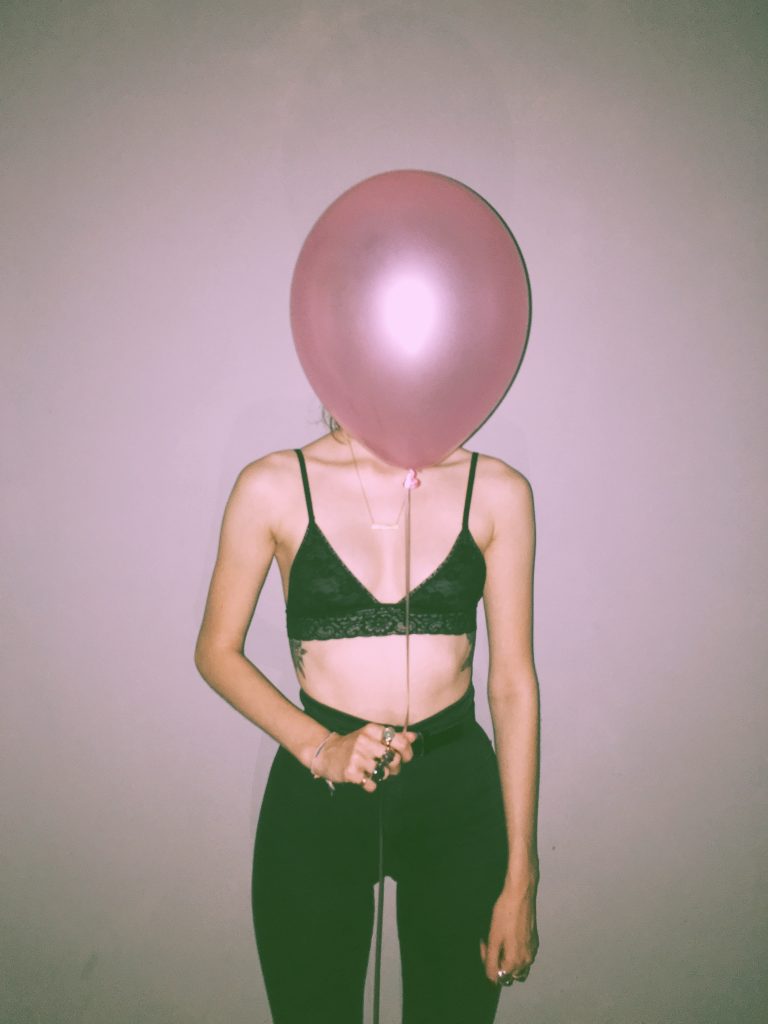 Can you tell us about your new zine, what's inside? The zine has been a highlight for me. Even though it was a little bit rushed to get it out in time for Christmas, it provided a really nice new level to the whole GRLCLB experience I think. I loved the thought of people settling down to read it on paper rather than a screen. The first issue had poetry, tips for challenging anxiety, a self-care guide, a recipe, doodles, a list of facts that make the world seem nicer etc.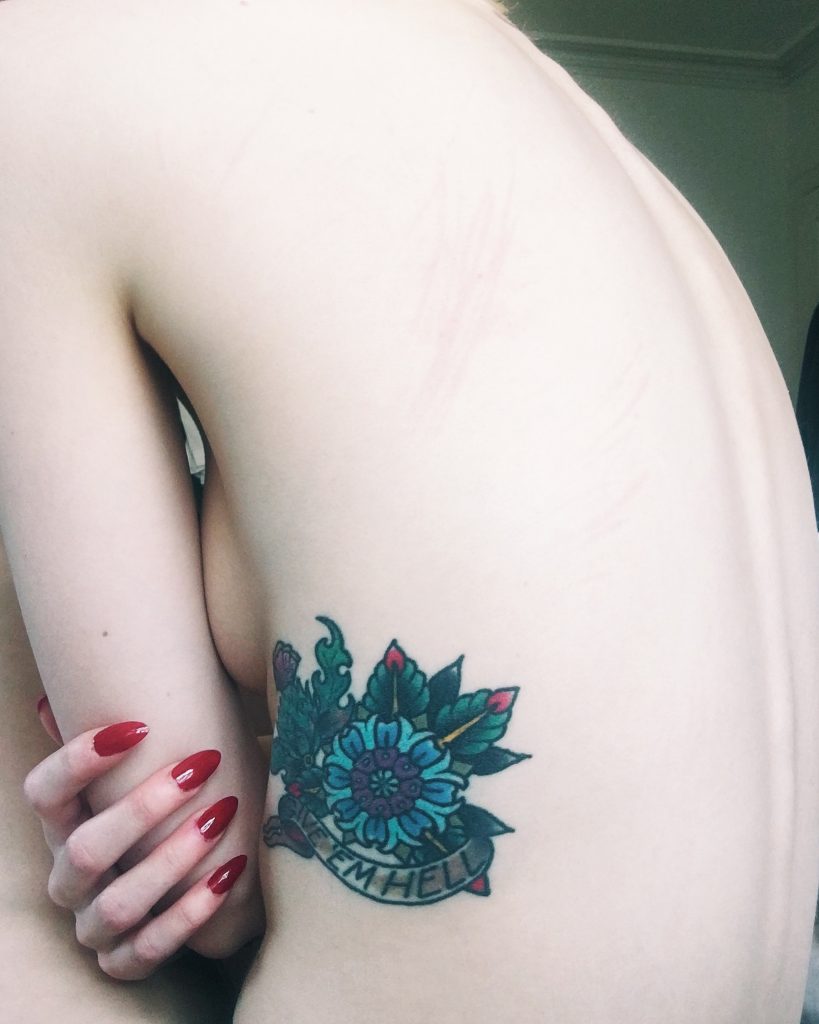 How can people get involved? That's something that I really want to focus on in 2017! From the outset, I wanted GRLCLB to be like a community, and I'm constantly trying to find ways for people to contribute. I'm excited for the next issue of the zine because the potential for exciting collaborations is endless. I just can't think of anything nicer than a converging of girl power from the internet into real life.
Do you have a background in art? From a recreational point of view, I was such a manically creative child, but from an academic perspective, not at all. University also killed my creativity. I studied psychology. It was only when I graduated that I realised I'd forgotten how to be anything other than analytical. I spent a lot of time pointlessly wondering whether, if I'd pursued art way back when like I'd wanted to, I'd have ended up somewhere else. But, actually, part of me thinks that art school could've been even more damaging. The thought of creating something, only to have a quantifiable grade assigned to it is totally soul-destroying to me.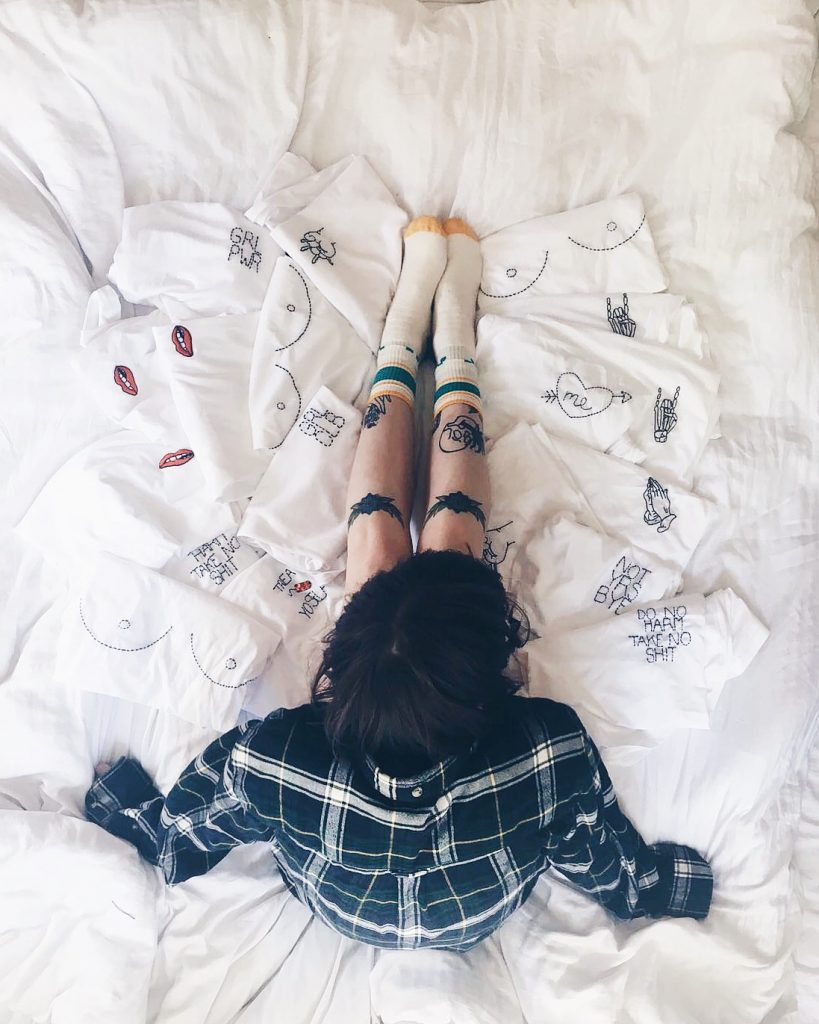 What inspires your creations? I truly believe that we're a product of everything we experience. Everything we create is a product of all the people we've known and the music we've heard and the stories we're told and the sights we've seen. My mum introduced me to a lot of great music – Bruce Springsteen and Crosby, Stills & Nash, and Led Zeppelin etc – and my dad is just totally eccentric – anything weird or unusual or surprising that I like is definitely down to him. I think I draw equally from their generation and mine.
The more political side of GRLCLB is, I guess, just inspired by what's going on in the world around me. The only difference between other people and me is that where someone else vents through Twitter or their friends, I'm like 'this is going on a t-shirt'.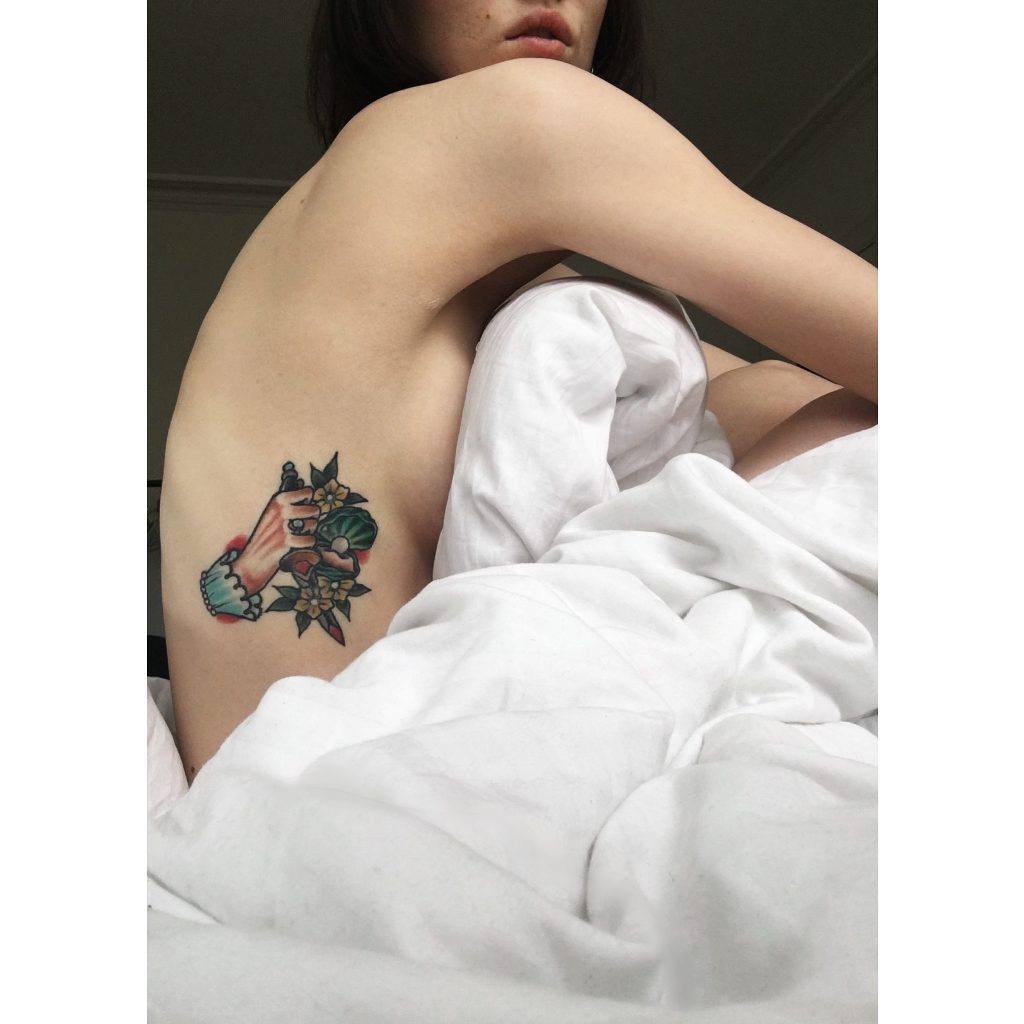 When did you get your first tattoo? What was it? Do you still love it? My first tattoo was a couple of years ago. I was late to the game because I'm so indecisive that I was convinced I'd get something on a whim and then end up hating it. So, obviously, I got an ode to Shakespeare. It's based on a couple of lines from The Merry Wives of Windsor: 'Why then, the world's mine oyster, Which I with sword will open'. The first bit has obviously filtered into general usage, but it's the second bit that always appealed to me – the world might be mine for the taking but I actually have to do something about it. Darryl from Irezumi tattoo studio in Glasgow drew me up a hand with a dagger and an open oyster shell, and I'm as obsessed with it today as I was the day I got it.
Can you tell us about your other tattoos? Some have meaning, some don't. I have a thistle and a cornflower (the flowers of Scotland and Germany respectively) and a banner saying 'Give Em Hell' in tribute to my ancestors and the struggles they faced – also by Darryl at Irezumi. Mel at Black Dot gave me some of my favourites: a badass woman's torso, a pair of hands sewing out the words 'Girl Boss' to remind me to keep at it, and the simplest GRL PWR across my Achilles.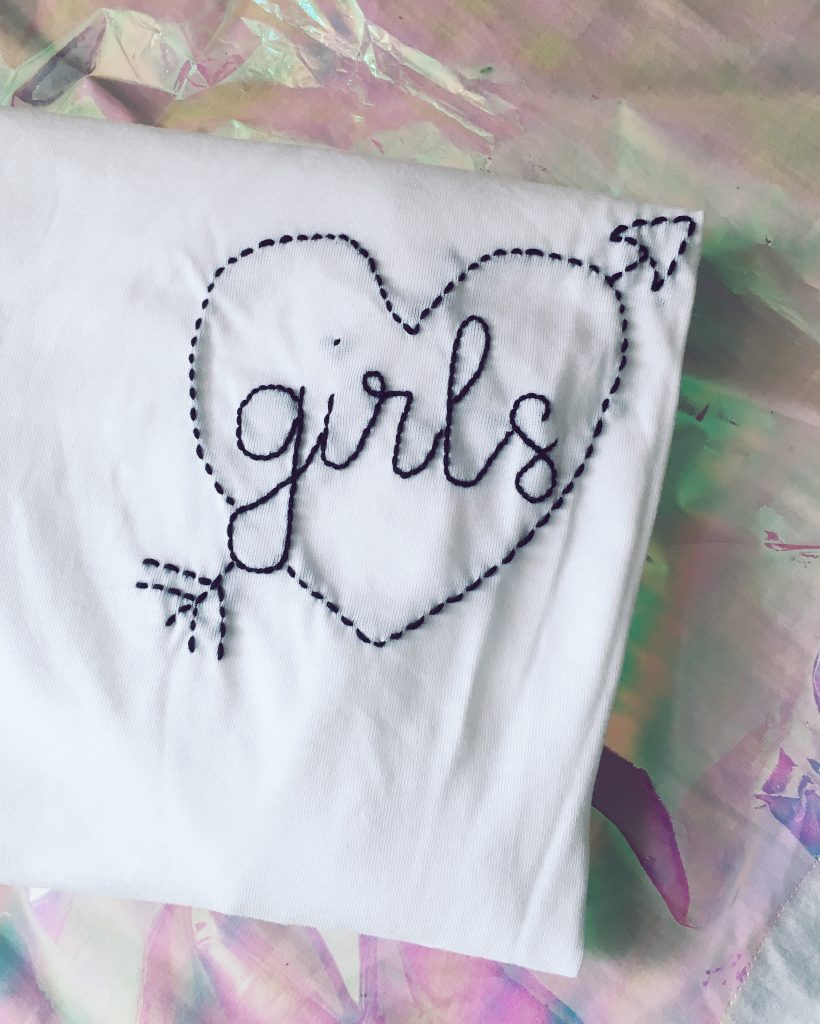 Do tattoos have to tell a story or have a meaning behind them? Not at all. I think that, for me anyway, it's nice to be able to recount the stories behind them, but of course, sometimes the stories behind them are just the people you were with or the shop you were sat in or the laughs you had while getting it done. I don't think that the art itself has to have a meaning – tattoos are a way to remember people and places and context, and I reckon that's more important than trying to make them visually significant.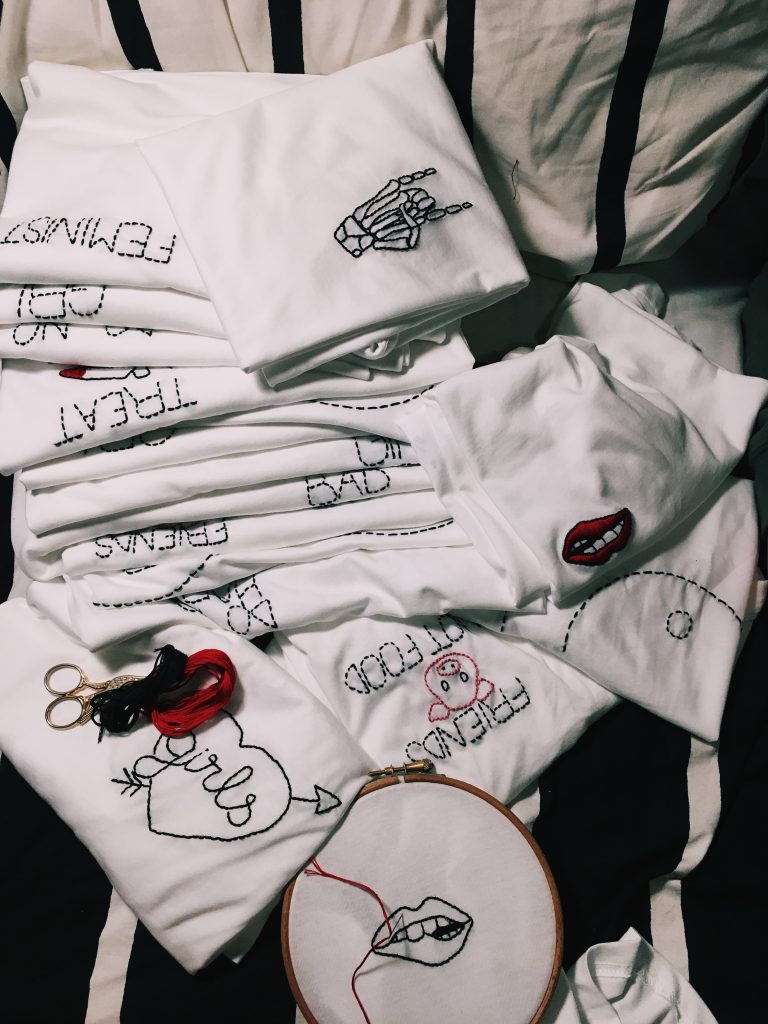 What plans do you have for GRLCLB in the future? I'm trying to make it less labour intensive for me on my own. Whether that means getting other people involved – or not – I'm not sure yet. I just feel like so much of my time is taken up with sewing that I can't let the brand grow into something that can reach more people. I want to start engaging more with 'real life' people – the goal of it was to create a safe place for people, so how wonderful would it be if that could be translated into a physical one? I want to concentrate less on the actual physical act of stitching, and more on the ways that GRLCLB can really make a difference. This year will see the introduction of more printed products, still with the signature GRLCLB style/sass, but that will hopefully just mean the start of bigger and better things to come!