26-year-old hand poke tattoo artist Mike Love works out of Black Market Tattoo Parlour in Leicester and Second City Tattoo Club in Birmingham, where he creates bold and solid blackwork tattoos. We chat to Mike about his process, how he started tattooing and his guest spot plans…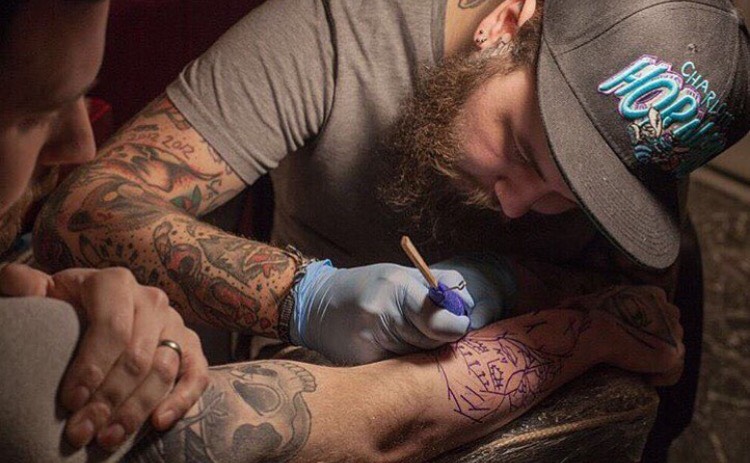 How long have you been tattooing? I'm in my third year of tattooing. I am a self taught hand poke tattooer, before this I was body piecer for around four years, there I completed a more traditional style apprenticeship. I have pretty much spent my adult life being in a tattoo shop. 
What drew you to the tattoo world? The idea and practise of self expression. In my late teen years I became massively depressed, after seeking a lot of help I really started to find myself. The things that kept me going and made me happy were tattoos and piercing. I approached a local shop about a piercing apprenticeship and from then on my life was changed. From piercing my love eventually blossomed into tattooing. I discovered hand poke tattooing and was totally transfixed by it. The process mesmerised me. Creating a tattoo by hand from one dude to another was for me.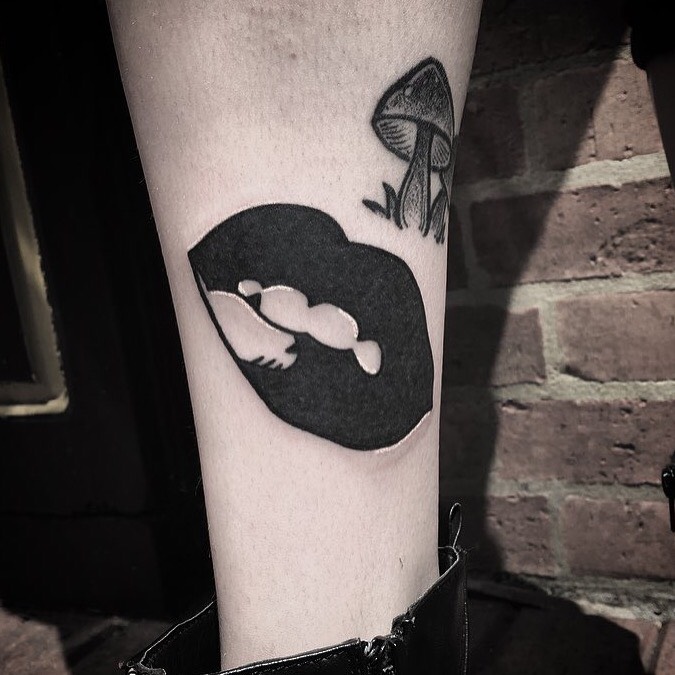 Has your style of tattooing changed? What do you love to tattoo? My style of tattooing has changed and still is changing. To be honest I think it changes slightly each day. I mean everyday I try to improve what I do and learn whatever I can. But that's what I love about tattooing, it will never be perfect. It will always stay true to what it is, yet we evolve as tattooers everyday. 
When I started tattooing I did a lot more of the typical 'hand poke' and more ignorant styled work, but this wasn't me. Traditional tattooing has always had my heart and that's what I love to see and have tattooed.  I work real hard everyday to be inspired by what I love and create bold and solid pieces that will stand the test of time. For me I love to tattoo anything that's bold and black. I am constantly creating a lot flash, which is typically inspired by classic traditional flash or pop culture.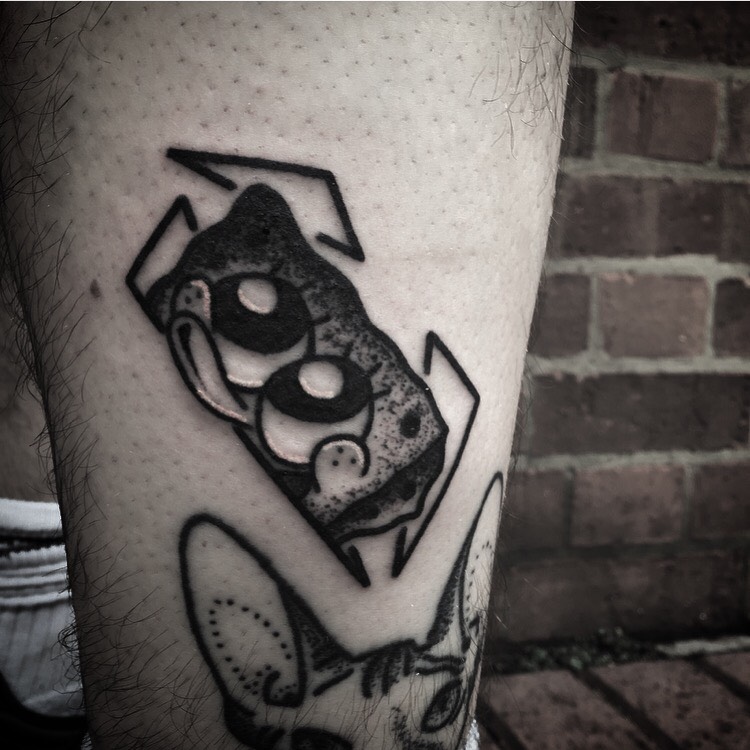 Can you tell us about your set up and the process behind your tattoos? I tattoo by hand, my set up is very minimal. I like to keep it simple and disposable. No bullshit. I hand make each tool for every tattoo combining a chopstick and a tattoo needle. I only ever tattoo in black and I keep my process vegan. 
I am very much into the technical aspect of tattooing. I am all about learning and creating a solid well lined, bold, clean and nicely shaded tattoo. Tattooing by hand is typically a really calming and relaxing process, I gently push the ink into the skin by hand using the needle. There is a lot less trauma to the skin, which typically means the tattoo heals faster and for a lot of people this can be an easier process to sit for. It also doesn't have to take a long time which some people think it can. Typically a palm size tattoo would roughly only take a couple of hours.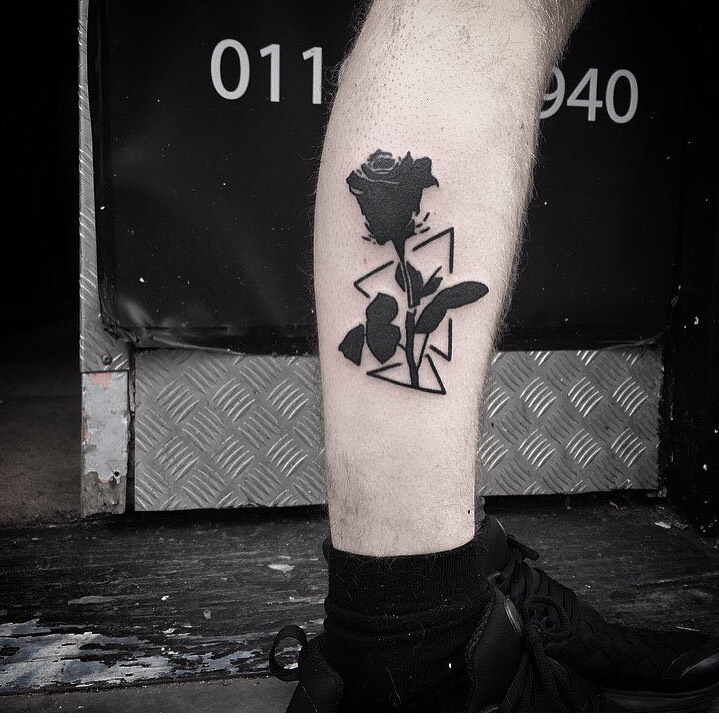 What inspires you? Are there any artists that influence your work? Man, I am inspired everyday. Whether it's current events, or things happening in the city that I live in. But you know what, I have so many artists that inspire and influence me, and that I look up to, I wouldn't be able to list them all. In both shops I work in, there are incredible people and talented artists, which inspire me daily. Tattooing is my life, so most of my close friends and my partner are tattooists, so we talk tattooing a lot and try to influence and  constructively help each other. 
Can you tell us a little about your own tattoos and your style? You know, I just love tattooing. So when I was young and dumb I would have pretty much had anything and everything. Which now has left me with limited space. I don't regret what I got though, but when I do get tattooed now I really like to get tattooed by people I really look up to and really love what they are about. So normally I chose from their flash, or get a piece they really like, as that way I feel I get a tattoo that really represents that artist. 
Trading with another tattooer is probably my favourite way to get tattooed now. I find it a great way to learn and share a cool experience with another tattooist.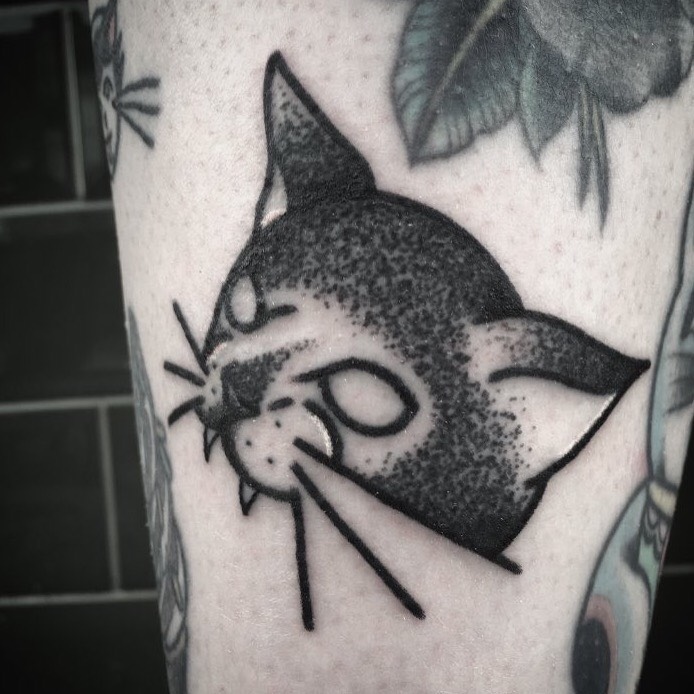 Do you have any conventions or guest spots planned? I normally guest in another shop every month, whether it be the UK or abroad, this is one of my absolute favourite things to do in tattooing. Traveling and meeting phenomenal artists drives me to be a technically better tattooer.  Currently for the rest of this year I do not have any conventions planned, but my next coming guest spots are at One For All Collective in Manchester late August and Seny Tatttoo in Barcelona late September. I am currently taking bookings for both of these via Instagram or email.