In this post our guest blogger Amber Bryce talks about getting her first stick and poke tattoo from Prison Style Tattoos…
I've always told myself that getting tattoos impulsively is a bad idea. It's the kind of decision that leaves you with a boy's name on your wrist, or a dog anus for a belly button, right? But in late November, I changed my mind.
I saw that Hannah Hill (AKA Hanecdote) had gotten a small stick 'n' poke gravestone reading "RIP ART SKL" on her bum cheek. I've always loved black and grey tattoos that have a simplistic, sketchy style to them – as though they've been doodled on a notepad during a boring geography lesson. Hannah's tattoo (pictured below) had that appeal.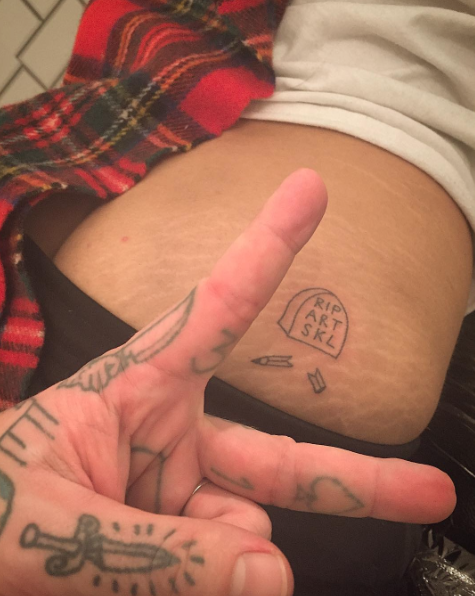 I clicked through on Instagram to see @prisonstyletattoos's ink-filled page, each tattoo framed by a peace sign. I Dm'd him and we arranged an appointment for the following week.
Secret Studio is where Prison Style Tattoos (AKA 34-year-old Timothy V) operates from, a gated complex in East London. I knew instantly I'd like PST when he messaged asking if I wanted a glass of wine. He also had blue hair, wore cool trainers and loved Fleetwood Mac.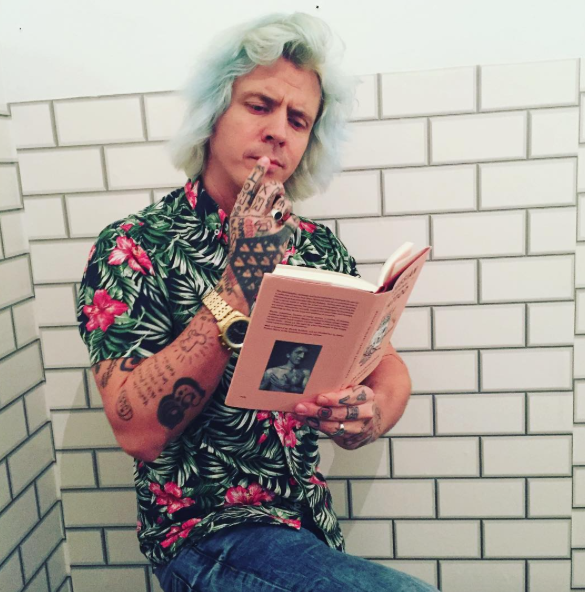 He got into tattooing after being turned down for a pair on his hands at 18/19. "I decided to take matters into my own hands (again, literally) and buy loads of dodgy tattoo gear online and do them myself. I'm happy to say it was a good lesson. It helped me to develop and let me do my own thing."
I was getting a small UFO tattooed on my arm (pictured below). After checking placement we sat for a bit and chatted. I asked him what it was about hand-poked tattoos he preferred.
"I love the way by hand you can slowly build up a line and watch each poke change the identity of that line. Sounds farty but it's such a unique experience for me each time. I love it."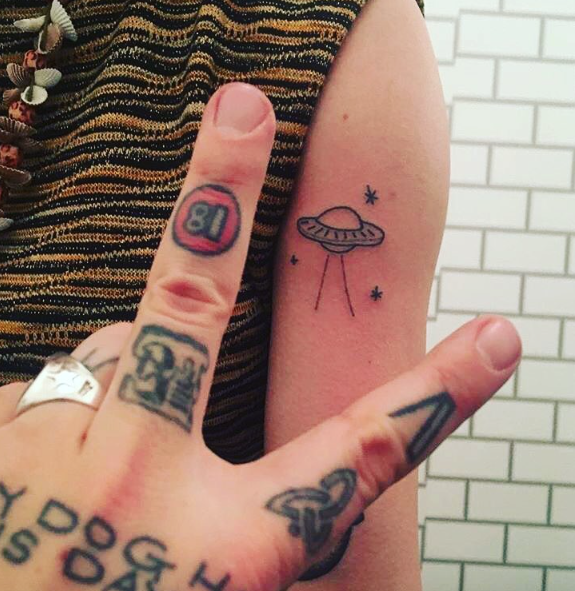 I'd always imagined that hand poking would hurt more than a regular machine tattoo, perhaps because it seems more of a medieval approach. As he dipped the single needle into ink, I laid back and so began the tattoo. Or so I was told, because I could barely feel a thing. The whole experience was ridiculously relaxed, to the point where I felt like a fraud. I'd told friends I was going to get a stick 'n' poke and they'd thought it sounded really bad-ass, yet in reality here I was, chilling out with a glass of wine.
"What's the strangest experience you've had while tattooing?" I asked. "During a tattoo I did on my genitals, the skin around my penis tripled in size and filled with water. I actually had a bloated sea cucumber for a chap! It wasn't until I received a response to my panicked text from the Brighton tattoo artist Adam Sage that I felt relieved enough not to go to A&E. Taxi to hospital cancelled and all returned to its sore normal the next day." At this point I couldn't shake the image of a sea cucumber.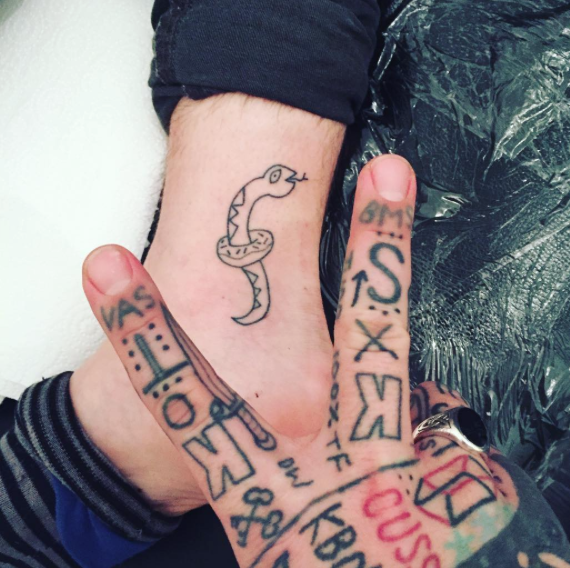 After the first round of the design was done I went to take a look in the mirror. It looked faint, like half-erased pencil. Apparently some people quite like that look, but I sat back down for another layer of ink.  There was a large graffiti beetle on the wall, which PST told me was done by his friend and co-creative @veratattoos. This is whom he started his pop-up parlour with. "It's purely us doing what we love, low key, unique and on a need to know basis. It's, I hope, a unique, personal and endearing experience for the client."
After another few rounds of hand poking, my tattoo was finished. A UFO had landed on my upper arm, leaving the skin beneath it only a little red and raised. After a quick Instagram picture, PST wrapped it up and I took one last swig of wine. Getting a tattoo is always exciting, but this felt especially exhilarating.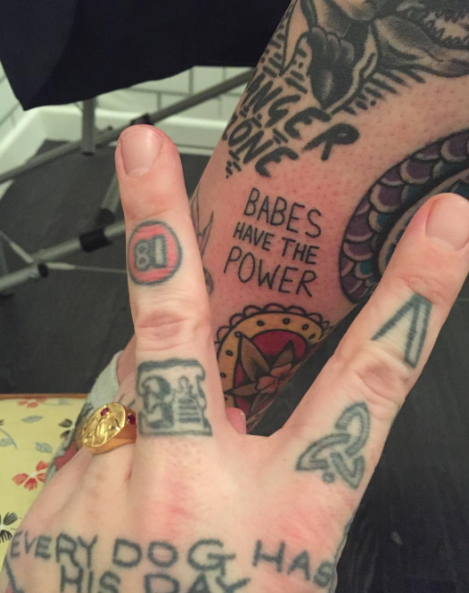 As an anxious person, venturing to an unknown location in London to get a tattoo by someone I'd never heard of before at less than a week's notice was a serious step outside of my comfort zone, but it's this kind of rebellious impulsivity of tattoo culture that PST is hoping to recapture.
"I'm a firm believer tattoos should be spontaneous but at the same time sum up something that's fearless and 'non-standard'." Before heading off into the cold, I asked him what's in store for the future. "The plan is to be a successful, fun, busy, happy, exciting, passionate maker of hand poke tattoos and give each person who is willing a lovely, personal experience. I want to play this gig full time, baby!"
I'm already planning going back for a vegan-inspired 'RIP cheese' tattoo.