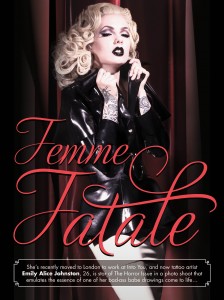 Inspired by our Horror Issue cover, starring the stunning tattoo artist Emily Alice Johnston in a fetish inspired shoot featuring beautiful latex outfits, we thought team T&I should celebrate and maybe try out some latex wearing, too. And what better place to do it than at the World's largest Fetish / Body Art Club: Torture Garden, and their Christmas Ball at Electrowerkz in north London? Our editor Alice Snape had never been before… here she tells us all about her first time.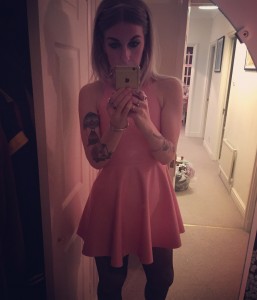 If you've never been to Torture Garden before (named after the 1899 novel The Torture Garden (Le Jardin des supplices) by Octave Mirbeau, which was set in a Chinese Garden of Torture.), I highly recommend it. Although I have to admit it, I was a little apprehensive before I attended – not because I am a prude, but because I had never been to a fetish club before and I had absolutely no idea what to expect, or what was expected of me. I also had  no idea what to wear!
A friend recommended Meat Clothing and I spotted a gorgeous pink latex dress on their website and ordered it immediately. And, I have to say, I felt pretty special in it. I had never worn latex before, and a pink babydoll was pretty perfect for my first time.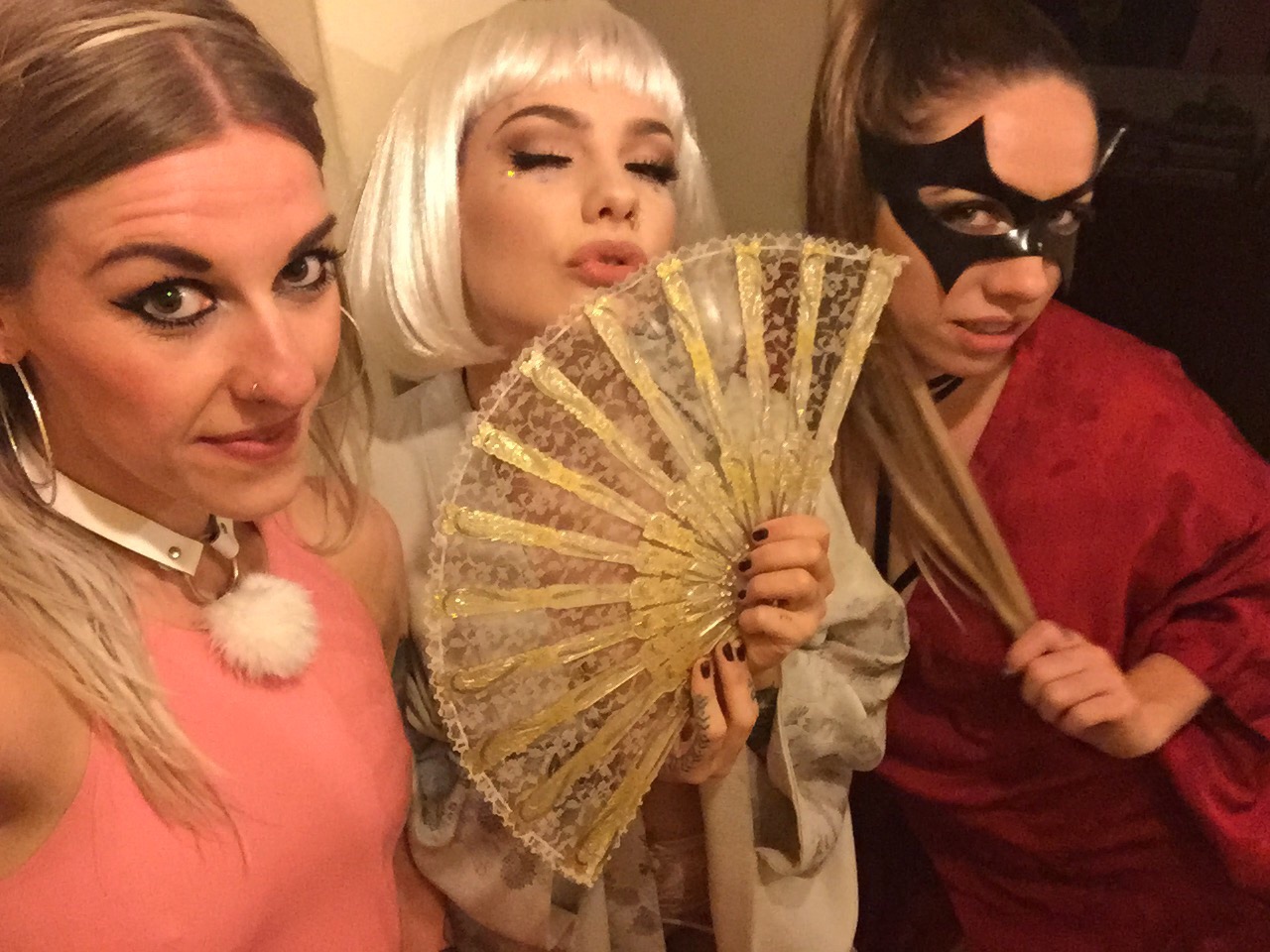 Editor Alice Snape, horror issue cover star Emily Alice Johnson and managing editor Keely Reichardt pre Torture Garden.
Managing editor Keely and I got ready together on the evening… drank some fizz and perfected our make-up. As Keely has been a couple of times before, she explained a little about her last experiences… and how much fun she had! We also met up with our horror issue cover star Emily for some pre drinks too…
As soon as we arrived at the TG Christmas ball location, Electrowerkz in north London, I felt like I was transported to another world of fetish, fun and fantasy. People were dressed in latex, stunning lingerie, collars and gimp suits… and Electrowerks had been transformed into a magical Christmas fantasy land. Still a little nervous, we did a round of shots and then went off to explore…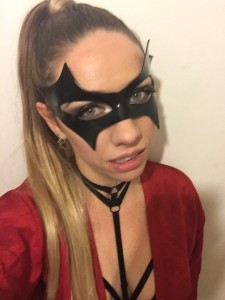 Managing editor Keely ready for her night at Torture Garden
I ended up spending the entire night roaming around to see what was going on. There were lots of different rooms – one just for couples and a dungeon (for those who want to explore their sexuality, although there are also strict codes of conduct, touching anyone without permission  is strictly forbidden), there's also shows, performances and dance floors, too. I chatted to interesting people, finding out about their kinks, and of course, it's ok if you don't have any, too… TG accepts anyone (as long as you dress up! If your outfit wouldn't turn heads in the street – don't bother wearing it to Torture Garden). TG is a space where you can be whoever you want to be. You can escape reality for the evening into a magical world. It is for hedonists, party people and those who just want to let go for one night. TG attracts open-minded individuals, from clubbers to alternative arty weirdos, burlesque cabaret fans to sophisticated BDSM regulars (famous visitors have included Dita Von Teese, Alexander McQueen, Jean Paul Gaultier, Boy George, Katie Price and Courtney Love)…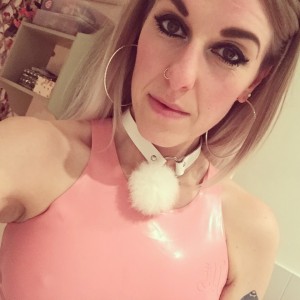 Editor Alice and a pre TG selfie, of course
The evening drew to close far too quickly… and I couldn't believe it was 6am by the time Keely and I left. We literally forgot all of our worries for one evening and danced and chatted and met interesting people. And everyone we met was so respectful. I had worried that I might get hassled (I have a boyfriend and didn't want to join in), but I didn't. In fact, I probably got hassled less than a standard night out, where drunken men often grab women without permission. On the way home, Keely and I chatted about how we couldn't wait to attend the next event… and plan another incredible outfit. There's no other situation where you can wear whatever you want and be exactly who you want to be, surrounded by people who are just as weird as us. See you at the next one?
Torture Garden NYE is on 30 December at Ministry of Sound in London and Torture Garden Valentines Ball is on 13 February at Coronet in London.
Take a look at some of the other TG party goers in this selection of photos from the evening (photos by MarcusT):