We chat to 27-year-old Leeds based blogger and zine creator Katie Thirks about her blog www.coldgirlfever.com, her tattoo collection, and why she created her now sold-out Love/Hate zine…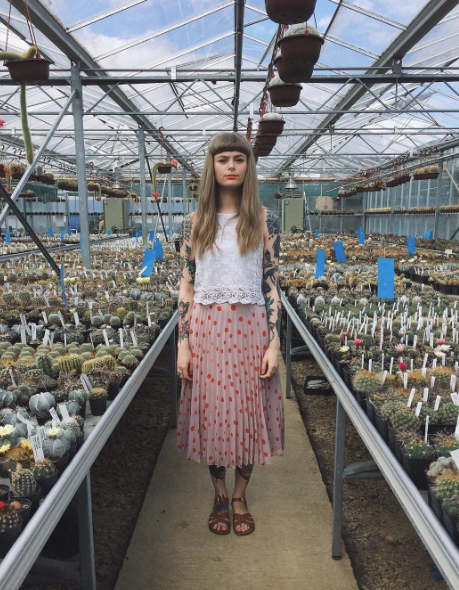 How would you describe your style? My day-to-day style is pretty laid-back. I don't really follow fashion trends consciously – I buy clothes and style my outfits depending on my mood. I can never plan outfits in advance because of this, so packing for holidays is always a nightmare. My priorities comfort and versatility – clothing that I can mix up – and good denim. Shoes are my weakness, I have around 50 pairs – you'll mainly find me in Salt-Water sandals, Vans or 70s Chuck Taylor's.
My tattoos are, for the most part, pretty American/Western traditional. That's the style of tattooing I am drawn to. I like the aesthetics, the colours and the boldness. I have a lot of older traditional flash tattooed, such as my backpiece which is based on a Bert Grimm original, Sundance (or Raindance, depending on who you ask!). It's always interesting to see how a tattooer will put their spin on an old piece of flash and make it their own.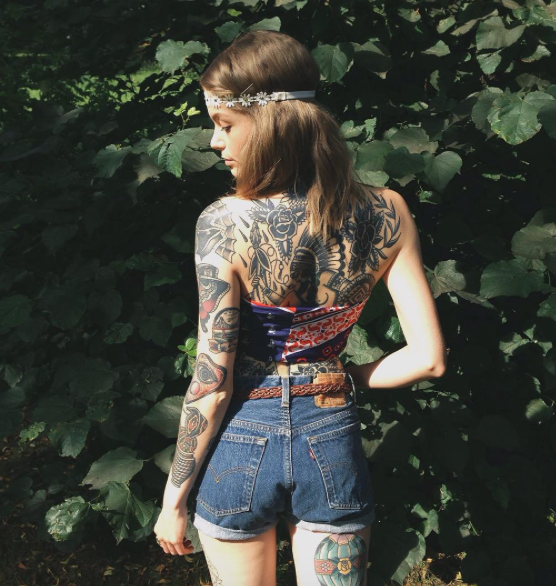 What do you think of social media as a platform, how do you feel about sharing your life in such a public space? I only really use Instagram, which I love. I have a Twitter and a private Facebook, but they don't get used as much. I don't agree with the stance that social media is bad for us, or narcissistic. I dislike that negative spin, it's a very bitter outlook. In saying that, there can most definitely be a darker side to social media. I think it can be hard for some people to separate reality from the online world. Although, given that we document so much of our lives these days, it can be easy for the lines to be blurred. I don't think it's a bad thing, technology has enabled us to do so much and connect in more ways than ever before.
I've dealt with negativity online (which I've blogged about) and I do think, in some cases, social media can perhaps encourage unhealthy behaviour. For me personally, social media has allowed me to fulfil creative pursuits and promote them – Love/Hate, for example. My Instagram is a really useful tool for interacting with like-minded people and it gives me a voice, in some ways.
I think it's time to accept that social media is as much real-life as, err… real-life. That being said, it's important to not get too sucked in and be sure to live life away from a camera lens, enjoying the moment. I don't put my entire life online, but I generally post highlights and nice things I get to do, nice places, my cat and, of course, selfies! Big selfie advocate over here – I love seeing women feeling confident and beautiful enough to document it.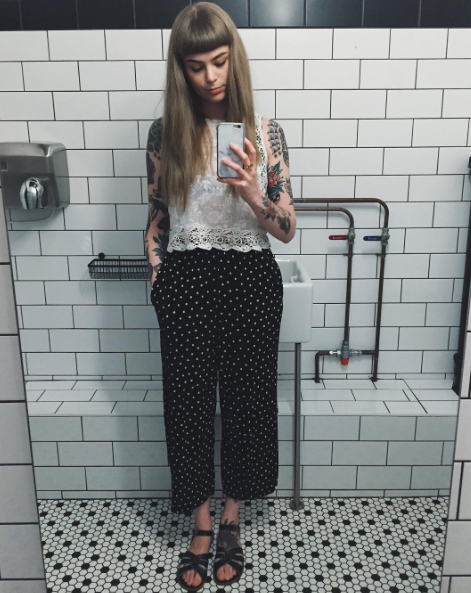 How did you start your blog, what inspired you? Making the decision to start blogging was an extension from my Instagram account, I guess. I have always dabbled in blogging in some way or another – I've had a MySpace, Live Journal and a Tumblr. I like sharing stories and experiences, I like connecting with people and I like writing. Blogging is something that feels natural for me. As someone who seems to have gone through a fair few challenges in my life, sometimes it's difficult for me to express what I'm feeling or going through vocally (I'm working on that!) and I've always found writing a cathartic process. It helps me get my thoughts in order and is very therapeutic.
What can people expect to see on your blog? What do you write about? I write about personal topics – health, self-care, travelling. Talking about mental health is something I think is especially important. It was never an agenda of mine to write about mental health, but it just happened. When I write, it tends to be from the heart and spontaneous, and I rarely plan or schedule posts so again, depending on my mood or situation, it dictates the direction of what I write.
My blog has opened up some really helpful dialogue and I've had great conversations off the back of some of my posts. Ironically, keeping to a regular blogging schedule is something that I struggle with, thanks to my mental health, which can be erratic. I go through phases of productivity and it can be hard to not feel pressure. I have to remind myself that my blog is for me and try to keep it easygoing, rather than beat myself up for not posting anything for two months.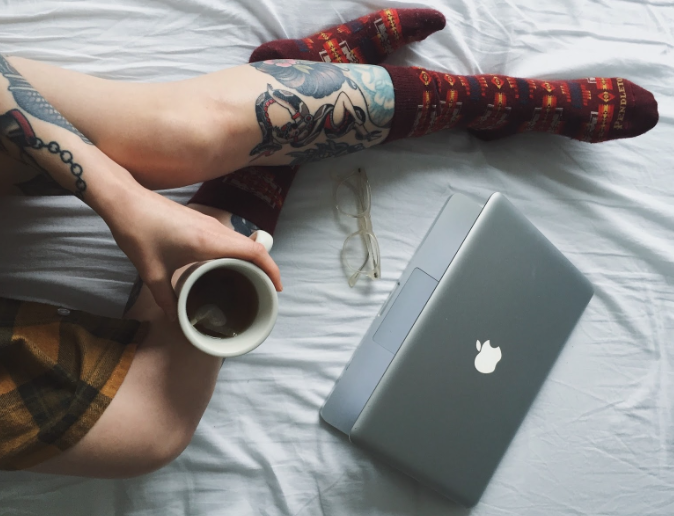 What was your first tattoo, do you still love it? My first tattoo was a lesson in how not to get your first tattoo. I was 17 and it was Bob Tyrell flash off of the wall in a scratcher shop. It was a gothic heart with wings and I had it on my stomach. It's since been covered by a much bigger Japanese piece by Fil Wood. Please don't get your first, or any, tattoo in this way.
What drew you to the world of tattoos? My favourite uncle is heavily tattooed and pierced. Growing up I was in awe of him, his leather jacket and his motorbikes. We would go to a biker festival called The Rock & Blues with my parents and him, and it was always so much fun. I would stare at everybody's tattoos and ask questions about them. I also used to draw on my skin and have stick-on transfers. I just love how tattoos look and the history behind them fascinates me. I am so glad that I learned a lesson and waited longer before I started getting 'seriously' tattooed with more visible work.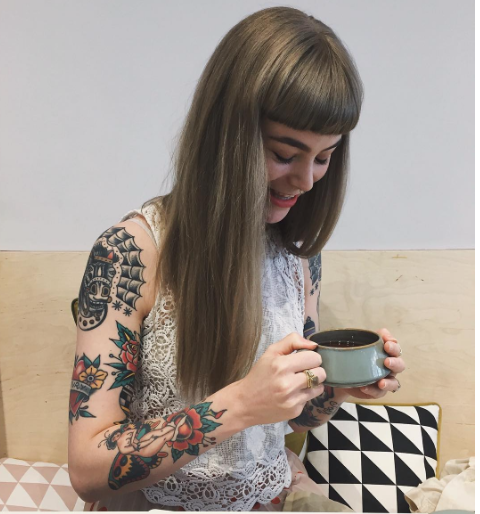 Do you think tattoos have to have a meaning? I don't think tattoos have to have a deep, profound meaning, but I appreciate the notion that they can have a meaning. I have tattoos that are 'for' something or to preserve memories – a place, a pet, my husband's name. When people have larger scale work and ongoing projects, I absolutely understand how it can become more of a spiritual journey for them. Being tattooed, no matter the size of a tattoo or the duration of a session, requires so much physical and mental energy and it's going to change your body permanently.
Has having tattoos changed how you feel about yourself and your body? With each tattoo, I feel like I come into my own a bit more. I've always struggled with body image for various reasons and, as glib as it sounds, I'm so much more confident in my own skin now. I have plenty of space left, but I'm in no rush to fill up – it isn't a race. For me, being tattooed is a process. I don't have a master plan where everything is mapped out. I seek out artists I love when I travel and choose pieces based on factors such as the size and shape of the space it's going to fill and how it will complement other tattoos surrounding it.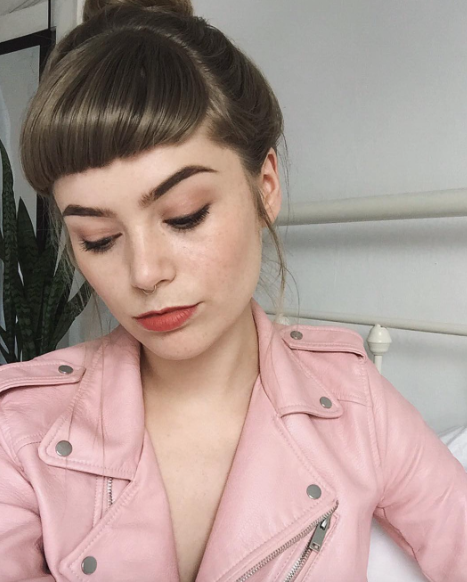 Why did you decide to create a zine around women, tattoos and the reactions they encounter? What do you hope to achieve? My inspiration for the zine was basically my own experiences of having people let me know what they think of my tattoos. All. The. Time. I never invite people to comment (or to touch me), yet their need to express their opinion baffles me every time it happens, which is on a daily basis. In turn, I found myself having frequent conversations with other women about dealing with the same unwanted attention – catcalling, sexist remarks and negative comments from family and strangers in the street regarding our tattoos and bodies.
With the zine I simply wanted to create a space for tattooed women/trans/non-binary folks to share their experiences. I knew I wanted to bring together a range of stories and for it to be a collective effort. One woman's story about street-harassment may shock us, but over 30 stories is even more powerful. The finished product almost feels celebratory – whenever I received a new submission, I would be beaming from ear-to-ear upon opening the email because of the beautiful photos people sent with their writing. I love nothing more than seeing women proudly show off their bodies and the choices they have made. By creating this project, I hope it lets other tattooed women know that A) it's unacceptable behaviour and we have the right to stand up for ourselves and B) make people think twice before they interrogate or shame a tattooed woman.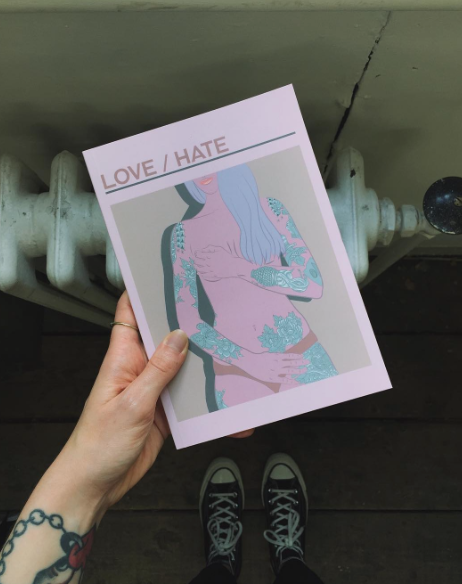 Was this zine drawn from your own experience? Have you struggled with what to wear because of other people? As much as I love my tattoos and don't feel the need to seek approval from anybody, I am definitely affected by other people's reactions to them. Whether this is my auntie telling me that when she sees a pretty girl in a dress who happens to have tattoos that she "looks trashy and has ruined her looks", or the stranger in the cafe whispering loudly that I look "like a thug", or the customer at work who touched my arms, telling me, "I like your tattoos – I mean I like all of you, if you know what I mean…", the charity worker shouting for "the lady with the tattoos" to come for a chat in the middle of a busy street… It goes on.
I, and other women, have to navigate this intrusive and embarrassing behaviour daily. It's constant. How can we not consider what we'll wear each day, and the responses it will evoke from the general public? I noticed a theme with the stories – people said that things got worse in the summer, which is something I absolutely relate to. It broke my heart that, on top of all the usual obstacles women face, our choices and ownership of our bodies is still being brought into question with each summer dress or vest top that we wear.