Having fallen in love with Lauren Burrow's bold and spooky style on Instagram, our editor Rosalie, had to add a piece of Lauren's girly neo-trad to her collection. Situated in Bedford UK, Seven Magpies Tattoo is home to tattoo apprentice Lauren, realism tattooist Mark Watson and traditional tattooer Sam Childs. I spent the day chatting to Lauren about her love of horror, doughnuts and knee tattoos…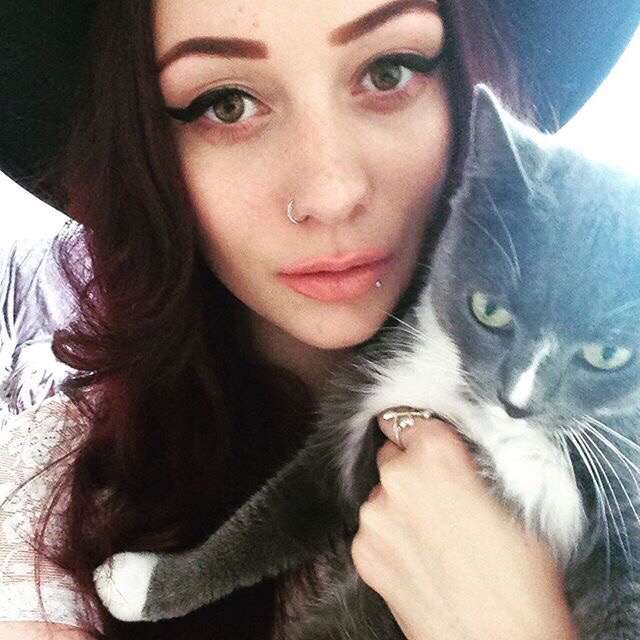 What drew you to the world of tattooing? I always knew from a very young age that I wanted to do something with art, it was all I ever wanted. It was a natural progression into the realisation that tattooing was what I'd love a career in. I think neo-traditional work was probably what drew me in the most, I realised that out of all modern art I'd ever seen that the work I was seeing by neo-traditional tattooists was my favourite, and it was quite life changing really discovering all of that. When I was quite young I fell in love with Art Nouveau and the style, especially the work of Alphonse Mucha. I remember studying it and it remained to be my all time favourite style, influencing my work even more so as I got older.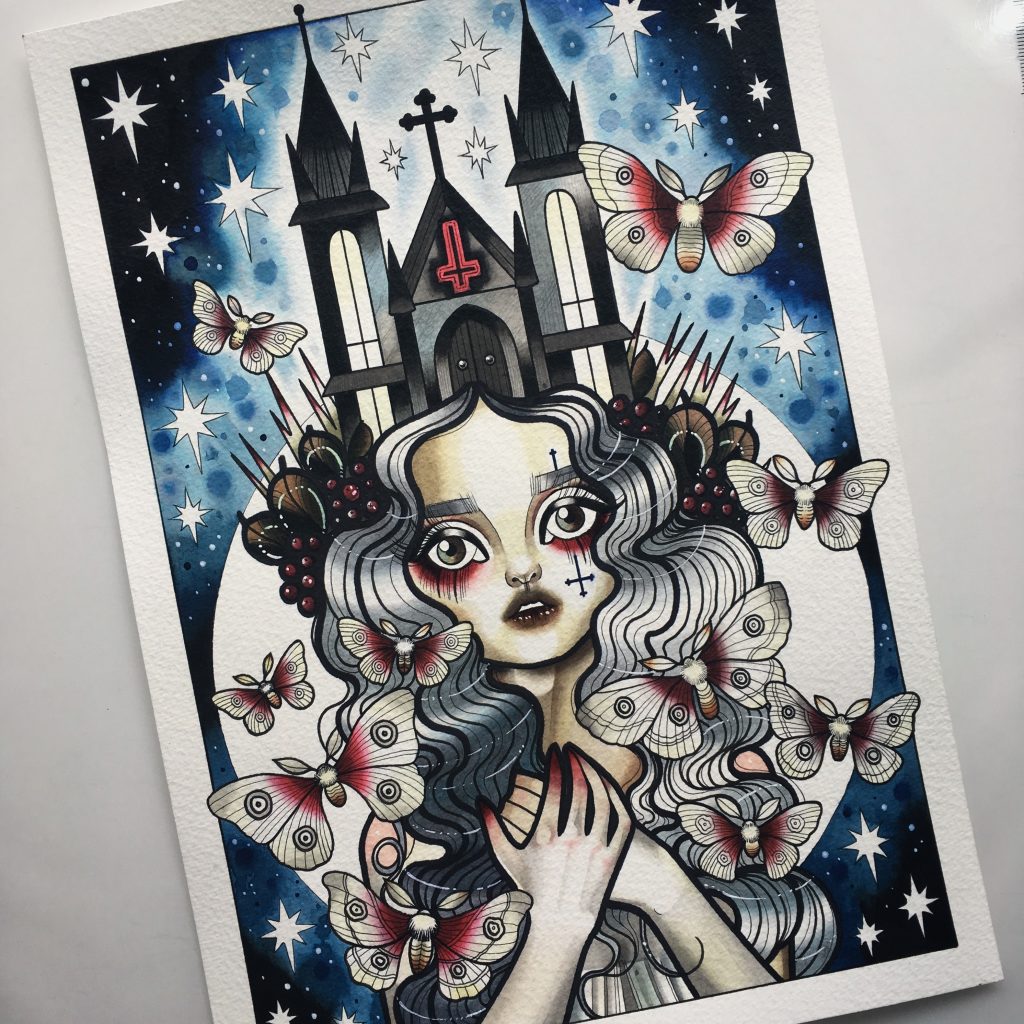 There's only three of you in the shop, and you're pretty tight knit, did you know the guys before you started? I didn't know the guys before I began my apprenticeship with them, but quite honestly of all things I could ever be greatful for, I'm so happy that I ended up working with them. I love my life at the shop, and I can never even begin to thank Mark and Sam enough for everything they've taught me, for being incredibly patient with me and for pushing me to improve every step of the way. Also our days are forever made more enjoyable by winding each other up as much as possible and giving hell with ridiculous amounts of sass which is very funny.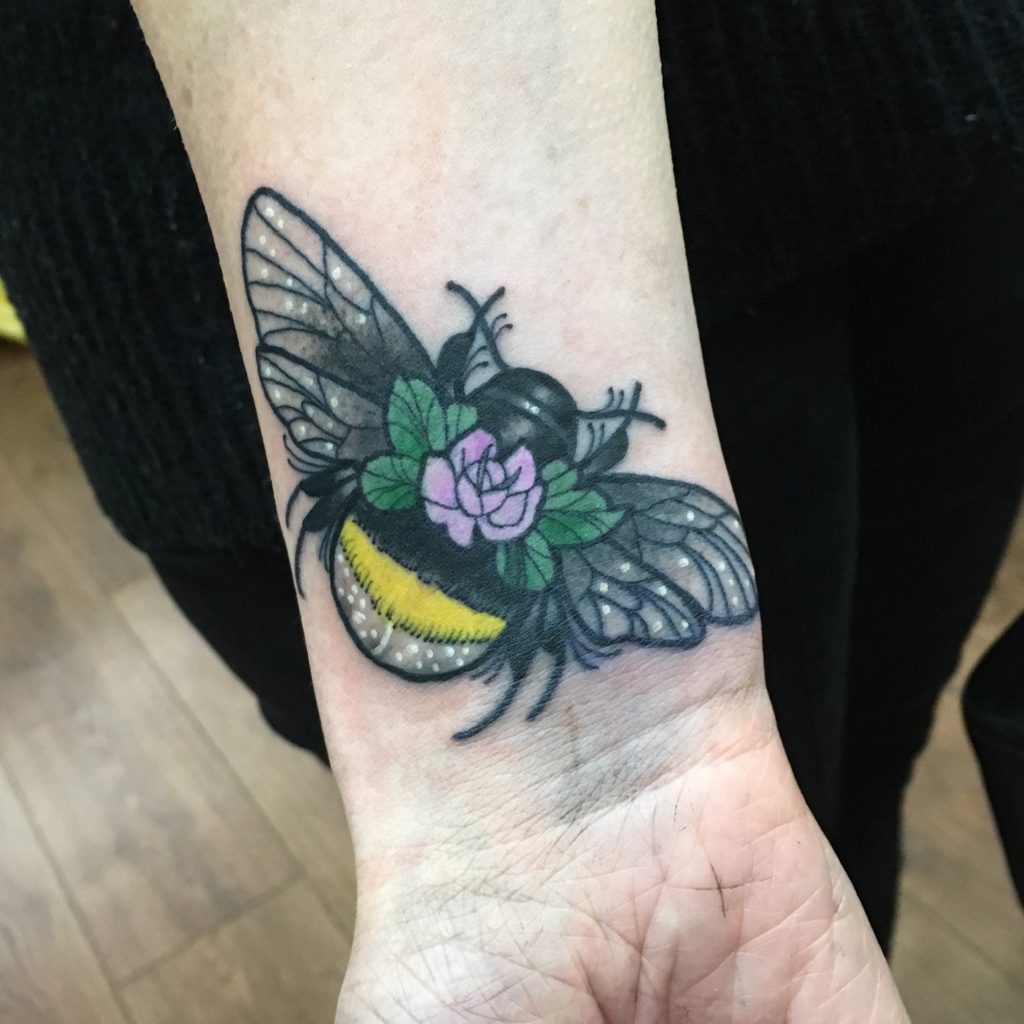 How did you get your apprenticeship and when did you start? What did you do before? I started my apprenticeship with Seven Magpies just over two years ago. I studied illustration and graphic design at the university of East London, but realised very strongly towards the end of my degree that tattooing was what I really wanted to do. During the time that I was putting my portfolio together and looking into it all, I heard that Seven Magpies were looking for an apprentice. It was quite literally the dream job as I'd known about them for a long time, since they are based in my hometown of Bedford, massively admired their work and couldn't believe that the opportunity had popped up right when I was looking.
I tried my luck, asking if they'd be happy to take a look at my work, which they did. Shortly after that Mark offered me the apprenticeship and I still remember being so over the moon happy and basically in total shock for days!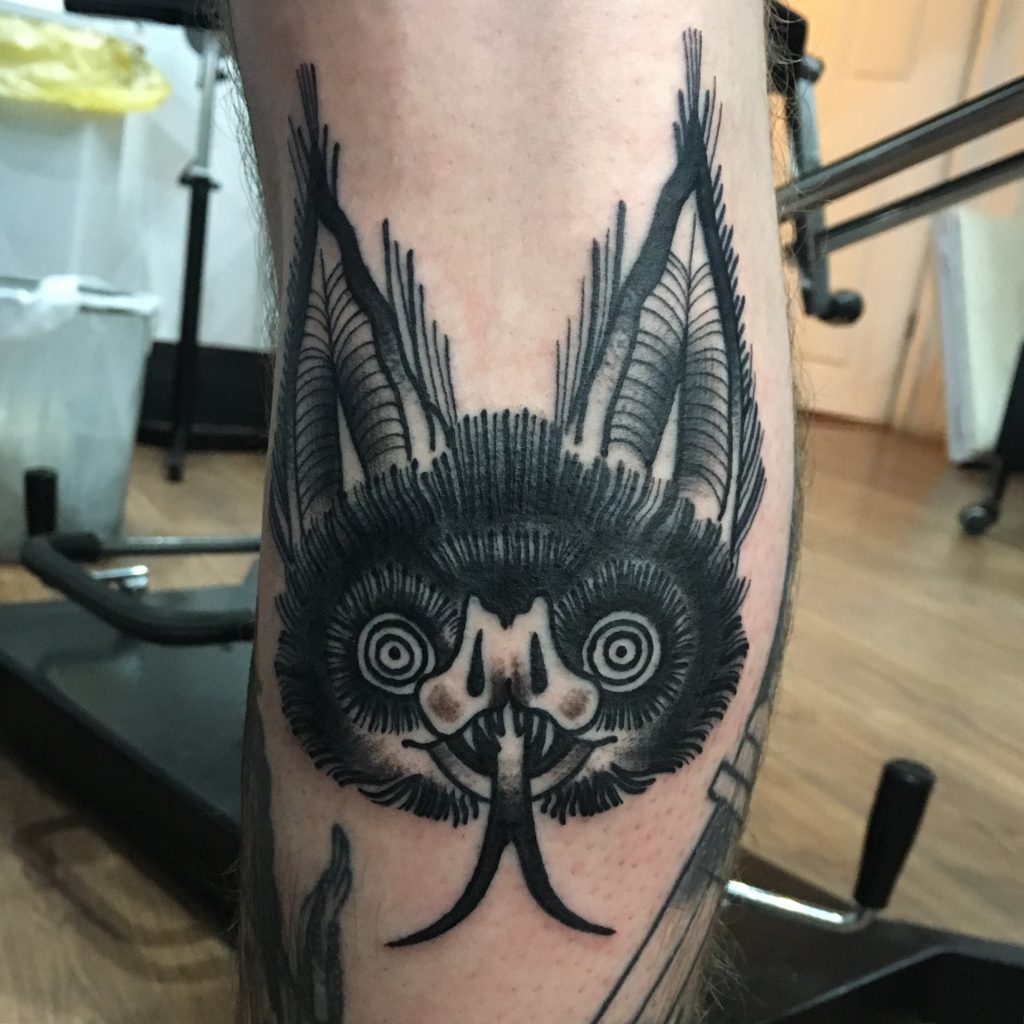 Are there any artists that you admire or influence your work? I think It's massively benefited me having the influence and guidance of both Mark and Sam because their styles also vary massively, so between them they've always been able to help me out and it's been awesome to have the perspective from a realistic and neo-traditional view. The guys have always helped me to broaden my view on the industry, encouraging me to look at work from different genres, and I think it's definitely helped me to appreciate styles like Japanese, realism and far more classic traditional looking work too. Neo-traditional work does remain to be a massive influence for me and it's certainly where I imagine I'd completely love to end up!
As far as artists that inspire me, there are just so many incredible artists out there and even if they don't directly influence my work, seeing the sheer talent which is around definitely pushes me forwards to try and improve within my own practice. If I were to try and narrow it down and give a few names of artists that I admire I'd say that Danielle Rose and Cassandra Frances have been two of my favourite artists for the longest time, and the work of Emily Rose Murray is completely beautiful and I love everything that she creates!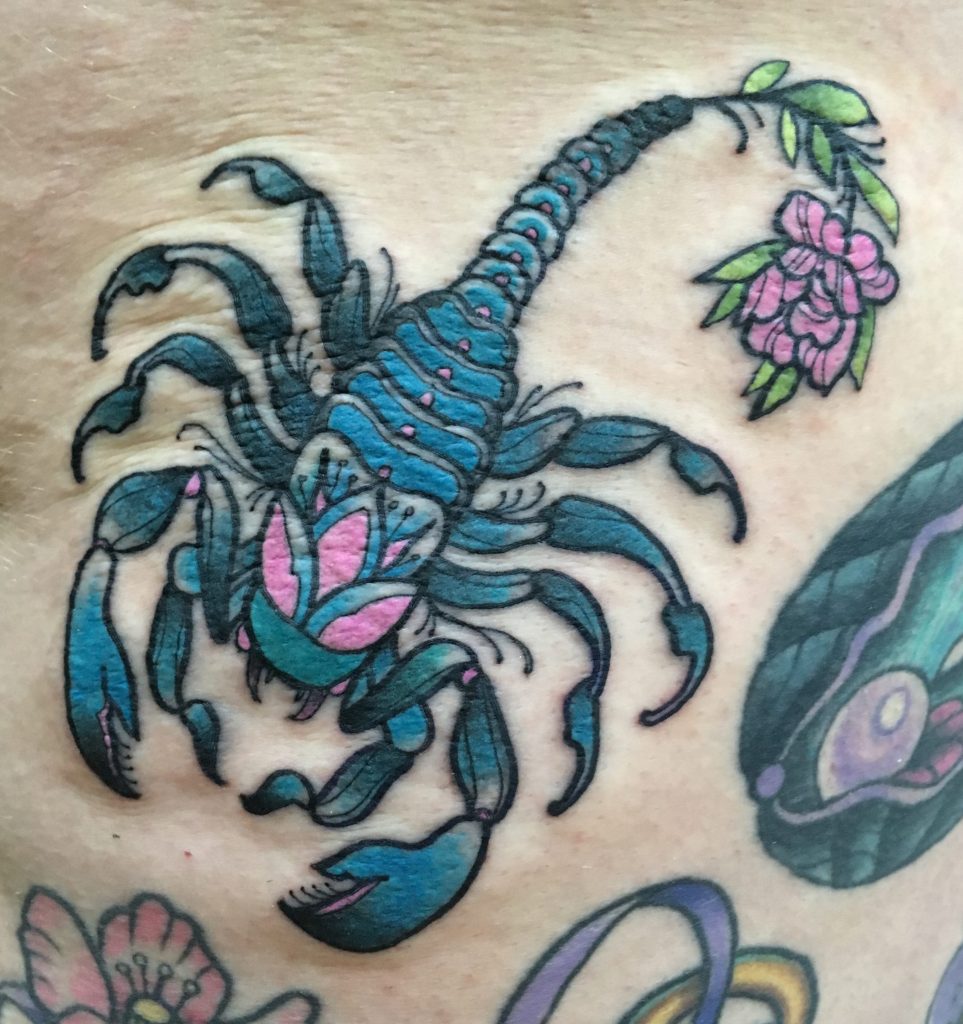 Rosalie's scorpion that Lauren created
I asked you to create a floral scorpion design, because I wanted to match your creepy yet girly style, would you agree that this is your genre? What would you love to tattoo? Do you have any drawn up designs you would like to tattoo? I would say that creepy and girly sums up everything that I love to create entirely! I'd love to tattoo more girl heads as they are one of my favourite things ever to draw. I also love anything with a Halloween theme – all year round, insects, bat heads and cocktails are all things that I'd love to tattoo. I have a flash book of designs which are all things I'd really like to do but there is a sassy, stabby little toad holding a knife that I particularly want to tattoo at the moment and am waiting for someone to claim him!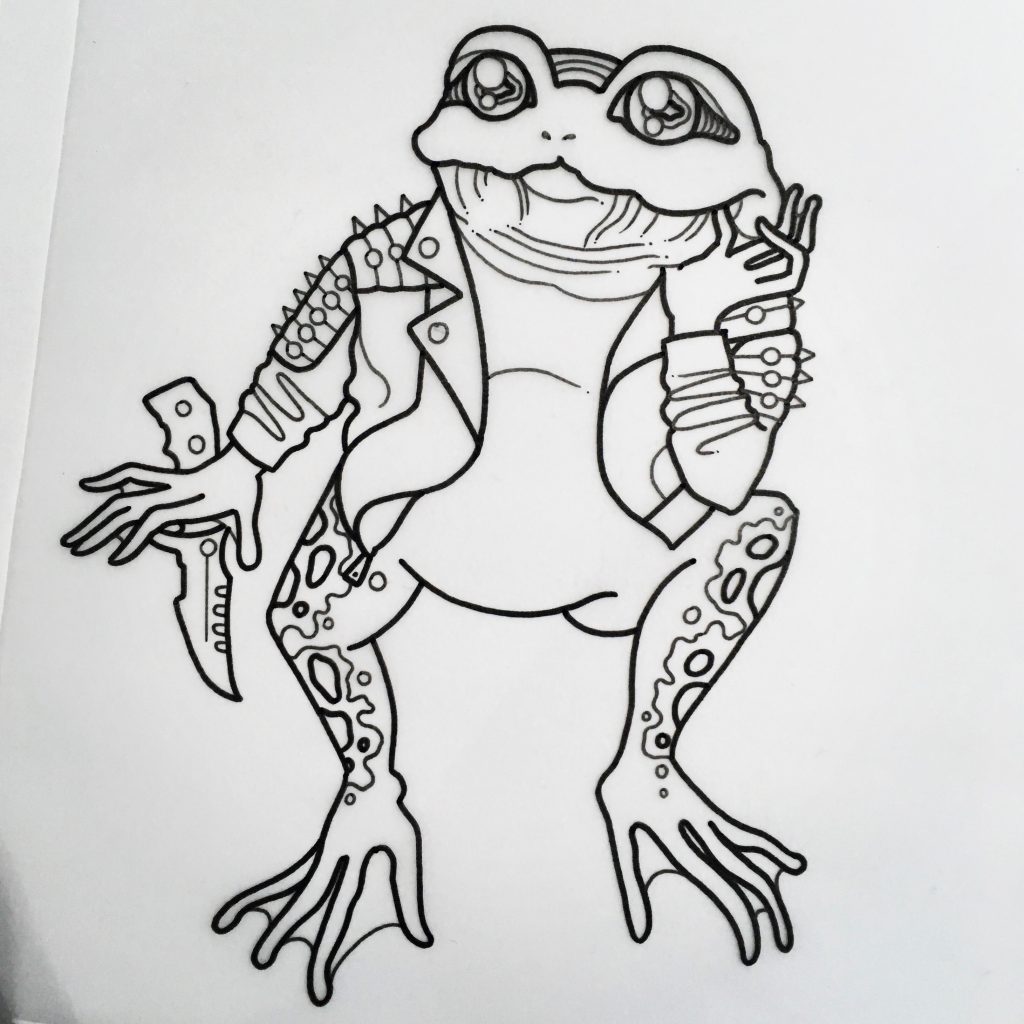 Would you say your style is influenced by your love of horror? At the moment you're reading IT by Stephen King, but what is your favourite book or film? Are there any characters that you are dying to tattoo? I love watching horror films, if ever it is up to me to choose a film to watch it will always be a horror! But I think in terms of inspiration for my art Guillermo del Toro's films strike me the most as they are creepy but completely beautiful. I love Pan's Labyrinth and Crimson Peak. I also love Tim Burton's work and I adore his characters because they are so cute but also incredibly creepy! I love Edgar from Frankenweenie and would love to tattoo him. There are plenty of characters I'd be so happy to make into tattoos, Sally or Zero from The Nightmare Before Christmas, Lydia Deetz from Beetlejuice, Edith Cushing and Lucille sharpe from Crimson Peak, Coraline, The Addams family (especially Wednesday Addams) and of course I'd love to do my own version of Pennywise the clown from IT.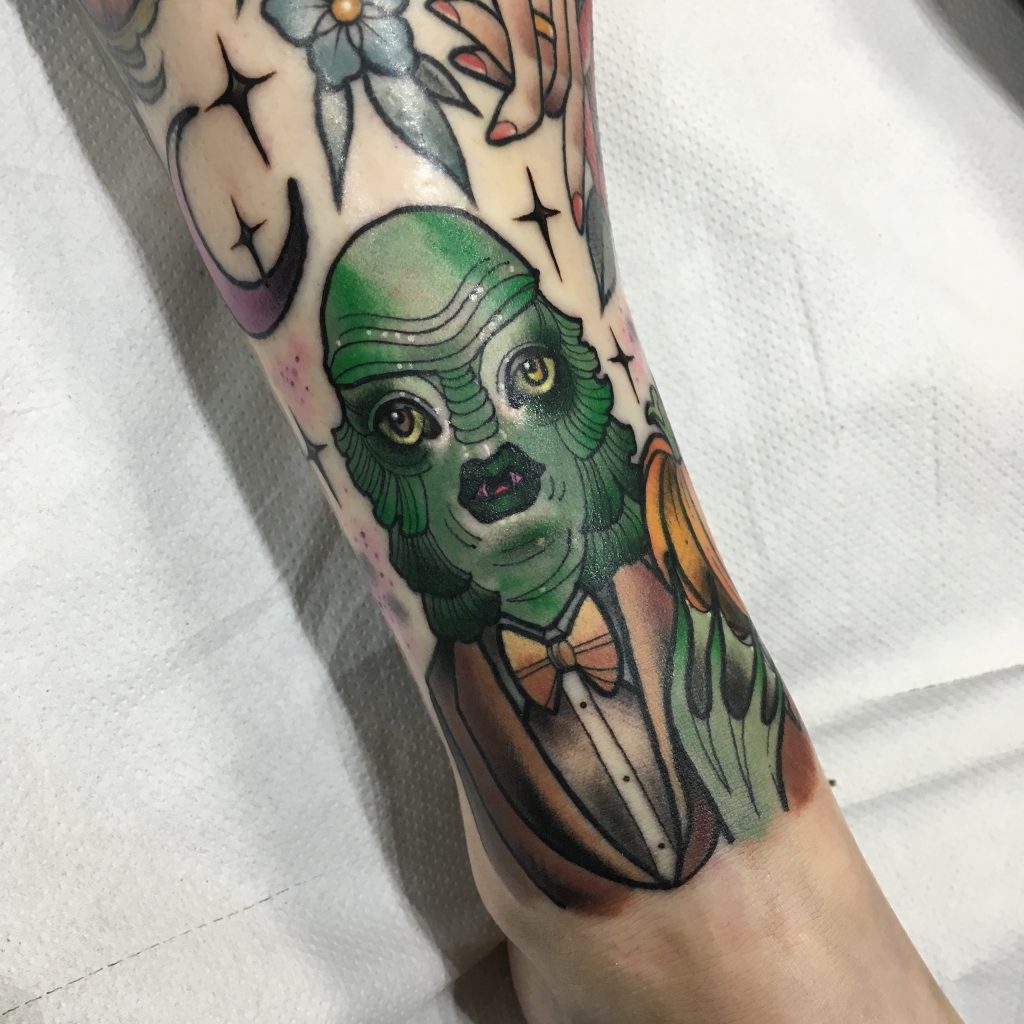 Can you tell us a bit about your own tattoos? My favourite tattoos I currently have are a couple by Will Thomson – a lady with a ship in her hair and also a ship's wheel with flowers. I absolutely love the wolf I have on my knee which was done at our  studio by Sam Childs, it's a massive monster of a wolf head and it's so angry and awesome. I actually haven't been tattooed that much, purely because of spending so many years as a student and then an apprentice and not having enough spare income to get what I really want. But I know it will be worth the wait and there are so many pieces I'm dying to get and a lot of artists that I know I really want to be tattooed by. Generally I think I'll end up getting quite a few spooky and Halloween based tattoos, I'd love a big neo-traditional style sorceress lady. I also adore animals so I'm pretty much guaranteed to end up with a lot of those also!