We chat to 30-year-old Ecommerce and Editorial Stylist Rebecca Griffin, from Leicester about her tattoo collection…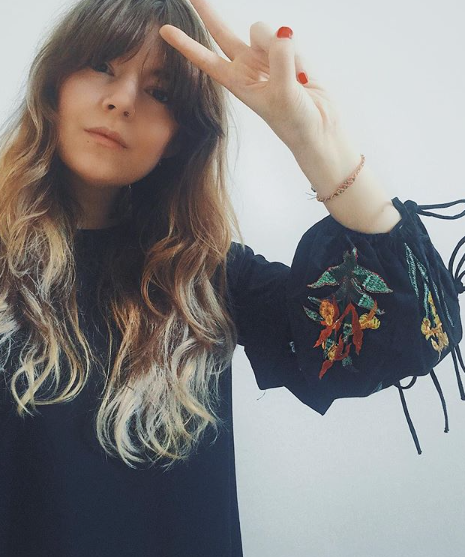 What drew you to tattoos, did anyone influence you? I was always fascinated with tattoos and body adornment from a young age, and I chose to research this as a subject when doing a self-directed art project at university. During my college years I was particularly interested in tribal and international cultures, and the meanings behind the traditional ink work you would see covering the bodies of tribal men and women. My fascination then developed into looking into fashion subcultures and how they adorned their bodies with piercings and tattoos, which similarly were influenced by their surroundings.
Can you tell us about some your tattoos? I got my first tattoo at 27, all my tattoos I have are of birds and the reason that I left it so long to get any tattoos, was because I wanted to be sure. As I never want to have any tattoos I'd live to regret. My second tattoo work is a number of birds sitting or moving within wild flowers and leaves. These are my favourite and are by the lovely Tiny Miss Becca!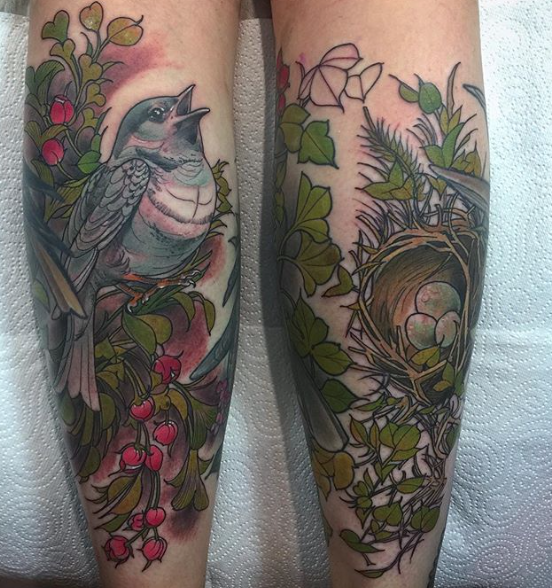 Bird tattoos by Tiny Miss Becca
I had originally had the idea to have two birds positioned flying up from he tops of my feet to my ankles surrounded by flowers. Once these was done I decided I wold really love to extend them up and a around the bottom of my legs with more birds and flowers. And Becca agreed and thought it would look great too. Becca has drew each bird to have it own personality and work with each other so they look like they are part of a flock. There is a total of seven birds and the cutest little egg basket.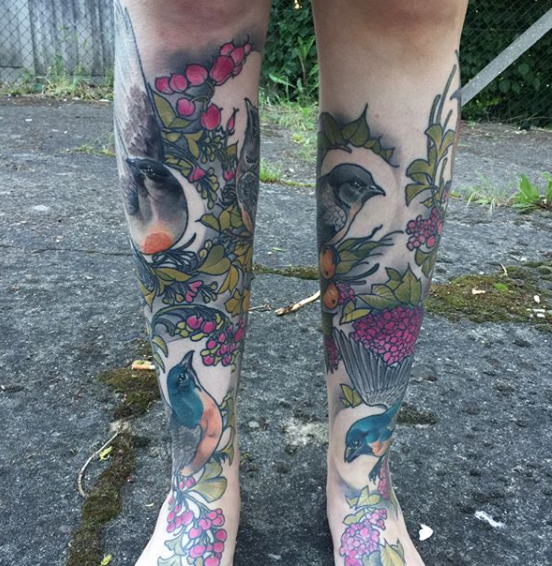 I never really been a fan of my legs as I am a very pale person and feel all my vain's show to much so was never one to get my legs out in public. I now absolutely love my legs and they are my favourite part of me thanks to Becca. She really powers through to achieve the amazing work she done for me. I love that even though we was only planning to start and finish with just the two birds she's managed to create a design for me that looks as though we always planned to have all the birds wrapped round to begin with. Becca is such an amazing talent and I feel very privileged that she was excited by my idea and wanted to carry on the work for me.
How did you get into your current role? Before I was a e-commerce stylist I was working as a fashion designer, which I enjoyed doing but wanted to have another creative outlet outside of my job. Before I became a designer I used to do visual merchandising for a high street store and wanted to get back into a role similar. I began to style for fashion photographers, I began to build up a fashion styling portfolio by working with models and MUAs. I slowly progressed to improve and have a greater understanding of what was required to fully organise and style a fashion shoot and began to feel inspired to change my career path and get into styling full time. A close friend of mine knew of a e-commerce Stylist opportunity that had arose and advised me to go for it, I did and I got the job and I've not looked back since.
Can you tell us a little bit about your other projects too? I still style a lot of fashion shoots out of my full time styling role as I really love the chance of organising and directing a shoot that is fashion editorial inspired. E-commerce styling is great and I love that too, but it's very commercial and sometimes a little restricting creatively. I really like having a diverse portfolio that shows the work I can create commercially and editorially.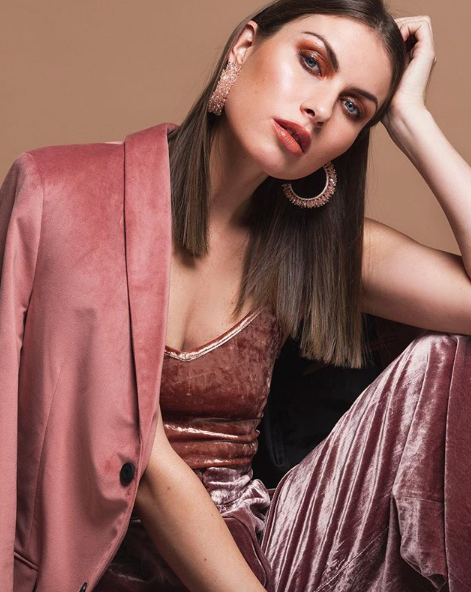 Photoshoot styled by Rebecca
Did you have to study or have you worked your way up? I have worked my way up to this role and made it a personal goal to keep working hard to gain as much experience in this role as possible. It's not easy to be able to get models, photographers and make up artists to work with you, which is why it so important to be persistent in your search and communication with fellow creatives.
What is a typical day like? I style in a photo studio based in Rugby, these products are then uploaded to the fashion retailer's website. When I arrive there is normally a rail of clothing I will need to style a shoot on a standard model size mannequin. I get to use a really cool price of equipment called a style shoot which allows me to get the clothing product I've styled shot without the requirement of a photographer. Some days I do style clothing on a mannequin set also, working closely with a photographer to achieve an editable shot that will be re-touched before going on to the retailer's website. Also the products I shoot need to be shot as symmetrical a possible which sometimes can be a challenge, but is all part of the fun.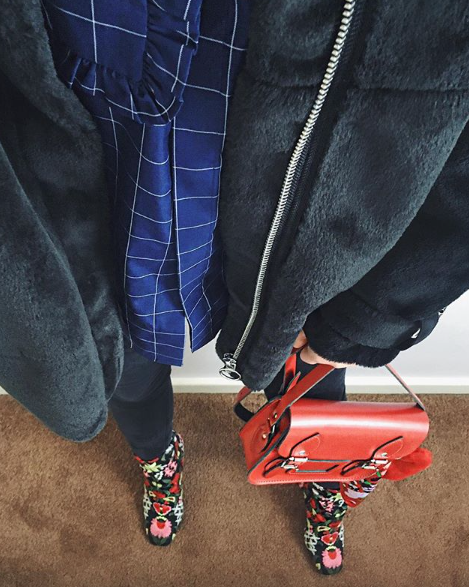 What do you love about your job? The studio I work in means that I get to see and style lots of big name brands, such as Moschino, Alexander McQueen, Emilio Pucci and Versace. I really love having the chance work with these products. I also working in a really nice environment where we all work closely and well together as one big team.
How do you dress for work? Quite casually, jeans and nice t-shirts or shirts with Dr Martens or bright colourful trainers. My style is a little boho hippy, skater-ish rocker with a little sports mixed in. As you can tell I am not very good at describing my style, but my usual aim when I get dressed for work is to wear what comfortable but has a little personality to it.
Do you show off your tattoos? Yes, I do. I'm very lucky to work somewhere that does not discriminate against or does not like tattoos on show.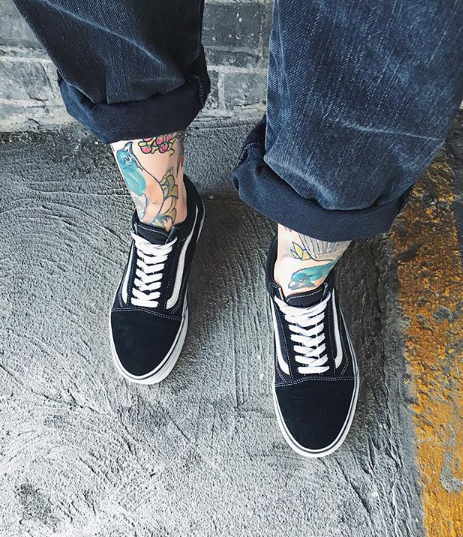 How do people react to your tattoos? Majority of the time people love them and are really interested and ask lots of questions. I do on the very rare occasion get disapproving looks but it's a personal preference thing and I love them which is all that matters
Do you have any advice to other people considering their careers when getting tattooed? I would say go for the career you want to do, you can still have tattoos just be mindful where on your body to have them. If you want a career where tattoos can potentially lower your chances of getting a job then get them in places you can cover them with clothing.