28-year-old tattoo artist Owen Paulls is currently on the road, creating incredible black and grey realism. We chat to him about his love for Disney, the process behind his tattoos and his travel plans…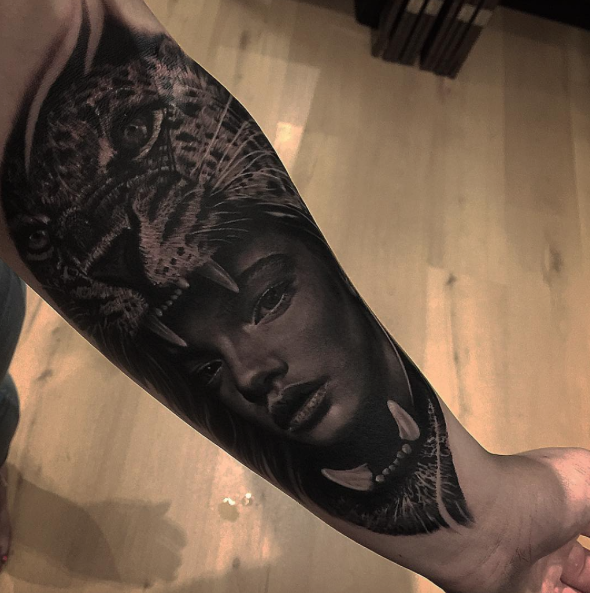 How long have you been tattooing? I have been tattooing since around April 2014, so a little over three years now!
What drew you to the tattoo world? I was always into drawing and painting growing up. I was designing shirts and artwork for a band I was with before I got into tattooing. Coming from the music world, where everyone's heavily tattooed, this probably sparked the idea of putting something permanently on the skin.
Has your style of tattooing changed? How has it developed? I think like most tattoo artists, I was drawn to classic designs and bold colours at first. I spent about a year putting together more traditional pieces, trying to make my work as clean as I could before really getting into realism at the end of that first year.
I did a few portraits on friends, to build my portfolio, and loved it! It felt a lot more natural to build pieces from the bottom up rather than lining everything first so I started switching my designs to have a realistic element. Recently I've developed more of a surrealism style I guess.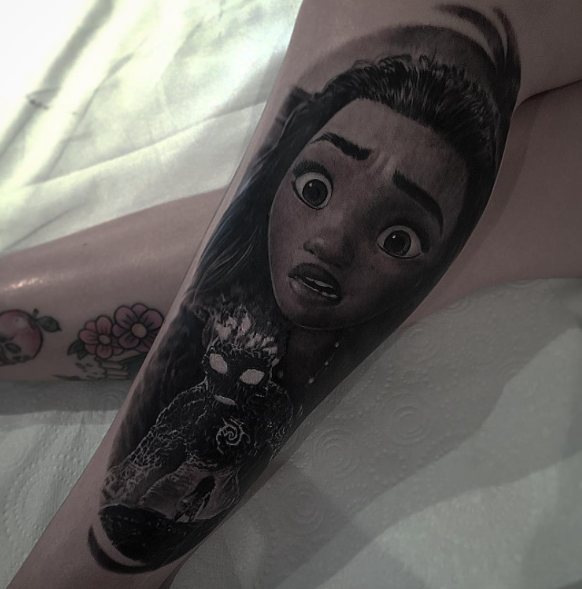 What do you love to tattoo? You do a lot of Disney portraits, are you a Disney fan? Absolutely anything Disney or animated, I love tattooing it! I don't know if that's still the traditional artist in me trying make an appearance with a little throw to the old school – who knows! I'm a huge Disney fan, so getting to tattoo it all day is a lot of fun for me.
I love the whole process modern animation goes through while it's being made, there's so much behind the scenes that you don't get to see when watching the movies. I'm just trying to pay homage to all the animation greats by replicating their creations on skin in my own way.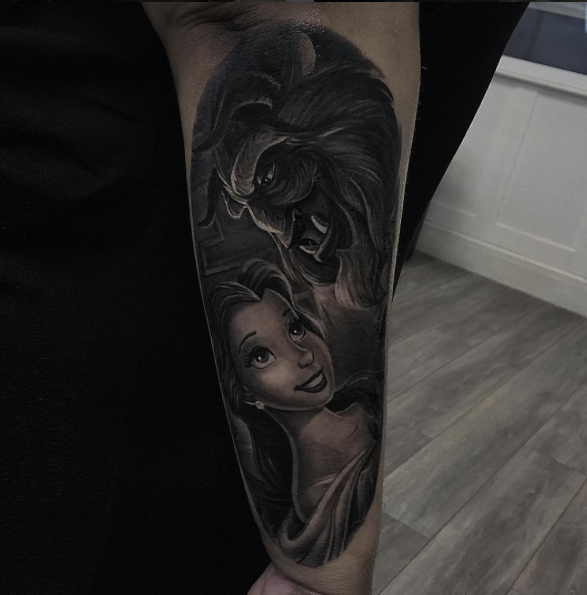 You mainly work in black and grey, what do you love about this? How long does a  typical piece take, can you explain your process?  My art work outside of tattooing is mostly charcoal and pencil so I think that draws me to the black and grey side. Colour is a lot more challenging for me. I love getting to do it occasionally, as it keeps me on my toes, but black and grey is where I feel the most creative. Pieces usually take anywhere from eight to 10 hours.
I'm very meticulous with my work so I'll spend at least a couple of hours adding details and highlights at the end with a small liner, apologising to my customers the whole time and periodically promising that we're nearly done!
I usually start with an email or FaceTime consultation to get the over all idea of the tattoo before designing to save as much time as I can. I like to make my stencils on the day so I'm familiar with the shapes and concept before applying it to the skin. Due to the amount of time I spend in the skin, I always try to make sure I leave my stencil to dry for about 15-20 minutes before I start. I'm a detail lover, so having all my stencil hold for the whole day helps me to relax. I don't line much so it's nice to have that information there to use when I need it.
Would you like to do more colour pieces? Eventually, I'll probably make the move to full colour work. I feel as an artist, I'm still growing and creating an identity within my tattoos. For the moment, black and grey is the perfect medium for me. People who can break stencil with their photo reference and use brave colour choices make a big impression on me, I'd like to have that affect on other artists.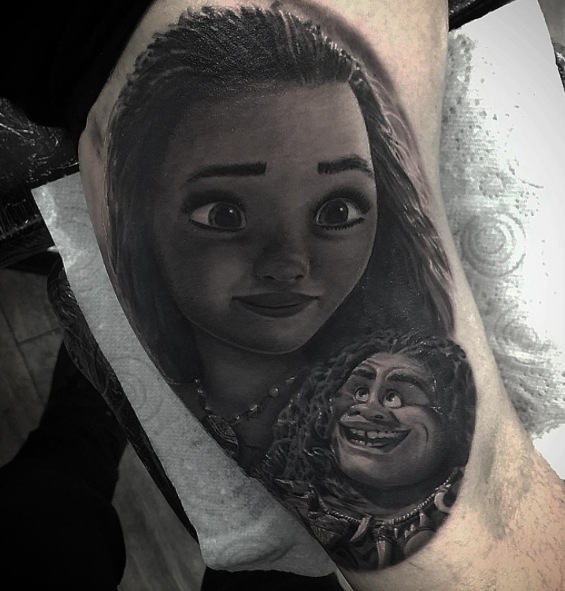 What inspires you? Are there any artists that influence your work? Animation plays a big part in how I design tattoos and my artwork. Also sculptures and modelers like Philippe Faraut or Lutsenko really push me to add more depth and dynamic. Tattoo wise there are too many to name. I'm a big fan of Ralf Nonnweiler and Megan Jean Morris for the way they put their own identity into their pieces. Any artist who is bringing something new and unique to the table is up there for me!
Can you tell us a little about your own tattoos, do they have to have a meaning?  I'd love to say I'm a collector, but it's not strictly true! I have a collection, but it's not the same! My tattoos have been mostly spur of the moment ideas when I've been working alongside someone that I admire or in a shop where a couple of us have a spare few hours to fill. I've got some crazy ones and some more meaningful ones from back in the music days. I have a Studio Ghibli half sleeve and I suppose that's the most meaningful so far. Apart from one done by a friend when she was first starting out.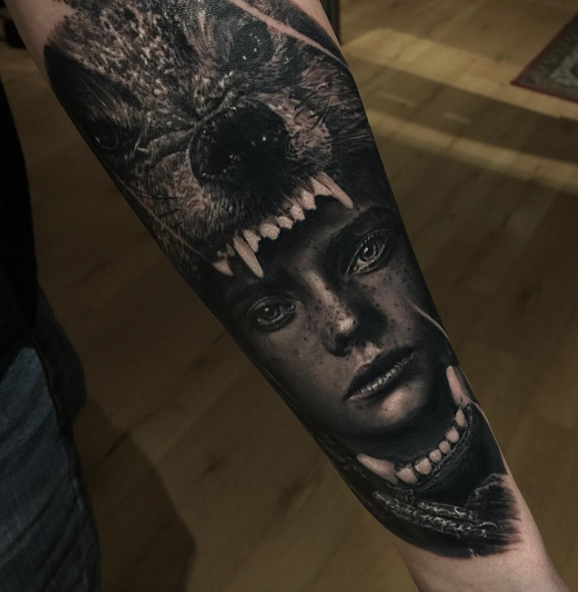 Do you have any conventions or guest spots planned?  This year and the beginning of next has got a little crazy so far! Ive just done the Brighton and Manchester/Scarborough shows and have Bristol, York, Halloween Bash and Kustom Kulture coming up this year, alongside guest spots all over! It'll be my first time in Switzerland in October and I'll also be working with Sandry Riffard in December at his shop in France! I just want to say a huge thank you to everyone who has got or travelled to get a piece from me and to my little tattoo family including 'Team Penny Black' who have really looked out for me!