Our guest blogger is 25-year-old London-based Amber Bryce, who not only writes her own blog but also the social media copy for Tesco. In this post she talks about her own pet tattoo and talks to other pet owners to find out why they decided to immortalise their pets in ink… 
Getting a tattoo of your pet can be as simple as a paw print, as intricate as a portrait, or as fun as a moggy cat dressed in scuba gear. Although the stories behind them may sometimes be sad, there's always something so heartwarming about hearing the impact a pet has had on someone's life. 
Here's my own story about why I chose to get a tattoo of my pet, followed by some more pet lovers… 
"My dog's name is Punky. He's a puggle (beagle crossed with a pug) and looks like he's either constantly philosophising or in a really bad mood. I got Punky when I was 15 and from the very start he was a nightmare. My sister and I would get home from school to find he'd got into our bedrooms and eaten through half our wardrobe (RIP leggings) or escaped to the local curry house (seriously).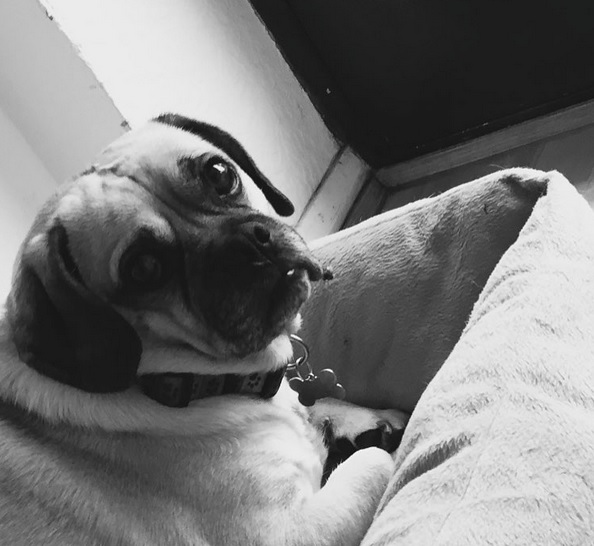 "As naughty as he was, I find it hard to remember my life without him. Since moving out of my dad's house I miss him so much; the jingle of his collar, the deep sighs he does before getting settled at the end of my bed, or the way he rolls over for belly rubs like a big, blubbery seal. I decided I wanted to get a tattoo of him, to keep a little bit of him and his comforting presence with me wherever I go.
"Rebecca Vincent created my beautiful and personal portrait of Punky in her poetic, naturalistic style. The subtle nature of the sketchy tones makes him look as though he's left an imprint of his soul in dot work."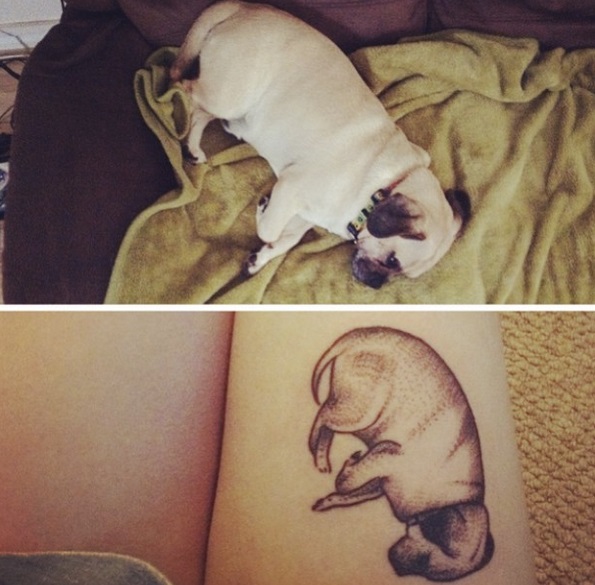 The thing I love most about seeing other people's pet tattoos is the variety of ways in which people choose to symbolise their pets, whether through their strange little quirks and eccentricities or the emotional narrative they left behind. I decided to explore other pet tattoos and the stories behind them… 
Name: Natasha Westlake Age: 26 Lives: St Albans 
"The first pet I had as a child was a moggie called Harmony. He loved swimming and would frequently come into the house covered in moss, soaking wet after chasing ducks in the nearby pond. He also had half a moustache! Sadly he passed away a few years ago, so I wanted to get my first tattoo as a dedication to his memory.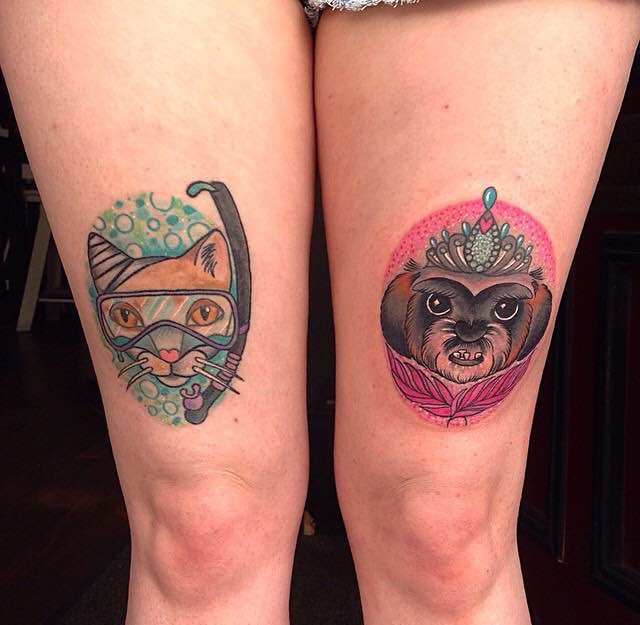 "My second pet is my Shih-Tzu dog, Lilly. She is a stubborn little princess and loves a lot of attention, she isn't a fan of wearing any kind of doggy clothes (so I took a really adorable photograph of her wearing a feather boa — needless to say she wasn't a fan) and she has very crooked teeth and an under-bite, which always shows. She had a really funny and lovable relationship with Harmony, and I love her very much so I wanted to get her tattooed on my other thigh.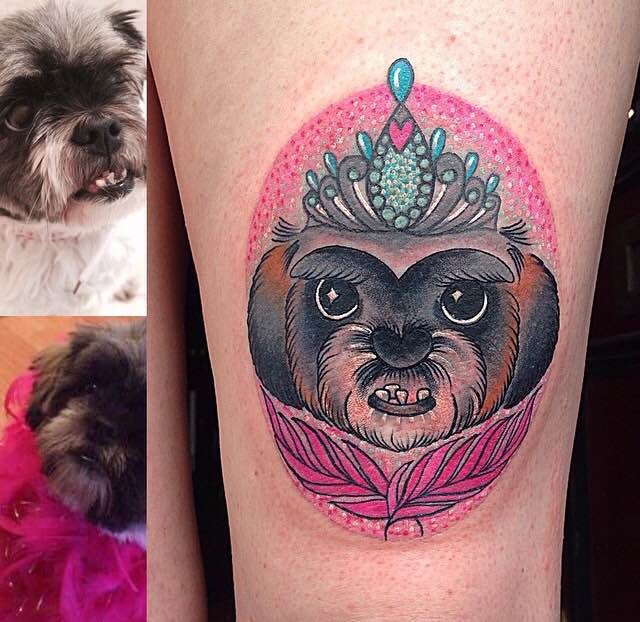 "I have always had an obsession with Asian culture, cartoons, and cutesy things, so I knew I wanted the style of my tattoo to be cartoon-y and cute, but to keep the characteristics and personality of my pets. I found my artist through Instagram, which I would say is definitely the place to find tattoo artists. I hash-tagged pet tattoos and came across Keely Rutherford from Jolie Rouge, whose main style is a cutesy kawaii animated style.
"I love the very personal details in my tattoos that make them my own, I gave Keely a bunch of ideas and she was able to translate them. The scuba diving gear and the bandage on Harmony represents his  love of swimming and fighting, and the tiara and feathers on Lilly represents her princess-like personality. I also love how vivid the colours are."
Name: Amber Schwartz Age:24 Lives: LA
"Charlie was five years old. I got him when I lived in Chicago and he went everywhere with me. We flew together countless times and he moved to NJ and California with me. He was my son. He was a Malshi and his birthday was a week difference from mine. A few months ago I moved to Hollywood and my roommate lied to an organisation and neglected to tell them that Charlie and I lived there. They gave her a 70 lb pitt bull who attacked and killed Charlie. I was not home during the incident and I left Charlie locked in my room. My roommate took Charlie out of my room and Jameson attacked him. He passed away about 2 months ago at this point, and not a day goes by that I don't think about him or miss him.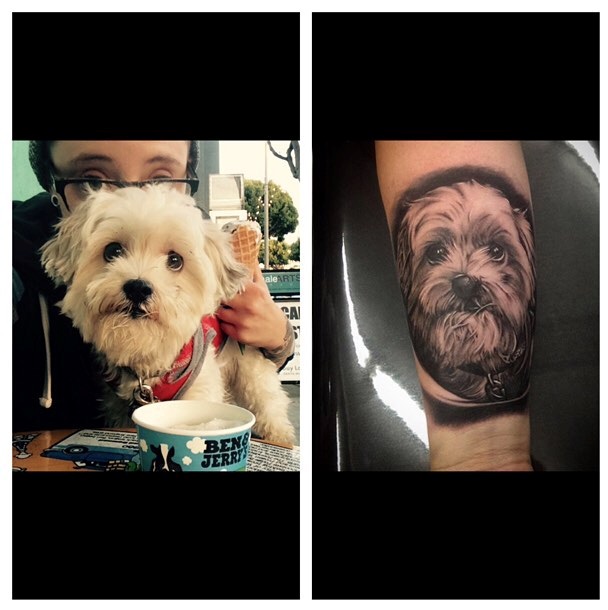 "Before Charlie passed; about a year ago I got a paw print tattoo for him witha "C" in it. After his passing it was a no brainer that I needed to honor him. I got his actual paw print tattooed on my elbow, and "Good Morning Char". That did not feel like enough; hence I got my best friend's portrait.
I went to Victor Hugo at Norwalk Tattoo studio in Norwalk California. He is a dog lover; and honestly I could not have asked for this piece to come out any better. His work is amazing; his detail and care is obvious in all tattoos he does. I am so so, so grateful for Victor!"
Name: Jennifer Byrne Age: 23 Lives: Liverpool 
"Bubbles is my 12 year old tabby cat, the smallest and cutest of our three cat family. I got her as a kitten when I was 10 years old and I've been smitten ever since!
"Amy Savage does the most amazing stippled tattoos of cats and other animals. I knew I wanted to get a cattoo by her and thought that it was only right I got my favourite cat tattooed – Bubbles. I love the fact that I will have her on me forever, I can't believe such a little animal has made such an impression on me.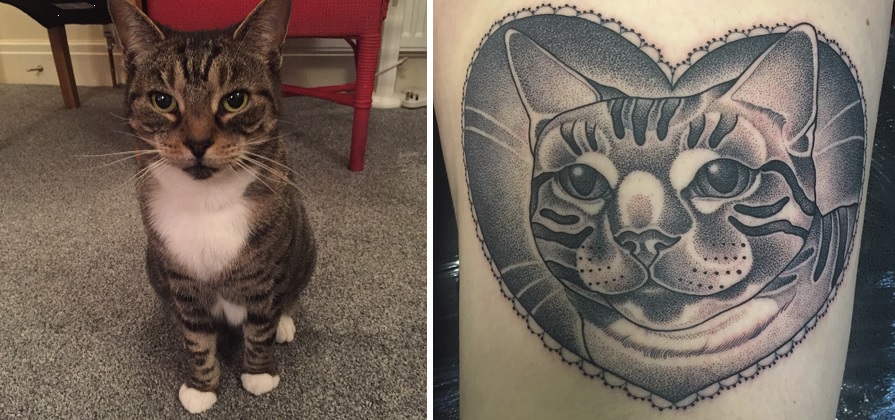 "Her work is incredibly detailed and I sat for my longest sitting yet with her when getting Bubbles tattooed. She was so friendly and I felt really comfortable, especially considering I'm a huge wimp! I may ask her sometime in the future to tattoo Bubbles' brother on my other leg… I'll probably end up with all my pets on me!"