Here at Things&Ink we love all things tattoos! On discovering Taylor Made, a small business located in Fife, Scotland, which specialise in upcycled furniture inspired by all things tattoo, we had to talk to owner and creator Grace Taylor. 
How did you first start upcycling furniture? When my partner and I moved into our first proper home together we had to start from scratch. A lot of our second-hand furniture wasn't completely to our taste, or was looking a bit sad and unloved, so I decided to try and transform it and give it a bit more life to suit our new living space. I started doing more pieces when I had to take some time off work for health reasons, and found that it was a great way to pass the time!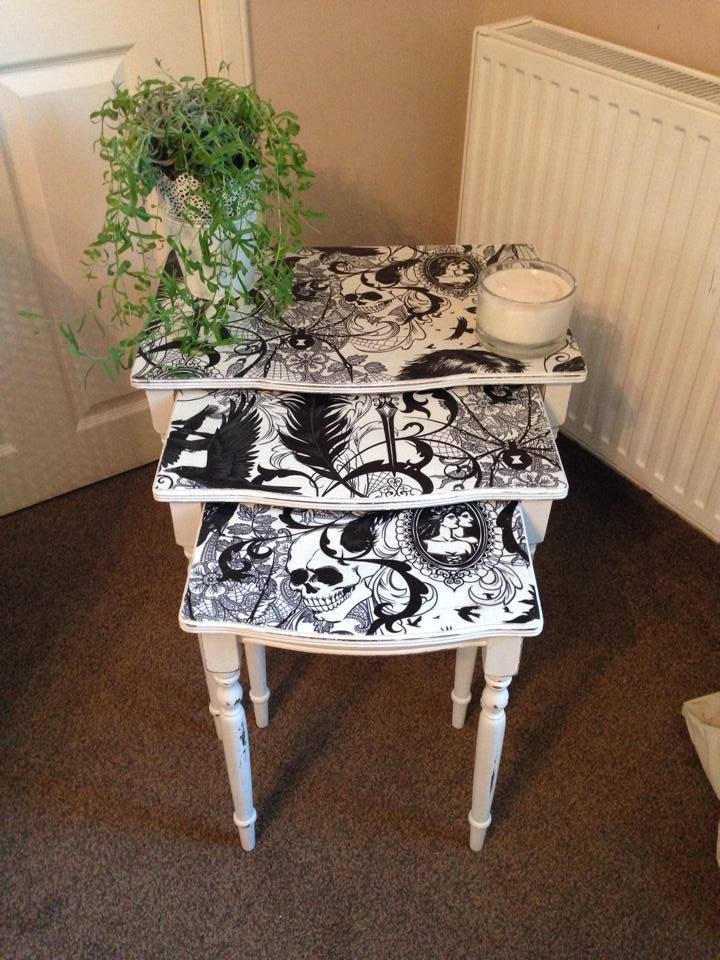 Have you got your own business? I never intended on this being a business and so far it has just been a hobby. However, I have had such a wonderful response from my facebook page that I am now currently in the process of turning this hobby that I love into something more. I have had lots of exciting opportunities arise from this so far and one day I hope to have my own quirky wee shop.
How did you learn how to do it? I am completely self taught, I started from scratch and hadn't a clue about paints, techniques, decoupage, or different products you can use. I have spent countless hours and a small fortune trying to discover what is out there and what I like to use best. It's been a fantastic learning experience, but also rather frustrating at times. I guess you have to start somewhere, so I started from the bottom. I am still learning – with every new piece I learn something more so it never gets boring.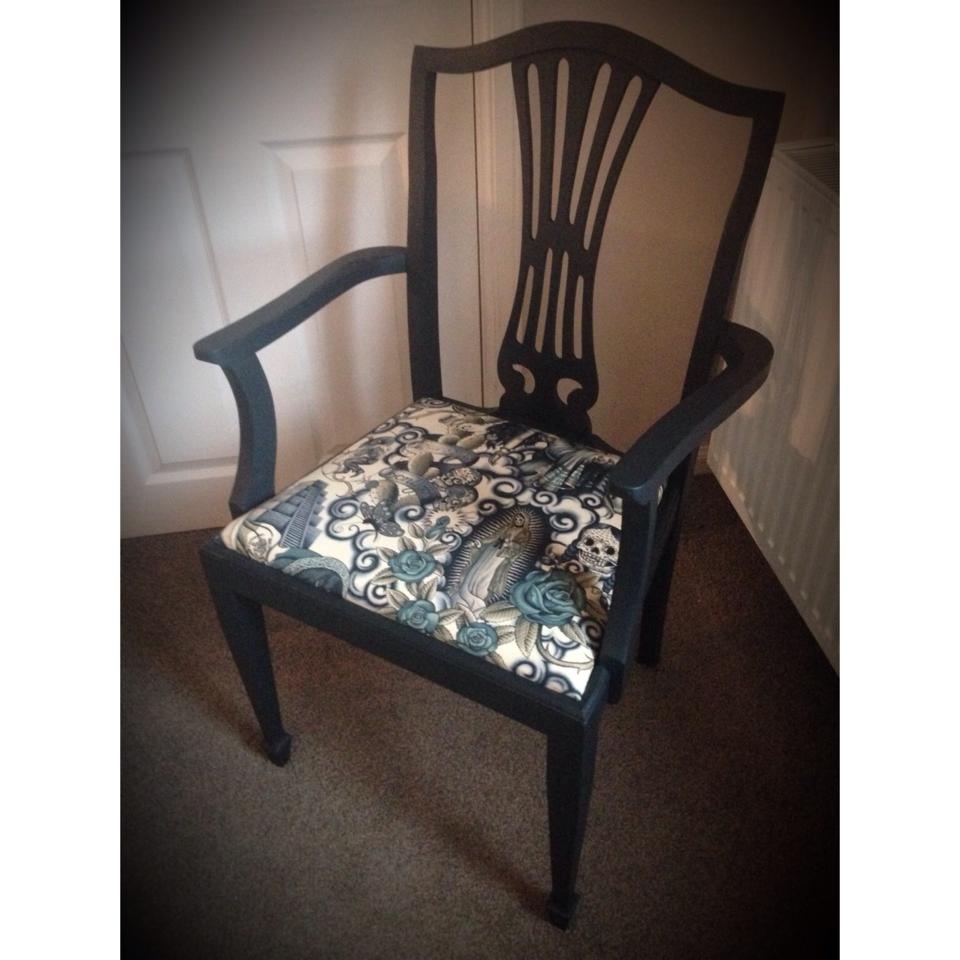 Where do you find the materials? All over the place! I get my furniture from a range of different places. It doesn't matter to me if it's vintage or a modern reproduction. If I like it, I take it. I buy all my materials from all over the place, I pick up things on eBay, online shops, high street shops, charity shops and car boots.
What inspires you? I like quirky things and I have a passion for tattoos, so a lot of my pieces are inspired by old school tattoo flash, in particular Sailor Jerry. I use a lot of fabrics with skulls and I like to try and do something a bit different as opposed to the 'shabby chic' style of upcycling. I also love stags, so I uses a lot of stag designs such as fabrics, paper and stencils. I can't stand boring, straight out of the catalogue home decor, so I strive to make things unique.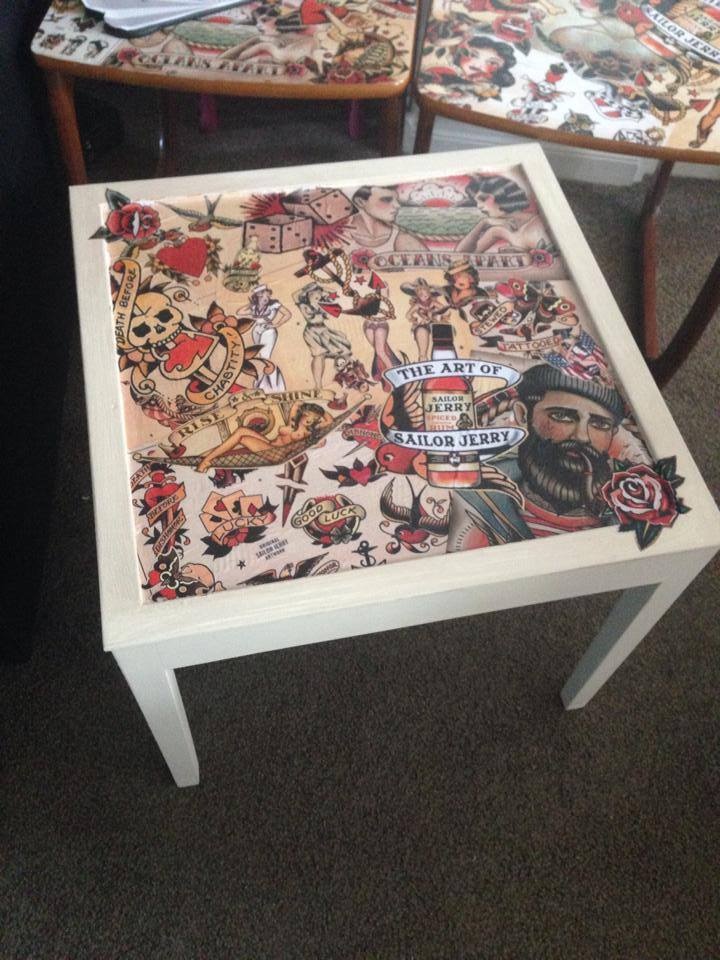 Do you have any tattoos? I have quite a collection! Though not nearly enough.
I have a half sleeve on my right arm, which is a beautiful portrait of my mum surrounded with flowers, in the style of our favourite artist, Alphonse Mucha. This was done by the awesome Marcus Maguire of Custom Inc/BathStreetCollective, who has also done a large, beautifully coloured peacock stretching from my hip to my knee. This is a tribute to my Dad, along with my of my other tattoos. I have a portrait of him on my other arm, my feet are covered in script with an old saying of his, 'Far Out!' done by Stephanie Scott of Old Town Tattoo, and I have two wee chicks on my ankle as he called my sister and I his chickens, by Jamie Adair of Crossroads Tattoo.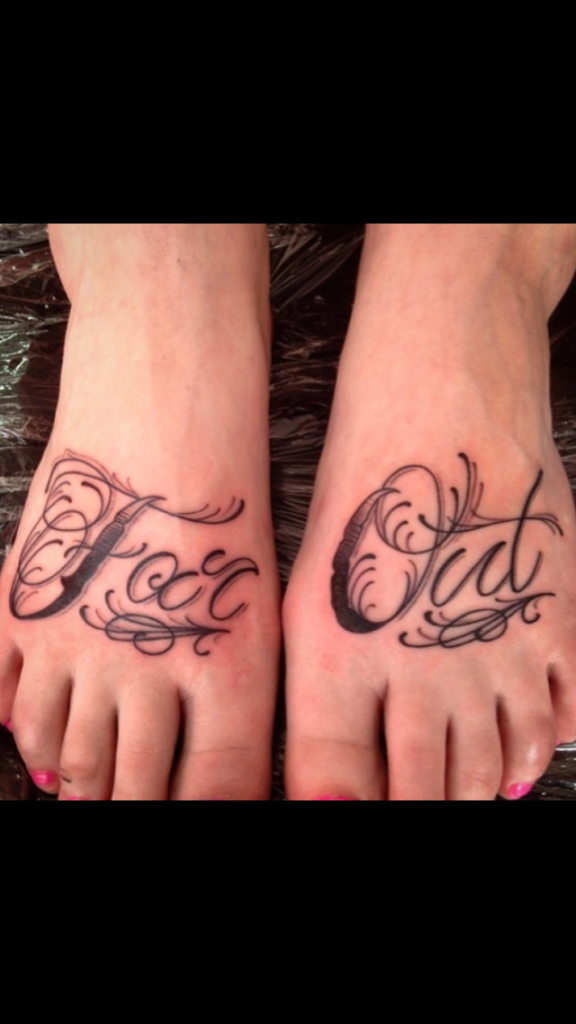 I have an awesome large mandala and stags head on my thigh by Ema Sweeney of Custom Inc/BathStreetCollective, and a cute wee bird with hydrangeas on my calves by the wonderful Amanda Grace Leadman, amongst others. I may also have an L and R on my thumbs, as I'm not the quickest with direction…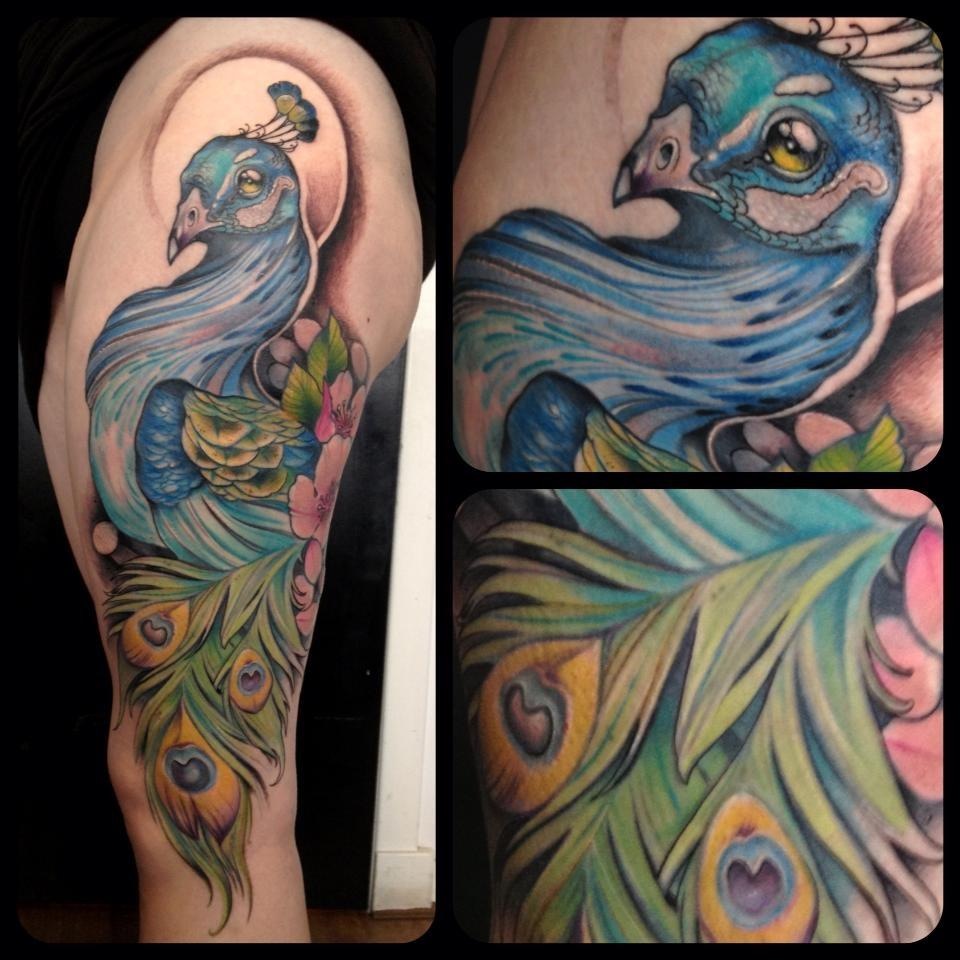 Do you have any tips for people who want to upcycle? Just go for it and have fun! Make sure you are prepared with everything you need before you start, and don't wear your best clothes like I always do, or you won't have anything decent left by the end of it. Painting a piece of furniture and transforming it can be such a therapeutic and rewarding thing to achieve, so don't let yourself get stressed out. Sometimes if you make a mistake, it just adds to the overall character of the piece you are working on. Enjoy every moment of it!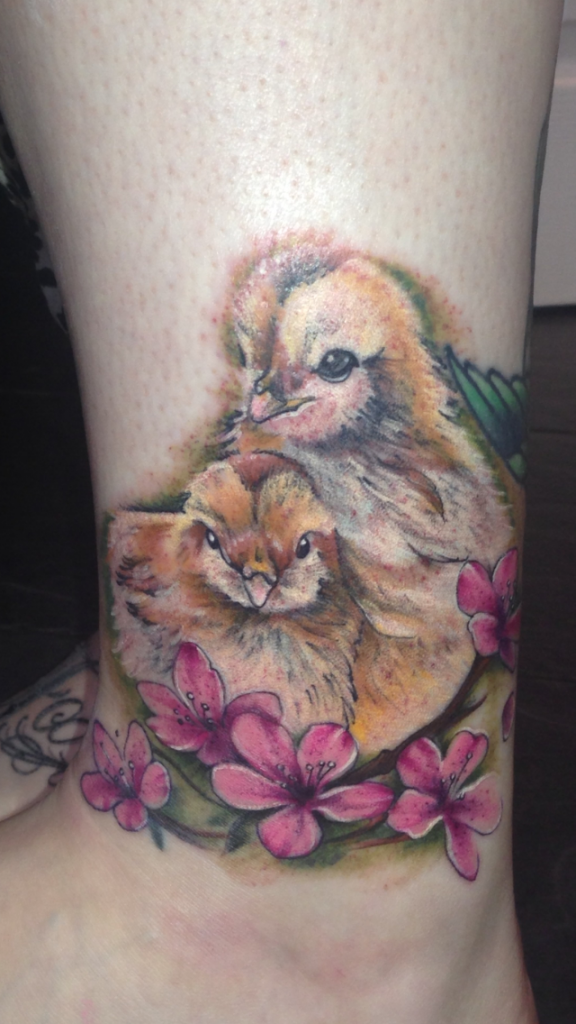 Follow Grace on Instagram to see more of her tattoo inspired creations!