Our guest blogger is Jade-Bailey Dowling, fashion writer and creator of Nouvelle Noir, a blog dedicated to dark fashion. In this post she explores tattoos in the world of fashion… 
Fashion and tattoo art appear to have very little in common . While fashion is fleeting by its very nature – trends change twice a year – tattoos are a life-long commitment. Yes, there are, of course, "trends" in tattooing (take the tribal mania of the '90s, or the current love of the mandala), but when deciding to get tattooed, you put far more thought into it than which new season shoes to purchase.
However, fashion has repeatedly looked towards the tattoo community to gain inspiration for their own craft.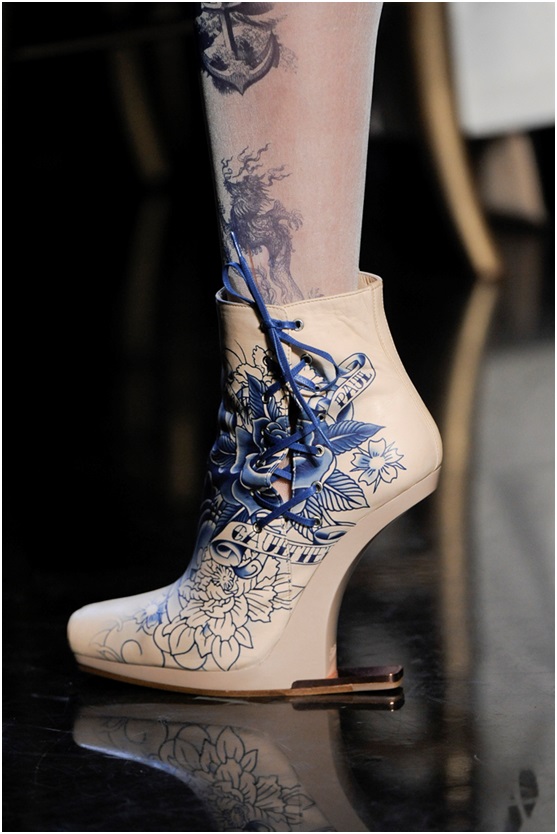 Designer Jean Paul Gaultier has repeatedly drawn inspiration from body art in his designs. His signature style originated from nautical influence, and this too included the body art and tattoos sported by sailors. While the Breton stripe was prominent in his early work, traditional Japanese style patterns were seen in the Spring/Summer 2012 collection – printed on women's shoes and handbags, as well as earlier in the Gaultier menswear. His tattoo infatuation was enhanced further when designing the Diet Coke bottles (also in 2012), a campaign that saw Gaultier cover model Daisy Lowe in temporary body art to promote the collection.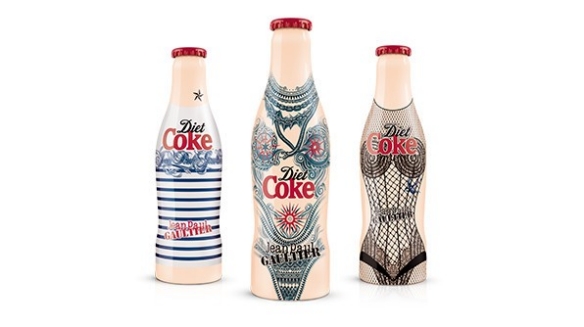 And Jean Paul Gaultier is not alone in bringing tattoo art to haute couture. In 2012, Karl Lagerfeld, creative director of Chanel, sent models down the catwalk covered in Chanel-esque temporary tattoos. Designs included pearls, the brands signature interlocking Cs and brands namesake and creator, Coco Chanel's favourite flower, a camellia. They had been designed by the brand's former make-up director Peter Philips, and at £45 a sheet, fashionistas could get the tattoo trend without the commitment of a lifelong addition.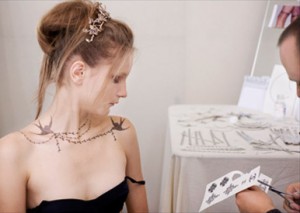 This seeming 'tattoo trend' looks to continue into Spring/Summer '16, McQueen has designed a new take on the brand's signature skull scarf to incorporate traditional flash style artwork alongside it. At £95, tattoo flash sheets become wearable in these silk scarves.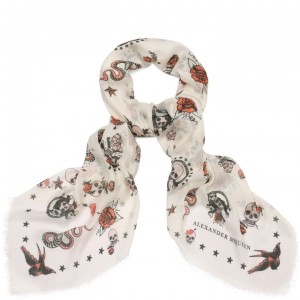 Kate Moss is noted for having a small swallow tattoo on her wrist, but previously models, in particular female models, were discouraged from having large, visable tattoos in the fear of hindering their careers. This seems to be changing gradually, with the likes of Cara Delevingne proudly showing off her many visable artworks, including a lion on her finger. Also, at the Met Gala this year – a yearly fashion event held at the Metropolitan Museum of Art by U.S Vogue editor Anna Wintour – Cara Delevingne decorated herself with cherry blossom airbrushed body art, done by New York tattoo artist Bang Bang, in keeping with the theme of Chinese Whispers: Through the Looking Glass.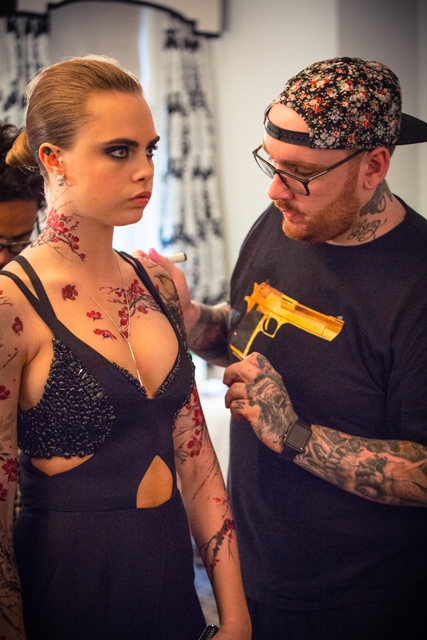 W Magazine
More recently, cult shoe brand Dr Martens looked towards tattoo artistry for inspiration. Their Spring/Summer 2015 collection included shoes, satchels and dresses adorned with traditional style tattoo patterns. Similarly, for Brighton Pride 2015, Dr Martens teamed up with tattoo artists from the local area to come together for a charity raffle with prizes including shoes and bags custom decorated by local tattoo artists.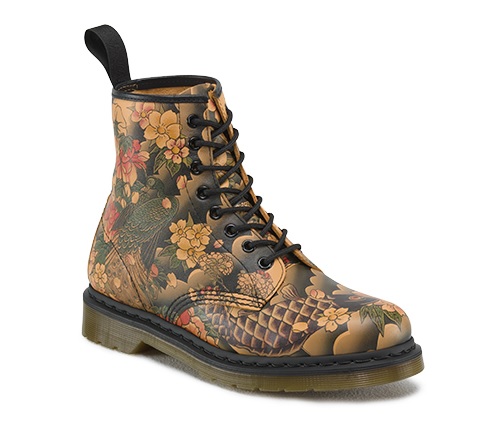 Tattoos and fashion have collided in a more permanent way (forget the temporary tats) on the high street too… A few years ago, consumers could not only get their fashion fix, but they could also get a tattoo in the Metal Morphosis studio in Topshop's flag ship store in Oxford Circus. And last year, legendary department store Selfridges had a pop-up tattoo parlour for two weeks.
Although it's great that body art and tattoos are seemingly being more accepted into society, especially within fashion, taking inspiration from the late Yves Saint Laurent quote, perhaps trend seekers should remember that fashions fade, while tattoos are eternal.