Natalie Petal Gardiner is a 25-year-old tattoo artist who works at Old Town Tattoo in Edinburgh Scotland. She is known for her beautiful animal tattoos filled with ornate detail and character. We chatted to her to find out more about how she started in the industry, what inspires her and why animals are her main subject matter…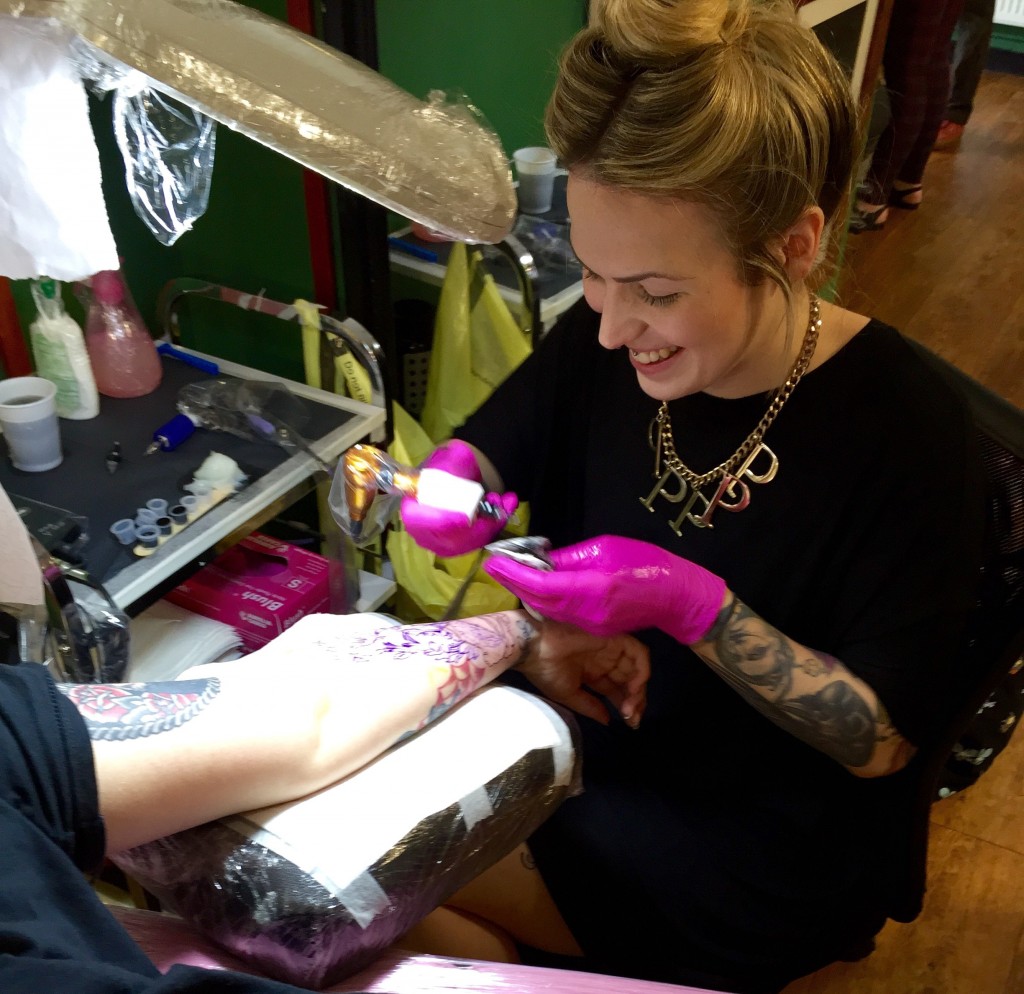 How did you get into the tattoo industry? Art has always been important to me. When I was growing up, there wasn't a day that went by without me sketching or creating something.  When my older sisters began getting tattooed, my drawings quickly became more tattoo inspired. My walls started to fill up with traditional paintings and drawings. I would tag along when they were booked in and I couldn't wait to get tattooed myself!
When I got to uni, I started getting tattooed regularly and taking my artwork more seriously. I knew that when I graduated, I was going to begin my search for an apprenticeship. When I moved back home, I got a job in retail and spent every night slaving away over my portfolio.
One morning before work, I plucked up the courage to approach some tattoo studios. I went into each one in Chelmsford, asking advice and showing them my portfolio. Finally I came across Eternal Art. After looking through my drawings and having some nerdy art chat, he offered me an apprenticeship.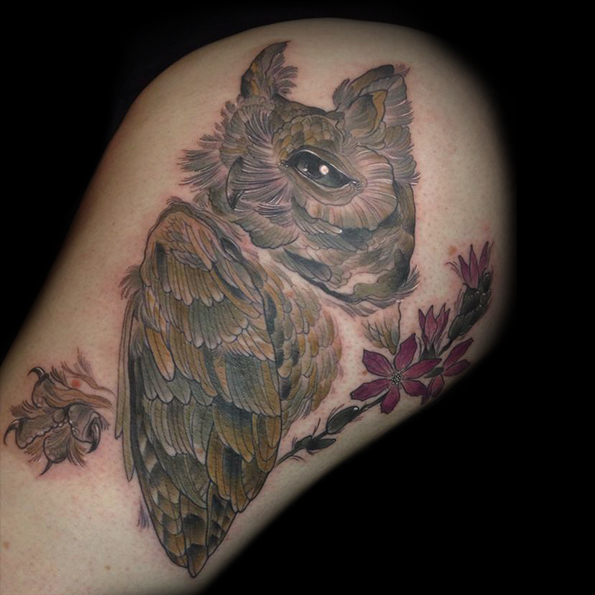 How long have you been tattooing? I have been tattooing professionally now for three years. I had a short apprenticeship, with Prizeman at Eternal Art, which lasted around 6 months. He was very critical of my artwork, strict with my technique and boarder line OCD with hygiene. I am eternally grateful for the opportunity that he gave me and for teaching me to push the boundaries.
Do you have a background in art? Academic subjects weren't easy for me, I still can't even tell the time! (Hooray for Casio watches). All of my subjects chosen at school, sixth form and university were creative. People sometimes assume that I studied art at university, I actually graduated in video and photography. You don't need a degree or GCSE's to get an apprenticeship. When you finally pluck up the courage to approach studios, all you bring is your portfolio and your brave face.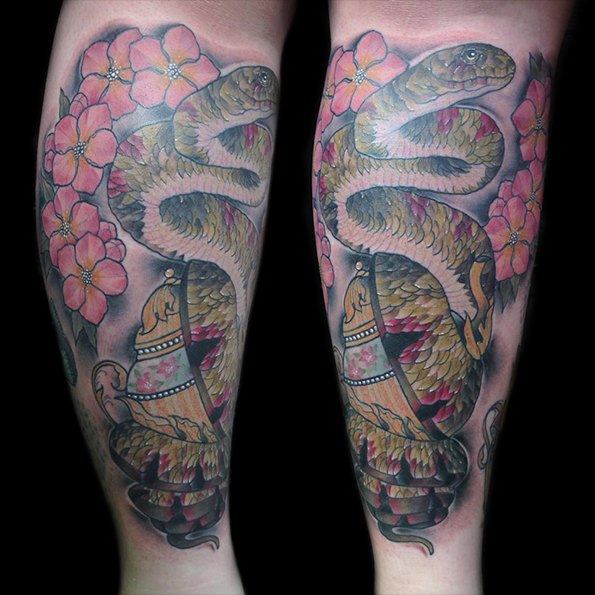 How would you describe your style? I would describe my style as detailed neo-traditional. My friend Josh tells me that I'm autistic, not artistic.
I enjoy building up lots of texture with line work, exploring movement within my subject matter and creating a piece which makes people look twice.
What influences you? What inspires you? The main things that inspire me are animals, plants, nature and jewellery. I have a huge collection of bird books and gardening books. If a stranger was to walk into my house, they would think a green-fingered old lady lived there.  I find wildlife and nature so fascinating. I regularly visit zoos, farms, garden centres and antique shops for inspiration. I'm always captivated by the silliest things, such as wild mushrooms growing in a field, a different bird siluette in the sky or hand painted pub signs.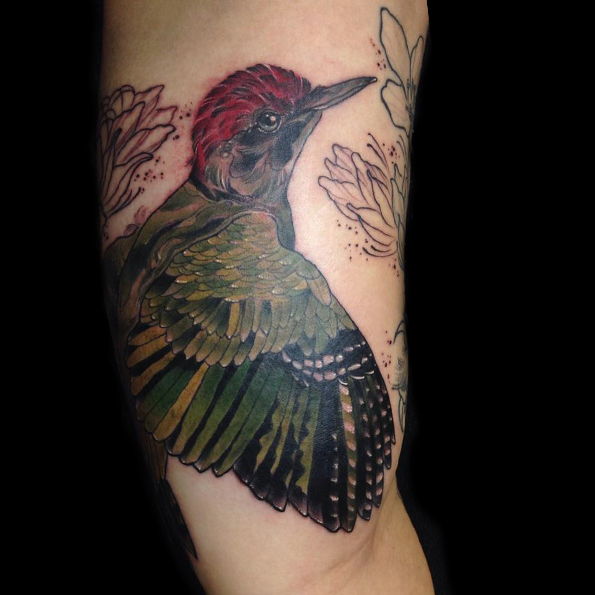 Are there any artists you admire? Salvador Dali was the first artist to truly inspire me. His surrealist film, photography and artwork was unique and pushed boundaries. Although my designs are usually far from surreal, he is still a key influence in all of my work. There are also many tattoo artist that inspire me, such as Tiny Miss Becca, Antony Flemming and Sam Clark. The neo-traditional 'scene' has so many strong artists right now. I enjoy seeing their work on my news feed every day, it encourages me to push and better myself.
What draws you to animals? Are there any subjects you would like to tattoo? My family have always rescued small animals. When I was younger we pretty much had a zoo in the back garden. My weekends were always spent mucking out hutches and handling animals.  I find animals intriguing. They can be much more intelligent, beautiful and loyal than us boring humans. Which is why I have always been drawn to them.
I love that people contact me to book in for a variety of different animals. I also don't mind taking on some of the more popular tattoo ideas; such as owls, rabbits and foxes. I enjoy the challenge of creating a new and unique design, even if I have drawn the animal many times before. I would like to take on more reptile pieces though. Don't get me wrong, I still love the fluffy things!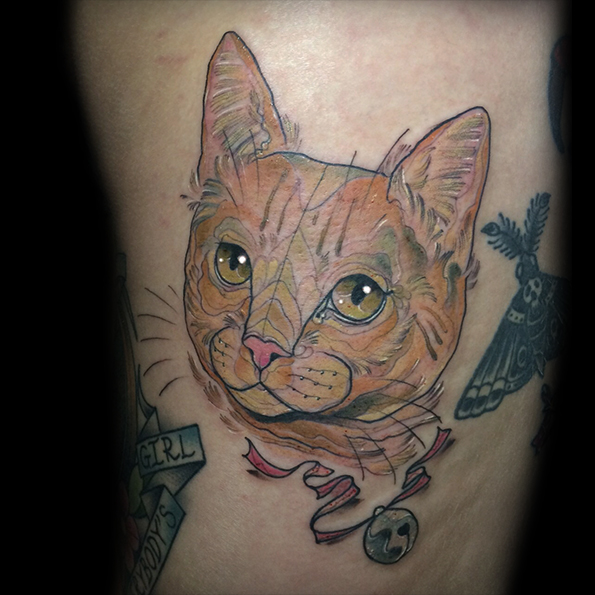 Is there anything you won't tattoo? I understand that everyone likes different things, so I try not to reject any ideas. Sometimes I help to guide them in a better direction if their ideas a bit naff though. It's not exactly a design that I wouldn't tattoo, more the placement. I get asked a lot if I've ever tattooed a willy before. The answer's no and I intend to keep it that way!
Do you have any plans for guest spots or conventions? I have lots of plans for conventions and guesties! Conventions will kick off next year all around the UK, possibly creeping outside of the UK too. As for guest spots, I guest in Essex every month for a whole week! I also guest regularly at Timeless Tattoo, Llanelli, Wales.