31-year-old Boo Tattoo, is a handpoke tattoo artist who works out of  Embody Tattoo Studio in Derby UK. We chatted to Boo about how she became a tattooist, her handpoke style and her own tattoo collection… 
Modelling, make-up and hair by: TheBodyArtist
 www.rugglez.com – (c) Matthew Craig (Rugglez) 2016
How long have you been tattooing? I started my apprenticeship at the end of 2009, so around seven years now.
How did you start? What did you do before? I had been asked to draw tattoo flash to sell and got a bit precious over my designs. I've always loved exploring different medias and decided I wanted to learn to tattoo my own designs. I couldn't really leave it alone after that! I had one tattoo apprenticeship that fell through after a month so I then opened a fair-trade gift shop selling clothes I had revamped, jewellery I had made from vintage and broken pieces and much more. I shut it down after nearly two years to start a new apprenticeship at Tradition 180 Custom Tattoo studio.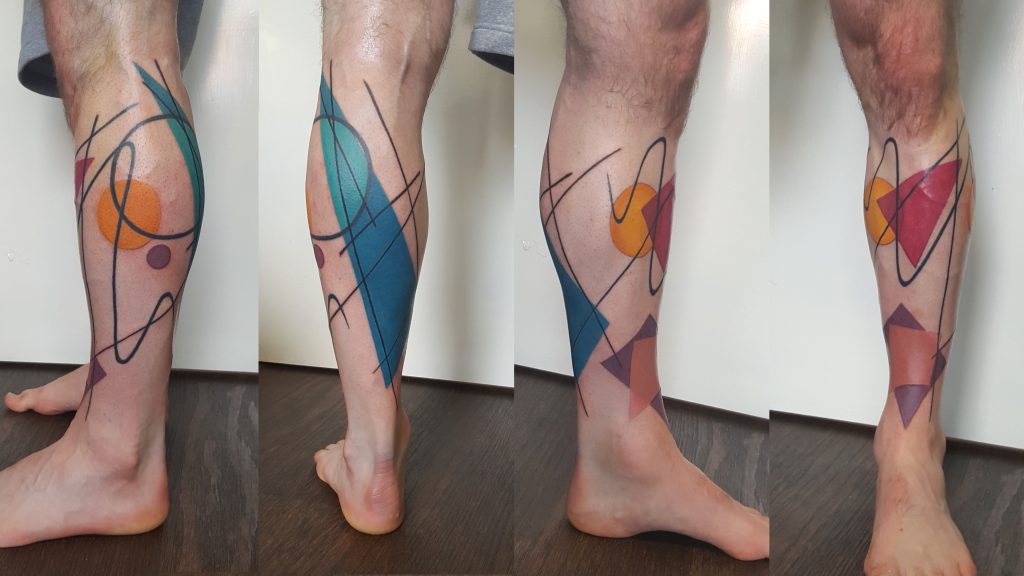 Do you have a background in art? I have always drawn! It was crazy as in my second primary school I was actually taken out of art lessons to do more spelling as I am really dyslexic. I did 3D Design for Sustainability Ba Hons, it was pretty strict and so it kept me focused and well one of my life ethos is to live by the three Rs: Reduce, Reuse, Recycle. Hence I guess why I am trying to make Embody Tattoo studio one of the first inclusive and sustainable tattoo studios in the UK. I want to minimalise our negative impact on the planet.
What drew you to the tattoo world? I very much fell in to it, I honestly thought I would be designing chairs and spoons, but I burnt through so many forms of art and so far handpoke tattooing has stuck. Every day I feel like I learn something new and I'm always looking to be better than yesterday.
How would you describe your style, has it changed? I try not to draw tattoo art and instead draw whats in my heart! I love realism but I try to make it more abstract. I love lines and I was told off a lot in art lessons for putting lines where there were none, I also love realistic forms and colour.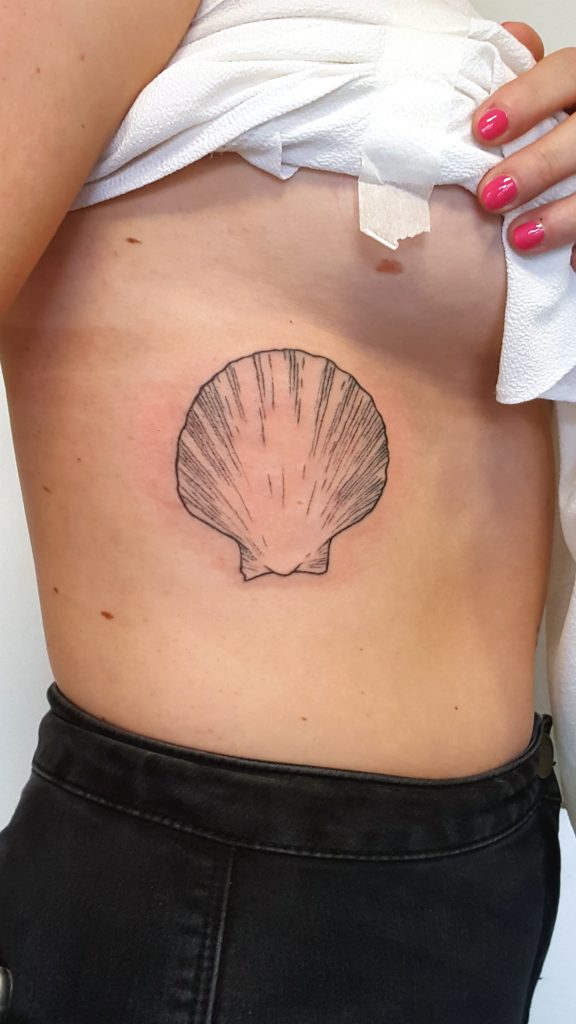 What do you like to tattoo and draw? At the moment I am trying to push handpoking as far as I can take it, so I'm loving colour blends and smooth grey shading. I love to draw things inspired by nature and incorporating symbolism, and relish encoding stories and thought into my pieces.
What inspires you? I'm interested in ancient cultures and their forms of art and symbolism, I get a lot of inspiration from there. Also the beauty of nature and our surroundings. I guess that why I also love the Art Nouveau and Art Deco movements. I often bump into things whilst looking up at either the flourishes on the tops of buildings or just the forms of the trees and skies.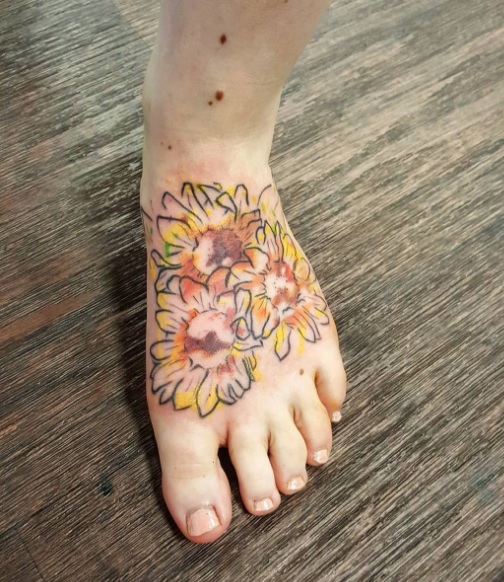 What would you love to tattoo? And what would you refuse to do? It's always amazing when someone asks for a piece of my art that I've just drawn. I love creating custom work for my clients, but its always pretty special to have someone see what comes from deep inside. I would love to do more free form and free hand work. I try not to refuse things, but to guide in a better direction, however I refuse to do anything with a hateful intent.
Do you have any guest spot or conventions planned? I do! After I have got Embody Tattoo studio running smoothly I hope to be back up in Aberdeen at Sailor Max Tattoo Parlour. I also have a few more guest spots to confirm with other studios such as Electric Lady Tattoo studio (Reading) and The Crow and Quill Tattoo studio (Southampton), so I'll be up and around the country.
The next convention I am 100% working is the Goa Tattoo Festival and you will for sure be seeing me at next years Manchester's Tattoo Tea Party and Doncaster's Tattoo Jam. I'm still waiting to confirm a few more, but you'll be certain to see me down in the south of England, across in Wales and up in Scotland.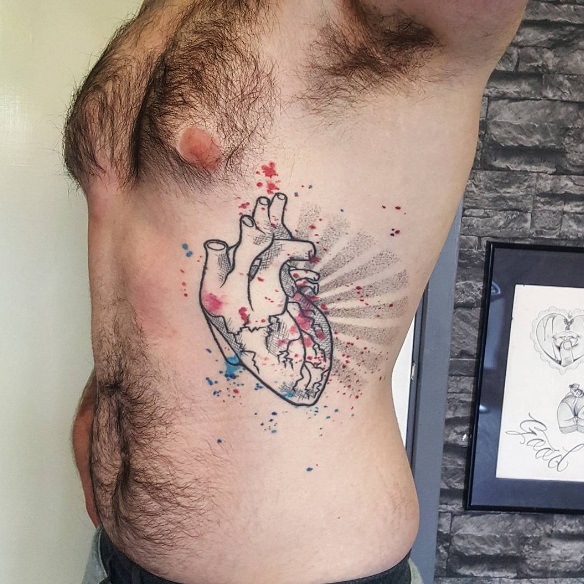 Can you tell us about your own tattoos? On my body I mostly have abstract pattern work and nature inspired pieces. My sleeve was done by the man who taught me, Adam "Starfish" Dutton and contains so much I swear seven years on I am still finding new things! My neck is by Touka Voodoo and it is based on sacred geometry and I can't wait to get it finished! I am collecting a thigh of skulls from artists I admire and love. I have Hermes wings on my feet which I handpoked myself and I have hands with peacock feathers on my left side for Hera. I also had five of my chakra points tattooed in order of the most under active, I'm yet to have my third eye and crown chakra though as I believe I'm not at that level yet. I am also collecting Swastikas in respect of ManWoman and his work trying to bring back the original meaning of the symbol, which is actually luck and good fortune!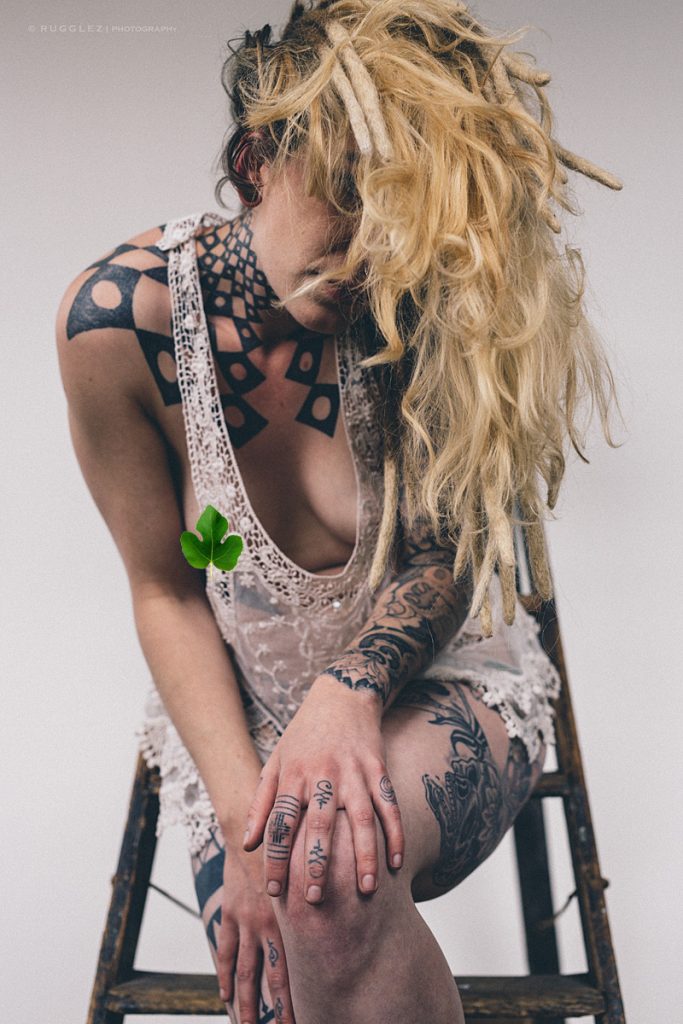 Modelling, make-up and hair by: TheBodyArtist
www.rugglez.com – (c) Matthew Craig (Rugglez) 2016