Paul Clark initially trained as a tattooist before specialising in scalp micro pigmentation and works at Brandwood Clinic. We chatted to Paul about the processes behind his work and the clients he works with…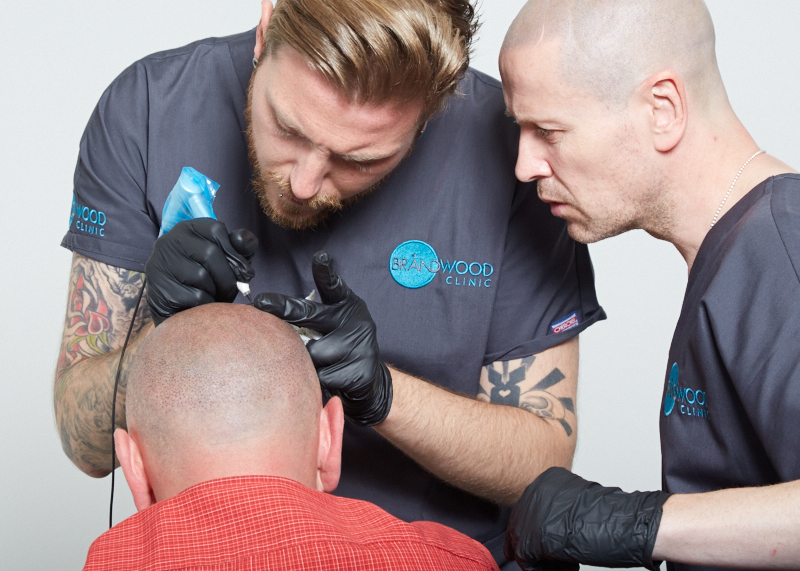 What is scalp micro pigmentation? Do you tattoo hair onto other parts of the body? Scalp Micro Pigmentation is a procedure that creates the appearance of hair using an insertion of ink and the micro-dermal level. It is (as the name suggests) mostly for the scalp but we also replicate facial hair -beards, stubble. This is particularly for alopecia but also for those who want the look of stubble without the work of keeping it trimmed or people whose natural stubble isn't dark or thick enough.
We work with other technicians who are skilled in semi-permanent make-up for eyebrows and the like. Essentially we can offer the whole package.
How does it work? What is the process? How long does it take to heal? We insert a pigment into a shallow layer of the scalp, we use thousands of impressions randomly distributed in order to replicate the appearance of hair follicles. The end effect is an appearance of hair at its shortest, we regularly describe it as the 'buzz cut' look. When working with clients who have some hair it can add density to the thinner or thinning areas, something we've done with both women and men.
It's a procedure that usually takes three sessions distributed over four weeks or more. Overall the healing process is five days from the last session, when the pigment size has reduced to appear 'as hair'. It's effectively healed when the pigment size matches the existing or previous hair follicles.
How do you match the colour? We have 70 different shade variations which get close to any hair colour. They are specifically mixed for each client. We use a special pigment which is totally organic, all plant based and suitable for vegans – very important to me as I am one!
What sorts of clients to you get? What do they ask for? Are they happy with the results? Most clients ask for a natural, realistic end-result that can't be detected easily. They are seeking the appearance of hair. It can be all ages, I've treated a 15-year-old with alopecia and a 70-year-old guy wanting his hairline back. It's many different walks-of-life: celebrities, armed forces, musicians, sportsmen. Essentially anyone who is image-conscious and doesn't want to be bald.
It often takes a long time for people to come to the decision that they want this treatment, we frequently talk to people who are on a journey and coming to terms with their hair loss. Once they've had the treatment it restores a level of self-confidence, they're liberated and feel extremely happy. It's an incredibly rewarding role to have in someone's life.
Can you tell us about your pioneering work? It's a relatively new industry, the very first procedure was probably only a decade ago. I was the first 'full-time' practitioner and have helped to train a lot of the people working in the business world-wide. The first treatments were in the straight-looking, defined hairline style and this is still something that a lot of clients like. What I've tried to do over the years is to perfect a more natural looking hairline because people's hair tends not to grow in razor-sharp lines.
One of my early clients was Simon Lane who's been on an incredible journey of his own  with scarring and hair transplants and the like. He trained as a practitioner and we've been close friends ever since.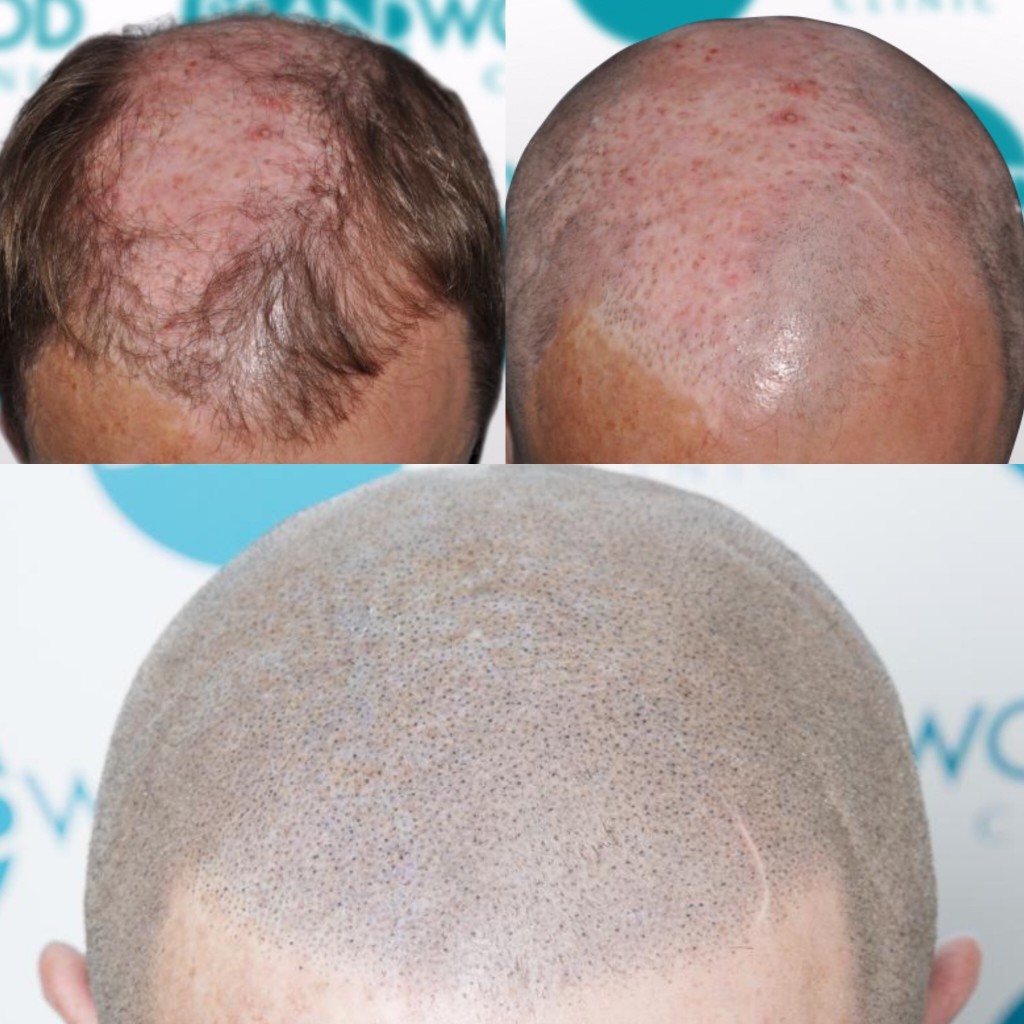 Simon's hair journey
Working together we experimented with a few different styles of hairline and definitions. We first introduced the broken hairline, moved onto the jagged and eventually the feathered look which is one of the most advanced procedures that can be performed.
When we started Brandwood Clinic we were keen to introduce a whole new method and spent a few months perfecting something we call the 3D Scatter Technique. It's a way of working, particularly with clients who still have some hair, to deliver the most realistic appearance possible. It is the most sophisticated procedure available and, at present, we're the only two practitioners who can perform it. We're naturally proud of it, as it demonstrates a great leap forward for scalp micro pigmentation.
Can you tell us about where you work? Me and Simon are at Brandwood Clinic in Solihull where we see people from all over the UK and further afield. We have a client regularly flying from Ireland and a guy coming to see us from Spain in early 2016. The whole ethos behind the clinic is that we deliver a professional service in a comfortable and clean environment. Our aim is to improve the overall respectability of Scalp Micro Pigmentation, improve standards and work towards regulation of the industry.
Costs are variable depending on many factors – what level of hair density you have remaining, whether there are scars from hair transplants or other treatments and what look you are trying to achieve. We also 'top-up' a lot of previous clients and have updated some of them to the 3D Scatter appearance.
Treatments (over three sessions) can take up to twelve hours, an average cost for a completely new treatment is in the region of £3,000.
Can you tell us about your tattooing background? How long were you a tattooist? Where did you tattoo? I did a six month apprenticeship in Birmingham. I studied art and felt that this was a natural progression but then found an opportunity with scalp micro pigmentation that didn't exist in traditional tattooing. It was a chance to really help people but also, eventually, use some of my knowledge of art and tattooing background.
I felt that I wanted to concentrate more on that and not jump between the two. I wanted to immerse myself in the technique of micro pigmentation and perfect it. Trying to tattoo at the same time would be confusing, they're different disciplines. I've treated tattooists and they've always been blown away by the work, I always felt like it justified the decision I made. I'm very passionate about scalp micro pigmentation.
Can you tell us about your tattoos?  I have quite a few tattoos, sleeve and chest area mainly and a recent one on my hand. Andy Cryztalz at Park Street Tattoo in Birmingham did the dot work and mandala on my hand, it's a great piece. I also like Dawnii at Painted Lady who did my sleeve, Mike Philip at Immortal Ink did my chest, all great artists. In the new year I will be starting on my other arm!