Our guest blogger is Natalie McCreesh aka Pearl, a fashion lecturer, freelance writer and creator of Fashion Pearls of Wisdom. In this post she'll be talking about her decision to not cover her tattoos at her graduation ceremony… 
This summer I had the opportunity to don academic robes for the graduation ceremonies at the university where I work. I gained a PhD in Biochemistry (textile and fibre analysis should you be intrigued) in 2010 however this was the first time since then I would wear my robes, this time to watch my own students graduate. Graduation ceremonies are filled with tradition and seen as formal affairs, dress code is generally smart and conservative. For my own graduations I'd worn smart basics such as a blouse and pencil skirt with some cool shoes for a bit of personality. There is also the practicalities of wearing the gown to consider, they were designed to be worn by men in suits, the hood looping around a shirt button to secure it. Thus wearing it over a dress can cause it to slip around. That said in the 11 years since my first graduation things have changed, the dress code is more about what the students see as 'their best' which can be anything from evening gowns to party dresses, t-shirts under blazers and so on. No matter the changing styles it's an occasion to get dressed up and of course celebrate these amazing achievements.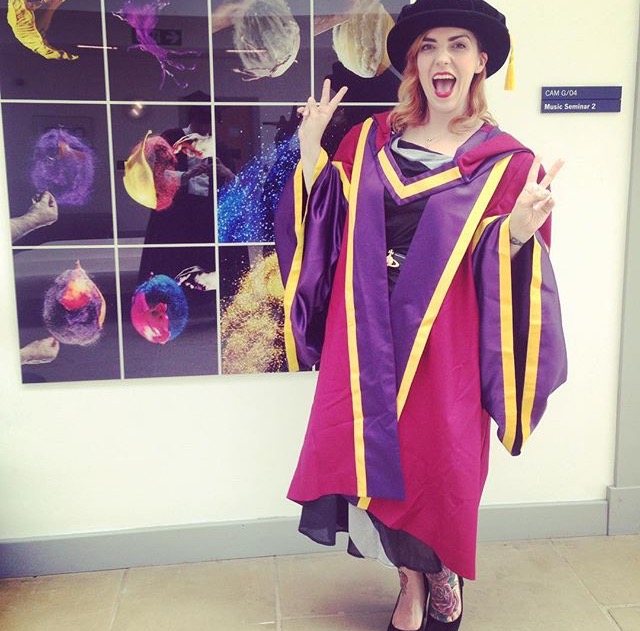 I'd planned to wear a shirt with loose tapered trousers due to the afore mentioned practicalities, however the day turned out to be a scorcher (robes are heavy and hot at the best of times) so I just threw on a light summer dress, one I wear for work often, instead without much thought other than to make sure I found some safety pins to avoid being strangled by my gown's hood.
It was only upon putting on the gown and looking at myself in the mirror did it occur to me I should perhaps put on tights to cover my tattoos. As I said these ceremonies are formal affairs. I'm lucky enough to be given the freedom at work to wear whatever I want. As it happens you can't really see my tattoos with what I wear to work due to the fact I dress in what I deem appropriate – I wouldn't wear backless dresses or shorts to work say. What I do tend to wear are calf length dresses with jackets, so in the warmer months you can see the tattoos on my lower legs and feet. If anything my tattoos have only brought positive reactions. Although this hasn't been the case in previous jobs, it has never been a problem for me to cover my tattoos if requested, I think it would be ignorant not to acknowledge the fact there is still very much a stigma around tattoos. Many of my students are tattooed and they are always encouraged to express themselves however they wish, there is no dress code per say for them.
So what made me decide to keep my tattoos visible on this day? It was actually something a friend had said to me 'look at you with all your education and your tattoos' and I thought yeah, just look at me, because it really doesn't matter if you have tattoos or not and we need to break those boundaries. I'm not encouraging anyone to get tattooed, that's personal choice, but I am in a position to help break the negative stigma attached to tattoos and that I feel is an important place to be.