Our guest blogger is 34-year-old  Southsea creative Alanna Lauren, founder of RubyxRedxHeart. She chatted to Natalie Watts and Fox Xoft founders of Sick Girls an online store which sells creepily cool  prints and accessories, about how they met, what inspires them and their tattoos… 
Tell me a bit about yourselves! How long have you gals known each other and what was the inspiration behind sickgirlsofficial.com?
Fox: We're both freelance illustrators from Toronto, Canada who graduated from OCAD University in 2012. We weren't friends right away though. Eventually we bonded over Keyboard Cat, because remember that used to be a thing?
Natalie: We met in second year, some bogus computer class, it was supposed to teach us how to make a website, but clearly I learned nothing.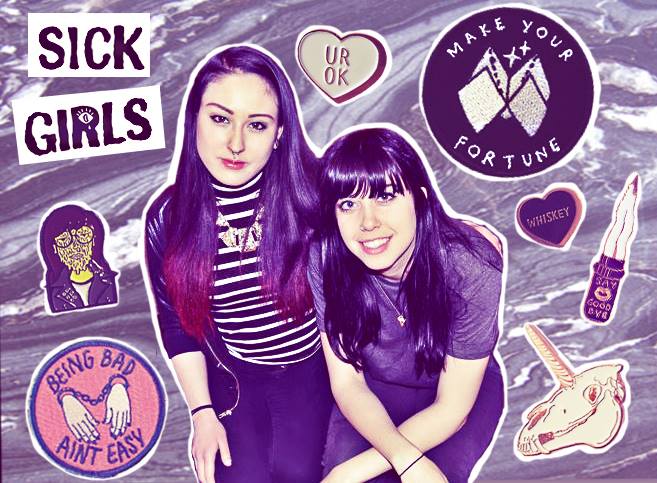 Fox: SadGirls started off because I used to be really into making zines at the time and Nat and I had a graphic novel class together and liked each other's work. We decided to do a zine based on bad ass babes.  I think we were vicariously living through our work and creating the world we actually wanted to inhabit, because in reality we were VERY poor, eating A LOT of ramen, while our tears bled the ink on our mountains of school assignments. Fast forward to three years later and basically we just got our shit together and shifted our medium from viewable art to a wearable product with a similar intent.
Can you tell us about your tattoos? 
Fox: I'm in love with Alex Snelgrove's work. She did the black woodcut flowers on both of my arms. Last month she did a woodcut Pegasus on my hip because I've been obsessed with Greek mythology for as long as I can remember. Those ones are amazing, but I'll always have a soft spot for the stick-n-poke on my ankle done by the talented Open Entity, which is a drawing of the welcome mat on the door to Hell that Natalie drew as flash art. Because Nat is MLC (Major League Complainer) and has that WAH tattoo, I started calling her "Wahwah" or "Wahtalie" a while ago and it stuck.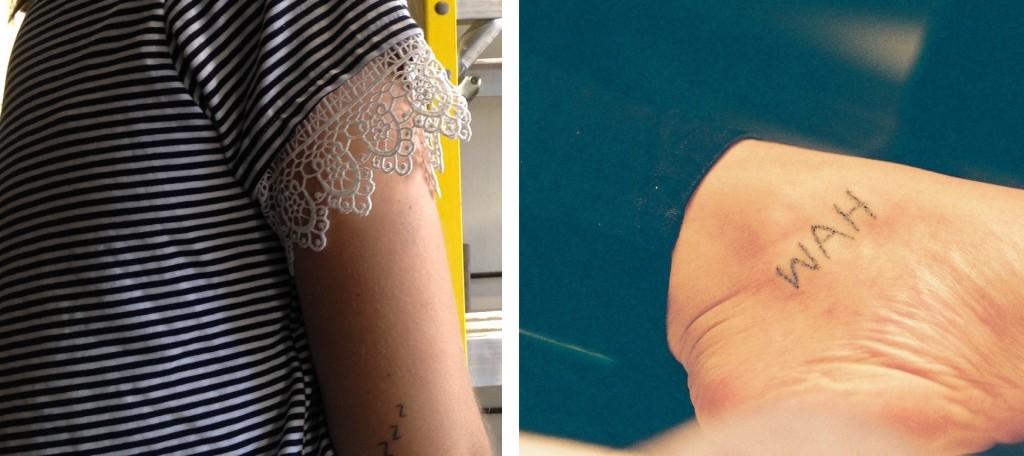 Natalie: I have one tattoo I had done when I was 18 somewhere in Oshawa that is of a Welsh Dragon and then two that are stick-n-pokes. One of them was done by Open Entityand of just 'zzz' on the back of my arm, and the other on my ankle by a guy I was seeing – which is probably my favourite one – of the letters 'WAH'… because I like sleeping and complaining.
What's in a name? Who came up with sickgirlsofficial.com and what does it mean to you?
Natalie: I came up with the name Sick Girls one night while we were drawing, the name describes our style of art and ultimately it's just who we are… I like the idea of being an outsider, and I like illustrating really gross shit. I am very shy, and have a hard time expressing my thoughts; I'm also a huge mumbler. I like the idea of being able to express myself through my illustrations. Sick Girls is a unisex brand, but definitely caters towards more females who want it to be known that they aren't just your average girl. Pretty flowers and kitties? BORING! Slime and barf coming out of your eye sockets? Now that's more like it!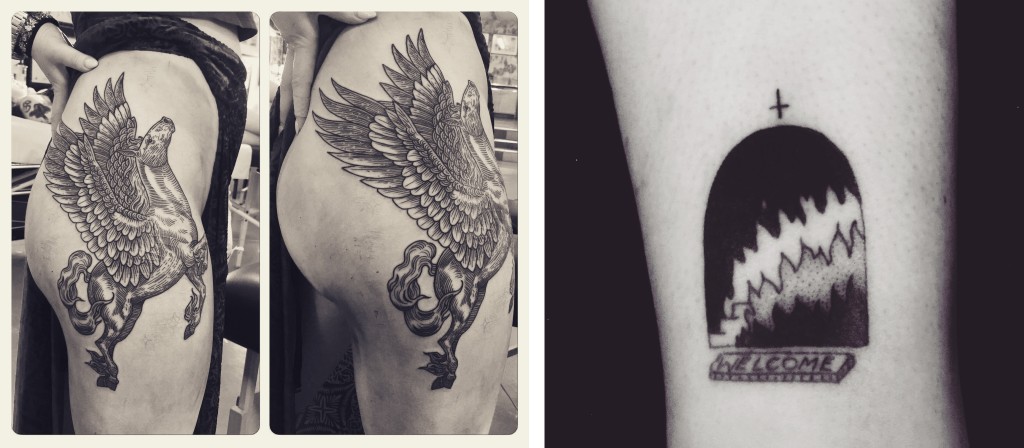 What took you down the patches and pins route to showcase your designs?
Natalie: At first we didn't have any patches or enamel lapel pins, for our first pop-up shop we began making Sculpey candy pins and necklaces, which were entirely handmade. I was also producing ShrinkyDink pins, which I still make today, but is time consuming and labour intensive. Once we started getting noticed on Instagram and making more sales, it was hard to keep up with producing all handmade items, so we started designing lapel pins and patches that we can get mass produced.
Fox: Patches and pins are great because they can add personality to a plain old bag or denim jacket. You can customize or make a statement on articles of clothing you already have. It's great because everyone has their own collection that tells a story or says something about their personal aesthetic. I have my own pin collection on my bag, and I'm stoked every time I add a new pin because it's another brand/artist I admire.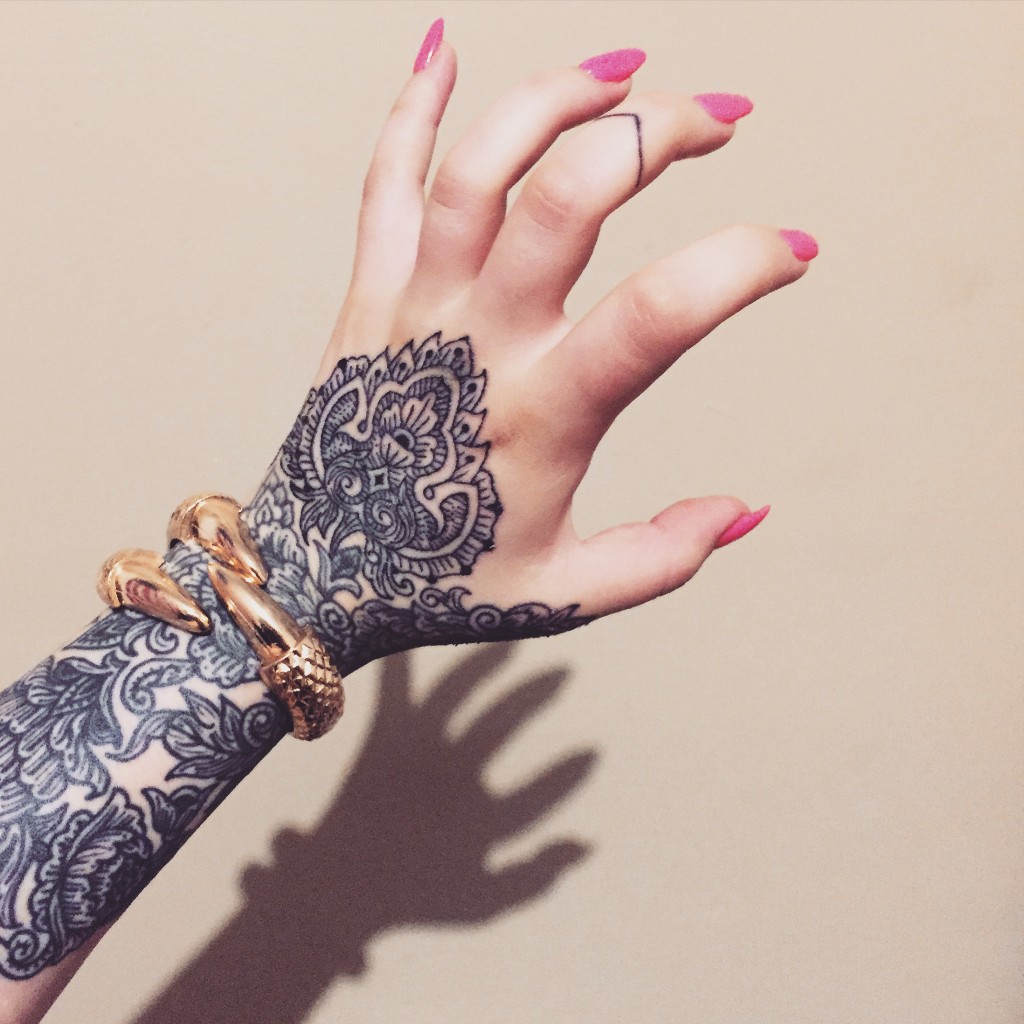 sickgirlsofficial.com has a strong message for women. What does it mean to be part of the 'sick girls club'?
Natalie: For me, it's just not really giving a fuck, like what you want, even if it's not the norm. I mean I like drawing stuff that gets me excited, and I get excited by drawing gross shit. I'm happy that other people enjoy it too.
Fox: We're all about being tough, never giving up and in general not giving a fuck if other people tell you you're not good enough. We're "sick girls" because we don't have a "typical girl" image to promote. Being 'girly' or 'feminine' isn't a fault by any means, but we've always balanced the feminine imagery with things that were gross, disgusting, and visceral. Even though "girls" is in the name, the brand is unisex though obviously some products cater more to the ladies.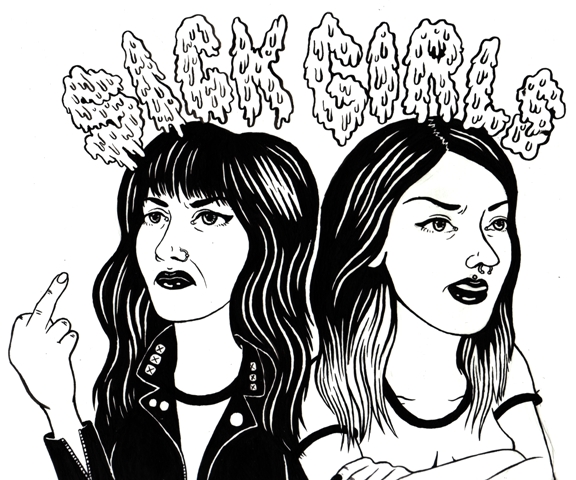 What does the future hold for sickgirlsofficial.com?
Fox: We're working on the wholesale game right now. We're still selling products individually from our online store, but we're starting to sell wholesale to shops worldwide. So far our merch is available in stores in Toronto and Ottawa and few cities in the USA. Next THE WORLD.
Natalie: I'd really like for Sick Girls to take off, I think in order for that to happen we just need to keep creating as much as possible. We've been discussing some collaborations with other companies, as well as working with a large design label, which will be using one of our products on their next spring/summer line. We seem to be getting more and more interest from stores to stock our products each month. It's crazy to see how far we've come in less than a year, I think things just seem to be getting better with each passing month and can't wait to see what happens!