Things&Ink present:
THE ARCHIVE
THURSDAY 31 MARCH 2016 6pm-late
at THE CIRCLE, 21 NOEL STREET, LONDON, W1F 8GP
 An exhibition of Things&Ink covers turned into original works of art by people who have graced the pages of the magazine over the years…
Things&Ink is delighted to announce The Archive, a group exhibition celebrating more than three years, and 12 issues, of Things&Ink by inviting artists who have contributed to the magazine to turn back issues into original works of art. Opening on Thursday 31 March, and running for two weeks, at The Circle, in London's Soho, to raise awareness for The One Love Project, with profits from sales being donated to the project that helps under-privileged children in Pushkar India.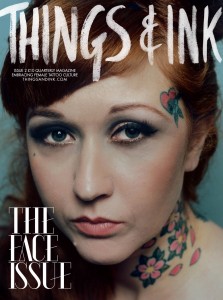 The original face issue cover, published in February 2013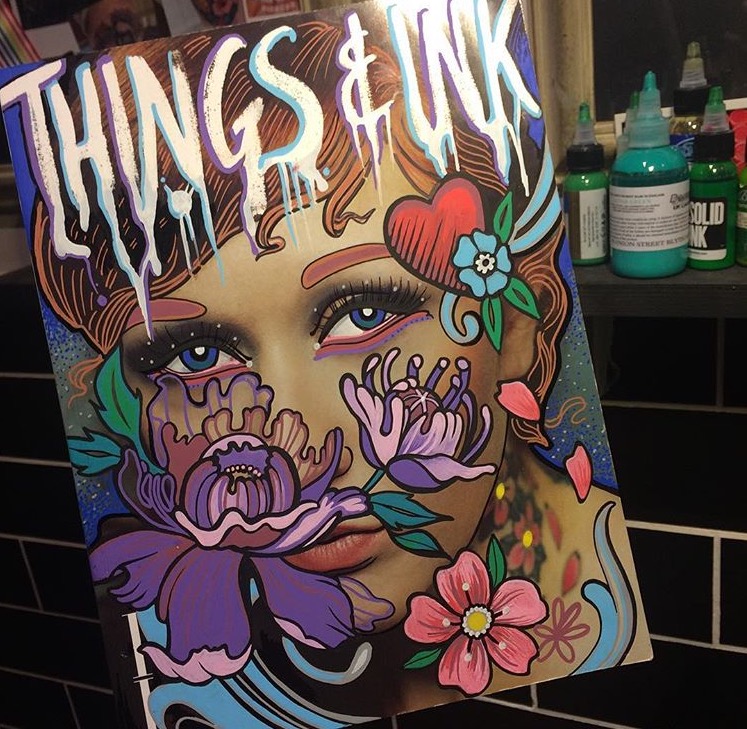 The Face Issue decorated by Abbie Williams
The Archive will showcase the breadth and variety of artistic talent within the  tattoo community. With more than 120 contributing artists from across the globe, each of the covers will be auctioned off in a silent auction that will run across the course of the exhibition, with bids starting at just £6.95 – the retail price of the magazine.
Never afraid to approach taboo subjects such as DIY and facial tattoos, Things&Ink have published 12 issues to date and each has had a specific theme, covering art, love, history and even fruit. Turning tattoo media on its head and moving away from a more sexist model, Things&Ink promotes body confidence and self acceptance by featuring inspirational people such as tattooed bearded lady Harnaam Kaur. Its aim has been to celebrate tattoo history, give inspiration through high-end photo shoots and provide commentary on current tattoo culture, The Archive will celebrate this by bringing together everyone who has featured on its pages.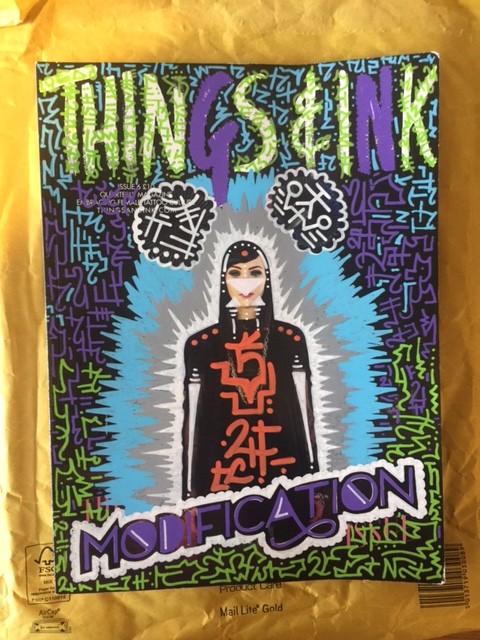 The Modification Issue, decorated by its cover star Grace Neutral
Each contributing artist has been sent a back issue at random, and there is no brief. They simply have to turn the cover of the magazine into an original work of art by using a medium of their choice.
The exhibition will run from Thursday 31 March until Sunday 17 April, and the artwork will be on display at The Circle for the course if it. There will also be a flash day on a date to be confirmed, with tattoos by two of Things&Ink's favourite cover stars Grace Neutral (The Modification Issue) and Emily Johnston (The Horror Issue).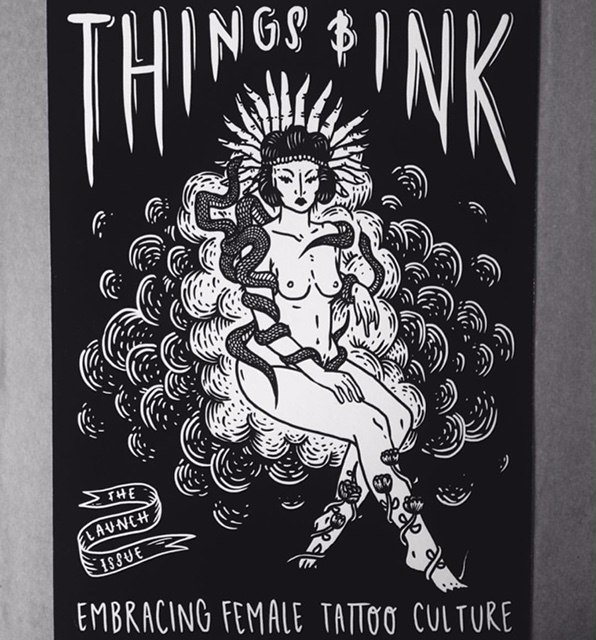 The Launch Issue, decorated by Nina Waldron
" The archive event is going to be the first time that all of our favourite artists we have ever featured have participated in an exhibition together and I cannot wait to see what our front covers become after they have been transformed into original pieces of art.  The Things & Ink journey wouldn't have been anything without the help and support of all the amazing contributors and we are eternally grateful." Keely Reichardt, Project Manager of The Archive
LIST OF EXHIBITING ARTISTS: Cally Jo, Grace Neutral, Jondix, Bob Done, Rik Lee, Ashley Love, Shane Ivezic, Susanne Konig, Frederico Rabelo, Lianne Moule, Guy Le Tatooer, Mike Tea, James Hate, Robert A Borbas, Saschi McCormack, Antoine Larrey, Tina Lugo, Deno, Flo Nuttall, Rachel Baldwin, Brian Wilson, Emily Johnston, Claudia de Sabe, Drew Linden
PLUS many more artists to be announced…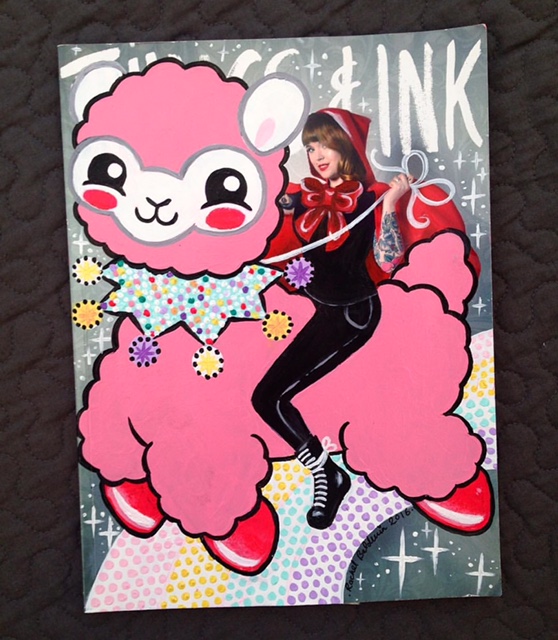 The Love Issue, decorated by its cover star Rachel Baldwin