We chat to Tiggen, 19-year-old retail assistant manager and blogger, from London about her blog, fashion style and collection of blackwork tattoos…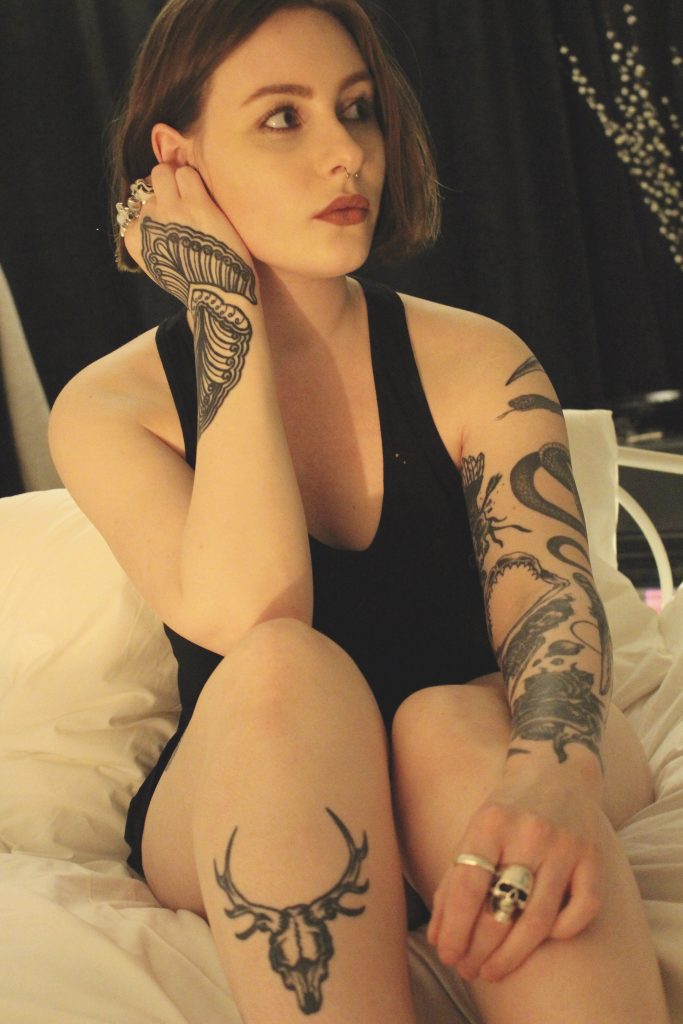 When did you start blogging, how did you get into it? I first started blogging last March, however I'd been building up the confidence to start for about a year by that point. After following and admiring many other bloggers online, I wanted to try it out for myself. It was something I'd always thought about pursuing but initially I had to push myself into writing my first post.
What kind of things do you blog about? Typically, I enjoy blogging about personal style, as it's something that is unique to everyone and so closely linked to self image. I find issues around body image, and how we view ourselves and others, to be very interesting and I plan on writing more about that in the future. Other topics I blog about are lifestyle, beauty and London.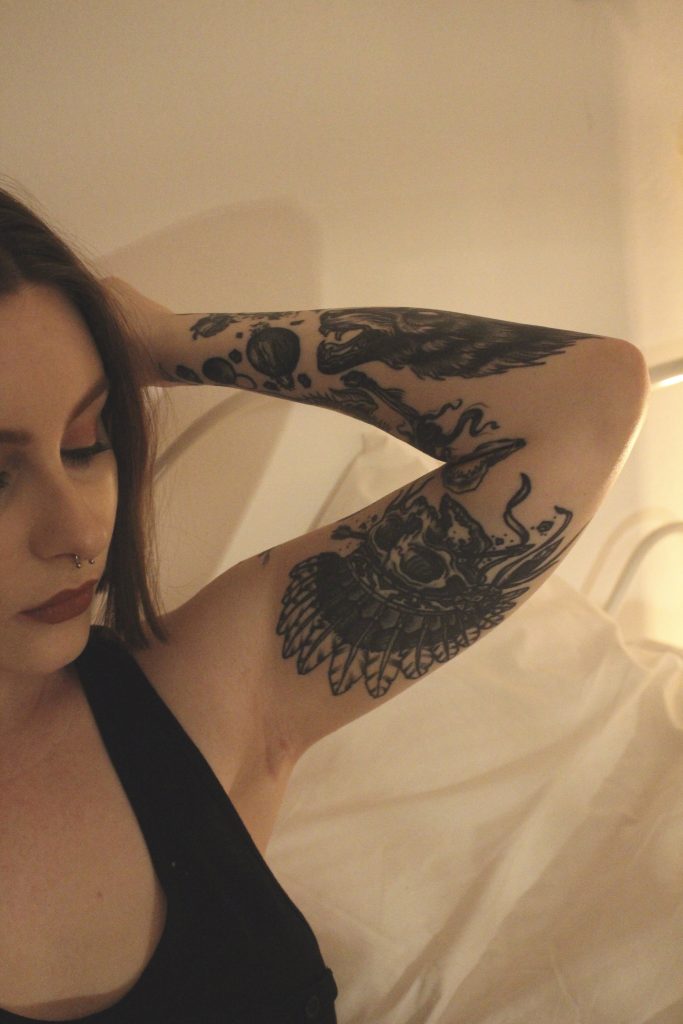 How would you describe your style? My style is very minimalist. I only wear black and white, with one exception of a brown jacket. As my colour plate is so simplistic I tend to focus on the quality of the material over anything else. I would say I dress quite casually on a day to day basis, I'm nearly always wearing my leather jacket.
What inspires you? I take inspiration from people watching, seeing the variation of street style and how people present themselves. London is such a diverse city and full of so many interesting people that I can't help but feel inspired.
Do you have a favourite, artist, designer or musician, or someone else that you admire? I wouldn't say there was just one person in particular that I admire, there are so many people that I look up to. Social media plays a part as it allows you to glimpse into people's lives, to respect what they're feeling and going through. To name a couple that I follow on Instagram:  @jayrosetattoo @acornandauger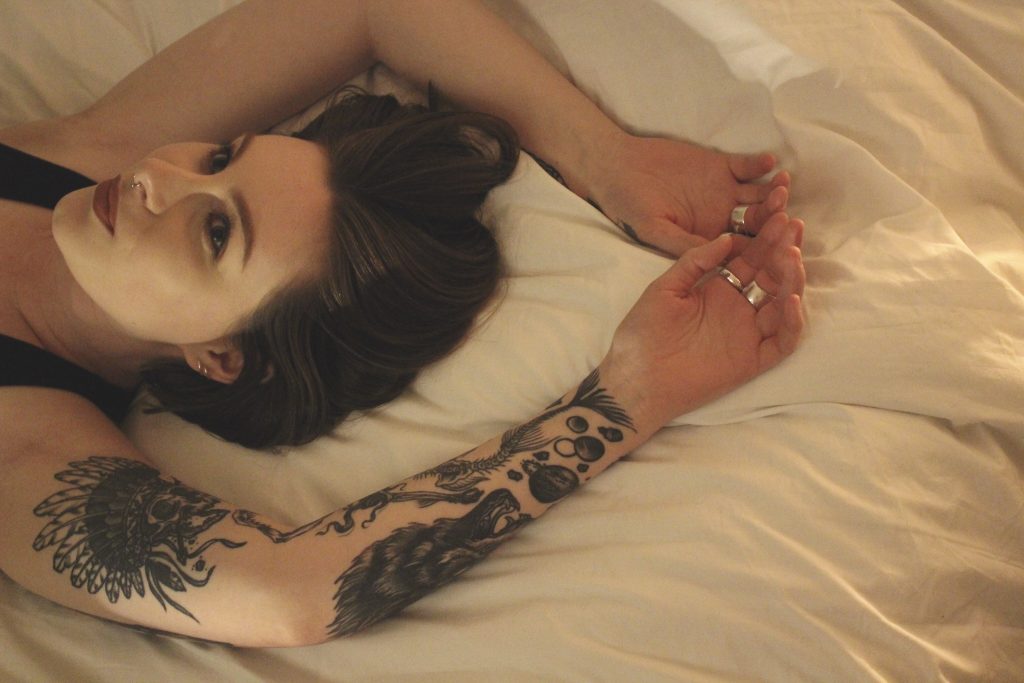 When did you get your first tattoo? Do you still love it? I got my first tattoo the day after I turned 18, it was only small but I was extremely happy to finally have one. Sometimes I forget it's even there now that I have many more, but I still like it.
Tell us about your tattoos? Do they help you to see you body differently, do they inspire confidence? Each time I get a tattoo it instills more confidence in me and makes me feel at home in my own skin. They don't feel like an addition, more as though they were there all along just under the surface and now they're revealed. To me getting a new one is not only a physical change but a mental one, they help me to see my body differently and to boost my self image. I find them empowering. Much like my personal style I only have blackwork pieces, they range from illustrative style to more mehndi buddhist pieces.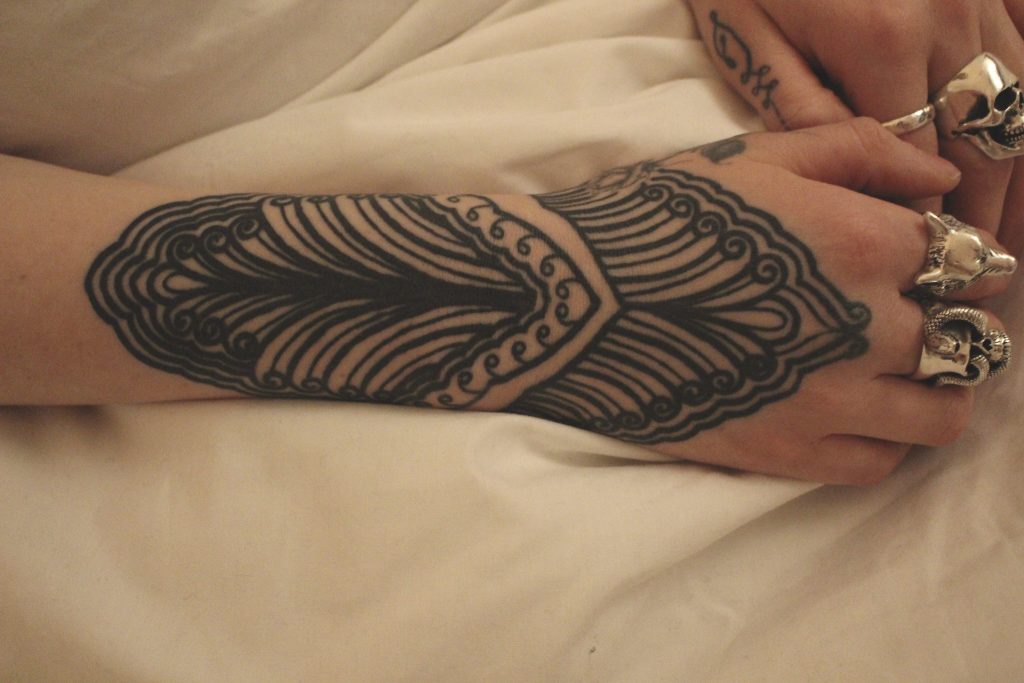 Do you have any future tattoo plans? I have a habit of planning very far ahead in regard to tattoos. I've carefully thought about what I'm going to get and where, most of my body is already planned out. Next on my list is to get my other hand done.
Do you consider yourself a tattoo collector? Without a doubt. I enjoy collecting tattoos and meeting new tattoo artists. I'm hoping to travel to get a lot of them done, it's all part of the experience. The beautiful thing about collecting tattoos is having artwork on your own skin that you can admire everyday and carry with you.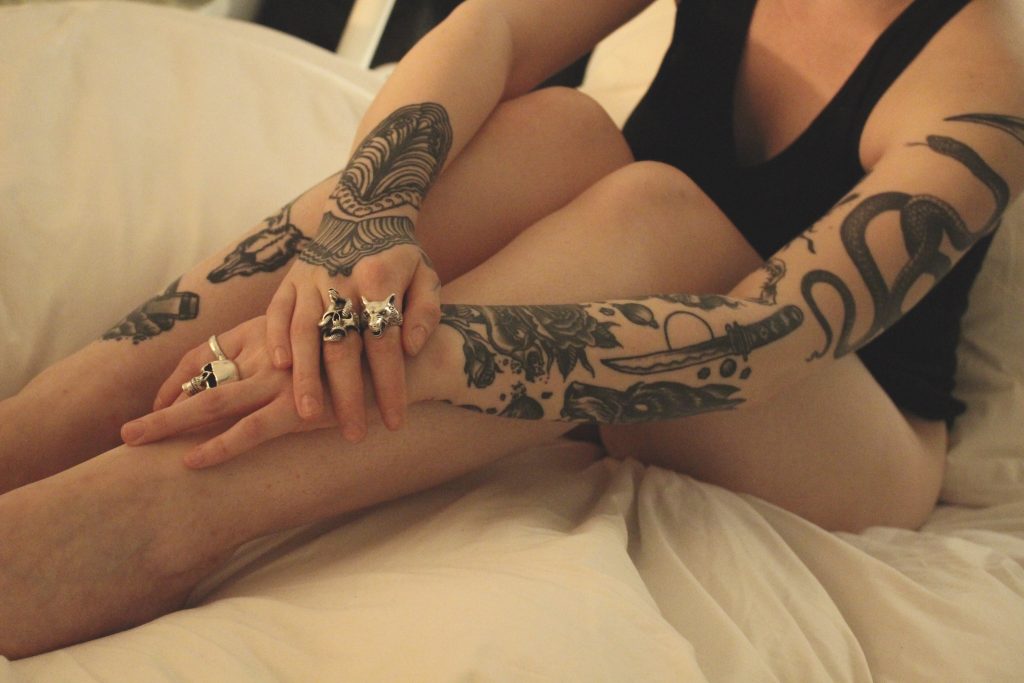 What kinds of reactions do your tattoos get? Luckily most of the reactions I receive are positive, whether from friends and family or strangers. However, there are occasions when people  make derogatory remarks or invade my personal space to try and touch my tattoos. In the end though they're on my body, so the only thing that truly matters is how they make me feel.