Our guest writer, digital marketing executive and traditional tattoo fan 21-year-old Poppy Ingham, talks to Nicholas York about his humble beginnings and the work he does out of Dark Age Tattoo in Denton, Texas…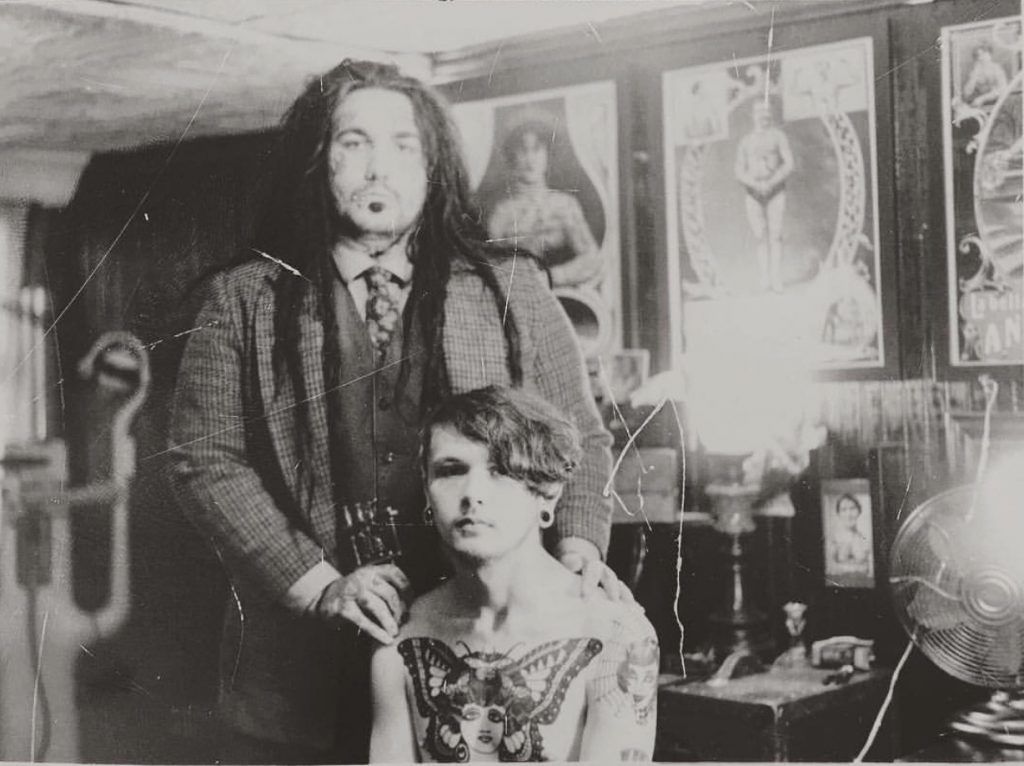 21-year-old Nicholas York is customarily cited as Professor York, in a nod to the likes of Samuel O'Reilly, the dubbed King of the Bowery tattooers, who adopted the "professor" epithet. He has been tattooing since he was 15 and although this might not be the licit way of entering the tattoo world, Nick received his first tattoo machines two months before starting high school. Coupled with a power supply purchased with his earnings from a part-time job, Nick began tattooing classmates and anyone who was willing. 
Fast forward five years, give or take, Nick is now embodying the definition of "world class electric tattooing", producing nostalgic tattoos and paintings that ring true to the early 1900s.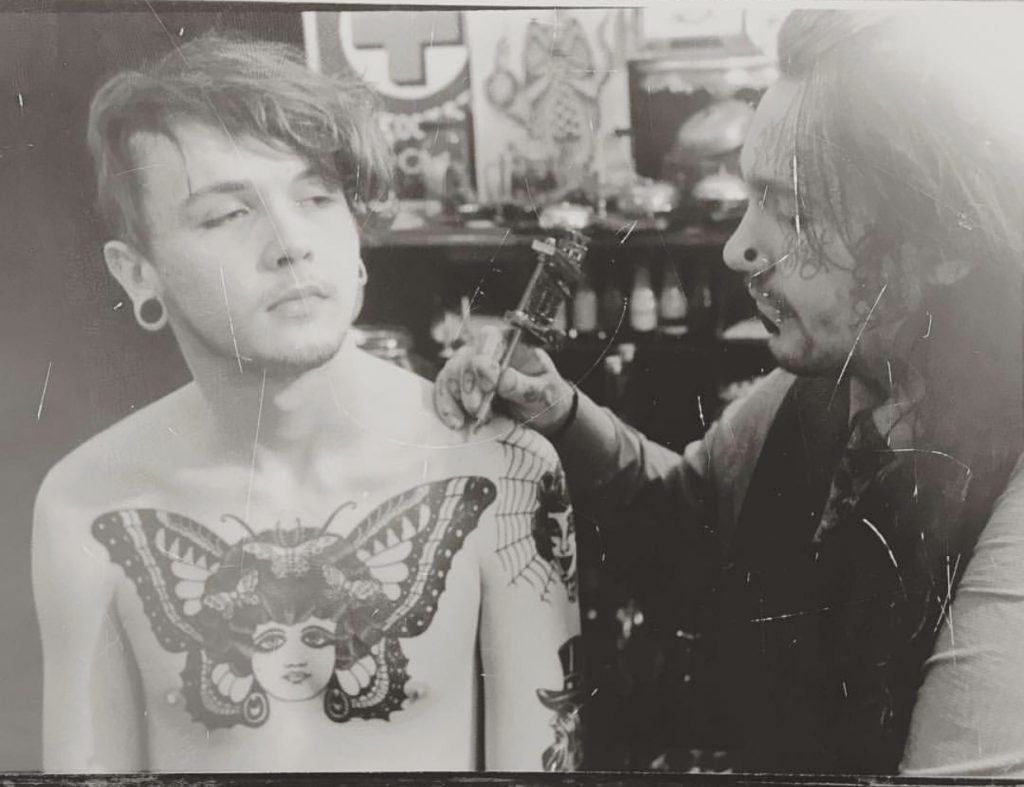 What first inspired you to take on tattooing, especially at such a young age? I was in eighth grade at a school for kids with behavioural problems, and I started seeing some of the kids in my class get small tattoos. After I saw that you could get tattooed underage, I got my first tattoo at 14. The tattooist who did it was different from the guy who was tattooing the other kids, he approached me at the public library and asked if I wanted to get tattooed. Just a of couple days later I was in his apartment after school getting a tribal design that I had drawn.
I started tattooing a couple months after my first tattoo. In between the time of my first tattoo and the first tattoo I did, I had gotten my neck and my chest tattooed and started working on my arms. I was 15 when I got my throat tattooed. The throat tattoo was what made me start thinking about pursuing a career in tattooing. I knew I had found the job for me, when I found out that all you had to do was buy a kit online and do it out of your house. I started getting good and I was starting to feel hopeful about my choice.
My mom always knew about my tattooing and watched me do my first couple the day I got my kit. She was always supportive, because my dad was a tattooist, although I didn't grow up with him (he went to prison when I was two). Over the years, he'd send drawings and paintings, but at the time, I was too young to realise they were tattoo designs that he had tattooed on people in prison.
My dad tattooed before he went to prison in the 1990s in downtown Dallas. He painted cars before he was a tattooist so it was a natural transition. Then he met my mom and stopped tattooing for a bit. He picked it back up when he went to prison a couple years later. I've seen a lot of his work and I hold onto all the paintings he sends me now. He is, in my honest opinion, one of the best black and grey tattooers out there. He does extremely smooth tattooing with a 90s twist. He really hasn't gotten to see just how much tattooing has evolved since he has been locked away, except for the tattoos that he sees on me when I visit him.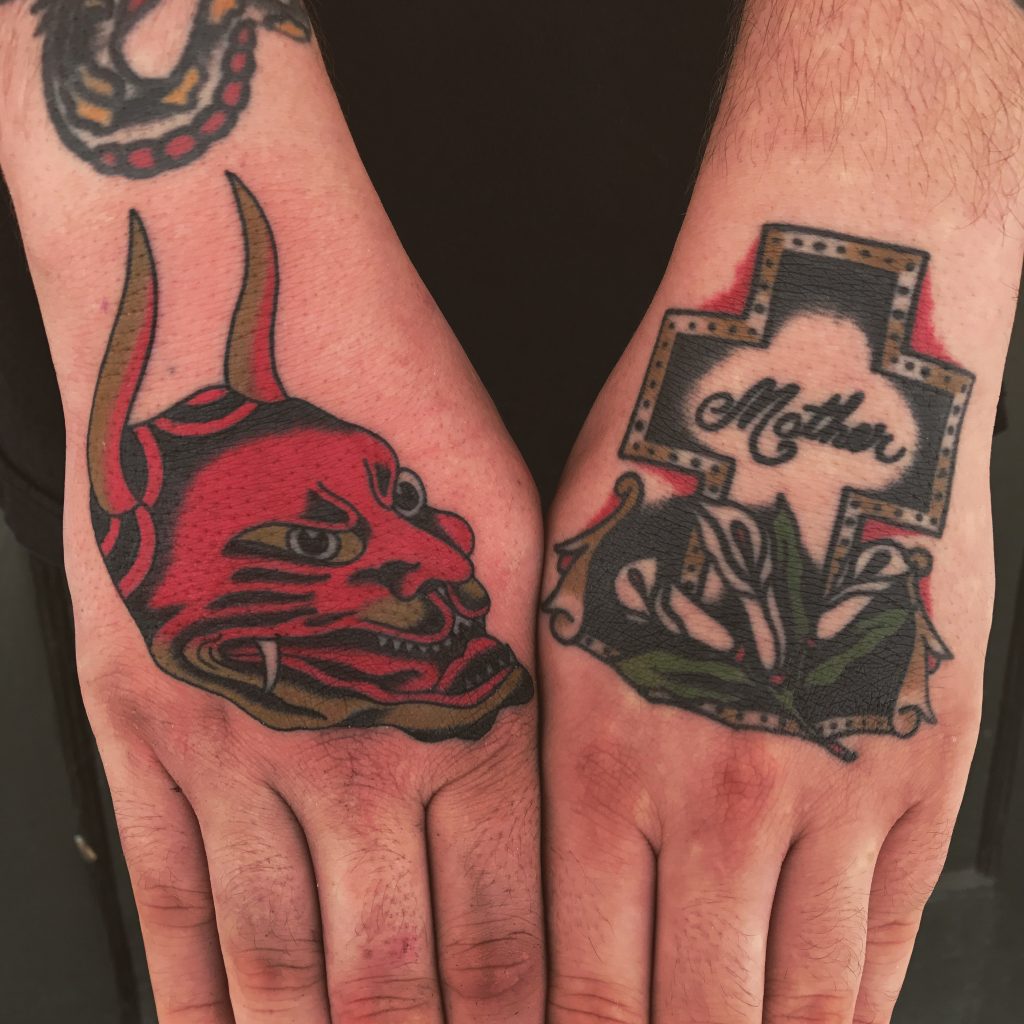 Have you always wanted to tattoo in the traditional style, or did you experiment with a number of styles before settling on it? When I first started tattooing, I was doing a very new school style and everything was extremely colourful and cartoony. I was hanging around with an old tattooist named Sneaker and he had a big influence on my style and technical application. Over the years, my tattooing evolved into a more neo-traditional style thanks to a guy I worked with named Rene. He did some of the best neo-traditional tattoos I had ever seen up until that point. Rene told me I needed to simplify my designs and stop using so many colours. He told me I couldn't do traditional tattoos because I always complicated my tattoos so much, so to challenge him, I did a traditional tattoo. From that one tattoo I realised that I was missing out on what I was meant to be doing.
Thinking along the lines of Rock Of Ages, Belle Of The Plains etc, what are some iconic pieces of art that you never get tired of recreating? Easily one of my favourite iconic images is the Rose of No Man's Land. I always love seeing renditions of it. I also really enjoy dragons; they're always big and impressive. And, of course, the Rock of Ages is always a classic.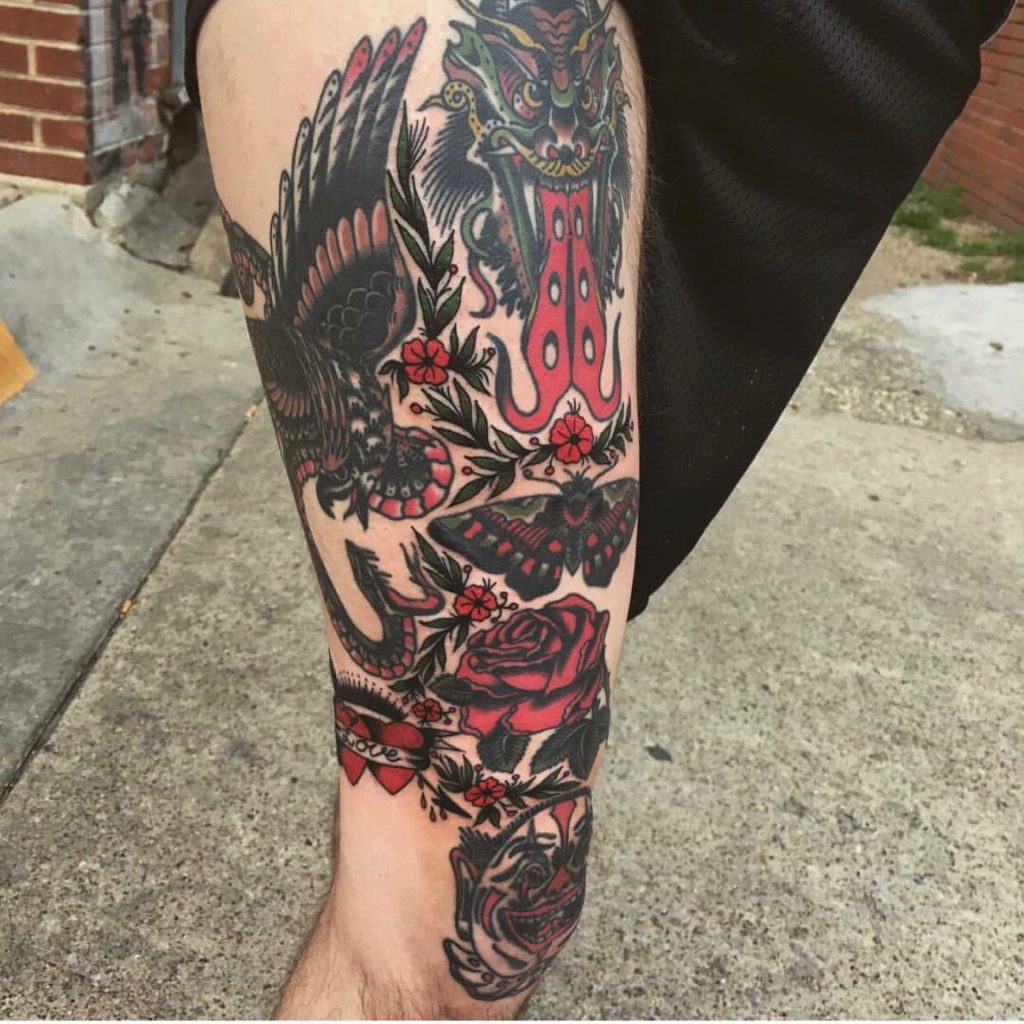 Do you find that younger people (our age) are aware and appreciative of traditional tattooing, or do you feel like there is more demand for other styles? I think young people really dig the designs of classic traditional tattooing, but I don't think they care for the history. The history posts I make [on Instagram] never get as many likes as the flash posts. I understand, though – not everyone has the attention span or appreciation for history.
Who, in particular from the past, do you admire and why? I'm a big fan of George Burchett. He encompasses everything I love about turn-of-the-century tattooing and has some of the best paintings I've ever seen! When I started tattooing in the style I do now, George Burchett was a big influence. My stuff doesn't look like his that much, but if you know your stuff you can see small hints of it. I'm also interested in the early Bowery tattooers of New York. Samuel O'Reilly and his contemporaries have a certain mystery about them. We only understand a small fraction of their life, while we have a decent amount of George Burchett's history.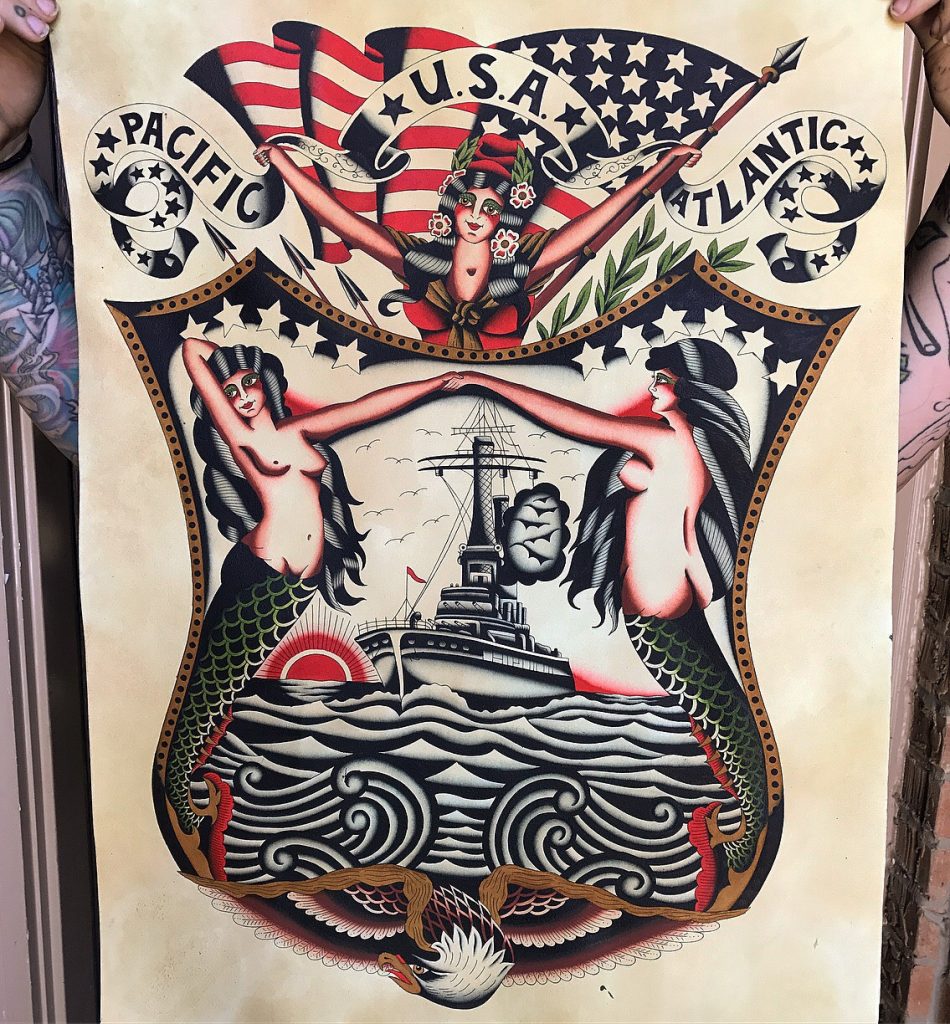 Where do you gather information and history on the tattooists of the past? I get all my knowledge of tattoo history from books I buy, websites like http://www.buzzworthytattoo.com and just speaking to and being friends with as many tattoo historians as I can. I am no historian myself, and I don't add any unknown insight and I have not made any new discoveries, like some of the other historians that I look up to, I'm just a big fan of history and love to learn as much as I can about my craft. I do happen to have a good eye and have found many great bits of history in photographs that have been looked over before.
For people wanting to explore authentic traditional tattoos in 2017 and beyond, can you recommend any modern-day tattooers who you applaud? There are too many to name but those are just a few that come to my mind and I think they each are very true to the essence of traditional tattooing. I'm extremely proud I can call all of these tattooers my friends and contemporaries: