Black Tattoo Art II 
Modern Expressions of the Tribal
As a lover of traditional and colourful tattoos, I approached Marisa Kakoulas' (editor of needlesandsins.com) hefty coffee table book Black Tattoo Art, feeling like I was about to step onto unknown soil. My sense of unease was unwarranted, though, and as I delved into the pages of the book, I was transported into a monotone world of pure beauty. I was introduced to the work of masters – Roxx, Delphine Noiztoy, Loic aka Xoil and Simone Pfaff – each artist converting me to the dark side, my colourful collection of tattoos may have some black additions soon.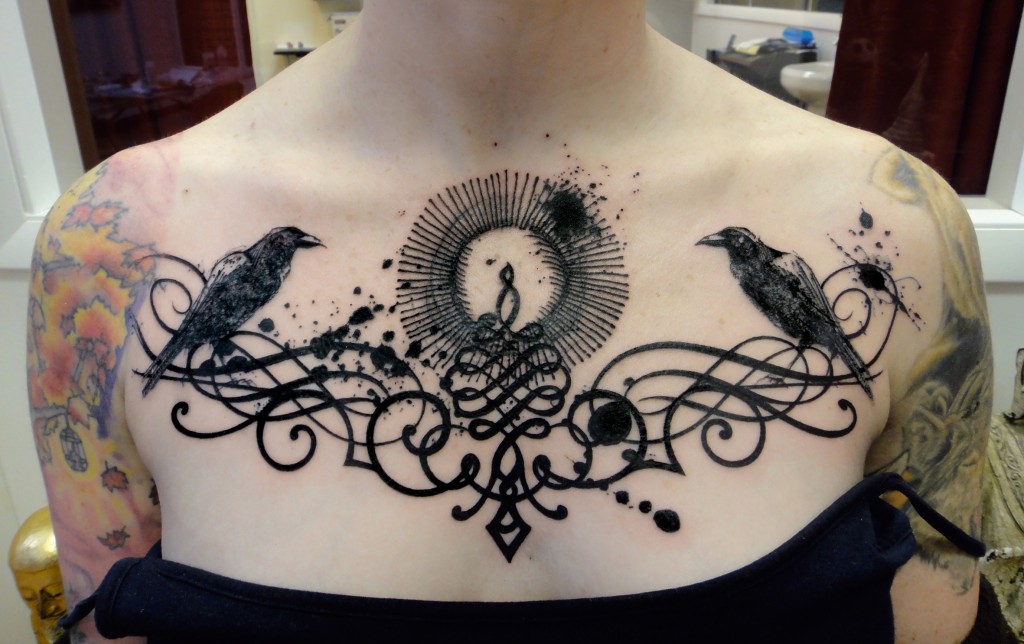 Tattoo by Loic aka Xoil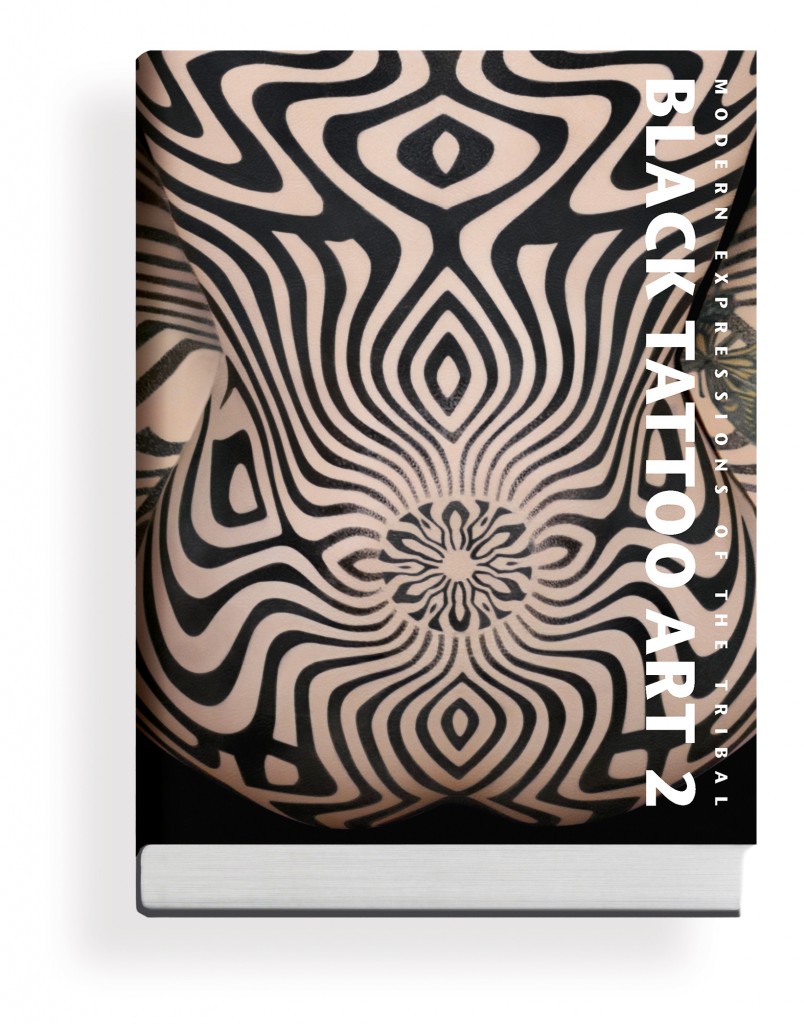 I wanted to get a sense of the history of this unique and iconic book, so I got in touch with author Marisa, who also edits tattoo blog needlesandsins.com, this is what she had to say:
'When Edition Reuss Publishing approached me back in 2008, I told them I wanted to create a book on blackwork tattooing – work just in black ink – because it had not been done before. I believe that it's tattooing in its purest form, continuing the traditions of indigenous tattoo cultures, even if the patterns and compositions are contemporary. So, the first Black Tattoo Art book came out in 2009, and continues to be popular because there still isn't anything on the market that specifically pays tribute to this tattoo genre. Since the first edition's release, the number of artists and the outcropping of different styles has grown exponentially, and so it was time to do a second volume.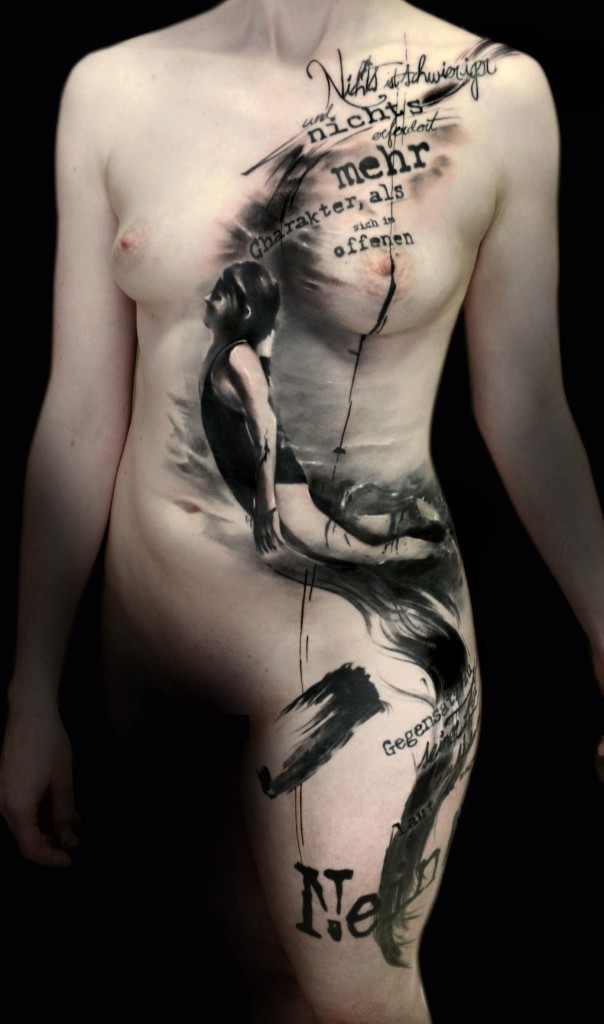 Tattoo by Simone Pfaff
'There are many more artists in edition two, 75 of the best in black from around the world. There is also a new chapter on Celtic and Nordic inspired tattooing, curated by renowned tattooer Colin Dale. This chapter features stunning ancient designs, and in his introduction to the chapter, Colin offers some of the myths and lore behind the art. We also expanded the Art Brut/Abstract chapter, which gets the strongest reaction. I think that the work in this chapter is wild and fearless, and redefines what a tattoo can be. 

'But really, I love every work in this book, as if they were my own children. I believe blackwork is timeless – it doesn't follow any trends, its ornamentation follows the lines of the body and enhances, rather than overwhelms, it. Personally, I've been getting tattooed primarily in blackwork for almost 20 years, and it has aged beautifully. I love my tattoos!'
Marisa also states that her ultimate goal, in all of the books that she has authored, is to present tattooing as a fine art form, to show the endless possibilities of body adornment, and inspire other amazing tattoos. Marisa, mission accomplished. This compendium of tattoos is stunning and truly the perfect addition to any art lover's coffee table – whether a tattoo collector or not.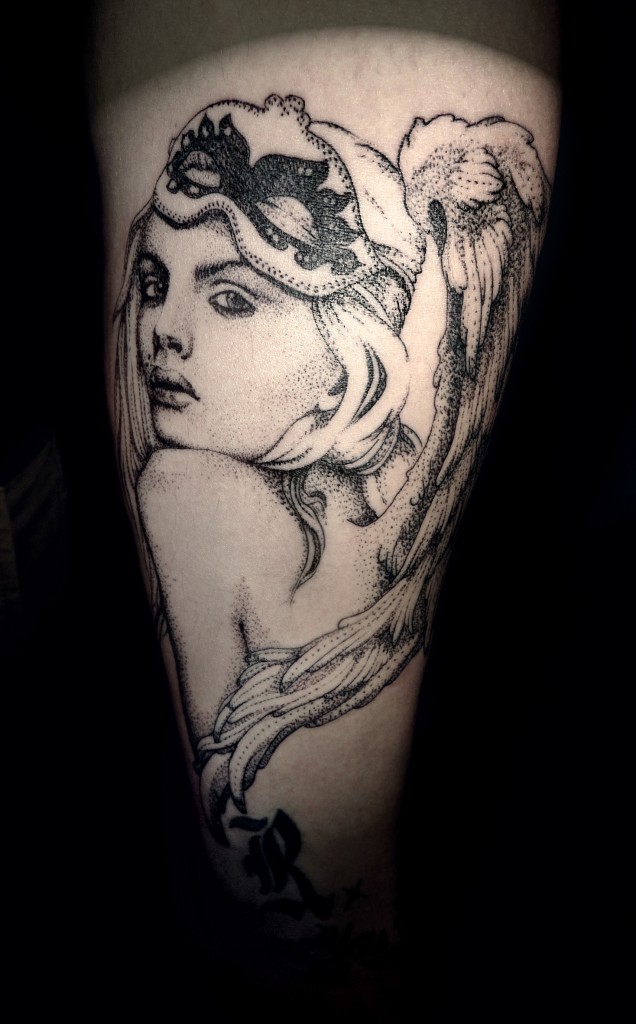 Tattoo by Delphine Noiztoy
BLACK TATTOO ART 2, by Marisa Kakoulas is published by Edition Reuss, and costs $199/£103.50. Purchase from amazon.co.uk.
This review was first published in The Celebration Issue of Things&Ink magazine. Purchase from our website thingsandink.com.